DeskTime blog
The hottest topics on workplace productivity. Don't miss the latest trends, case studies, and news.
Here are 13 strategies on business cost optimization to implement today and save thousands of dollars tomorrow.
What part does being well-versed in business etiquette play in the success of your career? Here's the truth: Our professional success often hinges less upon talent and intrinsic genius, and more upon people skills, strong emotional intelligence and a keen understanding of proper business etiquette.
If you're looking for the best productivity tools in one place, you've just hit the jackpot. We did the research, so you don't have to. Here are 25+ of the best productivity apps to use in 2018 that will help you optimize your time and get more things done whilst staying balanced, happy, and, you…
Receive latest updates right in your inbox
DeskTime generates a lot of data about your employee's time spending habits. And we mean, a LOT. DeskTime stores your team's productivity data, so you can review anytime. Moreover, DeskTime allows you to download the data in easy-to-review reports, and share them with colleagues, managers, or clients. Using the DeskTime filtering option for reports, you…
Great project managers do two things very well: First, they know their projects inside out – which people are involved, at what stage each of their projects are, and so on. Second, they are great at managing their team's and their own time. Today, I will show you how you can use the DeskTime Projects…
Success starts in your head! It may sound like a cliché but if you believe in yourself and you come up with an actionable plan, you'll simply have to wait and remain committed. Sooner or later, you'll accomplish the thing that you've set your mind on. This being said successful people follow a couple of essential…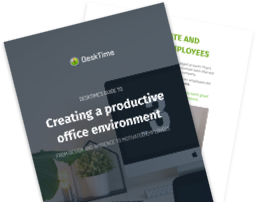 How to create a productive office environment
From design and ambience to motivated employees
Companies are not the only ones that can benefit from time tracking software applications. Freelancers, who work from home or do ad-hoc work in office settings, will also discover that tracking their time comes with myriad benefits. Freelancers often do not have to adhere to an official work schedule and in many cases, how much…
Do you run a small business? How do you keep tabs on your employees? Many small businesses don't have an HR department; it's up to you, the CEO, to monitor staff workflow and productivity. It's a good thing that in this day and age, there are myriad tools to help. One way to complement your…