DeskTime vs. Harvest: compare the alternatives
Compare the DeskTime and Harvest alternatives side by side and choose the time tracking app that fits your needs.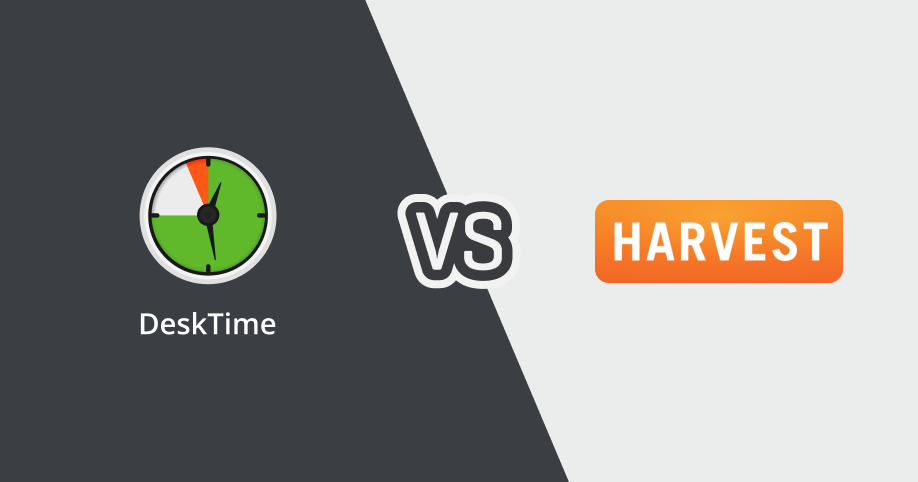 Las mejores funciones lado a lado
Funciones

Pago mensual

Lite – gratuito para solo 1 usuario PRO - 7$ /usuario/mes Premium - 10$ /usuario/mes Enterprise - 20$ /usuario/mes

Pago anual

Lite – gratuito para solo 1 usuario PRO - 6,42$ /usuario/mes Premium - 9,17$ /usuario/mes Enterprise - 18,33$ /usuario/mes

Descuentos adicionales son válidos solo para equipos.

Paid monthly:

Free - 1 seat/2 projects 12$/user/mo

Paid annually:

Free - 1 seat/2 projects 10.80$/user/mo

FREE trial
14 days
30 days
Time tracking
Automatic
Manual
Idle time tracking
Add time manually
URL tracking
Document title tracking
Reports
Invoicing directly from the app
Offline expenses
Individual project and task tracking
Auto screenshots
Project cost calculation
Employee absence tracking
Individual user settings
Stops automatically, no tracking after work hours
Private time option
IP restrictions for tracking
Productivity and efficiency analysis
Divide employees in departments
Live time tracking
Mobile app
Integrations with 3rd party apps
Shift scheduling
Live demo training
Desk booking
Looking for a Harvest alternative? Choose a time tracking tool according to your necessities
SI NECESITA:
to boost productivity
ELIJA:
DeskTime tracks not just time, but also the programs, apps, and URLs you and your team use throughout the day. At the end of the day, you can easily see how productive you have been by taking a look at your productivity percentage.
DeskTime lets you see which websites you've visited and how long you've been browsing them. You can analyze your daily habits, find your biggest time wasters, and then block these distractions. Statistics show doing this can help you boost your productivity by over 30%!
Harvest, on the other hand, won't track the URLs and apps you use, and the precision of their tracker is 100% dependent on your ability to stay on task while the timer is on. That's why, compared to DeskTime, Harvest is less useful for people looking to boost their daily productivity.
SI NECESITA:
a tool for invoicing and tracking expenses
ELIJA:
After you've finished working on a project and it's time to bill your client, both Harvest and DeskTime will let you do that without even leaving the app. The data on how many hours you've spent working on the project is readily available there, and you can quickly create an invoice based on the rate that you've set.
You can customize the template according to your needs (e.g., add your company logo) and email the invoice to the client straight from the app.
However, there are a couple of features with which Harvest has an edge over DeskTime in this regard. Harvest integrates with online payment platforms like PayPal and Stripe, and if the client pays an invoice online, it will be automatically marked as paid on Harvest. On DeskTime, you'll have to manually track and change the invoice status. Plus, Harvest will automatically follow up for you if an invoice is not paid in time.
SI NECESITA:
a time tracker to use with your team
ELIJA:
Compared to Harvest, DeskTime is fully automatic, which means that it starts automatically when you turn on your computer and stops when you turn it off.
There are some other features that make DeskTime one of the most employee-friendly time tracking apps. For example, anyone can turn on the Private time option when needed, and the time during that period won't be tracked. Or, you can set up your settings in such a way that DeskTime tracks computer usage during working hours and stops when the workday is over, even if the employee continues to use the computer.
Harvest, on the other hand, is a rather simple timer that you have to start and stop manually. It's similar to the stopwatch on your phone – just with the possibility to specify the task you're working on. While it gets the job of tracking time done, it requires manual input from employees, which may feel like a burden for the team.
SI NECESITA:
to manage a remote team
ELIJA:
As an employer, you don't want to pay for hours your remote employees have spent procrastinating and watching cat videos on YouTube. The DeskTime URL tracking and time tracking with screenshots features let you know when your remote workers are working and when they're not, so you can pay for the productive hours only.
That may sound harsh, but our data have shown that some people waste up to 60% of their working hours. While everyone needs breaks (and that's definitely something you should encourage), spending over half a day procrastinating is a bit too much, isn't it?
Harvest features are somewhat limited for remote employee tracking, as the timer must be turned on and off automatically. Besides that, the software lacks features (like URL tracking and screenshots) that would let you see what your team does when you're not in the same room.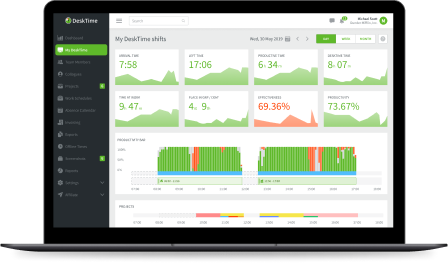 Una herramienta que nunca interrumpirá su flujo de trabajo. Nunca.
The best alternative to Harvest that includes 10+ handy features for managing your team.
Completamente automática: trabaja a la misma hora que usted
Rastreo de las URLs, aplicaciones y documentos
Seguimiento de los proyectos y tareas individuales
Obtenga una prueba gratuita durante 14 días. No se requiere tarjeta de crédito.
Al registrarse, acepta nuestros términos y nuestra política de privacidad.