DeskTime vs Hubstaff: compare the alternatives
Compare the DeskTime and Hubstaff alternatives side by side and choose the time tracking app that fits your needs.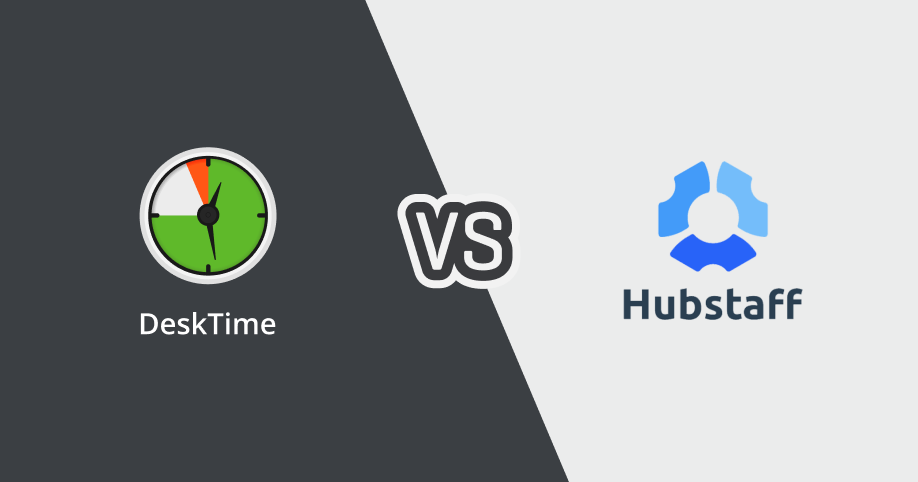 Las mejores funciones lado a lado
Funciones

Pago mensual

Lite – gratuito para solo 1 usuario PRO - 7$ /usuario/mes Premium - 10$ /usuario/mes Enterprise - 20$ /usuario/mes

Pago anual

Lite – gratuito para solo 1 usuario PRO - 6,42$ /usuario/mes Premium - 9,17$ /usuario/mes Enterprise - 18,33$ /usuario/mes

Descuentos adicionales son válidos solo para equipos.

Paid monthly:

Free - for one user Starter - 7$/user/mo Pro - 10$/user/mo Enterprise - custom pricing

Paid annually:

Free - for one user Starter - 5.83$/user/mo Pro - 8.33$/user/mo Enterprise - custom pricing

FREE trial
14 days
14 days
Automatic start/stop and time capture
Webinars, videos, or other form of tutorials
Live webinars
URL tracking
Document title tracking
Data export/import
Screenshots
Private time
Productivity and efficiency analysis
Offline mode
Dividing employees by departments
Real-time monitoring
Work history
Hourly employee tracking
API availability
Location / GPS tracking
3rd party integration
Shift scheduling
Invoicing
Desk booking
Looking for a Hubstaff alternative? Choose a time tracking tool according to your necessities
SI NECESITA:
To manage yourself and be more productive
ELIJA:
If you're a one-man-band type of person with a strong sense of self-discipline and want to make sure you don't get distracted – go with DeskTime.
With DeskTime, you can track a lot of things: URLs, documents and their titles (programs you have running), time on an hour-to-hour basis, productivity levels, and more. And the best part is, it can be only as complicated as you make it.
If you want to simply find out your list of productive and unproductive apps and how long you spend on each site daily, you can easily do that with DeskTime. But if you'd rather get into the details of your work habits, calculate your effectiveness and productivity percentages, and then export that in a ready Excel file, DeskTime can help you with that too.
Hubstaff, on the other hand, is more focused on assigning employees to certain projects and then tracking their time accordingly. Although you can set it up to focus on your own goals and projects, it truly shines when it's used for and by a group of outsourced employees.
SI NECESITA:
To manage a team of employees or freelancers working remotely
ELIJA:
Hubstaff is a tool that makes it easy to manage a team working remotely. It's fast, it's simple, and most importantly – its main focus is on teams based remotely. With it, you can easily automate many time-consuming tasks: whether it's time limits and shifts, weekly budget (when it has been reached or exceeded, for example), or the payment process (through PayPal).
Because of that, it's the perfect tool for managing remote workers and freelancers. You can check what your employees are doing and where (you can monitor where they are during work hours via mobile GPS tracking), making it suitable for people who have to travel a lot for work.
Although DeskTime is also suitable for freelancers and companies alike, Hubstaff allows you to set up a payroll process based on the recorded hours – making it ideal for freelancers. If you need help with managing and paying an outsourced team, Hubstaff might be more convenient.
SI NECESITA:
To know the "when and where" of your employees
ELIJA:
When it comes to actual tracking, Hubstaff can tell you all you need to know about the "when and where" of your employees down to a T.
With automatic screenshots (which can be customized to fit your needs) and activity rates, managers can track how long each project takes, who's working on them currently, and more. Other types of monitoring Hubstaff offers includes internet monitoring (internet usage/websites), application monitoring (app/program usage), schedules, and more. Depending on the type of work, the GPS and location tracking might also come in handy. Automating time tracking, the payment process and customizing all of the above allows you to watch work unfold in real time.
If you want to guarantee that work gets done and you're there to see it, Hubstaff might be more convenient. While DeskTime also lets you keep up to date with your team's activity, Hubstaff goes more in depth, depending on your needs and requirements.
SI NECESITA:
A tool with more advanced uses and features
ELIJA:
For advanced project management, employee monitoring, productivity analysis, and more, choose DeskTime. DeskTime makes sure to zoom in on the details. It's mainly for companies and teams that are interested in the bigger picture, but it can also provide an in-depth dive into the productivity management of your department. Depending on your needs, DeskTime can provide a simple dashboard overview or a more detailed look into how your team is doing. You can manage project costs and bill your clients accordingly, log offline hours (and charge them too), automate and generate custom reports, which can be exported, and more. In short: DeskTime lets you see the bigger picture without micromanaging your employees. So, if you want to create a detailed layout of specific departments and employee groups, be sure to go with DeskTime.
But if you want to save time on set-up and you're simply looking for a general overview of how your team is doing, Hubstaff can probably help you with that more. Compared to Hubstaff, DeskTime offers a more advanced and detailed look into your team and can help you manage them better as a result.
SI NECESITA:
A tool to help manage and meet specific calendar deadlines
ELIJA:
Do you use other time-planning tools like Google Calendar or Outlook Calendar? At the end of the day, if you just want to help yourself or your team meet deadlines, you can do that easily with DeskTime.
Google Calendar is among the many integrations of DeskTime, and it lets users log offline time (time away from computers). By syncing your preferred time-planning tool with DeskTime, your time away will be automatically counted towards your productive time at work (e.g., time spent at meetings, training, etc.). This helps you save time in the long run since you don't have to manually put in offline hours anymore.
Hubstaff offers a similar function too – they allow you to do this in their own "Schedules" calendar. You can manually add time spent away as well, but DeskTime lets you save time by simply integrating with your already set-up Google Calendar.
In terms of the number of integrations offered, Hubstaff has the advantage But if you're looking for a superior and smoother calendar integration with your already set-up schedule, go with DeskTime.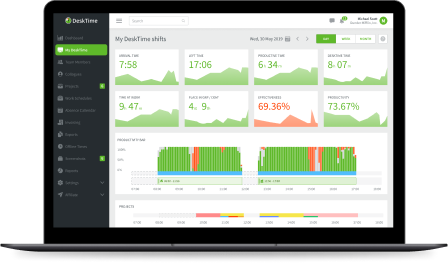 Una herramienta que nunca interrumpirá su flujo de trabajo. Nunca.
The best Hubstaff alternative offers more features and provides an overview of your business.
Completamente automática: trabaja a la misma hora que usted
Rastreo de las URLs, aplicaciones y documentos
Seguimiento de los proyectos y tareas individuales
Obtenga una prueba gratuita durante 14 días. No se requiere tarjeta de crédito.
Al registrarse, acepta nuestros términos y nuestra política de privacidad.