How to add or remove employees from my subscription?
DeskTime works with a per-user pricing system. To change your plan to a different amount of users, go to Settings → Billing and look for the button ADD MORE.

In the pop-up window, select how many users you are looking to register with DeskTime. Use the -/+ symbols or write in a number in the marked box. The billing calculator will automatically calculate the Upgrade fee and show you the upcoming subscription fee.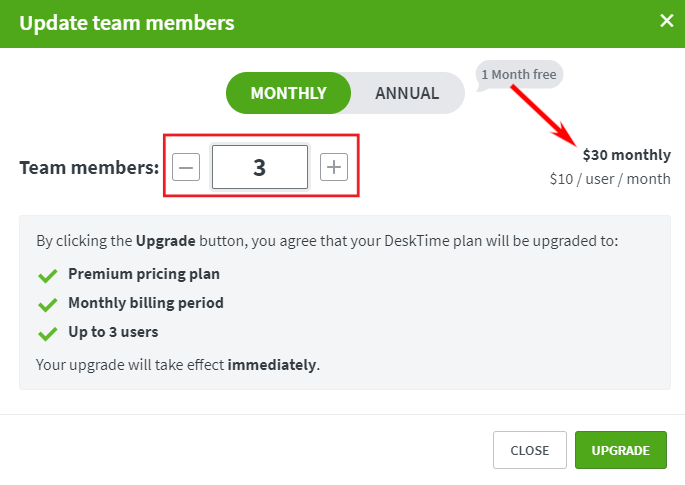 If you wish to change to a smaller amount of users, make sure that you have removed employees beforehand to match the target user step in the Pricing. You can read how to delete or archive employees here.
Note!
New users can't be added beyond the current pricing plan. A company admin or the account owner has to upgrade the account first.
A downgrade can be done anytime during the month; however, the admin/owner has to reduce the number of users first. No refund will be provided.
Deleting or archiving users will not reduce the members' count and pricing automatically. The number of users in the Billing section must be changed manually.
If DeskTime is not able to charge the payment method, when upgrading the DeskTime account, new members can not be added.