How to use Absence Calendar?
The Absence calendar will help you keep track when your employees have sick days, business trips or vacations. It is an efficient tool to see how many days each user has spent away from the office and how many days of vacation should they take in the summer.
If you want your team members to view the Absence Calendar section, make sure that in Settings -> Account, the checkbox hide absence calendar is not checked.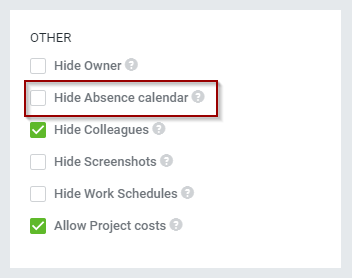 Add descriptions for the selected absence type in the description box. Absence description will be visible in My DeskTime page and in the exported Reports together with the absence.
If a user adds an absence through the Absence calendar, before the "Away time" is added to his/her schedule, the company owner or an admin has to approve the absence.
Read our blog on hwo to get the most out of the Absence calendar here - Introducing the Absence Calendar.