How to set up and change project hourly rates, estimate costs and time?
Project hourly rates help you calculate your project costs. By enabling this feature, you'll be able to see how much each project costs your company. You can also use this feature to bill your customers or calculate individual user costs accurately.
To enable the feature, go to Settings → Account and make sure that the 'Disable Project costs' box is unchecked.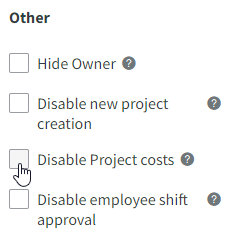 Next, you can add default hourly rates for each user, go to Settings → Team members → Edit and add the default hourly rate. It will be the user's default rate for all projects they will work on.
It is also possible to set up:
User's hourly rates

for specific projects;

Possible costs;

Possible length of a project.
To do it, go to Projects and find the project you want to edit.
Here you can assign the hourly rate for the whole team or even a particular Employee. Find the 'Hour rate' setting, save the default rate, and after saving that you will have an option to edit the rate for each user, as well.