How to change settings for a specific employee?
Accessing employee settings
In order to change settings for a specific user, go to Settings -> Team members and click Edit on the user.

Changing tracking and time settings
In the employee settings menu you will see several sections of settings. On the left side you can change the user's password or email address, assign them to a team or change their time zone, as well as assign their hourly rate.
In the middle you can assign their Working days and hours, and mark how much time are they required to spend tracking with the 'minimum hours' setting. With the 'Tracking days' section you can select when will DeskTime actually track time for your user.
On the right side you can enable or disable the screenshots feature, set up how application and time tracking works for this user, as well as if they are allowed to enter time manually or will it require admin approval with the 'Offline time' dropdown.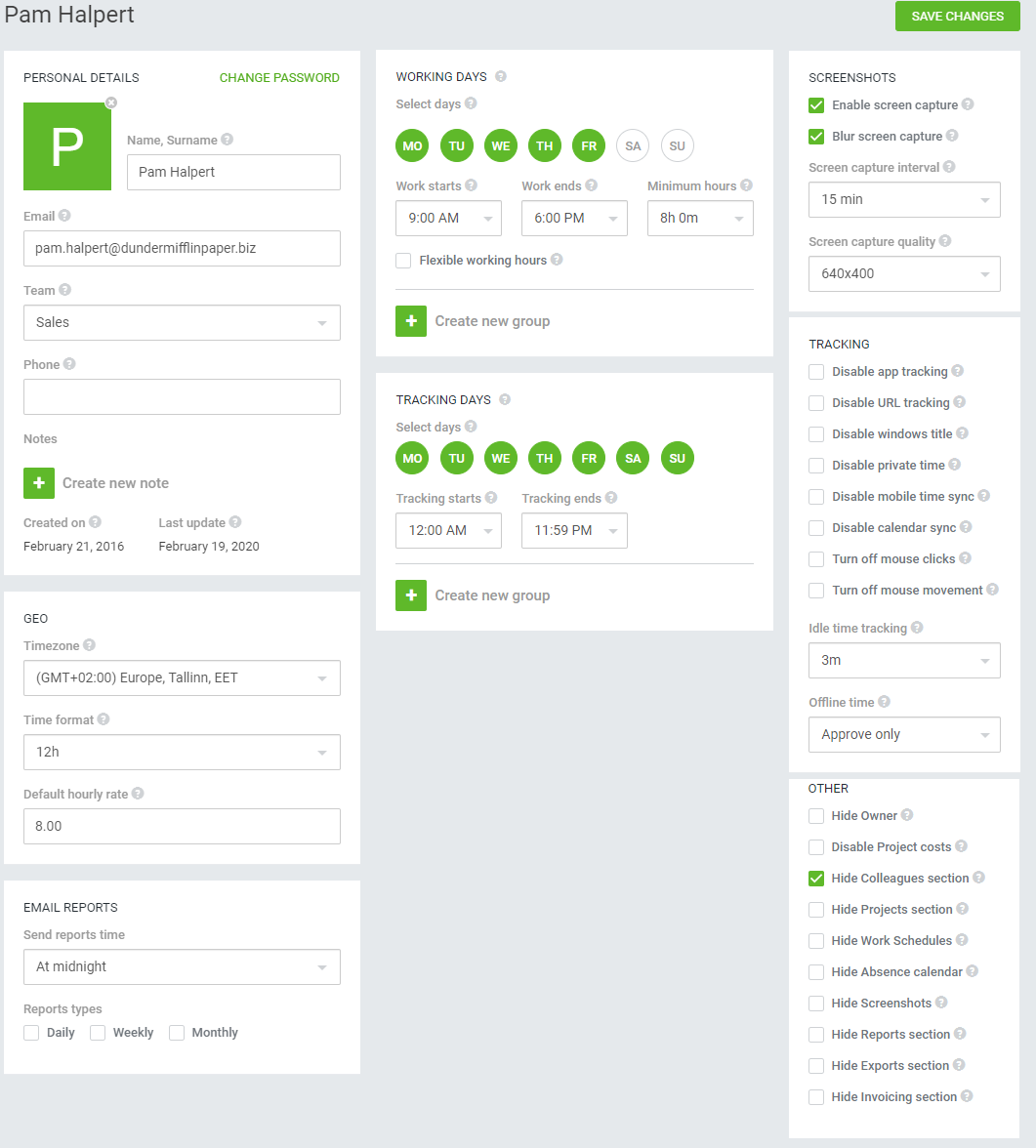 Editing employee permissions
In the 'Other' section of the settings you can specify which sections of DeskTime the user has access to. Adding a checkmark in any of the boxes will hide the section away from this user, even if they are an admin or the account owner.
'Hide owner' will hide away the data tracked from the Account Owner for this user, including on the Dashboard and reports.
'Disable project costs' will prevent the user from seeing project hourly rates and total values in the Projects overview part of Reports.
The rest of the marks will hide away the respective sections of DeskTime - Colleagues, Projects, Work Schedules, Absence calendar, Screenshots, Reports, Exports and Invoicing. Marking any of these will remove access and visibility of these sections for the user, regardless if they are a regular employee, an admin or the account Owner.
If the 'Hide screenshots' option is marked, the user will not be able to access screenshots of any employees in any of the sections - Screenshots, My DeskTime or the Dashboard.