Back in 2017, DeskTime collected worker productivity data to see where the most productive people on the earth live – and Ireland won with the average worker productivity of 94.7%.
That same year, the award for the least productive country went to Japan, where the average worker productivity was 41.61%. That was despite the fact that the nation is often praised for its high work ethic.
Want to get the most out of your time?
Try DeskTime for free!
Try free for 14 days. No credit card required.
By signing up, you agree to our terms and privacy policy.
Two years later, we decided to repeat the study and see if anything has changed. Here's how we got the stats:
Methodology

Worker productivity was calculated by dividing the total time spent on productive programs, apps, and websites with the amount of time spent at work. The sample included full-time office employees with an average workday length of 6-8 hours. The total sample size was 4350 users in 70 countries.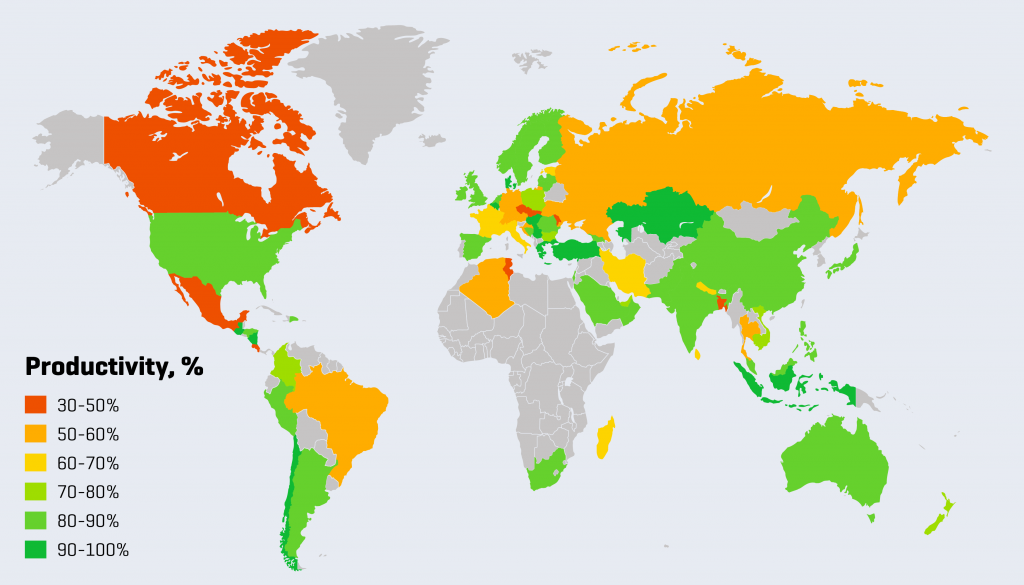 Worker productivity in 2019: Top 10 most productive countries
Without further ado, here are the countries that performed best in terms of worker productivity, along with their average productivity percentage:
Nicaragua – 97.8%
Chile – 96.2%
Hungary – 95.1%
Indonesia – 93.0%
Serbia – 91.9%
Turkey – 91.5%
Belgium – 91.3%
Guatemala – 90.5%
Denmark – 90.0%
Israel – 89.8%
In 2019, the most productive country was Nicaragua – the Central American country, which is best known for exporting bananas, coffee, and cotton. But when it comes to office work, what could be standing behind their high worker productivity?
The answer is: flexible working.
Even though flexible working is actively cultivated in western countries, this trend is relatively new in developing countries that often live by the agriculture industry. Nevertheless, in 2019 countries from the Central American region reported a growing flexible and remote working trend, which has had a great impact on employee performance.
Experts have noticed that there's a growing number of companies that allow their employees to work from coworking spaces, cafeterias, or home, and that has resulted in higher worker productivity rates.
Interestingly, there are no North American countries at the top, whereas the most productive European countries in 2019 were Hungary, Belgium, and Denmark.
Top 10 most unproductive countries of 2019
The countries with the lowest worker productivity scores were:
The Czech Republic – 39.2%
Mexico – 41.5%
Moldova – 43.4%
Canada – 43.9%
Switzerland – 50.1%
Croatia – 54.5%
Ukraine – 57.3%
Brazil – 57.7%
Russia – 58.7%
Germany – 58.7%
The Czech Republic with an average worker productivity of 39.2% is the most unproductive country in 2019. It's followed by Mexico, which is consistent with the OECD data on productivity where it's named one of the least productive countries in the world, several years in a row.
The country's low productivity is tied to its long working hours – employees work on average 8.95 hours a day. Compared to 2015, the average workday length in Mexico has increased by nearly 10%.
The case of Mexico once again shows that longer work hours don't translate into higher worker productivity. This hypothesis was recently proven by another DeskTime study, which showed that employees who work six-hour workdays are just as productive as those who spend eight or more hours in the office.
Most-used productive and unproductive apps at work
The most commonly used productive programs and apps are:
Microsoft Outlook
Gmail
Microsoft Excel
Google Docs
Microsoft Word
The data shows that people still spend a large portion of their workday on emails – Microsoft Office and Gmail are leading the top, just like it was two years ago. Even though email is considered a work-related application, there have been debates on whether it can be viewed as productive.
A recent study found that employees waste the equivalent of 30 working days (!) a year on their office email. That's understandable, considering the fact that nowadays the average office worker receives 121 emails every day – that's a lot of incoming messages to take care of.
(P.S. This blog post on how to manage your email like a ninja might help.)
Now, when it comes to most-used unproductive apps, here's the top 5:
YouTube
Facebook
Skype
Slack
Whatsapp
Facebook and YouTube in the leading positions isn't a surprise – these websites have never left the top since 2014 when we first analyzed the most commonly used unproductive apps at work.
In the meantime, instant messaging apps for teams – Slack and Skype – have moved from the top productive apps in 2017 to the top unproductive apps in 2019.
This shows that over the past two years, there's been a significant shift in the way how managers see internal office communication in the context of worker productivity. Companies using DeskTime have deliberately changed the productivity status of these apps from "productive" to "unproductive", that way trying to cut the time employees spend chatting with their coworkers.
And that's quite understandable.
In a survey by the online collaboration tool Nulab, as much as 69% said they spend an average of 30 minutes or less per day engaged in work-unrelated conversations. 21% of the respondents surveyed admitted they spend an hour or more chatting with their co-workers about topics unrelated to work.
Did any of this data surprise you? Comment below and let us know!
Did you find this article useful? Give it a clap!
127
Psst! You can clap more than once if you really loved it 🙂
Subscribe to our newsletter to get the latest updates