DeskTime blog
The hottest topics on workplace productivity. Don't miss the latest trends, case studies, and news.
As more companies shift toward telecommuting, it's important to understand the health ramifications of this novel work lifestyle.
DeskTime has two versions: a desktop version and a mobile version. This article answers the question of how they differ in terms of features and functionalities.
Making the leap from the physical to the virtual office successfully just won't happen without proper planning. Here's how to do it right.
Find out what employee efficiency is, how to measure it, and answers to other frequently asked questions about workforce efficiency.
Receive latest updates right in your inbox
If your workdays are usually filled with being on the go, you shouldn't have to worry about proving that you've been productive during the day. But how can you do that? By using DeskTime's mobile timesheet app.
Podcasts allow you to productively spend the time you spend, for example, driving to work or grocery shopping. When it comes to podcast recommendations – here are some of our and our readers' favorites.
That moment when you realize that the working day is almost over and you still haven't done anything… It's frustrating, we agree. And so it's no wonder that this can cause that scary ''big brother'' feeling to come up. You know, the one that makes you think that your boss is watching you and that…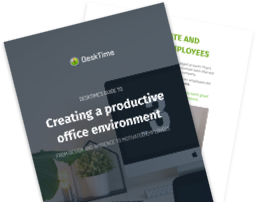 How to create a productive office environment
From design and ambience to motivated employees
The recently added DeskTime feature, Exports, is a feature for those who love cells, tabs, and sheets. It allows you to download productivity reports as excel or csv files.
Getting paid in a timely manner is the key factor that will keep your company afloat. Here's a practical and easy-to-use time billing system you're looking for.
DeskTime has a variety of pricing options suited to every different stage of business you're in. Take a look at the options and choose which plan, and which features, are for you.