How to use the Private time reminder?
The Private time reminder helps to remember that the setting is still on and notifies the user after a certain period of time.
You can find it when you right-click the DeskTime icon on the desktop.
All you have to do is click on Private time reminder in the drop-down menu of the desktop app and choose to be reminded after 15, 30, or 45 minutes.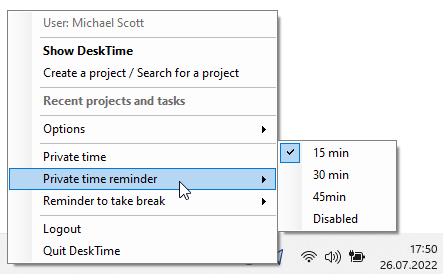 After the chosen time you will receive a notification on your desktop:

The feature can be disabled the same way how enabled - by clicking on Private time in the same drop-down menu.
You can find more details on how to edit the Private time here.
Please, keep in mind, that the notifications for DeskTime must be turned on in your computer's settings, as well, in order to receive them on your desktop!