What is Private Time?
If you have started the Private time through DeskTime's icon in the system taskbar, DeskTime will stop tracking anything you do on your computer. To stop Private time, press the Private time option again. See how to enable Private time here.
When the Private time is enabled and active, then the desktop app's icon changes accordingly to the Private time icon:
Windows app: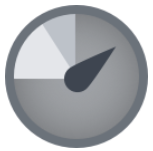 Mac app:

Linux app:

This is how Private Time would look on a Productivity Bar:

Keep in mind:
You can disable the option of tracking Private time in general or edit/delete the already tracked time period in Settings → Tracking:
Mark Disable private time and the users will be restricted from tracking their private time. The option in their menu will be grayed out.
Mark Disable Private time editing rights and the users will not be able to edit or delete their tracked private time.