If you're anything like me, you spend most of your working time processing an email. In fact, according to DeskTime.com, I spent over 50 hours just doing my email in April alone, and that is not including the time on my iPhone. That's 4 times as much time as the second closest activity that month. Email epidemic is serious and it needs a cure.
Here's some effective email management tips for Gmail users that will save you time so you can focus on higher priority tasks.
1. Color code lists for easier browsing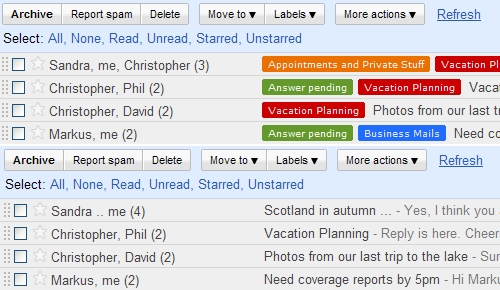 I'm a member of quite a few email lists so I color code them the using Gmail's Labels function. I suggest color coding them according to project colors, for example, all my work related lists have colors like red or orange which makes them stand out and personal lists are in green. Lists you should color code are your work project list, out-of-work activities like choir, bands, NGOs and other clubs or groups.
Here's a Gmail's team tutorial how to get you started on labels: https://support.google.com/mail/answer/118708?hl=en
2. Use smart filters to receive only receive most-relevant email in your Inbox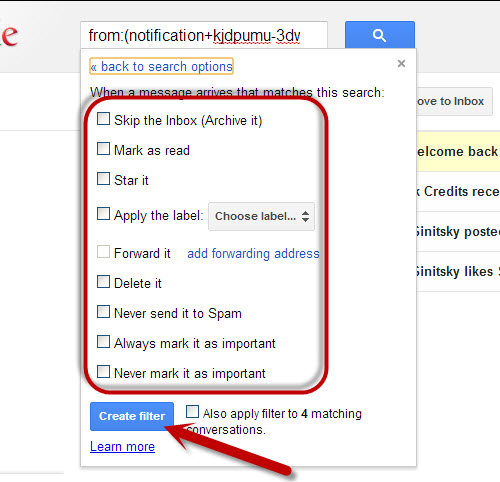 You should focus on email addressed directly to you. Lists or emails where you're just one of the many receivers are usually lower priority and should not take space in your Inbox.
There's also email you still kind of need to receive, but they're not your top priority, for example, order confirmations from customers if you're running an ecommerce project like me. I choose to label them, mark as read automatically, auto archive so I can search for them later if necessary. Some email lists you need to check once daily or even weekly, so I let them skip inbox, archive it and check them occasionally.
Tutorial on How to use Filters Gmail: http://support.google.com/mail/answer/6579?hl=en
3. Email is not your Reading List, use Pocket instead
Don't keep a list of links to articles you'll read someday in your email, but add them to a special reading app like Apple's Reading List, Instapaper or my favorite Pocket where they can sit until you have the time for reading. Otherwise you'll email soon will be overflowed with starred articles from many months ago you might read one day.
4. Automatic Reply must go – automatically delete them using filters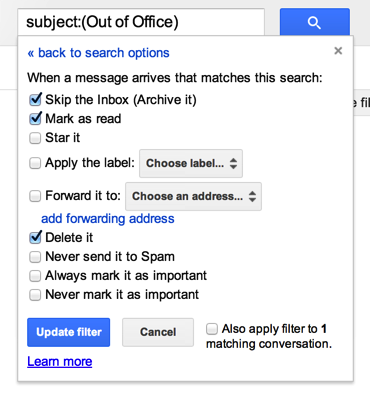 At DeskTime we send quite a few email marketing emails and usage reports, and we use a friendly reply-to address so our clients can always reach us just by hitting reply. Such a convenience for our customers comes at an expanse – we do get a lot, I mean, tons of automatic replies. To eliminate automatic replies from your Inbox create a filter that automatically deletes all email starting with following subjects:
Automatic Reply

Out of Office

[Auto-Reply]

Auto Response

Autoreply

Automatically generated response

…and any other subject you notice taking valuable space in your Inbox.
5. Use Mailbox to Snooze email until you have time to process it
Since I got my iPhone, I'm constantly checking my email. It's a bad habit altogether, but since you're probably doing it anyway choose the best tool to process your email quickly on the go. I recommend Mailbox.
Mailbox claims to have revolutionized email. Their effortless email archiving with a single swipe is amazing, but what I love most about this iPhone app is Snooze options.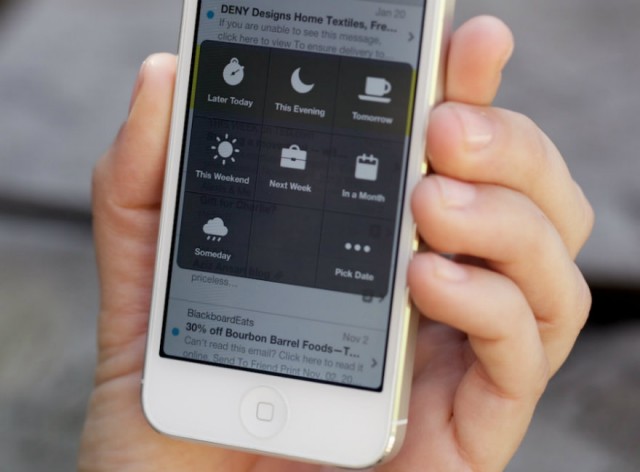 Are you on weekend and got an email from work, but it can wait till Monday? Don't let it sit your Inbox an bug you for the rest of the weekend – just snooze it until next week. Mailbox will automatically deliver this email back to you when you're ready to process it – at the beginning of next week. I also occasionally check email on evenings and love how with just few taps Mailbox let's you postpone all email till tomorrow's morning when you're actually at work and ready to work on it.
6. Unsubscribe from little value-added mailing lists – use strike policy
For email from the newest service I've just signed up I use a one strike policy – send me one email that isn't giving me any value-added and I'll hit unsubscribe button. Don't let companies spam you because one day they might send you an interesting offer – there's just no place for emails like these in a modern world.
You can also use services like Unroll.me which let's you unsubscribe from unwanted email lists.
7. Auto Advance to the latest unread item to make you process email faster
Probably the single best Gmail labs feature next to Undo Send, which lets you cancel an email when you've hit "Send" too soon, is Auto Advance. It automatically shows the next conversation instead of your inbox after you delete, archive, or mute a conversation. It focuses you to get your email and cuts down the click you have to do to get to the next email.
Search "Auto Advance" in Gmail Labs.
8. Use Shortcuts
These are turned off by default so turn them on in settings.
Get more info here: http://www.google.com/mail/help/intl/en-GB/tips.html#black

My favorite is Tab+Enter to Send.
Do you have your own email tips? I'd love to hear them, please share in comments.