DeskTime blog
The hottest topics on workplace productivity. Don't miss the latest trends, case studies, and news.
We asked – what distracts you most when you're at work? The results are in, and the absolute winner is…interruptions.
Before we take a plunge into 2020, let's take a quick look back and celebrate the best moments and accomplishments of 2019.
Here are 13 strategies on business cost optimization to implement today and save thousands of dollars tomorrow.
Receive latest updates right in your inbox
Work-life balance is the notion that you can maximize productivity while still retaining time for family, friends, hobbies, and more. Utopia? Not at all.
Which of the personality types is more productive – introverts or extroverts? This original research by DeskTime has the answer!
We're laying out 5 reasons why remote work is the go-to option for every forward-thinking enterprise out there.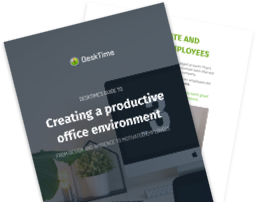 How to create a productive office environment
From design and ambience to motivated employees
While some fear that the use of AI may have a negative impact on some jobs, data suggests the technology can bring real improvements to the world of HR.
It's during days like these when we fall victim to laziness. But – is there any way to make the latter part of the year more bearable? Do Danes have the answer?
Shift Scheduling is a schedule builder for shift work. It allows managers to plan shifts and oversee their human resources.