DeskTime blog
The hottest topics on workplace productivity. Don't miss the latest trends, case studies, and news.
Frogs and productivity may have something in common. Intrigued about what it is? Read this blog post to find out!
DeskTime can be a vast database of accurate, insightful and invaluable information. Here are some tips&tricks for using the exported data, so it becomes more than just numbers.
Here are six scientifically-proven reasons why you should pick up a book to do some productive reading in your spare time.
What is affiliate marketing and why should you join an affiliate program? How to promote your affiliate links? Find the answers in this blog post!
Receive latest updates right in your inbox
DeskTime is a feature-rich platform. Are you using it to the maximum potential? Learn how to become a power user with these 15 little-known tips and tricks.
As more companies shift toward telecommuting, it's important to understand the health ramifications of this novel work lifestyle.
DeskTime has two versions: a desktop version and a mobile version. This article answers the question of how they differ in terms of features and functionalities.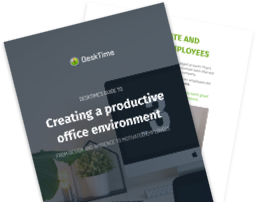 How to create a productive office environment
From design and ambience to motivated employees
Making the leap from the physical to the virtual office successfully just won't happen without proper planning. Here's how to do it right.
Find out what employee efficiency is, how to measure it, and answers to other frequently asked questions about workforce efficiency.
If your workdays are usually filled with being on the go, you shouldn't have to worry about proving that you've been productive during the day. But how can you do that? By using DeskTime's mobile timesheet app.