DeskTime blog
The hottest topics on workplace productivity. Don't miss the latest trends, case studies, and news.
As more companies shift toward telecommuting, it's important to understand the health ramifications of this novel work lifestyle.
Making the leap from the physical to the virtual office successfully just won't happen without proper planning. Here's how to do it right.
Feeling uncomfortable with time-tracking software on your computer? Here are tips that will help you to deal with that anxious feeling.
Receive latest updates right in your inbox
The recently added DeskTime feature, Exports, is a feature for those who love cells, tabs, and sheets. It allows you to download productivity reports as excel or csv files.
The most productive country of 2019 – Nicaragua. The least productive? The Czech Republic. See what else made it to the top!
Employees who work six-hour workdays are just as productive as those who spend eight or more hours in the office.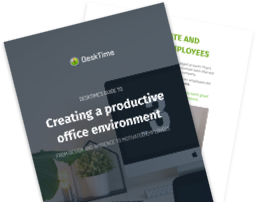 How to create a productive office environment
From design and ambience to motivated employees
Before we take a plunge into 2020, let's take a quick look back and celebrate the best moments and accomplishments of 2019.
Here are 13 strategies on business cost optimization to implement today and save thousands of dollars tomorrow.
Work-life balance is the notion that you can maximize productivity while still retaining time for family, friends, hobbies, and more. Utopia? Not at all.