DeskTime blog
The hottest topics on workplace productivity. Don't miss the latest trends, case studies, and news.
Frogs and productivity may have something in common. Intrigued about what it is? Read this blog post to find out!
Podcasts allow you to productively spend the time you spend, for example, driving to work or grocery shopping. When it comes to podcast recommendations – here are some of our and our readers' favorites.
"New year, new me!" – proudly shouted a billion people all across the world, and then promptly kicked their New Year's resolutions the next day. But not you. Not today, not tomorrow. You will keep your New Year's resolutions this year. You will hold yourself accountable. You will take full responsibility for your actions. You…
Subscribe to our newsletter to get the latest updates
There are so many things we can optimize to become as productive as humanly possible – to-do lists, eating habits, sleep patterns, break times. And now, we have access to even more tools to help us get even more done. Time is the most valuable resource, thus any gadget that helps you save it is certainly…
Writing to-do lists is a helpful way to keep yourself on track with everything you have to do that day, week, or month. From tasks at work to picking up groceries on the way home – lists provide a simple structure and help you to arrange the environment around you. But there's one trick –…
If there's one thing that keeps a doctor away – besides apples, of course – it's exercise. In addition to improving one's mood and shedding those extra pounds, being physically active on a regular basis helps prevent and manage a wide range of health problems, including stroke, type 2 diabetes, depression – the list goes…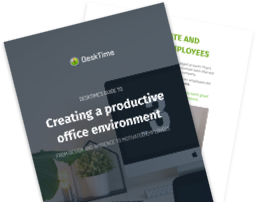 How to create a productive office environment
From design and ambience to motivated employees
The year is coming to a close, the holidays are in full swing, and the New Year will soon be upon us. You may be settling in with a bit more down time to read something new, planning your New Year's resolution to get more organized, or looking for gift ideas. And we've got a…
Nobody wants to be at work during the summer. It's hard to focus when the weather outside is beautiful and there are tons of other things you'd rather be doing (frisbee in the park, anyone?). Even science agrees – people are distracted and less productive in the summer. So if employees are easily distracted by the warm…
Google Calendar recently came out with a new feature: Goals. It's a tool that helps you schedule time to meet your goals, whether it's exercising more often or learning a new skill. This is a great reminder of how important it is to make time for yourself, both for workplace productivity and for personal growth….