DeskTime blog
The hottest topics on workplace productivity. Don't miss the latest trends, case studies, and news.
Shift Scheduling is a schedule builder for shift work. It allows managers to plan shifts and oversee their human resources.
During the reign of hectic schedules, some time management tips can appear like a real saving grace. In the era when the Internet is full of inspirational phrases like, "we have the same amount of hours in a day as Beyoncé," we have to ask – how can we find that extra hour? And it…
Isn't it interesting that if you examine the habits of highly successful people, many of them tend to overlap? Whether it's waking up early or being organized or having a positive attitude, many of the CEOs, world-renowned leaders, and role models of our world share the same effective practices. At the end of the day,…
Receive latest updates right in your inbox
If once managing work-related projects in person or over the phone was how business was handled, nowadays, it is all about finding effective online collaboration tools. Sure, people skills and the typical messy whiteboard filled with ideas from the latest brainstorm still matter – symbolically, at least. However, with the rise of remote working and…
Team building games are often met with a groan. Nobody wants to spend time doing awkward activities with coworkers, especially so if it feels pressured. But the thing is – team building doesn't have to be boring or unpleasant. The right team building activities can help your employees bond, which in turn boosts engagement and…
In May 2019, the Court of Justice of the European Union delivered a new EU time tracking ruling. It states: all companies within the EU are obligated to track their employees' working hours.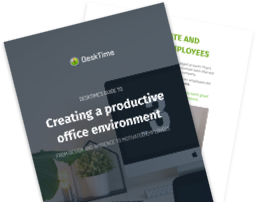 How to create a productive office environment
From design and ambience to motivated employees
Effective time management apps are great for boosting productivity and making the most of every hour, every day. The best time management software can help you carry out tasks and projects in a timely manner. Other time management tools are intended to fight procrastination, boost your mood and increase focus, and even improve communication with…
What part does being well-versed in business etiquette play in the success of your career? Here's the truth: Our professional success often hinges less upon talent and intrinsic genius, and more upon people skills, strong emotional intelligence and a keen understanding of proper business etiquette.
Most of us have experienced days of stress, demotivation, and exhaustion at work. But how to know if these feelings are a normal part of the "ups and downs" that all of us sometimes have in our personal and professional lives? Or are they a sign of something more serious, like job burnout? What to…