6 best work schedule apps for 2023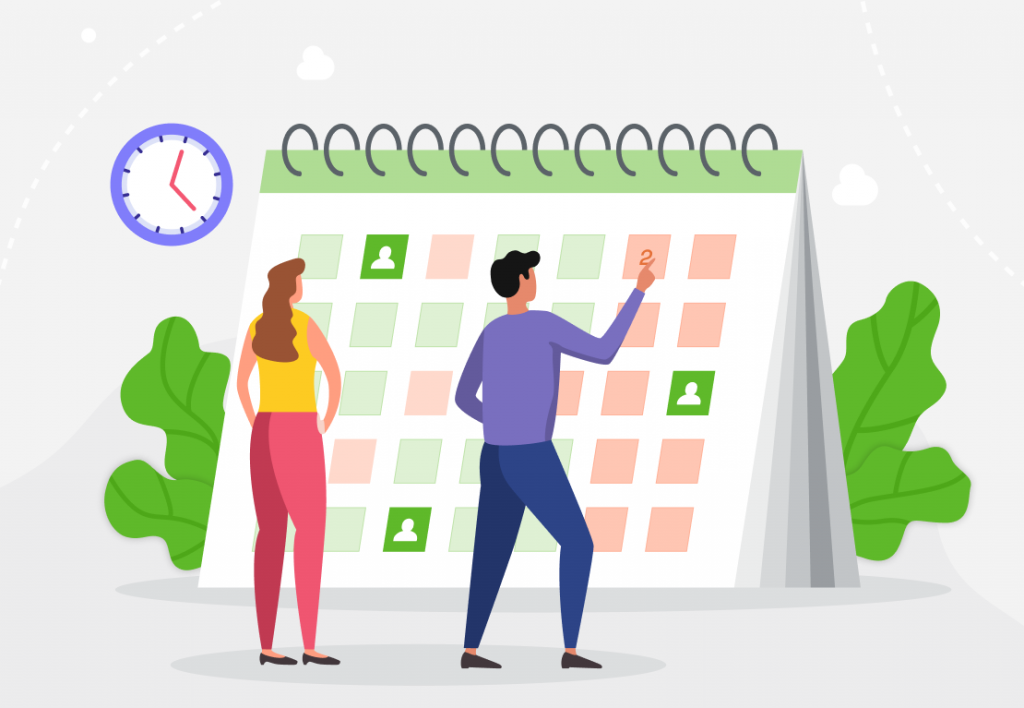 Work schedule apps can reduce the burden of shift planning for managers and enable teams to cooperate in one digital workspace to plan their work schedules.
Since now more and more companies work remotely or in a hybrid form, juggling time zones and tracking no-shows has become trickier than ever. The use of such software is, therefore, becoming more widespread.
Want to get the most out of your time?
Try DeskTime for free!
Try free for 14 days · No credit card required.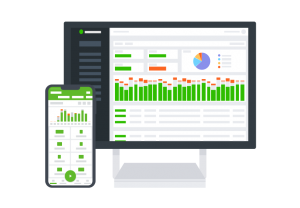 In this post, we've selected six tools that you can use to manage your team's schedule:
But first, let's take a look at some of the key benefits of using them when managing a team.
Benefits of using an employees' schedule app
In a nutshell, an app for work schedule is a web or mobile application that you and your team can use to plan and manage shifts.
Instead of having to do troublesome – and manual – messaging or calling to your team members to put together a schedule, you can do it in a few clicks via your work scheduling app. Employees are notified about the updates and can approve/decline these suggested shifts. And in case somebody wants to swap their shifts or doesn't turn up, you can use the app to regroup your human resources.
These are the main benefits of using work scheduling apps:
Makes shift scheduling fast and error-proof
Provides for increased shift planning transparency for everyone
Helps you plan and adjust individual working plans
Allows you to schedule the appropriate number of stuff for each shift
Enables businesses that work on a per-hour rate to track hours and manage resources
Different schedule making apps are suitable for different scenarios. In this article, we have collected the apps that suit both in-office and remote teams.
Comparison of best apps for scheduling employees
Here is a brief comparison of best applications for managing shifts.
| App | Reporting | In-built chat | Bottom-up scheduling | Ready-made templates | Additional team management features |
| --- | --- | --- | --- | --- | --- |
| DeskTime | + | + | + | – | + |
| When I Work | + | + | + | – | + |
| Shiftboard | + | – | + | + | – |
| Connecteam | + | + | + | – | + |
| Humanity | + | + | + | + | – |
| Homebase | + | + | + | – | + |
Top 6 apps for scheduling employees' shifts
Let's have a closer look at applications that can make scheduling shifts much easier.
1. DeskTime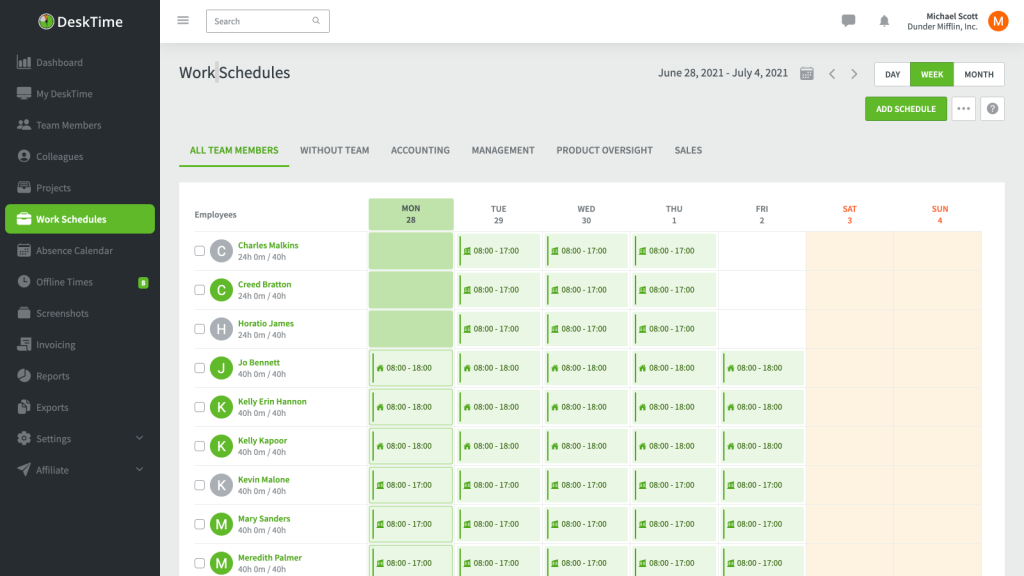 DeskTime is a full-fledged productivity app that helps companies with shift scheduling. You can create personalized schedules for different teams or individual employees. When creating schedules, managers can indicate things like total working hours, as well as the minimum hours to work. The dashboard is accessible and transparent to all employees.
DeskTime's bonus is that it also offers time tracking, productivity analysis, and the possibility to create efficiency and productivity reports.
DeskTime can be used by both large and small teams. As follows from the name, the app was originally designed for teams that work on computer-related tasks, however, it has evolved and is now being used across a multitude of industries and work environments.
2. When I Work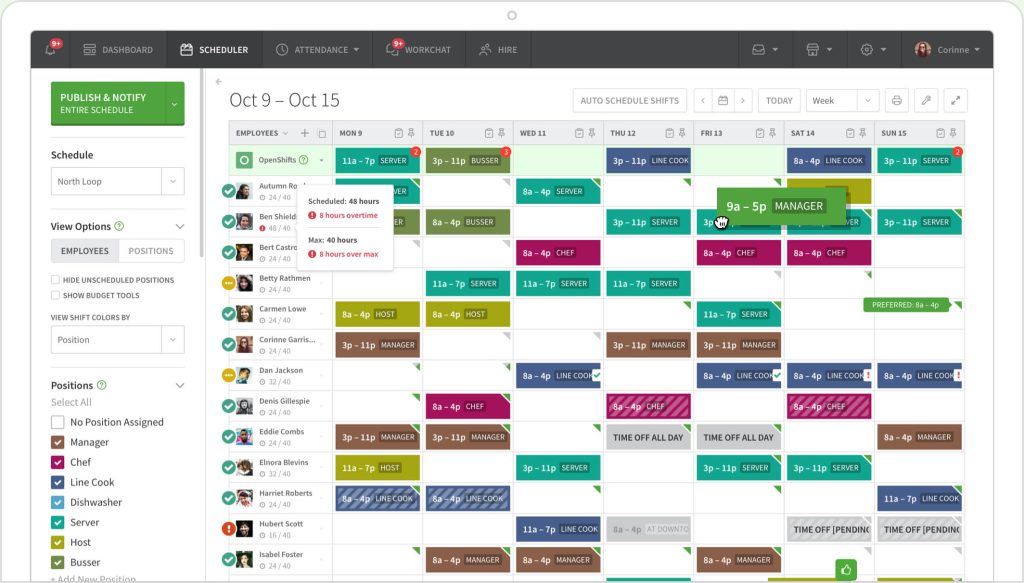 When I Work is an employees schedule app that allows you to create and update timetables in minutes. If employees need to shuffle shifts they can do it with a few clicks through their user-friendly graphical interface. The manager just needs to approve the changes.
You can select employees from the list and assign shifts in two clicks. Plus, you can use color coding for different roles to improve clarity when planning shifts. When I work also includes time tracking and analytics tools for labor forecasting that help you with labor budget planning based on historical data.
The app can be used both by office and deskless teams but will be most beneficial for businesses that work in manufacturing, hospitality, etc. It provides the team with an online chat feature where team members can communicate with each other, and the app also runs on a smartphone.
3. Shiftboard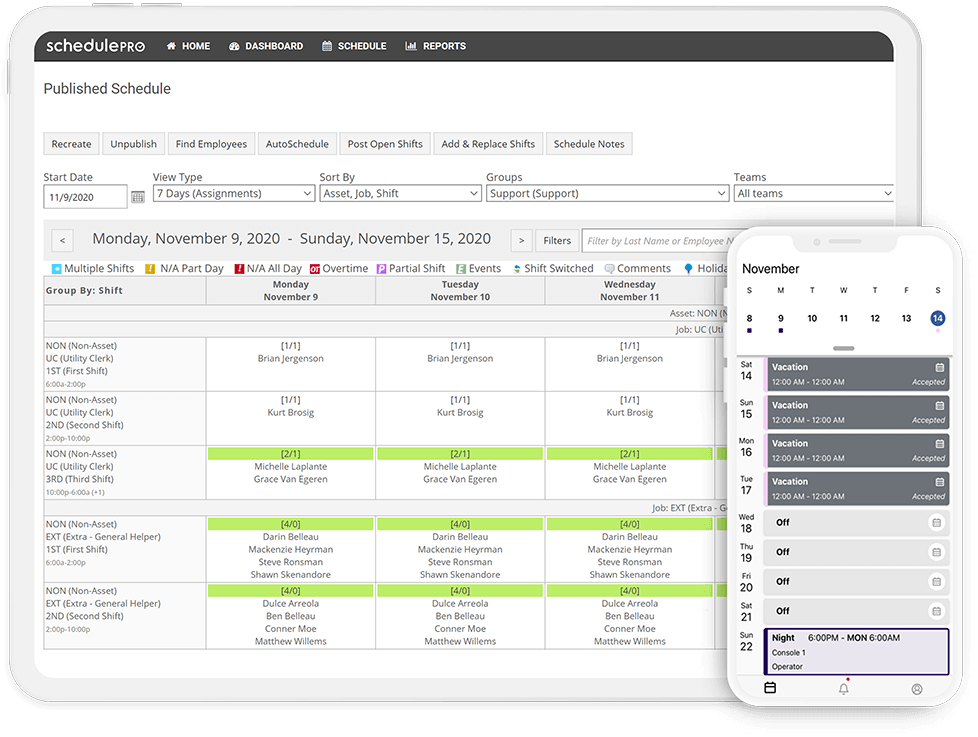 Shiftboard is one of the best apps for scheduling employees for mission-critical industries. It helps to productively organize processes for companies in both product-oriented (manufacturing, petrochemicals) and service-oriented (such as healthcare, hospitality) industries.
To meet the various needs of its users, Shiftboard provides not one but two solutions:
Service-oriented businesses can use ScheduleFlex – software to self-schedule shifts, track meetings and events.
For product-oriented companies, they offer SchedulePro software with site-specific shift planning options, overtime detection and optimization.
Using an app like this in the above-mentioned industries is essential since employee disengagement and bad management can cause direct financial loss or even put human lives at risk.
4. Connecteam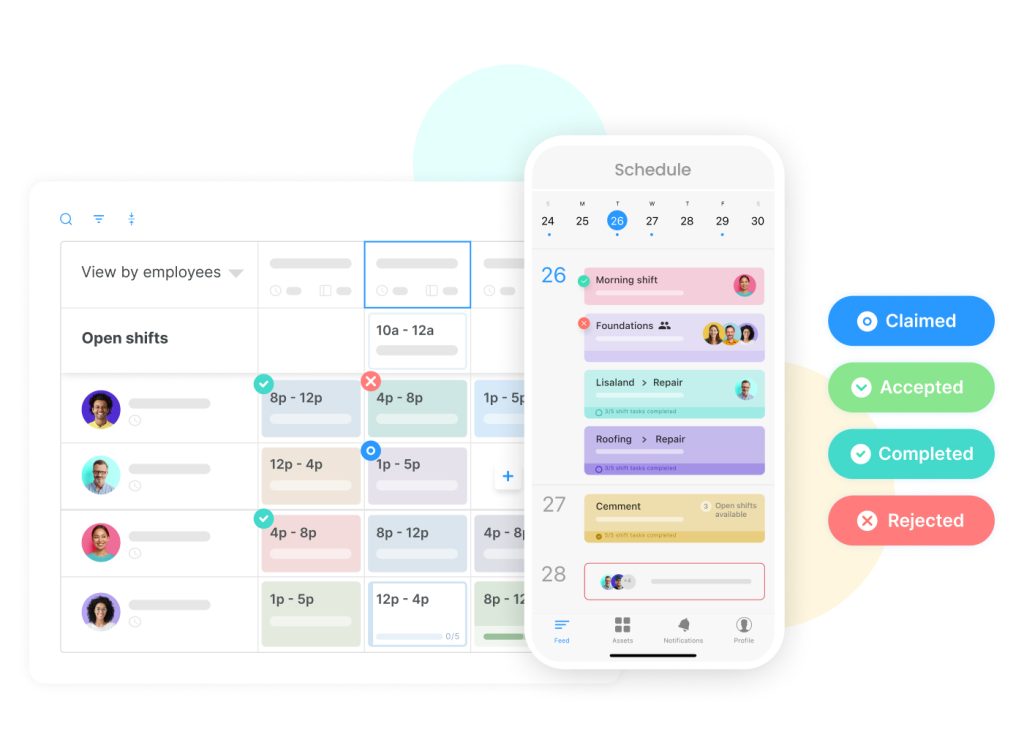 Connecteam is a communication hub for deskless teams. If you work in retail, hospitality, security, or construction, you might want to have a closer look at this work schedule planner. It enables you to plan shifts, assign tasks, and track hours in a single easy-to-use app.
This application enables businesses with deskless or mixed workforces to ensure efficient workplace communication. A significant benefit of Connecteam is that it provides your team with an in-app chat feature and a shared knowledge base to onboard and train employees. It also has a feature for creating employee surveys.
5. Humanity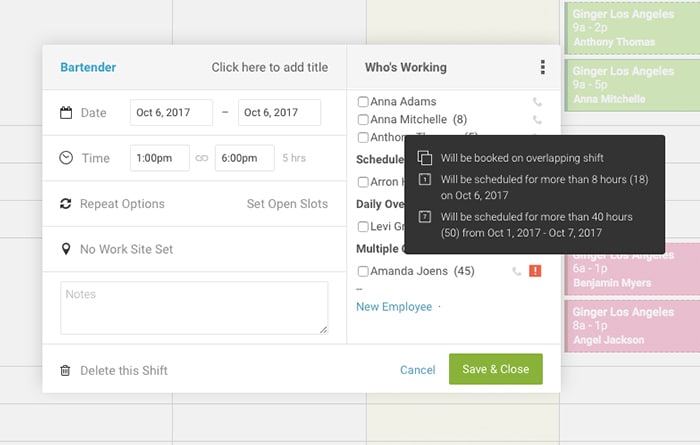 Humanity is a job schedule app that runs on desktop, mobile, or tablet. With the help of Humanity, you can reduce the time you spend on creating schedules by 80%. At the same time, you keep your timetable error-free by using case-specific templates and setting up availability rules.
This application focuses on providing employees with the best customer experience via an interface that is intuitive to use even to not so tech-savvy teams. Employees can request to drop or shuffle the shifts, managers just need to approve the changes. By making the scheduling process more efficient, Humanity allows business owners to reduce overhead costs tied to scheduling shifts.
6. Homebase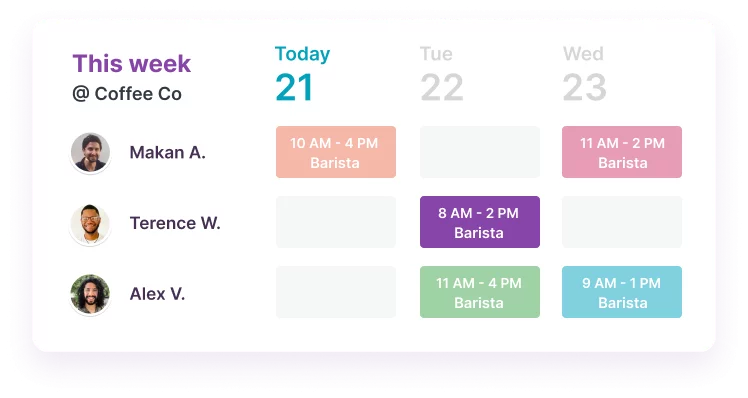 Homebase is a handy platform for businesses that work by an hourly rate model. Using this app, you can not only manage shifts but also onboard new employees, communicate with the team, and control labor costs. Homebase provides specialized tools for each of these purposes.
The app simplifies the process of scheduling shifts by allowing managers to create a unified timetable and share it with everyone in their team. Moreover, Homebase has an in-built time tracking system so that you could easily keep track of the amount of hours your employees have worked — be it in the office, at home, or even on-site, with the help of a GPS clock tracker. Then, you can convert hours into wages and pay in a few clicks.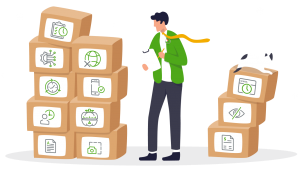 Be smart about your time!
Use DeskTime for shift scheduling and always stay on top of your team's workflow.
try for free
Use work schedule apps and be more organized
Shift planning software will help you reduce the time you spend on managing shifts, so that you and your employees can concentrate on what you do best. Moreover, these tools can help you improve communication within your team members and make them feel more connected, especially if you work remotely.
Did you find this article useful? Give it a clap!
Psst! You can clap more than once if you really loved it 🙂