Productivity calculation to evaluate and boost your team's performance
Find out who your hardest workers are, how much time is spent on productive work every day, and what the biggest distractions are.
How does DeskTime calculate productivity?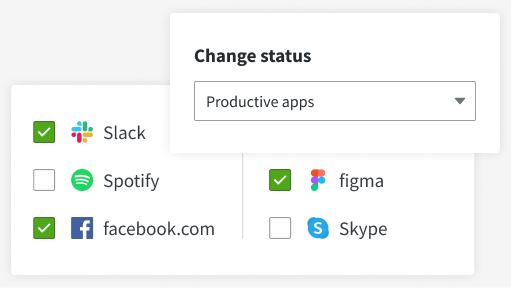 Set productivity status
Each website and app can be marked as productive, unproductive, or neutral.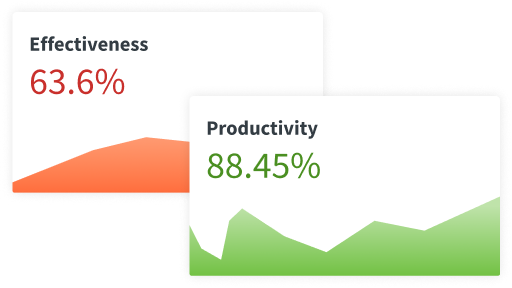 Productivity and effectiveness calculated
See the percentage of how much of your team members' time is spent on productive apps.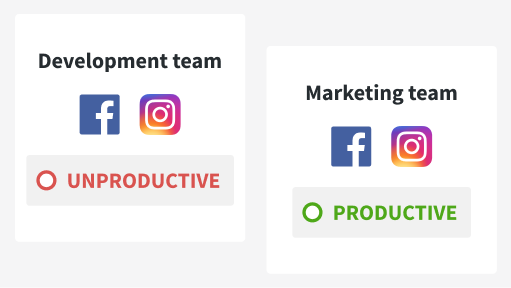 Customize team settings
The same app or website can have different productivity statuses for different teams.
Gain valuable insights into your team's performance
Employee productivity calculation can help you learn more about your team members and how they work.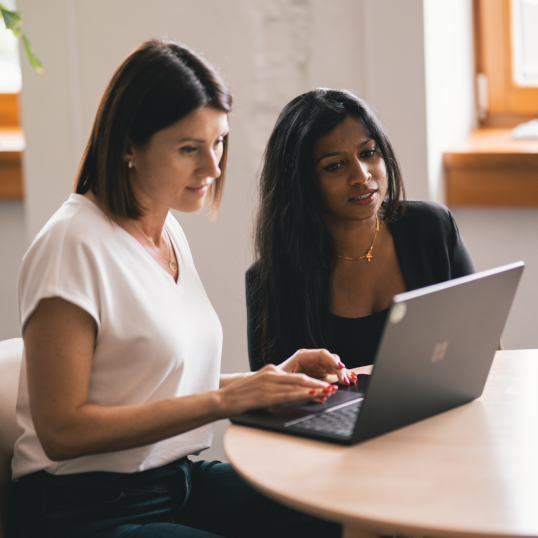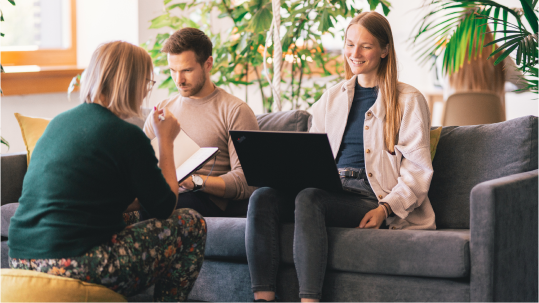 Battle these issues with productivity calculation
Hear from our users how DeskTime raised their productivity
Start tracking time with our 14-day free trial
1
1
Sign up
Create your DeskTime account
2
2
Download the app
Only the desktop app offers all the features
3
3
Start tracking time
And invite your teammates to join
Frequently asked questions about productivity calculation
Why should employers calculate productivity?
Employee productivity calculation is a valuable performance evaluation tool that can help employers see who their top performers are and who might not be pulling their weight. It can also help employers spot those who are risking burnout (being 100% productive all the time is impossible) or notice other potential problem situations and prevent them before they escalate. Productivity calculations can also be used to optimize workflows and improve processes.
How to calculate employee productivity?
The easiest way to calculate employee productivity is to use a time tracking tool such as DeskTime to log their activities and count how much time is spent on specific apps and websites. DeskTime lets you assign a productivity status (productive, unproductive, or neutral) to each app and URL your employees visit. Then the time spent on productive apps/URLs is expressed as a percentage against the total time they spent working that day.
How does DeskTime calculate employee productivity and efficiency?
DeskTime calculates employee productivity and effectiveness by assigning a productivity status to each app and URL your team uses throughout the day (the statuses can be changed, and the default is neutral). Then as the DeskTime app tracks the websites and apps everyone uses and visits, time spent on each becomes productive, unproductive, or neutral. Productivity then becomes the time spent on productive apps/URLs divided against the total time spent on the computer and expressed as a percentage. On the other hand, effectiveness is productive time divided by the minimum number of hours employees should work and expressed as a percentage; this means that the effectiveness percentage starts low when the shift begins and gradually increases as employees accumulate the necessary number of hours for the day.
How do you measure team productivity?
You can measure team productivity by measuring each employee's productivity and then calculating the team's average based on those numbers. If you use DeskTime, the average team productivity is calculated automatically and accessible to account administrators and owners in the Dashboard section. There, you can see an overview of the entire company's day (including absences, employees who are late, the most productive and unproductive employees, etc.). It is also possible to filter the view by teams to take a deeper dive into the stats of each department.
What factors affect productivity?
Productivity can be affected by external factors, like the environment you work in, and internal ones – how you feel at a given moment. Multitasking, interrupted workflow, loud environment, and various other factors that can throw you out of rhythm have decreased productivity; once you're distracted, regaining focus can take quite a while. Meanwhile, your mood during the day can also impact your productivity – if you're stressed about a big presentation you have to give that day, you'll probably find it hard to focus on other tasks. Plus, we're all human, and events in our lives outside of work impact our mood and, thus, productivity at the workplace.
What are employee productivity metrics?
DeskTime measures and calculates productivity in several ways, but the starting point for each metric is the productivity status given to apps and URLs your employees use throughout the day. Productivity is then expressed as a percentage of the time spent on productive websites/apps divided by the total time spent working that day. In the dashboard, you can also see the unproductivity percentage of your team members. Meanwhile, effectiveness is another metric you can look at – the amount of productive time of the day divided by the set minimum hours employees should hit. This percentage starts at 0% at the beginning of the day and rises as employees accumulate more productive time while working.
What is a good employee productivity rate?
There isn't a single productivity percentage that's generally considered optimal since its calculation depends on each team's and account's settings. That's why when you start using DeskTime, you should figure out your team's benchmark, depending on which sites count as productive and which do not. Don't forget that it's also a good idea to customize the productivity statuses between teams – social media sites, for example, will be unproductive for most departments, but the marketing team might need to spend time on them for work-related purposes. So to make sure their productivity statistics are not unfairly skewed, customize the settings between teams.
What is the best way to measure productivity?
If your team primarily works on their computers, then one of the most efficient ways to measure productivity is to use a time tracking app like DeskTime. It logs the websites and apps your team members use throughout the day, and you can assign productivity statuses for each of them. How is productivity calculated – the DeskTime app looks at how much of the time was spent using work-related (productive) apps and websites and divides it by the total amount of time spent at work that day. The productivity calculation feature is a quick way to spot your hardest workers and who might be prone to slacking.