Automatic time tracking - what it is & how can it benefit your productivity?
The complete guide to understanding automatic time tracking
Free 14-day trial. No credit card required.
By signing up, you agree to our terms and privacy policy.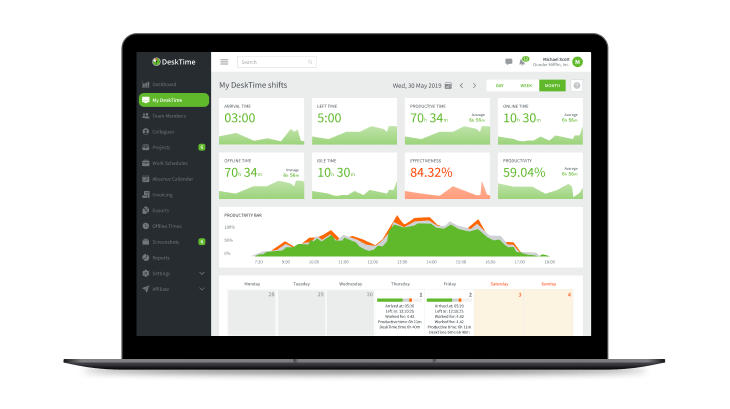 Automatic time tracking is the go-to move if you're looking to increase your productivity and enhance efficient work management skills. Many people turn to time tracking when they feel they could better manage their personal and professional lives. If you often feel like there's just not enough time in a day and that you simply don't have time to waste on small repetitive tasks, using an auto time tracker is a thing to consider.
The harsh truth is – you might not even realize how much precious time you're losing on tasks that don't even matter. Just take a look at the data.
Research shows that the average person will spend nearly 2 hours a day on Facebook, YouTube, Instagram, and other platforms – that's more than five years of our life spent scrolling through social media.
In comparison, we'll spend only one year and three months over a lifetime socializing with friends and family in real life. Now how about setting some priorities?
By using the right automatic time tracking app, you can finally stop wasting time and improve your personal effectiveness in order to take advantage of each day to the fullest.
What does automatic time tracking mean?
DeskTime's automatic time tracking is designed to help teams and solopreneurs increase their performance and achieve goals faster and smarter. While it doesn't offer to build your own personal time machine, using automatic time tracking tools is definitely one of the key strategies to regain control of your time.
Time tracking is the process of overseeing and documenting the amount of time spent on activities, tasks, and other projects throughout the day or any other specified period of time. In a business environment, time tracking is a simple method of observing how time is spent and for calculating payments. Time tracking is also the road to understanding how you spend your personal time, how productive and efficient you are on a day-to-day basis, which tasks take up most of your time, and which, on the other hand, require more attention.
The key factor here is the automation. Simply put, automatic time tracking means using a tool that tells you what you worked on instead of you having to tell the tool. An automatic time tracker removes the need to manage timers or manually input data because it accurately records all your work activity for you in the background.
Find out what makes you productive
Some people wear their lucky pair of socks to feel like they can conquer the world. Others need just the right temperature in the room to operate correctly.
Automatic time tracking in different environments and various settings can help you find the optimal conditions to maximize your productivity level.
For example, this freelance writer worked from home, the office, and coffee shops logging time with the DeskTime time tracking and productivity app only to find out that for her, coffee shops were best for boosting creativity, while the home office was the most productive.
Or this entrepreneur discovered that yoga balls, while not the most productive, significantly boosted her efficiency.
"Now you need to ask - what makes you productive?"
Automatic time tracking with DeskTime will help you find the answer and get you on track to accomplishing personal and professional goals.
Follow this step-by-step guide to start time tracking with DeskTime - one of the leading time tracking apps used by over 100k people:
1

Sign up for the DeskTime FREE trial

Fill in your details and check to agree to terms and privacy policy; then click "Sign Up Free"
2

Download DeskTime

Download and install the DeskTime application for Mac, Windows or Linux to start tracking your time
3

Launch the time tracking app

To launch the time tracking app, look into the Applications folder (if you're using Mac) or under Programs (if you're a Windows user). Sign into the app
4

Start tracking

Let DeskTime track your time and check back later to change the productivity status of the sites and applications you've been using.
FAQ about automatic time tracking software
If you're still on the fence and looking for other time tracking benefits, there are plenty . Here are some frequently asked questions about automatic time tracking .
How does automatic time tracking work?
Opposite to what you may have thought, there's no need to count every minute and prepare tedious spreadsheets and charts to compare how much time you've spent on activities throughout the day. That means that you won't have to log the hours you spend working because DeskTime's auto time tracking feature will do all that for you. On top of that, you can get customized productivity reports and data analysis. That's a boatload of tasks you can strike from your to -do list.
How does automatic time tracking boost your focus?
Focusing on multiple tasks at the same time is not a good idea, period. And science confirms it. A study found that only 2.5% of people can multitask effectively, proving that people are wired to be mono-taskers. When you're time tracking, you become aware that your time is being logged and that each minute needs to be assigned to a specific task. If you're multitasking, you won't be able to log your time accurately. So instead of trying to juggle responding to emails, cooking your dinner, and seeing what your friends have been up to on Instagram, stick to a single activity at a time and focus on completing it. DeskTime's auto time tracker will log time for you in the background. In the long run, you won't be tempted to multi-task and instead will grow your ability to focus on the task at hand.
How does it improve time management skills?
Good time management is all about decision-making and choosing to spend time on activities that matter. It's very easy to plan too much for your plate and, in the end – not finish half of the projects you've started. By tracking time, you'll learn to estimate with increased precision how much time you need to accomplish the essential tasks and how much time you have left for leisure. You'll be able to plan your schedule ahead and make sure every piece included in the puzzle is realistic. The best part is that you don't even have to do anything - DeskTime's automated features will let you know when it's time to take a break and what time of day you're most productive so you can plan your activities accordingly.
Can automatic time tracking reduce stress?
Planning your day with care and tracking time as you go along helps you regain control of your schedule. And knowing you're in control of your time reduces the amount of unhealthy stress . Bear in mind that finding time for rest and personal life is as important as scheduling time for work . Tracking your time will allow you to find these nooks of time off, and you'll be able to perform better and more profitably. And the automatic time tracking feature will rid you of small repetitive tasks – you can use your brainpower for important tasks instead of stressing over whether or not your remembered to turn the time tracker's timer on .