Project tracking for effortless task management
Find out exactly how much time your projects and tasks take, compare it to your estimates, and calculate the expenses more precisely.
How does project tracking with DeskTime work?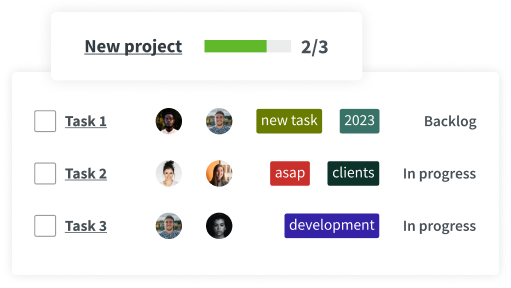 Add projects to DeskTime
Enter projects/tasks into the Projects section – add hourly rates, descriptions, and more.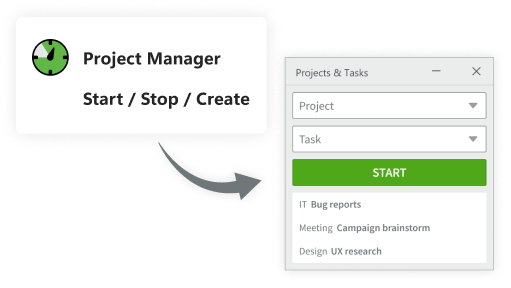 Start tracking project time
Find the necessary project/task and press "Start" to assign tracked time to it.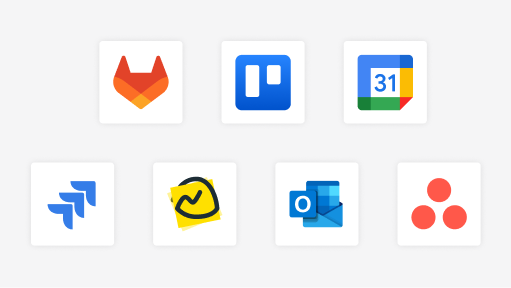 Integrate project management tools
DeskTime connects with various apps – no need to create projects from scratch.
Start tracking project time and enjoy these benefits
Project tracking can help you effortlessly keep up with your team's work and see how projects move forward.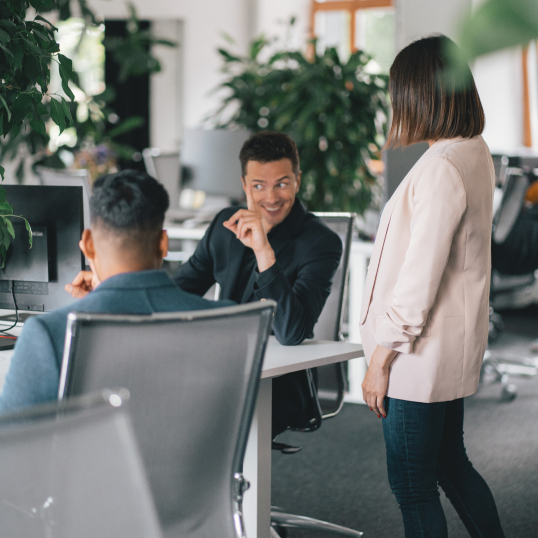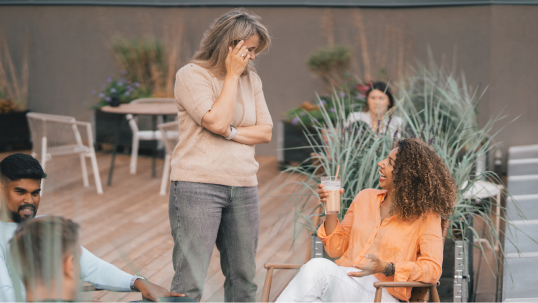 Let project tracking take your mind off of these concerns
Hear from our users how DeskTime raised their productivity
Start tracking time with our 14-day free trial
1
1
Sign up
Create your DeskTime account
2
2
Download the app
Only the desktop app offers all the features
3
3
Start tracking time
And invite your teammates to join
Frequently asked questions about project tracking
What is meant by project tracking?
Project tracking is a process of overseeing and managing your team's projects to see how they're progressing, spot potential problem areas, and ensure that the project is completed on time and within budget. Managers typically use dedicated project management and tracking apps to simplify project tracking, providing an immediate and clear overview. An essential part of project tracking is also project time management, and this is where time tracking tools like DeskTime, which has a dedicated project tracking feature, come in handy.
What is the difference between project tracking and project management?
Project management typically refers to overseeing the entire project from the beginning till the end, including planning, executing, defining the project's scope, planning resources, coordinating the work among team members, etc. Project tracking, on the other hand, is a way to keep up with the actual progress of the project by measuring how much time has been spent on each part of it. This helps project managers plan more efficiently, have more accurate estimates for future projects, and bill customers precisely using the time tracking data.
What is the purpose of project tracking?
The purpose of project tracking is to give you a clear picture of how long each project takes, how they are progressing, and how much you should bill your customers after the project is done. With the help of project tracking, you can also see who has contributed how much to the task (several people can track time for the same project and even task if you use DeskTime) and where potential bottlenecks are. This knowledge can help you plan future projects more efficiently since you'll have precise data to learn from previous experiences.
What are the advantages of project tracking?
Project tracking offers various advantages, but the most important one is that it gives you clear insights into how long certain projects take to complete. In the project planning phase, you might have your estimates, but the reality is often very different; by tracking project time, you can see the actual situation. When you have the data on how long everyone spent working on the project, you can bill your customers accurately if necessary and provide much more accurate estimates for similar projects in the future.
How is project tracking done?
At its core, project tracking is done by timing how long it takes to complete specific tasks. It can be done in several ways, including manually writing down when you start working on something. However, a more reliable system is to use a time tracking app that also offers project tracking as a feature. For example, as you're tracking time with the DeskTime app, you can also indicate the project/task you were working on and see the total in the reports or your dashboard.
How do I track hours spent on a project?
The easiest way to track hours spent on a project is to use a dedicated time tracking app that lets you indicate the project and task you're working on at a given moment and assigns all of the tracked time to it until you switch to something else. If you use DeskTime, for example, you can easily switch from one task to another, and at the end of the day, you can see the total amount of time you spend on each. You can also check in on your weekly or monthly progress and download the data in custom reports to see the total for each project at any given time.
How do you monitor and track project progress?
The best way to monitor and track project progress is to use a time tracking app like DeskTime, which will provide you with the most accurate insights into how long activities take. If you use the project tracking feature, you can enter your team's projects into the app and ask everyone who works on the particular project to assign their tracked time to it when appropriate. This way, you can see when specific departments start working on the project, notice any potential problems on time, and see an accurate total once the project is finished.
Is there an app to keep track of time worked on specific projects?
Yes, the DeskTime app can also help you track time for specific projects. When you start working on a project, enter its title and the subtask (if necessary) in the tracker, press "Start," and from that point on, all the time will be assigned to this activity. Once you're done working on that project, stop tracking. You can then switch to another task or let the app track your time without denoting a particular project. The total time spent on the project can be seen in your dashboard, in the Reports section, or exported as a file.
What is the best tool for tracking project hours?
The best app to keep track of project hours is a time tracking app that allows you also to indicate the specific project you're working on. This will provide you with the most comprehensive data about the project's progress; an app like DeskTime lets several team members work on the same project simultaneously, adding their time to the project total. An app like DeskTime will be the best tool for tracking a project because it gathers all the time tracking data in one place, and project managers can check in on the progress whenever they wish.
How do you track project time?
There are several ways how companies keep track of project work hours, but one of the most efficient ways to track project time is to use a time tracking app with a project tracking functionality. DeskTime's project tracking feature lets you assign your tracked time to a particular project and/or task, helping you manage project timing more effectively. Once you see how a project is moving through your team or how much time everyone puts in, you can see where the problems appear and what might need improvement in the overall process.
How do project managers track their time?
If we're talking about how project managers can track their own time, a time tracking app like DeskTime will be the best answer. Our automatic time tracking feature means that you don't even need to think about the tracking itself; it all happens in the background (and when automatic tracking is unavailable, manual tracking options step in). If we're talking about ways project managers can keep track of the projects they're overseeing, then again DeskTime can be the answer since it also offers a handy project tracking feature – it allows the tracked time to be assigned to a particular project and task.
Which tracking tool is commonly used by project managers?
There are various tracking tools available on the market for project managers to choose from, so the best answer will depend on your particular needs. DeskTime, for example, is a great choice to gain more insights into how long your projects take or even what tools were used to get the job done (URL and app tracking come in handy here). Many of the tracking tools, including DeskTime, also offer various integrations with project management apps like Jira, Asana, Basecamp, and others; this way, you don't need to recreate each project from scratch in the time tracking app but import them from your project management app into the time tracking system instead.
How do you track time for multiple projects?
If you need to track time for multiple projects, a time tracking app like DeskTime will be a great asset. Our project tracking feature lets everyone easily switch between projects and/or tasks, so whenever you start working on a different task, change it in the Project Manager and click "Start." From then on, the tracked time will be assigned to that task. You can switch between tasks as often as you wish, quickly see that day's, week's, or month's total in the dashboard, or check the reports for a deeper dive into the data.
How do you manage multiple project timelines?
The best way to keep track of multiple projects and timelines is to rely on a time tracking app with a project tracking feature. This way, you'll get the most accurate data on how long certain stages of a project take, and it'll be much easier to spot bottlenecks or other problems you need to address. The DeskTime app, for example, lets you add up to 1000 projects (for an unlimited number of projects, go with the Enterprise plan), so everyone on your team can add their tasks and projects to the system to give you a complete overview of everyone's day and progress.
How do I keep track of all my work projects?
The most important thing to keep track of your work projects is to create a reliable and helpful system that lets you oversee projects but doesn't require too much of your own time. In other words, implementing a tracking tool to do most of the work for you is the best way to keep track of projects. An app like DeskTime can be used to calculate the time that each project (and even each part of the project if you track tasks, too) takes; you can also add hourly rates to follow along with how your budget estimations are keeping up with the progress and do much much more. This way, you'll have the data at your disposal, and you can then draw the appropriate convulsions of how your work projects are progressing.
How do project managers keep track of projects?
An excellent way project managers can keep track of projects is by using a project time tracking app, such as DeskTime. It'll let you keep an eye on several projects simultaneously since you can check in on the progress of each at any time, spotting potential problems ahead of time; for example, if you see that a project has been stuck in one development stage for a long time, you might need to take a closer look to help solve the problem.