Use shift scheduling to organize your team's work
Assign shifts to your employees, see who's working in the office and remotely, and much more with the Shift scheduling feature.
How does shift scheduling work?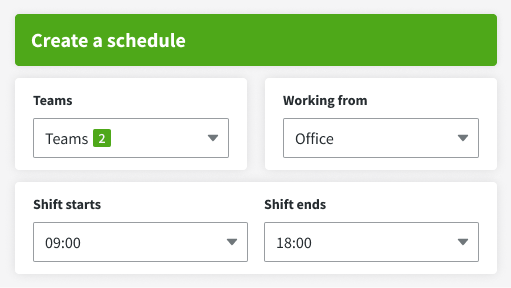 Assign shifts
Let your employees know when they're supposed to work and how many hours.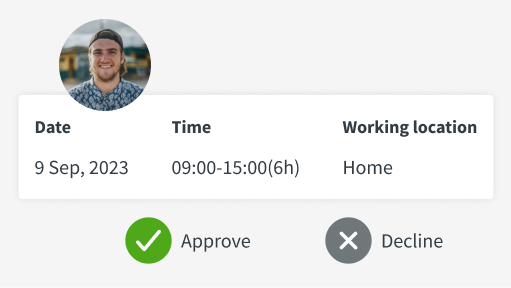 Shift requests
You can also let your team members request their preferred shift dates and times in the system.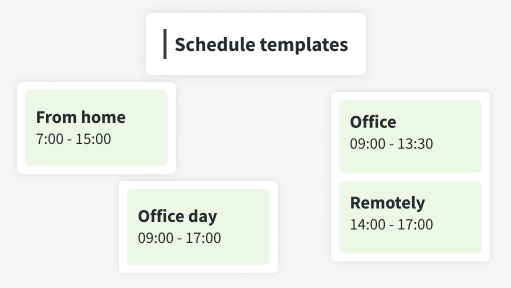 Create templates
For quicker planning and scheduling, you can create templates for shifts that repeat regularly.
Here's how DeskTime's shift scheduling can benefit your workplace
The Shift scheduling feature can be an additional powerful tool in your arsenal that helps you improve the way you work.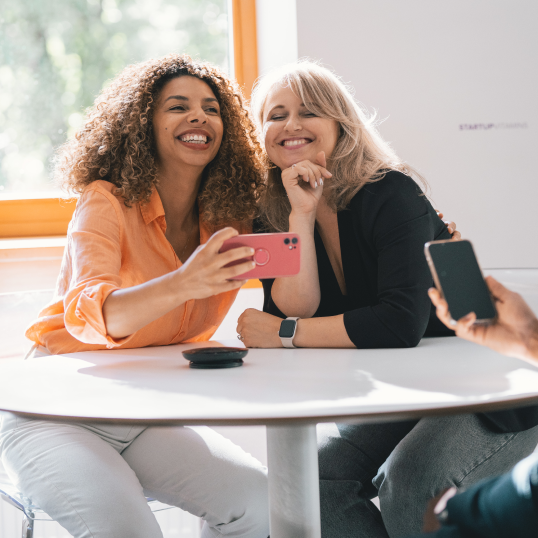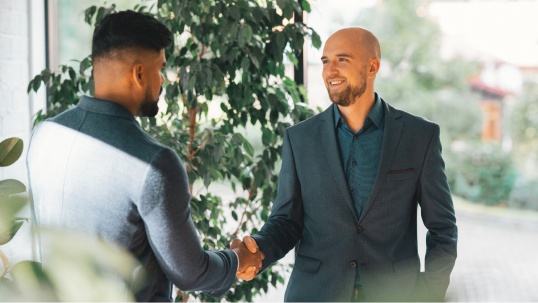 Avoid these pitfalls by using the shift scheduling feature
Hear from our users how DeskTime raised their productivity
Start tracking time with our 14-day free trial
1
1
Sign up
Create your DeskTime account
2
2
Download the app
Only the desktop app offers all the features
3
3
Start tracking time
And invite your teammates to join
Frequently asked questions about shift scheduling
What is shift scheduling?
In very simple terms, shift scheduling is the way you organize your team's workload and assign work hours. With DeskTime, this becomes as simple as one-two-three since our app also works as a shift scheduling tool. In the "Work Schedules" section, you can add and edit shifts to employees; everyone can see when they are supposed to work and who's working at the office or remotely. You can even allow your employees to request shifts or add them to the table.
How do you schedule employees' shifts?
DeskTime offers an extremely easy way to schedule employee shifts with our Shift scheduling feature. To create an employee shift schedule, head to the "Work Schedules" section in the DeskTime sidebar, and there, you can add shifts, edit existing ones, see how many people will work at the office or remotely on a given day, etc. If there's a scheduled absence, it'll also show up in the Work Schedules calendar to give you a complete overview of your team.
How do I create a shift schedule?
To create a shift plan using DeskTime, go to the "Work Schedules" tab in the sidebar. You can plan your team's shifts there, see the current schedule and absences, and much more. To save some time, you can create shift templates that can be used whenever necessary, and you can also set repeat shifts – if your team members always have to work at the same time on certain days, you can schedule their hours in advance in one go.
How do I track my employees' daily shifts?
Tracking your employees' daily shifts is effortless if you use DeskTime as your shift planning app. If an employee has been assigned a shift, you'll see the statistics for that particular shift on their user dashboard – if they arrived on time, their productivity and effectiveness during that time, and more. The Admin dashboard also shows who's late or absent, so you can easily keep up with what's happening at any given time.
Is there an app to put work shifts on?
Yes! Various shift scheduling apps are available on the market, so it depends on your specific needs and requirements. Since employee shift scheduling goes hand in hand with time tracking, this feature is also available on DeskTime. You can assign and plan your team's work schedules, oversee absences, and much more – all in one app, which will track your team's activities and time spent working.
What software do companies use for shift scheduling?
If you're looking for shift scheduling software, you'll find many options with different features. You can choose between dedicated workforce management apps and tools like DeskTime, which include shift scheduling as part of its selection of features. With DeskTime, you can plan your team's workload and follow up on how work is progressing with our time tracking features.
Is there a free shift scheduling program?
There are some free shift planning software options available (and it's always possible to use a simple Excel sheet as well), but they are likely to be limited in what they offer. If you're looking for more advanced solutions, you'll need to look into paid apps, but the good news is that they often provide free trials during which you can test the software to see if it suits your needs. This also goes for DeskTime – all accounts are enrolled in a free 14-day trial right from the start.
Is there an app to keep track of both work hours and shifts for employees?
Yes, in this case, you'll benefit from a time tracking app like DeskTime, which also lets you schedule shifts and plan absences. The core function of DeskTime is time tracking – you can effortlessly keep up with your team's progress. In addition to that, DeskTime also functions as software for shift scheduling with features like Shift scheduling and Absence calendar, which let you manage your workforce in the same app, saving you valuable time and resources.
Can Excel be used for shift scheduling?
Yes, it's possible to use Excel for shift scheduling, too. You'll need to create a template (or find a ready-made one) to ensure everything works smoothly. If Excel magic is not your strong suit, you can take advantage of DeskTime's shift scheduling feature, which lets you plan your team's hours in the most straightforward way possible. You'll see an overview of each week, everyone's scheduled work times, absences, and much more in one place.