Stay on top of your team's activities with Screenshots
Make sure work hours are spent on actual work – turn on time tracking with screenshots to get a glimpse into your employees' workdays.
How do DeskTime Screenshots work?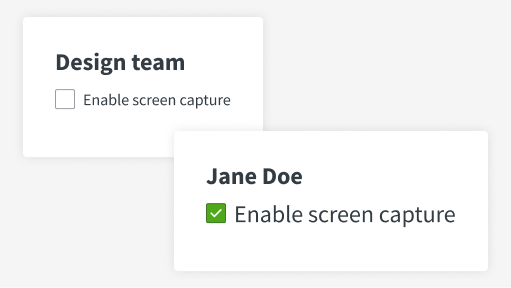 Enable screen capture
The feature is optional – turn it on for your entire team or individual users.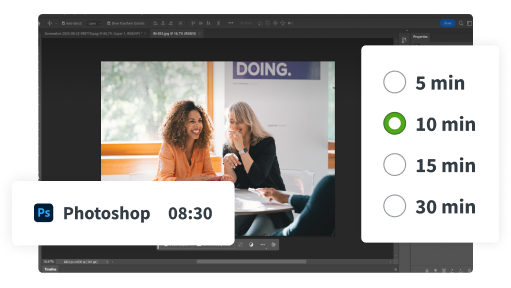 Choose the screenshot interval
Screenshots are taken at random times within 5, 10, 15, or 30-minute intervals.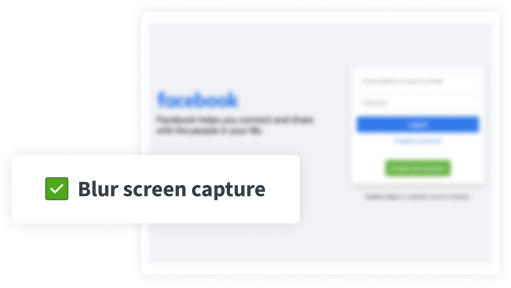 Blur screenshots for more privacy
You get the general idea of what everyone's doing, but sensitive info stays private.
Gain peace of mind that everyone's getting the job done
Time tracking with screenshots gives you an extra boost of certainty that everyone's hard at work.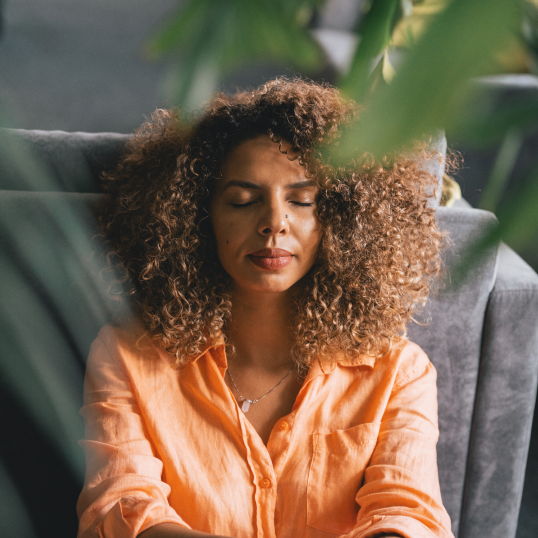 Let time tracking with screenshots take your mind off of these problems
Hear from our users how DeskTime raised their productivity
Start tracking time with our 14-day free trial
1
1
Sign up
Create your DeskTime account
2
2
Download the app
Only the desktop app offers all the features
3
3
Start tracking time
And invite your teammates to join
Frequently asked questions about Screenshots
Does DeskTime have a screenshot feature?
Yes, DeskTime offers time tracking with screenshots, among other functionalities. The feature is optional – you can turn it on or off for your team or even particular team members. You can also specify the screenshot interval (screens are captured at random times within these intervals) and blur the images to ensure greater privacy for your team members.
Does DeskTime take screenshots?
Yes, DeskTime provides time tracking software with screenshots, an optional feature you can turn on depending on your team's needs. The Screenshots feature is only available for the Premium and Enterprise pricing plans. If you decide to use screenshots, you can also choose whether or not you want the images blurred – by blurring them, your team members can feel more relaxed that their private info will not be accidentally captured. You can also encourage your team members to use the Private time option – if Private time is turned on, no computer activity is tracked, including screen capture.
How often does DeskTime take screenshots?
DeskTime's screen monitoring software can take screenshots at 5, 10, 15, or 30-minute intervals. The screenshots are taken at random times within the chosen interval to ensure that employees don't try to cheat the system by knowing the exact moment when a screenshot is taken.
Can DeskTime detect a mouse jiggler?
Since DeskTime uses mouse movements and clicks to determine a user's activity, technically, a mouse jiggler could show the user as falsely active. One option is to turn off mouse movements and/or clicks as activity tracking measurements. Additionally, DeskTime offers time tracking software with screenshots – if you combine the app's other capabilities with screen capture, cheating the system becomes much harder. All you have to do is glance at the captured screenshots to notice suspicious patterns.
What is the best time tracker for freelancers with screenshots?
Even though screenshots are typically a feature favored by team managers, some freelancers also find them a helpful tool to keep tabs on their work. The DeskTime time tracking app offers various freelancer-friendly features, including project time tracking. If you want to add screenshots, you can also enable them for your freelance account. If you track project time and use screenshots, they can serve as proof of work for your customers showing that you were indeed working on the specific task at the time for which you're billing them.
Does every time tracker take screenshots?
No, not all time trackers offer screenshots among their range of features. Additionally, the screen capture functionality itself can differ from one tool to another. That's why taking advantage of the available free trials is always a great idea to see if the particular tool satisfies your needs. The DeskTime app, for example, lets you choose the screenshot interval, highlights potentially unproductive apps in use during that time, and more.
How do I monitor my employees working remotely?
If you're managing a remote team and wish to learn more about how they spend their work hours, an app like DeskTime – time tracking and screen capture monitoring software – will be a great choice. The DeskTime software works automatically, starting to track time the moment you turn on the computer; it stops tracking when the computer is turned off or when it's been idle for more than 3 minutes. The optional Screenshots feature captures employee screens randomly within the time intervals you choose; by using time tracking with screenshots you can definitely prove that no one's slacking during work hours.
How does DeskTime work?
The DeskTime app automatically collects data about the users' activities throughout the day, logging their arrival and departure times, how long their breaks were, what apps and URLs they visited during the day, etc. To take advantage of all of DeskTime's features, you should make sure everyone installs the desktop app on their computers. Otherwise, such features as screenshots will not work.
What info can someone get from a screenshot?
Screenshots capture the computer screen exactly as it is when the screenshot is taken; essentially, anything that is open at that time can be visible there, including text. To ensure greater privacy for the users and to prevent sensitive data from accidentally being captured in the image, DeskTime offers the option of blurring the screenshots. This way, the text and other details in the screenshot will not be legible, but admins can get a general idea of what the employee was doing without digging into potentially private data.
Can companies track screenshots?
If you enable the screen capturing feature for your account, the screenshots taken will be visible to the company owner and admins. They are displayed in the Screenshots tab in the sidebar, the Dashboard, and each user's My DeskTime page (where users can see their screenshots). The time tracking screenshots showing unproductive apps as active or in the background will be highlighted so you don't need to look at all images individually.
Can you track PC activity?
The DeskTime app can keep track of PC activity – it can log the apps and URLs visited throughout the day and even take screenshots within specified time intervals for extra certainty that everyone's working, not slacking. DeskTime does not offer features like keystroke capture or video recordings of employee screens. Additionally, it's recommended to keep the screenshots blurred – this way, admins will get a general idea of what their team members are doing, but employees' privacy will stay protected.
How do I turn off screenshots on DeskTime?
All of DeskTime's features, including screenshots, can be turned on or off based on your team's needs. Company owners and admins can turn off screenshots by going to Settings – you can enable or disable screenshots for the entire account or specific users if you wish to keep a closer eye on someone in particular. User managers and employees cannot change the app settings by themselves.