The time and attendance software that will change how you do time attendance management
Whether your employees work remotely or in the office, automatic time and attendance software is the solution you're looking for if you want to track employee time effectively. By using time and attendance tracking software, you'll no longer need to worry about when your employees are working because everything is automatically tracked for you.
Free 14-day trial. No credit card required.
By signing up, you agree to our terms and privacy policy.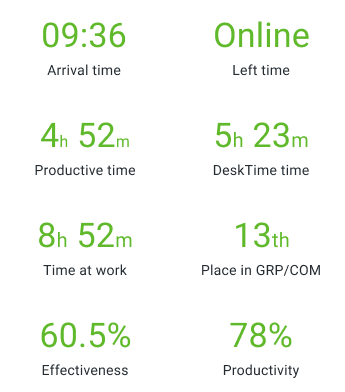 Why you need time and attendance software
The ideal time attendance solution is one that neither a manager nor an employee needs to engage—it should be autonomous, requiring input only when absolutely necessary. Unlike keycard-based clock-in systems or other manual solutions, time and attendance software requires no interaction. Enter DeskTime: the time attendance solution that tracks an employee from the moment they turn on the computer. Regardless of whether they walk away for a break, go to a meeting, or are absent altogether, you will always know their attendance status.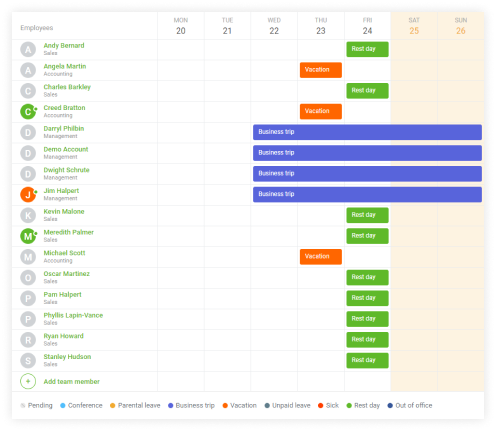 How time and attendance software can benefit your scheduling
As a manager, you know that scheduling is the lifeblood of productivity. With efficient scheduling, you get more work done because you can better foresee and distribute loads. But what if you're unaware of someone's absence at the most critical time? How do you avoid that?
With time and attendance tracking software like DeskTime's Absence Calendar, you can:
Completely eliminate the guesswork of your employee whereabouts

Stop wasting your valuable time by poring over timesheets

Let your employees plan and coordinate their own absences

Visualize who is on vacation and who is sick, making it easier to plan work
All of those benefits equate to not only fewer hiccups at work but also fewer frustrations.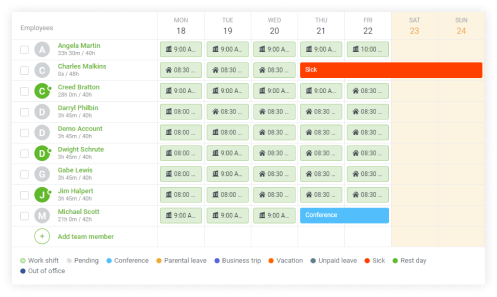 How time and attendance software simplifies time tracking
True, accurate time and attendance management is incredibly difficult, and hiring someone to follow an employee around all day is just not practical. But with an automatic time attendance solution, effortless offline and idle time tracking no longer need to be a manager's fantasies—DeskTime, a time and attendance solution, does everything by itself. It's as though your timesheets fill in themselves!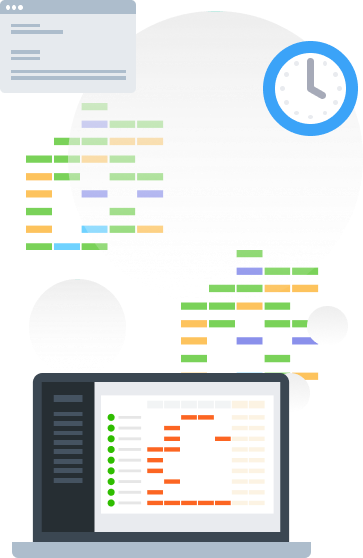 Why track with DeskTime, the ideal time attendance solution
DeskTime as a time and attendance tracking software has multiple features that will directly change how you do time attendance management with numerous benefits to you. Here's why you should track employee attendance with DeskTime:
Arrival and departure of employees is automatically recorded without any intervention

Employee breaks are detected and marked by DeskTime

The Absence Calendar displays everything you need to know about employee absences

Idle time—the time no activity is recorded on the computer—is detected and tracked

Tracked offline time can be connected to external calendar apps and be labeled automatically
The very real benefits of time and attendance software DeskTime
We know that neither you nor any other manager wants to spend time on stuff that could just take care of itself. DeskTime does the work for you so that you can reap the benefits:
Save time: Never again look through papers, call your employees, or ask the secretary because DeskTime visualizes all the time and attendance data on your own computer.

Save money: Your employees are going to be more productive and more respectful of their working hours if they know that their activity, as well as their arrival and leaving time, is being tracked.

Save headaches: No more trying to figure out who went to what meeting or which calendar has what because DeskTime's offline time tracking synchronizes with external calendars and labels the tracked time automatically.