Productivity reports and other insights about your team's work
Explore how work progresses over time, compare productivity statistics, and gain much more information in our Reports section.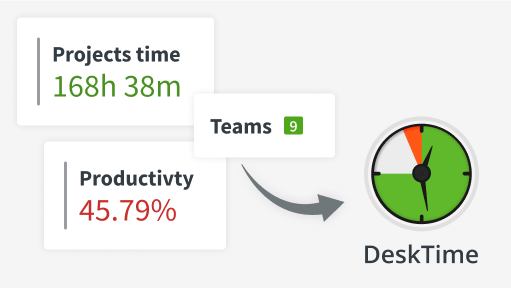 We collect the data
The DeskTime software gathers and analyzes all the time tracking data of your team.
See the statistics
Head to the Reports section to see the data displayed in ready-made charts and graphs.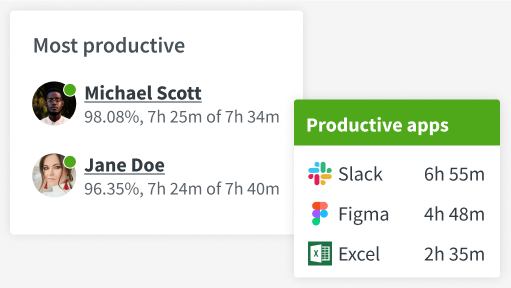 Analyze and compare
See who your best performers are and dive deeper into time tracking data from earlier.
Why time tracking and productivity reports will make a difference
Time tracking data on its own won't tell you much – it's all about putting it into the proper context, and the Reports will help you do just that.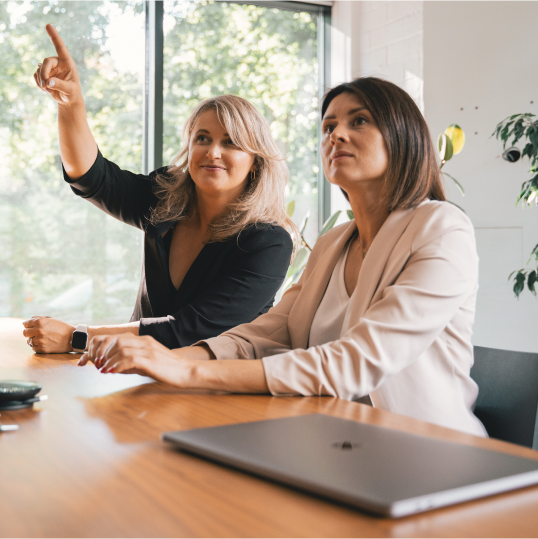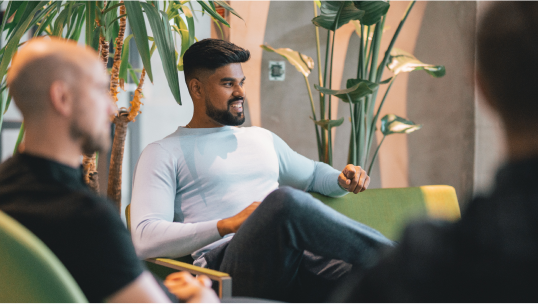 Take care of these issues with time tracking reports
Hear from our users how DeskTime raised their productivity
Start tracking time with our 14-day free trial
1
1
Sign up
Create your DeskTime account
2
2
Download the app
Only the desktop app offers all the features
3
3
Start tracking time
And invite your teammates to join
Frequently asked questions about DeskTime Reports
What is a time tracking report?
A time tracking report is a summary of all the data that the time tracking app has collected, presenting it in a digestible format. DeskTime's Reports feature offers various types of data summaries (general overview, project time analysis, comparisons, etc.), which you can further customize by filtering users or teams and setting different periods to be included in the report. The data can also be downloaded in the Exports section if you want to do further analysis or keep the information in your archives.
What is an employee productivity report?
An employee productivity report provides insights into how your employees work – how productively they spend their work hours. DeskTime's daily productivity reports show how much time each employee has spent on productive, unproductive, and neutral apps/websites and expresses this time into a productivity percentage (how the productive hours stack up to the total hours spent at work). You can also access data about longer periods (weekly, monthly, or custom). The employee time reports help you quickly spot your best performers and those with lower productivity who might need assistance or are simply not performing at their top level.
How do you report productivity?
To report productivity, you need a way to measure it, and the simplest way to do that is to use a time tracking app, which also analyzes performance. The DeskTime time tracking software also includes a productivity calculation feature. The app tracks your activities throughout the day and calculates your productivity and effectiveness based on the productivity status assigned to each website and app you use. The productivity stats are available in each user's "My DeskTime" section and accessible through Reports.
How do you explain time tracking to an employee?
When you explain time tracking to an employee, it's essential to be as transparent as possible and to address any potential concerns ahead of time. It's a good idea to tell your team just how you plan to use the tool – what stats you'll be paying attention to, which features you'll be using (particularly when it comes to features like Screenshots, which will be perceived as more intrusive), etc. It's also important to stress the benefits employees themselves can get out of this tool – by tracking the time they spend at work, they can ensure greater work-life balance by not overworking or ensuring that all of their work is compensated fairly, including overtime.
Can you monitor employee productivity?
Yes, it's possible to monitor employee productivity – the easiest way to do that is by using a time tracking app like DeskTime, which offers productivity analysis and other related features. The app tracks employee activities during work hours, analyzes their productivity and effectiveness, and presents the results in dashboards and reports. What counts as productive and not is determined by the administrators – you can set productivity statuses for each website and app and adjust them to suit different teams (so, for example, social media sites can be set as productive for the marketing team, while for everyone else they can be unproductive).
How do you measure employee productivity?
The easiest way to measure employee productivity is to use an automatic time tracking app like DeskTime, which will do all the analysis for you. DeskTime calculates productivity by tracking the time spent on productive apps/websites and dividing it by the total number of hours worked. Each website and app your employees visit is given a productivity status (productive, unproductive, neutral), which is used in the calculations. You can customize these statuses for different teams, so the same app can be productive for one team and unproductive for another, depending on the type of work they do.
What is the best way to track employee hours?
The best way to track employee hours is to use a time tracking app like DeskTime. It will provide you with the most accurate time tracking data (down to the second if you wish!), and it works automatically, so such factors as human error play a much smaller role in the results. The DeskTime app not only tracks the time employees spend at work – it can provide you with productivity analysis and many other features, depending on your needs. The tracked data is available for you to check anytime in the Reports section, dashboard, and elsewhere.
What is the main purpose for using time tracking?
The main purpose for using time tracking is to gain clear and precise information on your employees' work hours – if everyone's putting in the required time, arriving and leaving at the correct times, etc. Time tracking is essential because these time management reports provide unbiased data that can become crucial when making decisions about promotions, wages, etc. Time tracking can also provide you with data not only about how long people are working but also how productive they are – DeskTime's features like productivity calculation, project tracking, and others will let you keep up with work progress effortlessly.