21 time management tools that help draw the line between work and life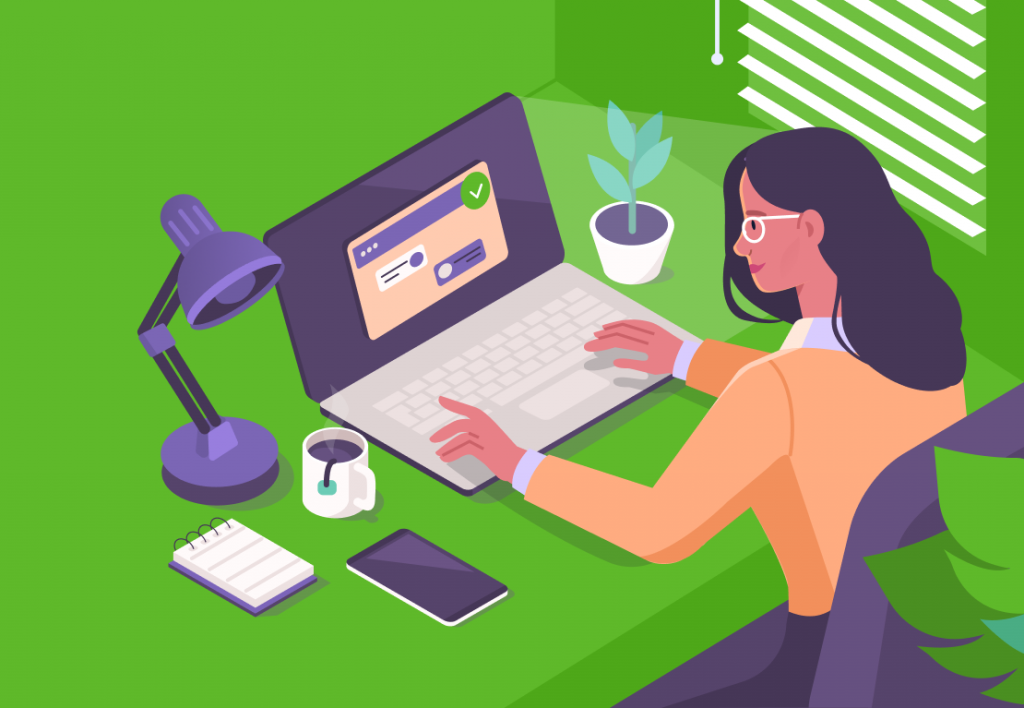 Since normal office life was substituted by home offices, having powerful time management tools has become nearly a survival need. Issuing invoices at the kitchen table, zooming from a walk-in closet, and doing the laundry during a meeting are concepts all too familiar to many of us.
We may not want to admit it, but sometimes our work and personal life can't help but bleed into each other. If this has become a problem and you feel you need help to segment your day better and improve your time management, this list of apps will give you a hand.
Want to get the most out of your time?
Try DeskTime for free!
Try free for 14 days · No credit card required.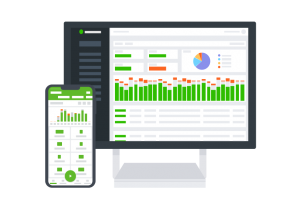 The apps we suggest in the Project & Time management tools section help you structure your workday and do more within a given day so that you can switch off from work with a feeling of accomplishment. Focus & Motivation apps will help you eliminate distractions and concentrate on your priorities. In the Meditation & Lifestyle apps section, we list various tools to help you draw a clearer line between work and life.
Dive in or hop straight to the part that interests you most.
Project & time management tools:
1. DeskTime
2. Calendly
3. Todoist
4. ActiveCollab
5. ClickUp
6. Monday
7. Flow
8. Trello
9. Indy
Focus & Motivation apps
10. Daywise
11. Moment
12. Marinara Timer
13. Flora
14. Mobile phone jail
15. Flipd
Meditation & Lifestyle apps
16. Buddhify
17. Challenge Accepted
18. Tide
19. Cozi
20. Wallpaper Changer
21. Lifefyle
Project & time management tools
1. DeskTime — productivity tracking & time management tool
DeskTime is an automatic time and productivity tracker that works in the background, never interfering with your work. When you want to see how much time you've worked in a given day (or week, or month), you can simply check the DeskTime dashboard and see if it's time to switch off or if you need to work for another hour or two. The app also records overtime, and you can see all the extra hours you've done in a given time period.
DeskTime also measures your productivity based on the usage of apps that you or your team admin designate as productive or unproductive. You'll find that it's so much easier to unplug when you see that you've had a productive day.
In addition to being a handy productivity tracker and time management tool, DeskTime takes care of your work-life balance with regular break reminders suggesting you do a stretch or drink a glass of water.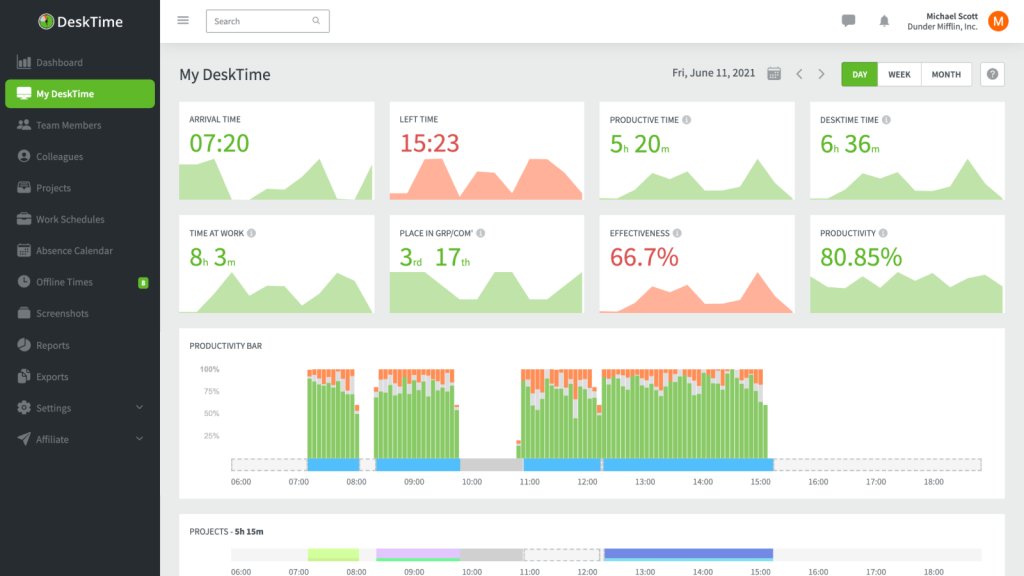 2. Calendly — meeting scheduling app
Calendly app helps to schedule appointments and team meetings without sending emails back-and-forth just to specify the time and availability. If I want to set up a call with someone, just send them a Calendly link and get it straight into your calendar, in the right timezone. You can also use it alongside apps like Zoom and Google Meet to make meeting scheduling a one-click affair. Less time for arranging meetings means more time for your family and hobbies!
"It's obviously great for scheduling meetings both inside and out of the company, but it really shines with its integration. I like how it plugs straight into my Google calendar and will block out time for any meetings scheduled. Not only this, but it'll also ensure no one can book a slot when I already have other engagements," says Gael Breton, Co-Founder of AuthorityHacker.
3. Todoist — app for creating to-do lists and tracking them
Todoist is an app that will help split up your projects and sort them according to their priority, whether you're on your phone or the computer. You can set several priority levels, track due dates, and a lot more to stay efficient in your day-to-day.
With Todoist, you can see what you need to accomplish for the following week or month and work towards those goals with a stronger purpose. Also, nothing gives more satisfaction than ticking off completed tasks from a to-do list. Use different projects, labels, and colors to separate your house and family-related tasks from work assignments.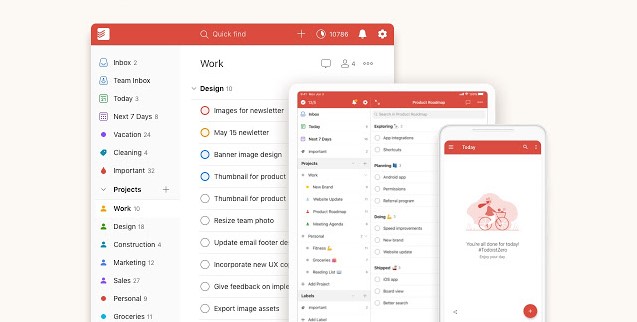 4. ActiveCollab — collaborative time and project management tool
ActiveCollab provides a planner with various filters, timelines, and real-time team collaboration features. It allows to quickly set up tasks with multiple deadlines, create a planning timeline, and collaborate using a shared team calendar. This is a useful tool for keeping a team on the same page.
"Having menial tasks automated by ActiveCollab stops work from carrying over into your private life. Allowing the tool to handle minor yet crucial and time-consuming processes for you can really hike up your productivity and leave you with space and mental energy to do things that count." says digital marketing entrepreneur Miles Beckler.
5. ClickUp — app for project tracking & estimates
ClickUp allows you to track, estimate and allocate time for any project. You can choose how much time you are willing to work every day, making it easier for you to take some time off for yourself and your family.
The best part – if you track time for all your tasks (and maybe your team members do too), you can clearly see by the end of each month what weighs you down the most and do something about it.
6. Monday — task and workflow management platform
Monday helps teams plan and execute projects and deliver results on time. It has powerful productivity features such as time tracking, automated notifications, dependencies, timeline views, and integrations.
Monday automates your "manual labor," saving hours a week planning, managing, and tracking.
Mark Hayes, Head of Marketing at Kintell says: "For me and my team, Monday has been an absolute game-changer. The tool helps us understand exactly where projects stand with progress, which takes guessing out of the equation."
7. Flow — browser homepage for smarter bookmarking
Running into your work email while looking for that YouTube tab is no fun. Flow helps address this problem by letting you focus only on the tabs you need right now and gives you the confidence to close the tabs without losing progress.
Flow saves your browser tabs to context-separated workspaces, helping you to segment your life and separate work and home realms. This tool transforms your browser's new tab page into a view of your various projects, hobbies, and interests. This enables you to save and switch between different sets of browser windows and tabs with just a click.
8. Trello — project collaboration platform
Trello is a collaboration tool that organizes your projects into boards where you can schedule your activities, set deadlines, and plan projects through drag and drop cards and to-do-lists. Each card represents a task and comes with a wide range of customizable options. Therefore, you can use it not only for work but for organizing just about anything in your life, from doctor appointments to date nights.
"In one glance, Trello tells you who is working on what, which tasks are in progress, which ones are complete and what each member has been doing. Using Trello has allowed me to manage my workload and routine better and build a healthier work-life balance which has been great for productivity," says Jordan Rolf, Marketing Executive at EposNow.
9. Indy – project management and time tracking tool
Indy allows subscribers to organize day-to-day tasks, track time, send out contracts and invoices, and manage multiple projects, enabling small businesses to get productivity services at an affordable cost.
This tool helps to keep track of tasks for multiple projects by assigning filters or moving tasks from one project to another. Indy also allows you to track hours worked on specific tasks, which can easily be added to invoices before billing. The deadline and reminders feature will ensure you deliver your work on time.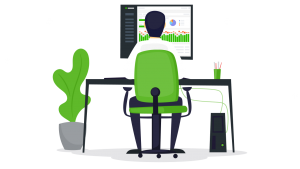 Want to keep your employees happy?
Encourage your team to keep up a healthy work-life balance.
Learn more
Focus & motivation apps for better time management
10. Daywise — app for scheduling notifications
Daywise app allows you to set a period of time within which you are happy to receive work notifications. Outside of that period, the app will gather all the notifications and present them to you in chronological order once the set time arrives. You can also use the app to mute certain notifications when working.
For now only available on Android devices, the Daywise app ensures that no work-related notifications will eat into your personal time after logging off. Thus you can avoid wasting time that you could use for your personal interests and needs.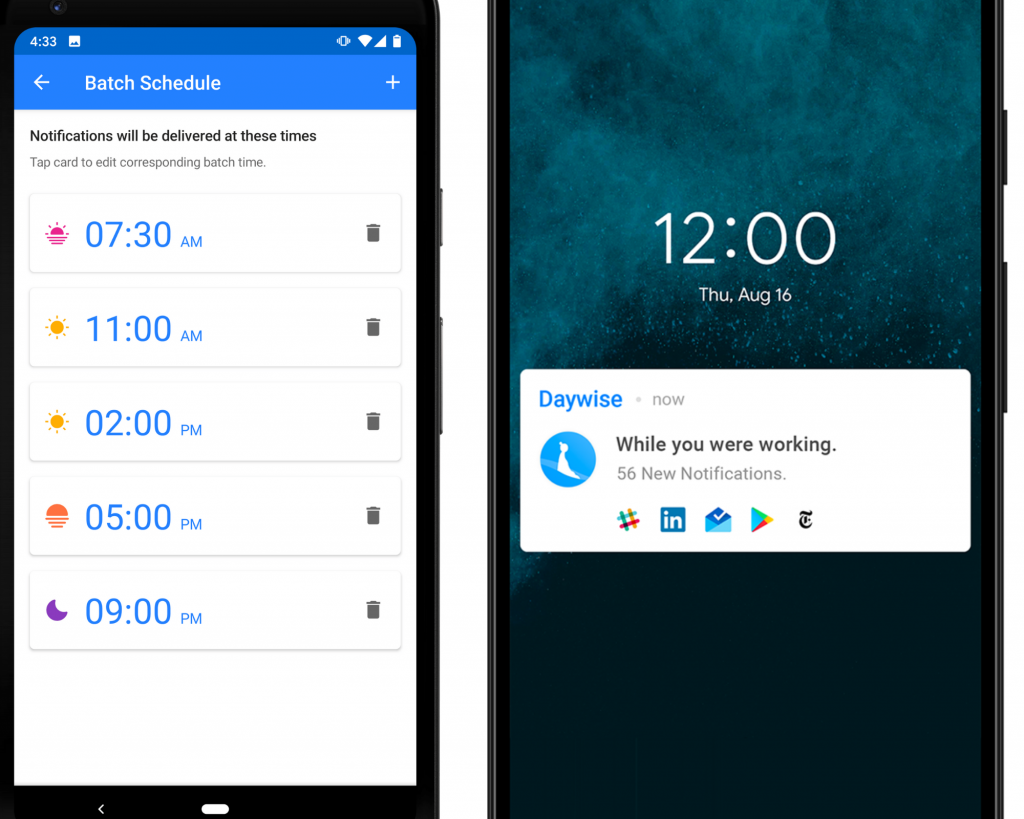 11. Moment — app for balanced phone use
Moment is an app that allows you to schedule daily limits on the apps you use on your iPhone with easy-to-understand screen time tracking. When you use the daily time limit, a series of notifications go off, preventing you from continuing scrolling.
The Moment app also offers free daily advice for simple habit tweaks that help understand and reduce your phone usage. Moment's groups feature is designed for both families and sets of friends to help achieve healthier phone use together.
12. Marinara Timer — custom productivity timer
Marinara Timer is a super simple yet effective time management tool – the good old timer. It is web-based, so you don't need any logins, yet you can easily share your timer with anyone via URL. Marinara Timer is based on the Pomodoro Technique – an approach where you have to do your task with a 25-minute timer and then give yourself a 5-minute break (then repeat the 25/5 cycle until you finish your task).
Using the Marinara time management tool, you can also choose to set a custom timer. The most important thing is giving yourself a limited time to complete an assignment without procrastination.
13. Flora — focus app that grows virtual plants
The Flora app lets you grow virtual trees while using the Pomodoro timer. Once you start a session, a plant starts growing. If you leave Flora for another app like Twitter or Facebook, your plant dies.
Once a tree is grown, and it's time for your break, you can do a house chore for 5 to 10 minutes and come back to work refreshed. Besides, you can use Flora with your friends or coworkers to keep yourself more accountable. You can grow your shared garden with your team, but mind that if anyone leaves the app, the plants die!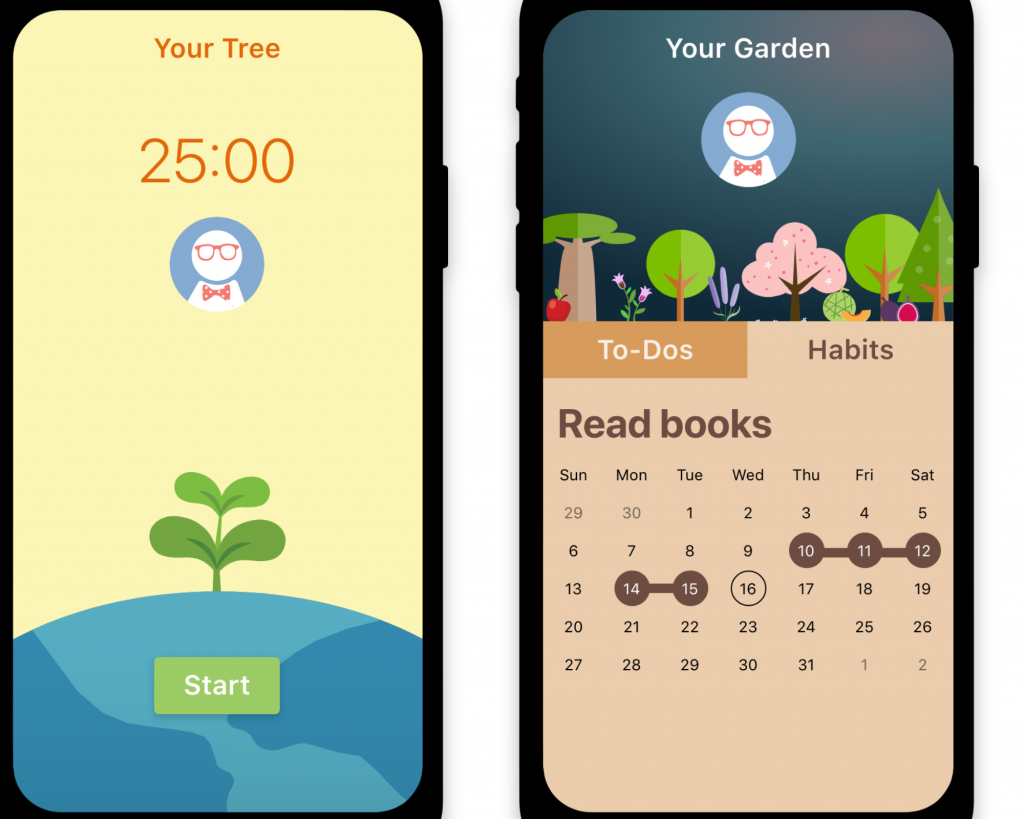 This tool is rather a gadget than an app, but all the more effective for keeping yourself focused during work hours. Once locked with your phone inside, the Mobile phone jail won't open until a set time.
"I found that working from home had brought a lot of distractions with it, mainly from my mobile phone. My average screen time increased from 1-1.5 hours a day to 2-3 hours. I saw myself scrolling through Twitter and Facebook mindlessly, and it started to wear me out. I tried to leave my phone across the room but this was short-lived as I would check my notifications every time it buzzed. This little box has really helped me to get back into the swing of things with my work after a few weeks of phone addiction," says Ethan Taub, CEO of Goalry.
15. Flipd app — mobile app for productivity and progress tracking
Flipd is a beautifully designed mobile app that not only measures your time and productivity but also cares about your wellbeing. You can create custom timers for work, studying, self-care, reading, sports, or any other activity that's important to you.
Flipd is considered one of the best time management tools for students. It also has a social apps restricting feature that helps you focus on the task you've set your timer on. At the end of the day, week or month, you can see your progress in beautiful charts. Set reminders for important to-do's and earn badges for productivity milestones reached. It's a real productivity booster, but for your personality – not only the work hours!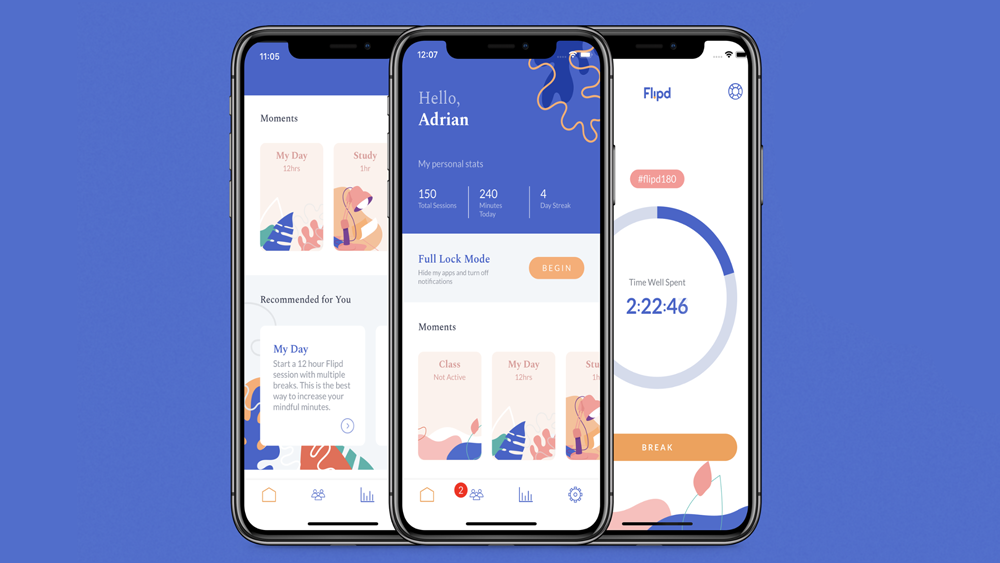 Meditation & Lifestyle apps for better work-balance
16. Buddhify — meditation app for busy people
Buddhify is designed for meditation on-the-go — it offers traditional long-form contemplations as well as five minutes long guided meditations. With such bite-sized meditations, you'll be less tempted to cut things short or skip the routine on busy days.
Personal trainer and nutritional counselor John Fawkes shares how he uses Buddhify: "Here's one go-to routine I have to help really turn "off" once I'm done for the day. I do a Buddhify app guided meditation immediately after powering down my work devices, letting that mediation serve as the transition from work mode into regular life. You need these calming, healthy transitions to separate work life from personal life."
17. Challenge Accepted — app for setting personal goals
Challenge Accepted is a free motivation and lifestyle app that helps people discover, track and complete health & fitness, productivity, reading, and many other challenges. This app not only lets you start fun challenges but also set reminders for them.
Choose one of the challenges that are perfect for balancing work and private life, for example:
A 'Take your lunch break' challenge, to set reminders and keep track of the days you've taken a lunch break
A 'Walk every day for 30 minutes' challenge
Creating your own challenge for the goal you are working on e.g. challenge to switch off from work at 5.30 pm
18. Tide — focus timer and mindfulness app
Setting time for priorities is the key to balancing a successful career with harmonious private life.
Tide app lets you choose a specific amount of time to focus on your number one priority, and it will let you know when the time is up. It also tracks your focus intensity, meaning that it will let you know if you're distracted by social media or text.
"One feature of the Tide app that I find quite awesome in this pandemic is the ambient sound. You can have your favorite coffee shop or library atmosphere and sound back, right in your room. This helps me feel more familiar and connect with my co-workers." says Jill Sandy, Gardener & Founder at Constant Delights.
19. Cozi — family organizer app
Cozi is a free tool that helps families to organize and share lists and coordinate schedules, but it can also work great for sharing your plans with friends and colleagues. With a better organized daily schedule, it becomes much easier to stay sane amidst a pandemic and nurture a healthier work-life balance.
With Cozi, you can track school events, manage a shared grocery list and keep all appointments and activities all in one place. Most importantly, this tool helps to get the whole family to chip in on chores creating a sense of support and accountability for everyone.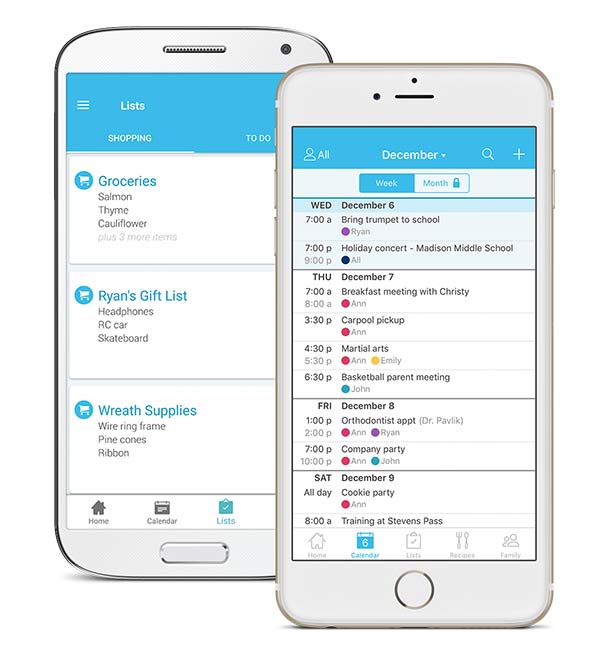 20. Wallpaper Changer — app for changing phone background themes
An extremely simple, but beneficial app for changing the wallpaper of your phone based on the environment or time of day. With our jobs and lives revolving around the use of our smartphones, this tool will subtly alert you of the task at hand – all by changing the wallpaper from a business-oriented background to a relaxing one depending on the settings you choose.
For example, you can set your phone wallpaper to a photo of your office as your background image during business hours. This allows you to avoid the distraction of looking at your phone and wanting to go relax somewhere or engage in another activity. When the time comes that you've set as the end of the workday, an image of your family, palm trees or another relaxing vibe appears, telling you it's time to call it a day.
21. Lifefyle — family administration app
Lifefyle is a productivity app aimed at helping people manage their personal life administration.
The busier and fuller our lives are, the more "admin" we generate, from keeping your car road-worthy to remembering which trash to put out, with supporting documents (insurance policies, vaccination certificates, home maintenance quotes/bills, etc.) piling up.
Lifefyle helps people keep their personal life organized and under control, trackable and shareable within your "team" – your flatmates or family. When you're not at work, this app helps to focus all your energy on living!
Best time management tools and techniques to unplug
Adjusting to remote work left us all confused on how to unplug. That's why smart time management is becoming more and more of a survival skill. Time management tools free up more time for your hobbies and common activities with your loved ones.
We hope that these tools along with tips from their users will assist you in separating work from your private life so that neither party has to suffer.
Did you find this article useful? Give it a clap!
Psst! You can clap more than once if you really loved it 🙂