DeskTime blog
The hottest topics on workplace productivity. Don't miss the latest trends, case studies, and news.
Frogs and productivity may have something in common. Intrigued about what it is? Read this blog post to find out!
Here are six scientifically-proven reasons why you should pick up a book to do some productive reading in your spare time.
As more companies shift toward telecommuting, it's important to understand the health ramifications of this novel work lifestyle.
Receive latest updates right in your inbox
Podcasts allow you to productively spend the time you spend, for example, driving to work or grocery shopping. When it comes to podcast recommendations – here are some of our and our readers' favorites.
During the reign of hectic schedules, some time management tips can appear like a real saving grace. In the era when the Internet is full of inspirational phrases like, "we have the same amount of hours in a day as Beyoncé," we have to ask – how can we find that extra hour? And it…
Effective time management apps are great for boosting productivity and making the most of every hour, every day. The best time management software can help you carry out tasks and projects in a timely manner. Other time management tools are intended to fight procrastination, boost your mood and increase focus, and even improve communication with…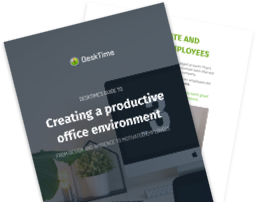 How to create a productive office environment
From design and ambience to motivated employees
What part does being well-versed in business etiquette play in the success of your career? Here's the truth: Our professional success often hinges less upon talent and intrinsic genius, and more upon people skills, strong emotional intelligence and a keen understanding of proper business etiquette.
Most of us have experienced days of stress, demotivation, and exhaustion at work. But how to know if these feelings are a normal part of the "ups and downs" that all of us sometimes have in our personal and professional lives? Or are they a sign of something more serious, like job burnout? What to…
Emails. The bane of every hard-working person's existence. According to statistics, business professionals send and receive approximately 126 emails per day. With this number increasing, it's no wonder we easily get distracted, overwhelmed, and productivity suffers. To avoid the pitfall of an unproductive inbox, we reached out to Davis Siksnans, the co-founder and CEO of…