Time tracking for developers – the driving force behind success and productivity
Time tracking for developers can become an essential part of day-to-day work and an effective tool for helping your team own and improve their abilities. After all, developers, including freelancers and consultants, are the driving force behind all great and modern products. DeskTime is automatic time tracking software that lets developers focus on the task at hand without unnecessary distractions.
Free 14-day trial. No credit card required.
By signing up, you agree to our terms and privacy policy.
How DeskTime helps with time tracking for developers: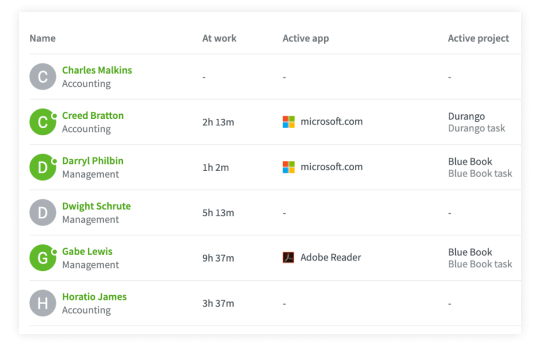 A way to boost your team's efficiency and avoid distractions
Any developer will tell you – there's nothing more distracting and annoying than giving updates and answering quick questions when they're in the zone. Let your dev team focus on their work while DeskTime handles tracking developer productivity in the background. That way, you'll always have an overview of what's being worked on and the time spent on particular tasks without disrupting your team's workflow.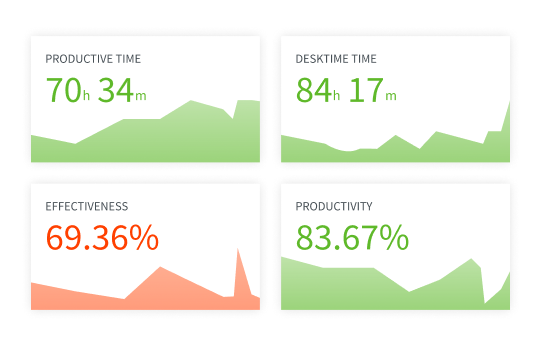 A must with time tracking for developers – it's automatic
DeskTime automatically tracks time in the background – no need to clock in and out every time you leave the keyboard. By breaking down all the data and showing you a time usage summary report, DeskTime lets you gain valuable insights into your habits and productivity and improve time management skills. It's also a way to estimate dev projects more accurately and budget labor costs accordingly.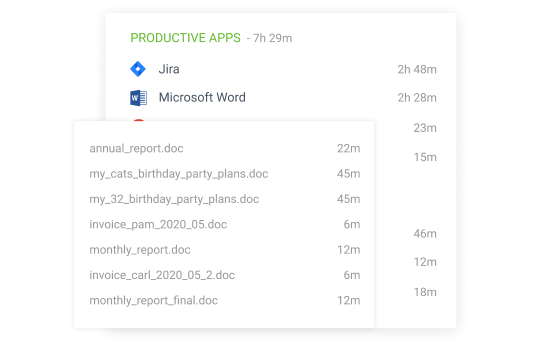 Proof of work and productivity
When it comes to time tracking for developers, it's essential to understand the research that goes into each task – including surfing the net for ideas. DeskTime lets you see what websites, programs, and applications are used and categorize them into productive or unproductive for completing specific work tasks.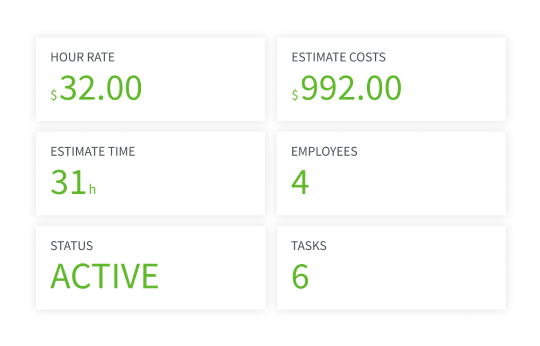 An all-in-one solution for smooth workflow
As far as time tracking for software developers goes, optimization is always the key. DeskTime simplifies everything necessary for efficient workflow, from time and team management to cost calculations, billing, invoicing, scheduling, and custom reports that let devs see and analyze what they love most – comprehensive and easy-to-read data.
Time tracking software for developers
DeskTime provides automated time tracking for developers. The app integrates with 3rd party tools and works quietly in the background. DeskTime's Project tracking feature offers an easy way to manage tasks and oversee progress without unnecessary distractions. Reports and Exports let you gather the data not only for your own time management analysis but also serves as a transparent tool for proof-of-work. Alongside other notable time tracking features for developers, DeskTime also offers Invoicing that's a hassle-free way to bill your clients with just a few clicks. With DeskTime's Invoicing, you can create professional invoices that state all your billable hours and expenses without the burden of extra calculations or paperwork.
One of the best solutions for bigger and global teams is the Absence Calendar and Shift Scheduling features. The DeskTime's schedule builder gives a complete daily, weekly, and monthly overview of shifts. That helps managers make sure everyone gets the same amount of hours and avoid overstaffing and understaffing, which can both increase company costs and decrease employee satisfaction.
FAQ about DeskTime's time tracking for developers
Does DeskTime support 3rd party app integrations?
Yes. We know how essential these tools are for dev teams. DeskTime's developer time tracking can be integrated with dev tools like Jira, Trello, Basecamp, Asana, Gitlab, calendar apps, and more. We also offer integration with Zapier so you can build Zaps and automate parts of your work life.
How can DeskTime help with project cost calculation and invoicing?
DeskTime offers a helping hand with features such as Project tracking and Cost calculation. This lets you acknowledge how much each job you take on costs your company not only moneywise but in resources and manpower as well. You can even set hourly rates for each project – DeskTime will automatically calculate the billable amount and let you generate automatic invoices. It's no secret that invoicing can be a daunting task for anyone who's short on time. DeskTime combines time tracking and billing in one software, which allows you to save time, make more money, and create invoices with a few clicks.
How does DeskTime's scheduling feature help with team management?
A career in IT can give one the opportunity to work from anywhere in the world. Companies hire people worldwide, which often means developers work in shifts and are even based in different time zones. DeskTime's built-in employee Shift Scheduling feature allows you to create work schedules for your employees. That's a smart way to plan your team's shifts, get detailed performance breakdowns in one place, and inform other team members about the accessibility times of their colleagues.
Can DeskTime set automatic break reminders?
DeskTime has a built-in feature Pomodoro timer that allows you to set break reminders every 52, 60, or 90 minutes. There's also a Private time option, which provides employees with desktop privacy during working hours if necessary.
Can my team and I work from anywhere and still stay accountable?
Developers are modern-day artists, and it goes without saying that they can work from anywhere. This is especially true for global teams. DeskTime is a reliable tool to track hours spent not only by the computer but also in meetings and brainstorm sessions, including commonly overlooked billable time regarding late-night bug fixes and out-of-hours problem solving or consulting. Your employees can work from anywhere, and you don't have to worry about tracking their work hours – DeskTime's desktop and mobile apps will do it all for you.
All of DeskTime's productivity and time tracking features for developers