DeskTime blog
The hottest topics on workplace productivity. Don't miss the latest trends, case studies, and news.
Find out what employee efficiency is, how to measure it, and answers to other frequently asked questions about workforce efficiency.
If your workdays are usually filled with being on the go, you shouldn't have to worry about proving that you've been productive during the day. But how can you do that? By using DeskTime's mobile timesheet app.
Podcasts allow you to productively spend the time you spend, for example, driving to work or grocery shopping. When it comes to podcast recommendations – here are some of our and our readers' favorites.
Receive latest updates right in your inbox
Feeling uncomfortable with time-tracking software on your computer? Here are tips that will help you to deal with that anxious feeling.
The recently added DeskTime feature, Exports, is a feature for those who love cells, tabs, and sheets. It allows you to download productivity reports as excel or csv files.
Getting paid in a timely manner is the key factor that will keep your company afloat. Here's a practical and easy-to-use time billing system you're looking for.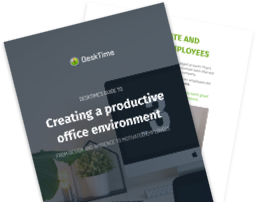 How to create a productive office environment
From design and ambience to motivated employees
DeskTime has a variety of pricing options suited to every different stage of business you're in. Take a look at the options and choose which plan, and which features, are for you.
What comes to mind when you hear "remote work"? People sitting at a computer in their jammies? A stay-at-home parent performing phone calls? Let's explain remote work!
The most productive country of 2019 – Nicaragua. The least productive? The Czech Republic. See what else made it to the top!