11 project tracking software tools for improving your workflow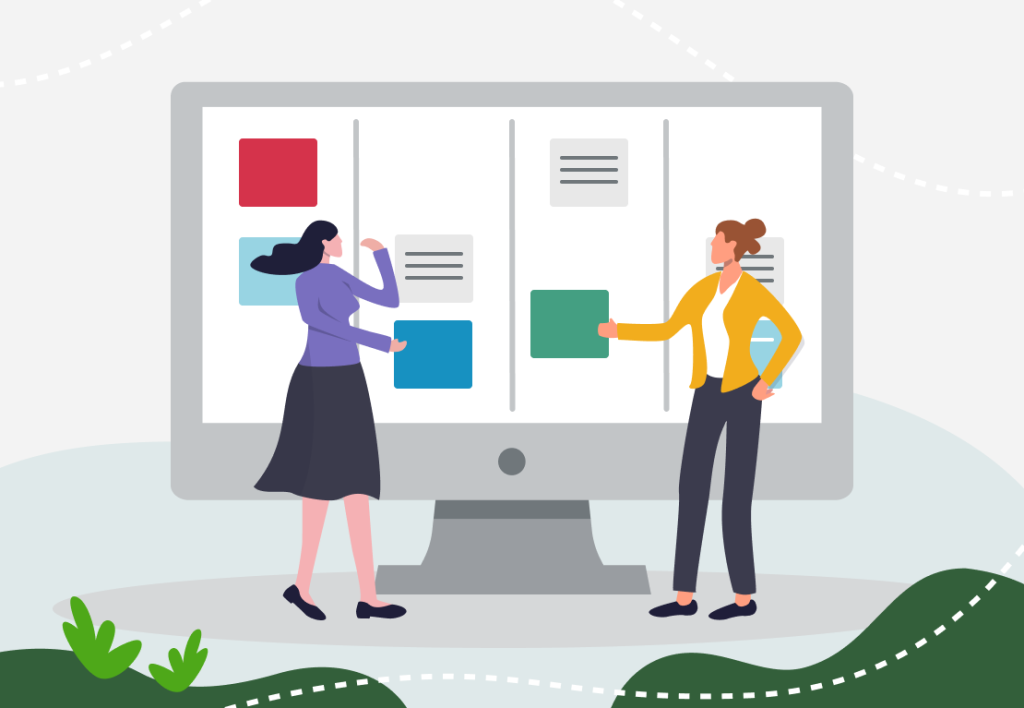 Juggling multiple projects at once can seem overwhelming, but with the help of project tracking software, it becomes much more manageable.
With the abundance of project tracking apps available on the market today, it can be challenging to choose the right one. However, with this curated list of the best project tracking software, you can quickly find the right fit for your specific use case scenario.
Table of Contents
Want to get the most out of your time?
Try DeskTime for free!
Try free for 14 days · No credit card required.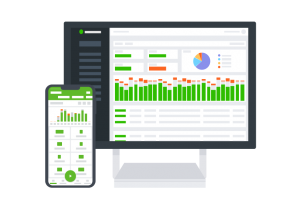 What is project tracking?
Simply put, project tracking involves utilizing tools and techniques that aid managers and teams in overseeing the implementation of their tasks.
By using project tracking tools, you can arrange your tasks, monitor your progress, establish deadlines, and collaborate with your team members more effectively.
Here's why tracking projects is important:
Overall, the data indicates that some teams are still neglecting project tracking software, thereby missing out on the substantial benefits it can provide.
However, there's no need to be left out. Whether you are a freelancer handling small personal projects or a manager heading a sizable team, the list below encompasses a variety of tools that can cater to your specific demands and objectives, enhancing your overall workflow efficiency and productivity.
Top 11 project tracking software to make your workflow smoother
If you're tired of managing projects with scattered notes and emails, it's time to switch to project tracking software. Below are 11 tools that can help you streamline your workflow and boost efficiency for you and your team.
1. Microsoft Project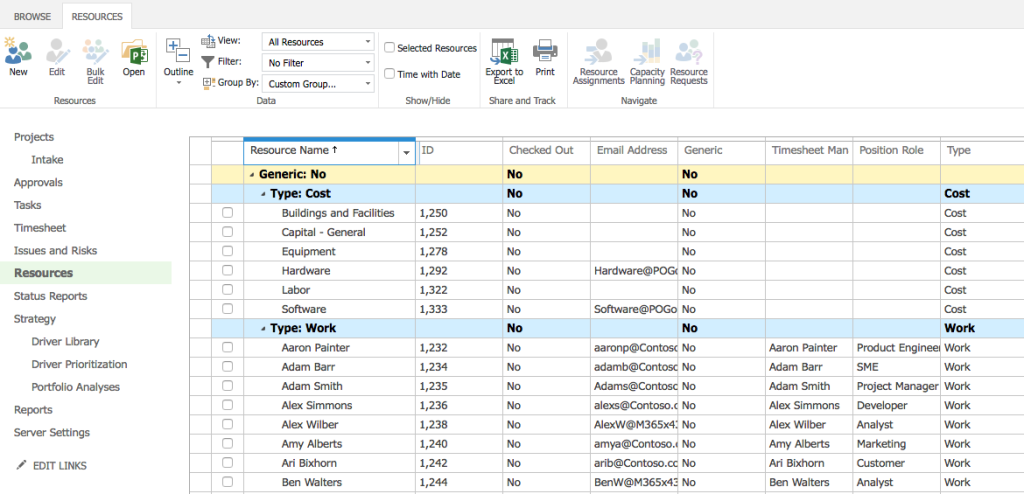 At a glance:
Microsoft Project is a suite of well-designed tools that belongs to the Microsoft 365 family. It's a great project tracking software for both small and large businesses due to its extensive range of features. Microsoft Project supports recurring events, dependencies, custom fields, and baselines, which allow for tracking actual progress against planned progress.
Useful features:
The familiar tabbed ribbon interface found in other Microsoft Office applications
Seamless integration with other Microsoft 365 tools such as Teams and Planner
Rich task customization options
Great for: Those who are already acquainted with the Microsoft ecosystem
Price:
Basic version – $10 (monthly charge per user)
Advanced version – $30
Expert version – $55
2. Asana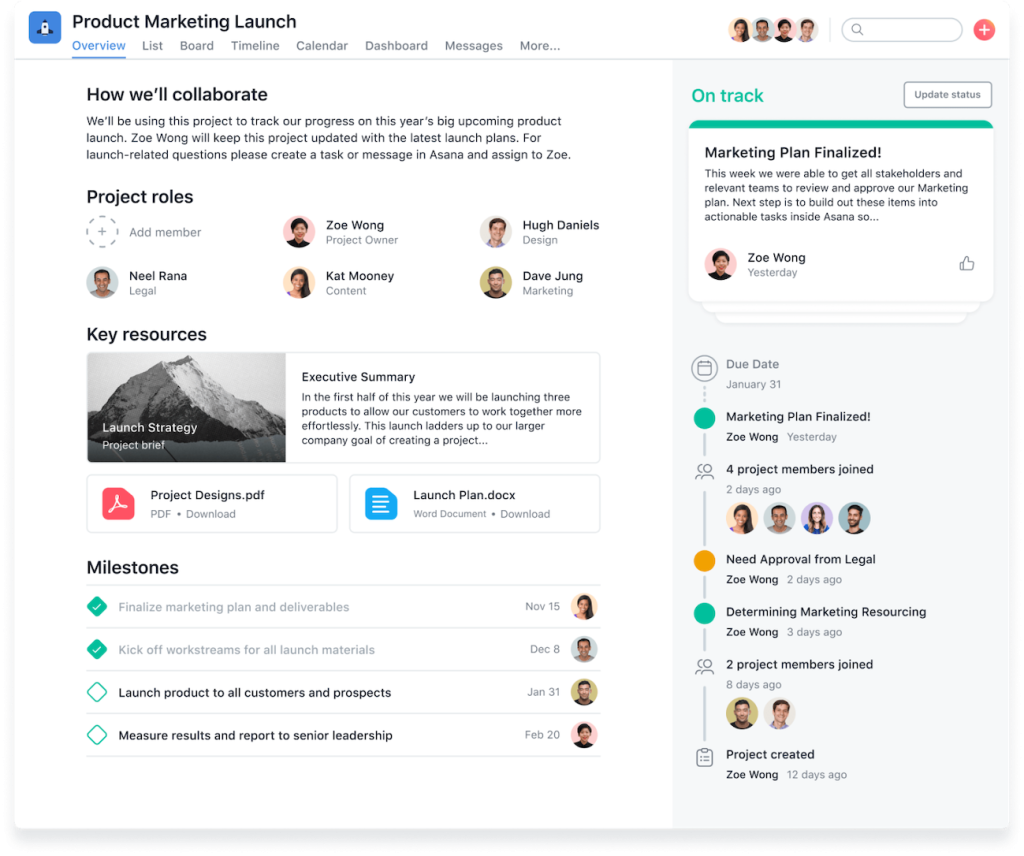 At a glance:
Asana is widely considered one of the top project tracking tools due to its versatility and extensive features. It's great at meticulously tracking even the tiniest details, making it an ideal tool for enabling managers to gain insight into the responsibilities of each team member. Users can establish due dates and receive automatic notifications when a particular project section is finished, and streamline other aspects of everyday workflow.
Useful features:
A wide range of project views, including Kanban-style cards, a calendar view, and a workload overview
Supports various automatic processes and integrations that can enhance team efficiency
Can create intuitive relationships and dependencies between tasks
Has the capability to integrate with other business applications, such as DeskTime
Great for: Asana is often suggested as the best project tracking tool for marketing teams
Price:
Basic version – free
Premium version – $10.99 (monthly charge per user)
Business version – $24.99
3. Adobe Workfront
At a glance:
Workfront is a project tracking tool tailored for large enterprises. The online platform allows employees to oversee task tracking, project progress, balance resources, manage budgets, and review and approve work. With this software, project leads can easily deal with the most complex workload and work delegation issues.
Useful features:
Special reporting capabilities for overseeing particularly large teams
A proofing system that improves the process of uploading, reviewing, and approving documents and media files
Online reviewing system – stakeholders can provide feedback, request revisions, and approve projects while maintaining a transparent record of all changes made
Great for: Large organizations
Price:
Depends on the setup and installation of each organization, starts at $30 (monthly charge per user)
4. Wrike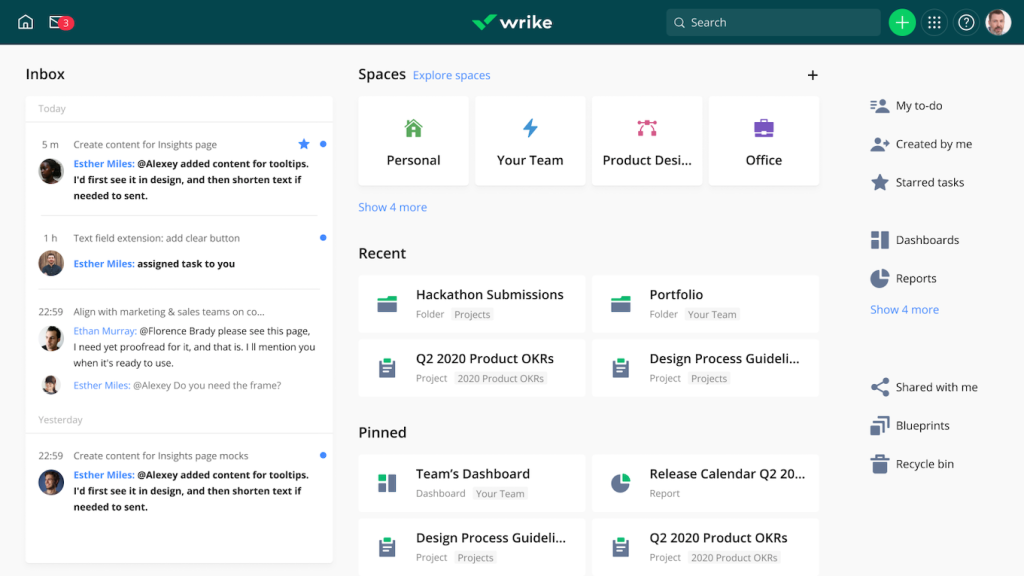 At a glance:
Wrike provides collaboration and project progress tracking capabilities through tailored versions, which are designed for specific teams, like marketers and service teams. It's a comprehensive solution for managing both projects and recurring work, offering a vast array of features. What sets Wrike apart from its competitors is its ability to handle not only project management but also work management, providing added value for users who require both functionalities.
Useful features:
Project Risk Prediction – machine learning feature notifies the appropriate individuals if a project might miss its deadlines
Automation of work intake – all requests from both internal and external customers can be directed to a centralized location
Great for: Those seeking a customized version of project tracking software that meets their industry-specific requirements
Price:
Basic version – free
Team version – $9.80 (monthly charge per user)
Business version – $24.80
5. Basecamp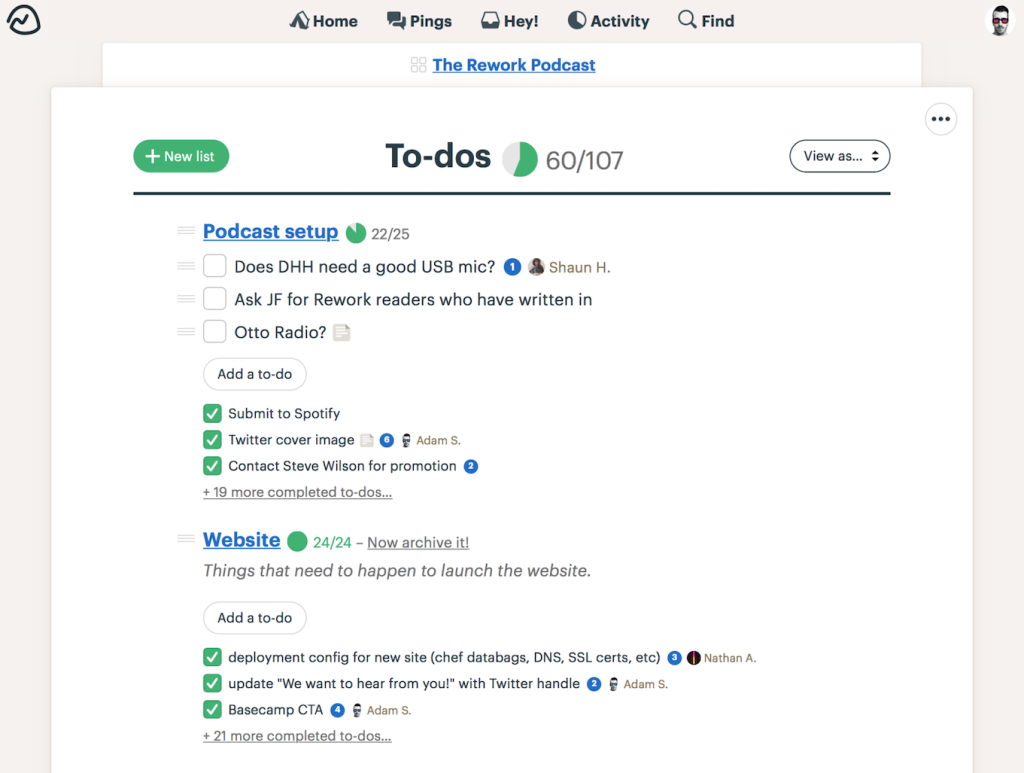 At a glance:
Basecamp project tracking software functions as a virtual hub for teams and organizations. It's highly proficient in its designated tasks and is particularly cost-effective for large teams. Its features are centered around tracking tasks and deadlines, facilitating communication, sharing files, and collaborating on work-related projects. Basecamp could be an ideal starting point if you're looking for a platform for your team to collaborate on, particularly if you don't already have an established working system.
Useful features:
Seamlessly integrates with other business applications, including DeskTime
Card Table tool – a unique variation of Kanban, explicitly tailored for managing reactive work
Each project on the platform provides unlimited space to organize, share, and store documents, files, and images
Great for: Those who mainly need to facilitate communication
Price:
Basic version – $15 (monthly charge per user)
Pro version – $299 (monthly charge, unlimited users)
6. Celoxis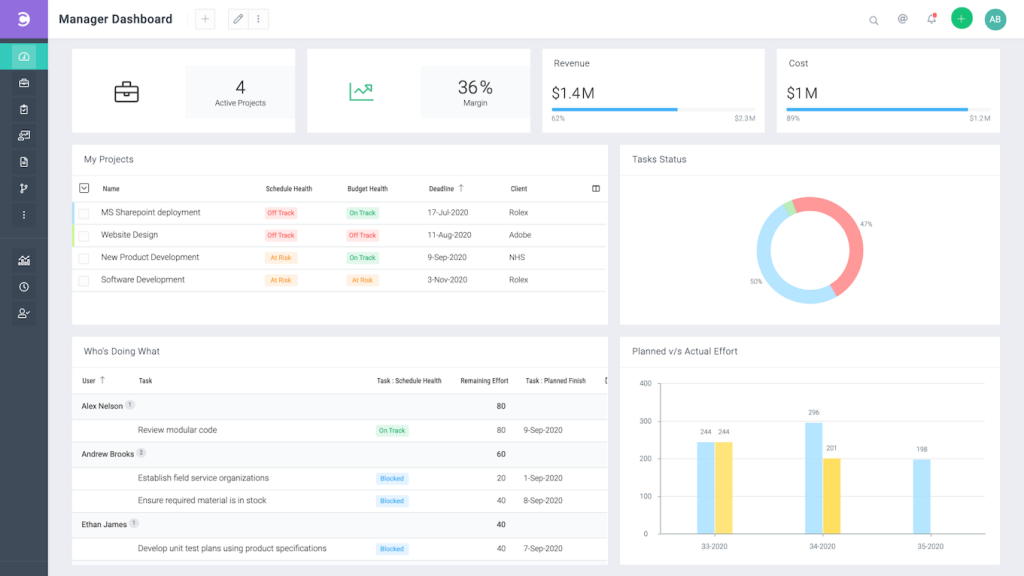 At a glance:
Celoxis' cost-effective pricing and high-value features make it a top contender among other online project trackers. It offers various tools and comprehensive reports to provide especially great value to decision-makers and business owners. Celoxis is particularly suitable for medium and large organizations that require project management tools not only for team collaboration but also for gaining insights into their business operations.
Useful features:
Provides insight on operations, such as determining when to take on new projects and assessing the overall health of a business
Users can determine project completion dates based on their current schedule and accurately predict revenue generation
Great for: Medium and large organizations
Price: $22.50 (monthly charge per user)
7. Teamwork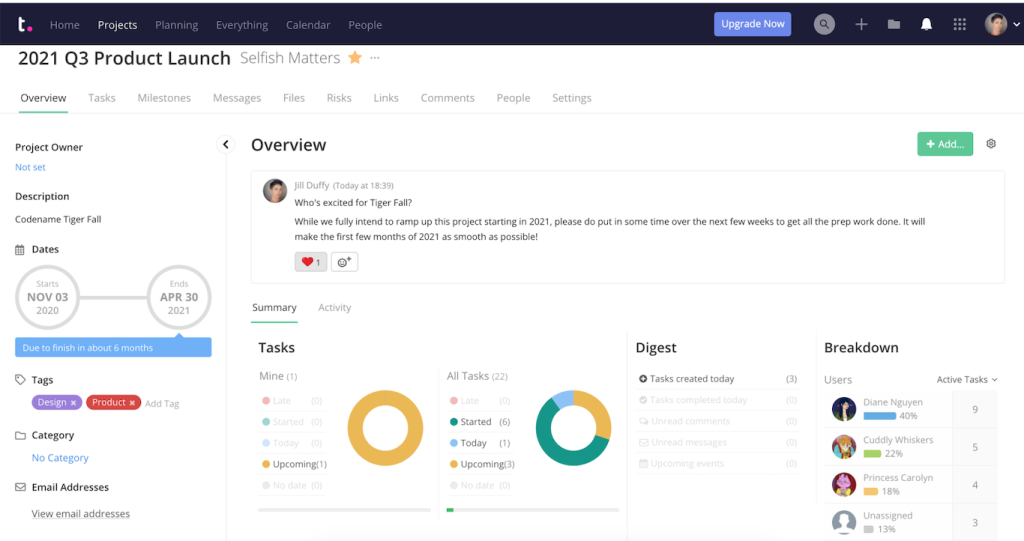 At a glance:
Teamwork is a project tracking service that offers an array of advanced features and an intuitive interface. It's particularly well-suited for teams that handle client work, as it also includes billing and invoicing functionality. With its user-friendly interface, this online platform simplifies project management and task tracking, making it easier for team members to collaborate effectively.
Useful features:
Offers dedicated intake forms for new projects – particularly useful for clients with whom you work regularly
Interactive Gantt charts
"Workload" – a built-in resource management tool
Great for: Teams responsible for client work
Price:
Basic – free
Starter – $5.99 (monthly charge per user)
Advanced – $9.99
Expert – $17.99
8. DeskTime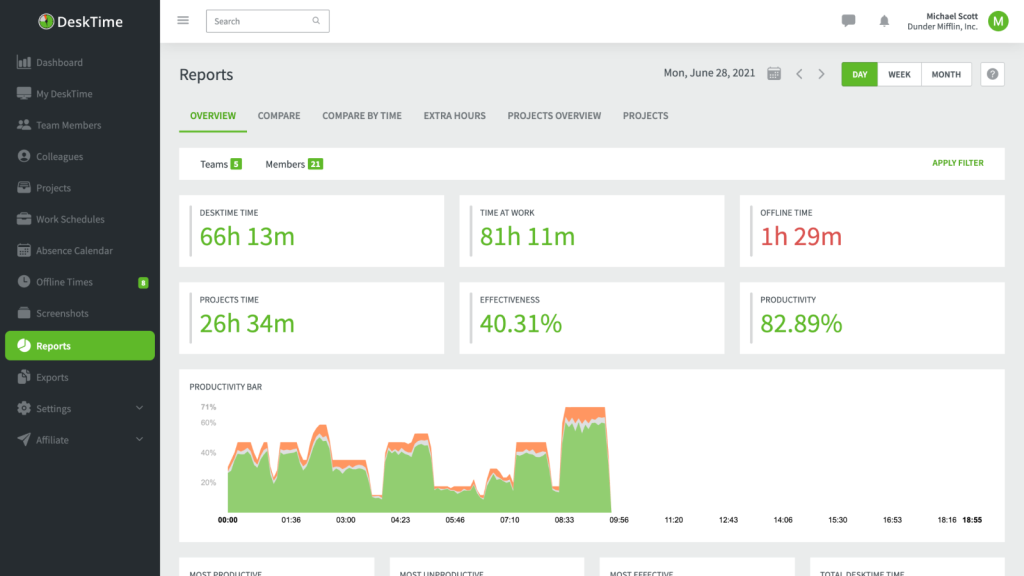 At a glance:
DeskTime offers a range of features for teams to optimize their workflow and improve productivity. Users can track how much time they spend on individual projects and tasks, which is useful for both freelancers and teams that work on multiple projects simultaneously. Tracking the time spent on each project allows you to bill your clients more accurately, as well as helps you better estimate time needed for similar projects in the future.
Useful features:
Teams can set realistic deadlines and organize their workflow more effectively
Project feature enables teams to estimate the potential costs of a new project
Capability to generate detailed project reports within seconds
Great for: Teams that require precise time tracking for accurate billing purposes
Price:
Pro – $7 (monthly charge per user)
Premium – $10
Enterprise – $20
9. Jira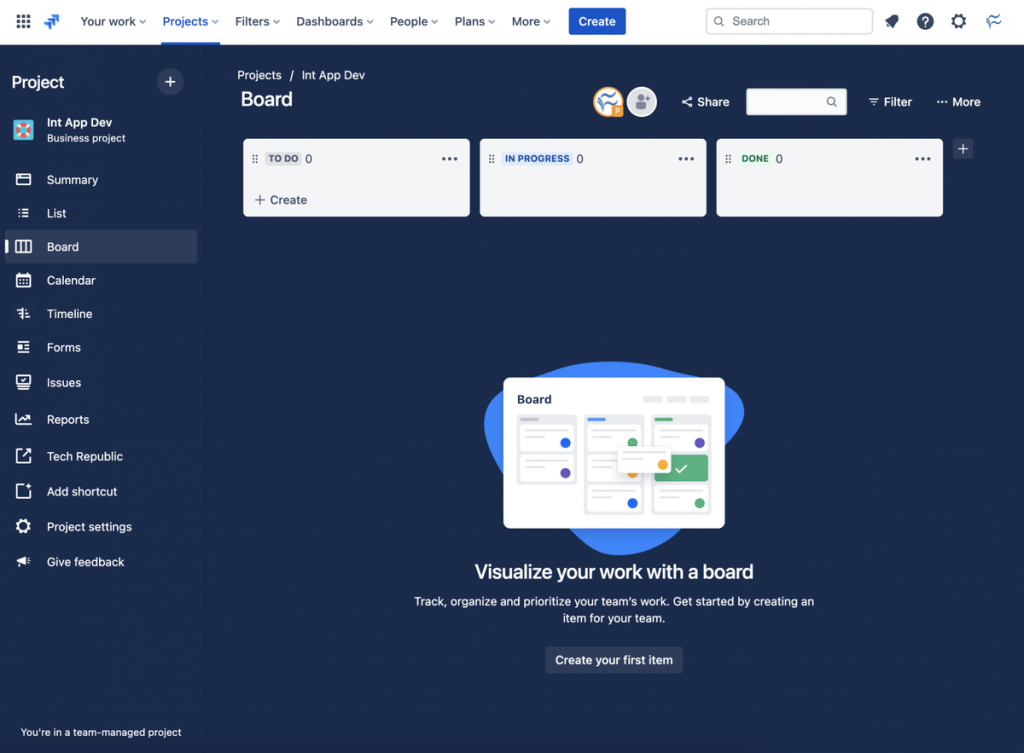 At a glance:
Jira is a user-friendly project tracking software that facilitates seamless coordination and customization throughout the entire project journey. Its built-in Scrum and Kanban boards serve as effective tools for tracking and organizing tasks and managing agile teams. Managers can easily monitor the progress of tasks and identify any potential delays. Plus, customizable workflows enable teams to create visually intuitive representations of their processes.
Useful features:
More than a dozen reporting options straight out of the box
Built-in Scrum and Kanban boards
Offers integration with other essential business applications, such as DeskTime
Great for: Jira is widely popular among IT teams
Price:
Basic version – free
Standard version – $7.75 (monthly charge per user)
Premium version – $15.25
10. Trello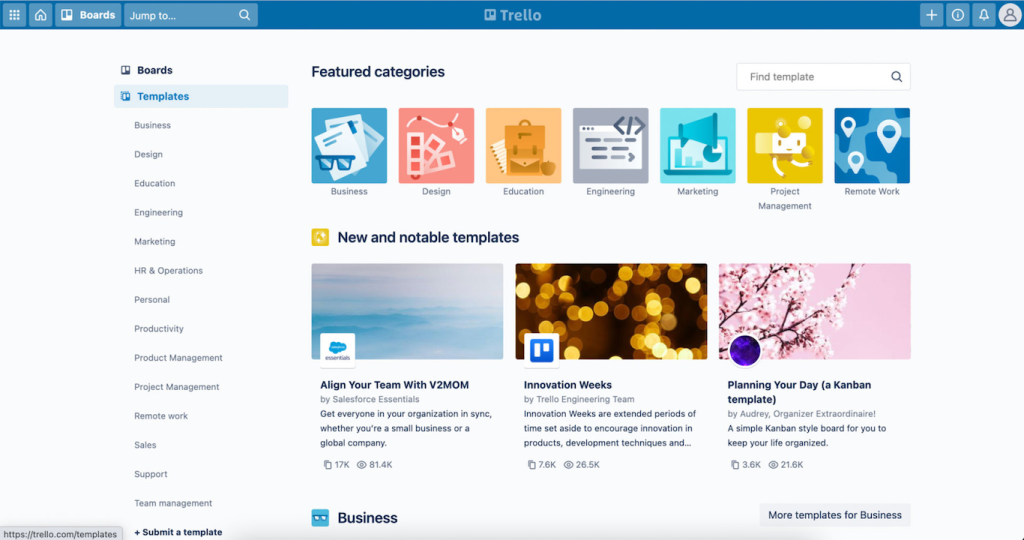 At a glance:
Trello is one of the most user-friendly Kanban applications available. It's a proficient tool for tracking tasks and workflows within both internal teams and external partners, making it an excellent collaboration tool and an alternative to more complex project management apps. Compared to other apps on our list, Trello is lightweight – it has a simple interface and focuses on the core functionalities of task management.
Useful features:
Can be integrated with other business applications (like DeskTime)
Offers comprehensive customization of boards
The Butler tool allows users to create command runs (process automation tasks)
Great for: Teams seeking a lightweight and highly customizable tool
Price:
Basic version – free
Standard version – $5 per user/month
Premium version – $10
Enterprise version – $17.50
11. GanttPro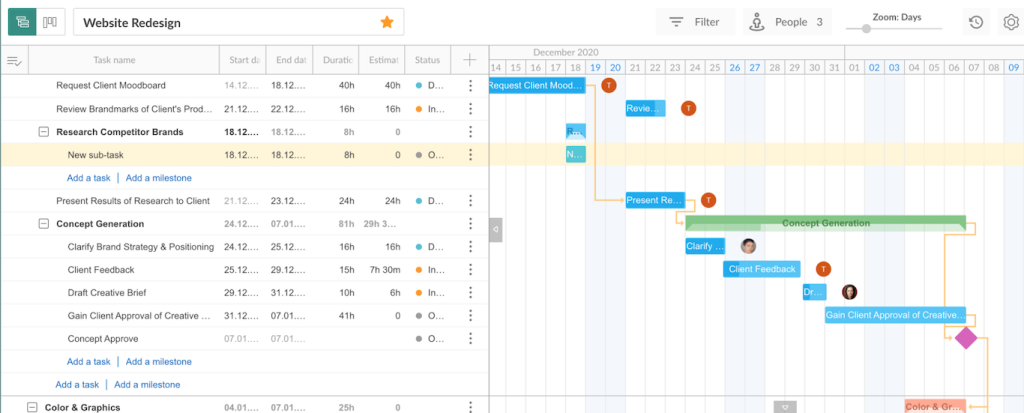 At a glance:
GanttPro is a project tracking app best suited for small teams. The app features a user-friendly interface and an abundance of features. The software effectively utilizes the famous Gantt charts, providing project managers or team leaders with a comprehensive view of tasks, timelines, and resources in one place, allowing for efficient resource management. GanttPRO also offers various practical features for project planning, such as broad filtering options and project milestones.
Useful features:
Integrates with other applications such as Slack, Google Drive, and Jira Cloud
The ability to establish task dependencies and connections
One of the most effective applications of the renowned Gantt charts in the industry
Great for: Small teams
Price:
A version restricted to personal use projects only – free
Lite version – $19 per manager/month
Pro version – $49 per manager/month
Enterprise version – $99 per manager/month
Master workflow efficiency with project tracking software
In today's fast-paced work environment, it's essential to have reliable solutions to manage workflow and track tasks efficiently. This comprehensive list of software showcases tools designed to meet the demands of modern work practices.
Whether you manage a small team or a large enterprise, these project tracking tools offer a range of features that cater to your specific needs. By using these apps, you can handle multiple tasks concurrently and meet your objectives on time, all while receiving valuable data feedback.
Did you find this article useful? Give it a clap!
Psst! You can clap more than once if you really loved it 🙂