Best online collaboration tools to boost your team's productivity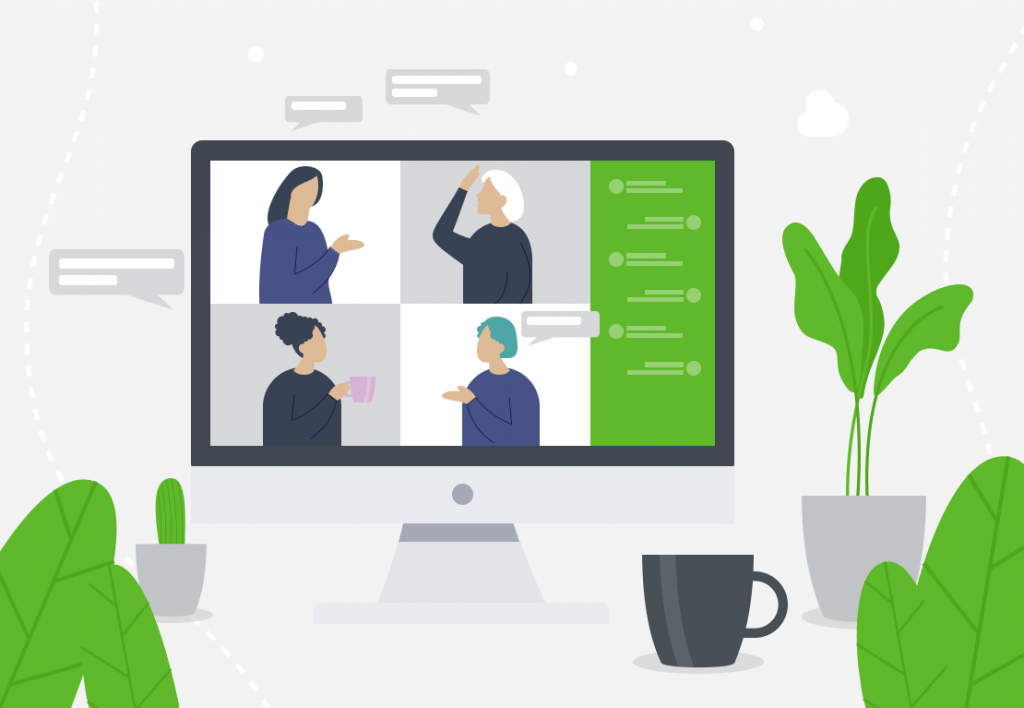 If once managing work-related projects in person or over the phone was how business was handled, nowadays, it is all about finding effective online collaboration tools.
Sure, people skills and the typical messy whiteboard filled with ideas from the latest brainstorm still matter – symbolically, at least. However, with the rise of remote working and cross-border virtual teams, a large part of managing the company's workflow has moved online and, by the looks of it, is there to stay.
Want to get the most out of your time?
Try DeskTime for free!
Try free for 14 days · No credit card required.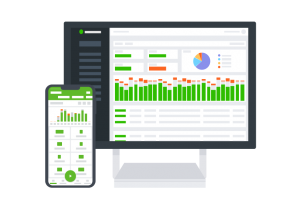 What are online collaboration tools?
In short, online collaboration is the process of people working together in real-time using the help of the Internet. Ergo, online collaboration tools are software tools and applications that help team members, including in-office, remote, or distributed employees, to:
Share ideas and files online
Communicate with other teammates seamlessly
Set clear objectives
Schedule tasks and coordinate work
Manage & track projects in a more efficient and effective way.
But with a plethora of great collaboration apps and platforms available, how do you know which ones to choose?
We compiled the ultimate list of online collaboration tools that will maximize any team's productivity and help achieve common goals together. Some of these focus on improving communication among teammates, others are great for overall project management.
Without further ado, here are our favorite picks:
1. Asana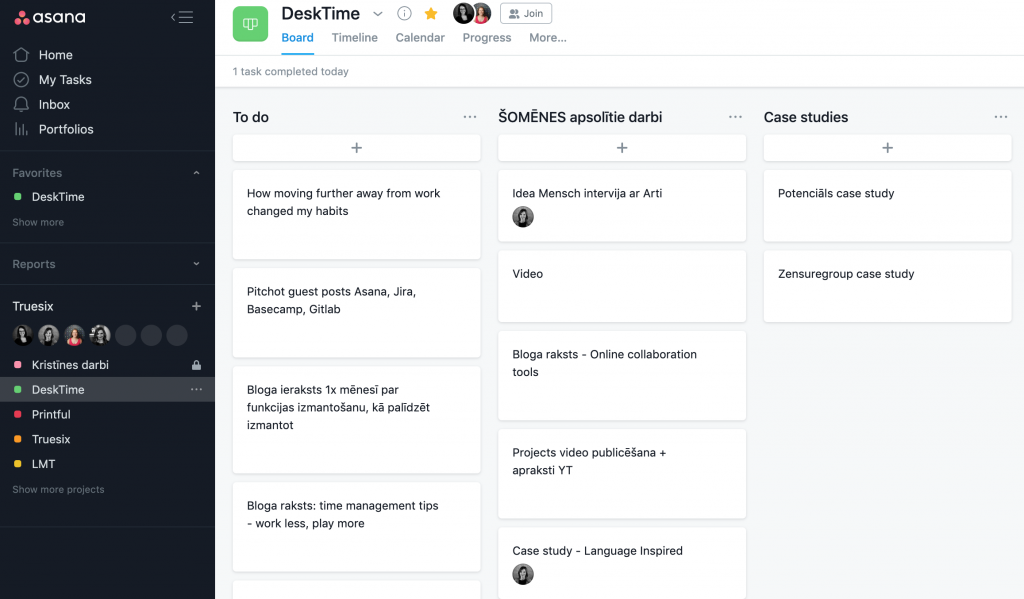 Asana is a comprehensive online collaboration tool that helps teams organize, track, and manage their work in a highly visual manner. Asana has been around for quite some time (since 2008) and is used by companies such as Google, Spotify, Uber, and PayPal.
Asana uses a practical board system that lets you quickly capture tasks, to-dos, reminders, and ideas similarly to a real-life bulletin board. Team members can also comment on tasks or sign up for email updates on projects that matter to them. That way, people involved in that specific project can stay up-to-date if doing their task depends on the completion of another.
Best for: Project management and organizing your team's workflow from A to Z, as well as keeping tabs on deadlines.
Price: Free basic account, Premium $9.99 per user/month
2. DeskTime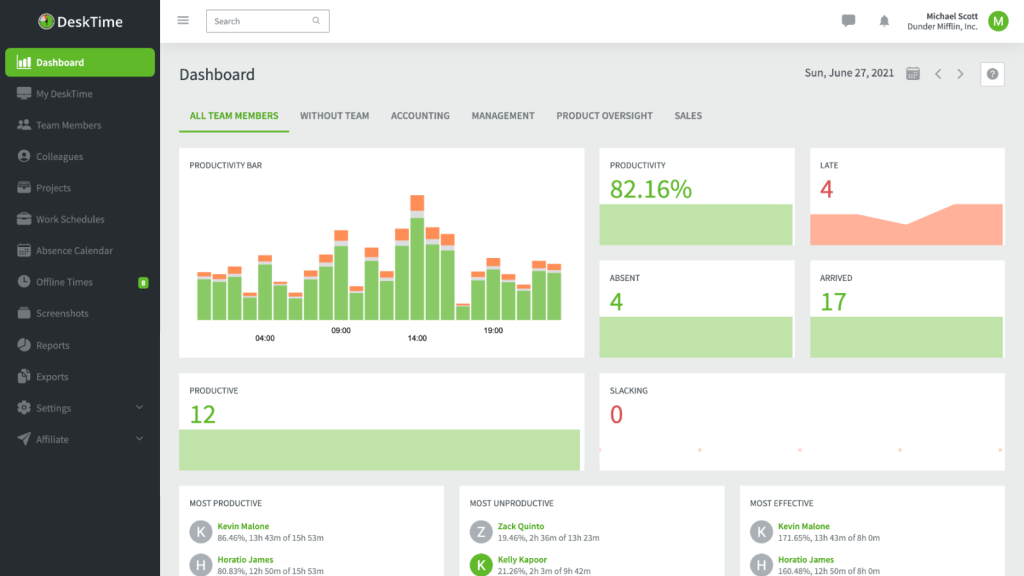 When it comes to collaboration tools for remote teams, DeskTime is the go-to choice. If your teammates are working remotely, the software lets you unobtrusively check on your team to see if everyone is at work and doing work-related tasks. That way, you can stay in full control over what's going on with your project or company without becoming an annoying control freak.
With DeskTime, you can track the time of individual projects and tasks, which allows you to bill clients accurately for the work done. It also helps you to estimate the time required for similar projects in the future.
DeskTime also generates a lot of productivity data about your employee's time-spending habits. You can later download this data and create reports, then share them with teammates, managers, or clients.
Best for: Managing remote teams, improving team productivity and creating detailed employee and team member performance analysis.
Price: Free trial. DeskTime Lite – free; DeskTime Pro – $7/user ($6.42/user if you choose the annual billing option).
3. Slack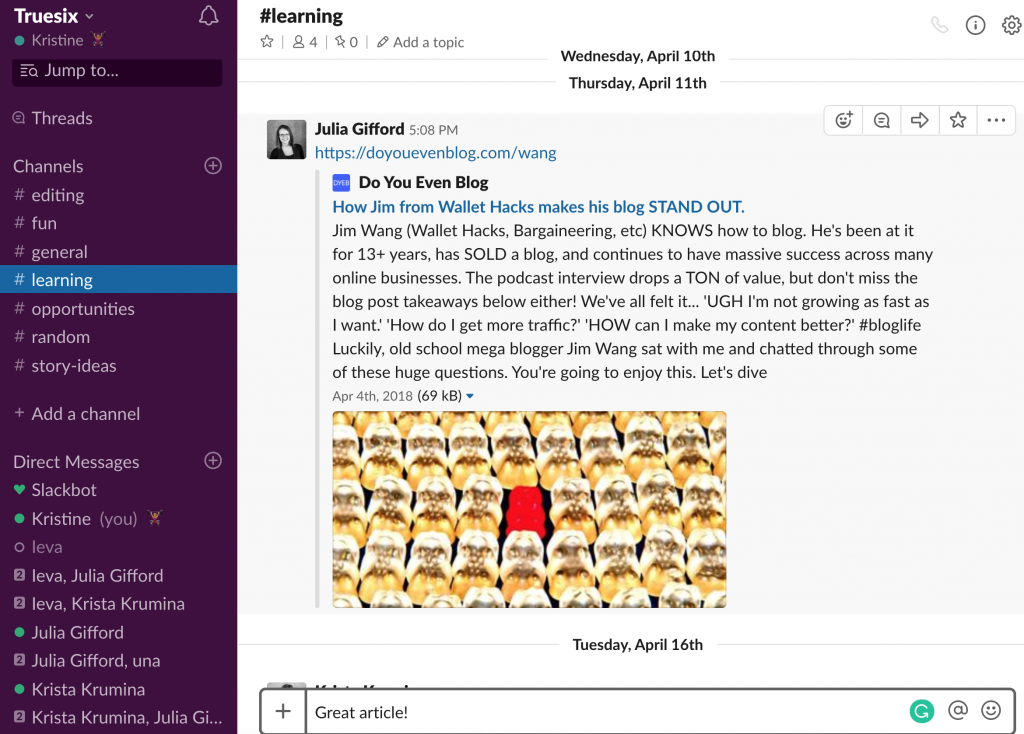 Looking for an online collaboration tool that will make team communication fast and easy? Slack it is. This popular and well-crafted platform offers instant messaging, file transfers, and a powerful message search so that you can check back with what deadlines or tasks you've agreed upon.
Slack allows sending direct messages to a single person or a group of people, and you can organize these conversations into different channels (for example, "general", "technical support", "fun", or a specific chat for each project). The app even supports video calling and lets you share files with your colleagues directly within Slack.
Best for: Fast and effective communication with teammates and managers, quick file transfers.
Price: Free, standard account $7 per user/month (billed annually)
4. Skype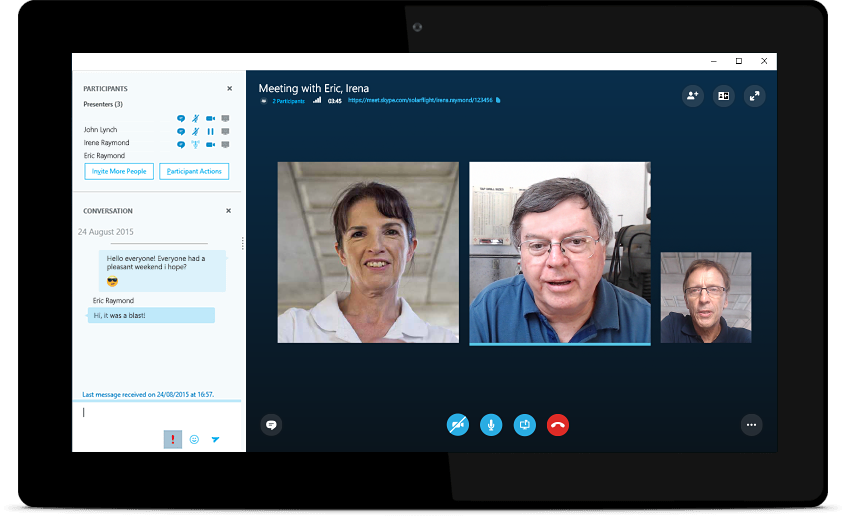 Skype is a popular tool for online communication that improves remote collaboration by allowing chatting as well as audio and video calls between multiple devices no matter where you and the rest of your team are located. You can bring your team together through a group video call and record it to capture important meetings. You can also give presentations to colleagues using the screen sharing option. Options like whiteboards, polls, Q&A are available when using Skype for Business, which integrates with Office 365.
Other useful app features include live subtitles (read the words spoken during an audio or video call) and the Skype to Phone subscription that lets you call mobiles and landlines around the world using just your Skype account.
Best for: Screen sharing and recording for presentations, audio and video call recording for meetings.
Price: Free, Skype for Business starting at $6 per user/month
5. Google Calendar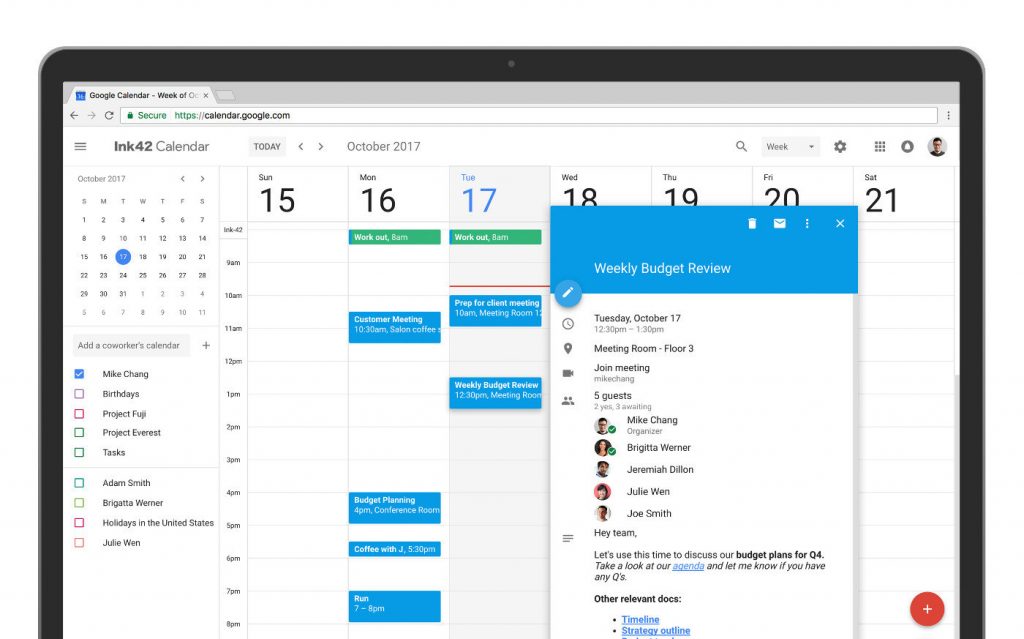 Google Calendar is an integrated online calendar tool from the G Suite app family specially designed for teams in order to spend less time planning and more time doing. Basically, the tool offers smart scheduling for meetings and shareable calendars that integrate seamlessly with Gmail, Google Drive, DeskTime, and other apps so that you always know what plans and meetings to expect next. You can even get a pop-up reminder prior to your event.
With Google Calendar, you can schedule events quickly by checking coworkers' availability, share the calendars with other people (or create a group calendar accessible to everyone in your organization) so that your colleagues can see your availability, and you can see theirs. All calendars are easily accessible from a laptop, tablet, or phone and can sync with the phone's built-in calendar.
Best for: Scheduling meetings with coworkers.
Price: Free
6. Trello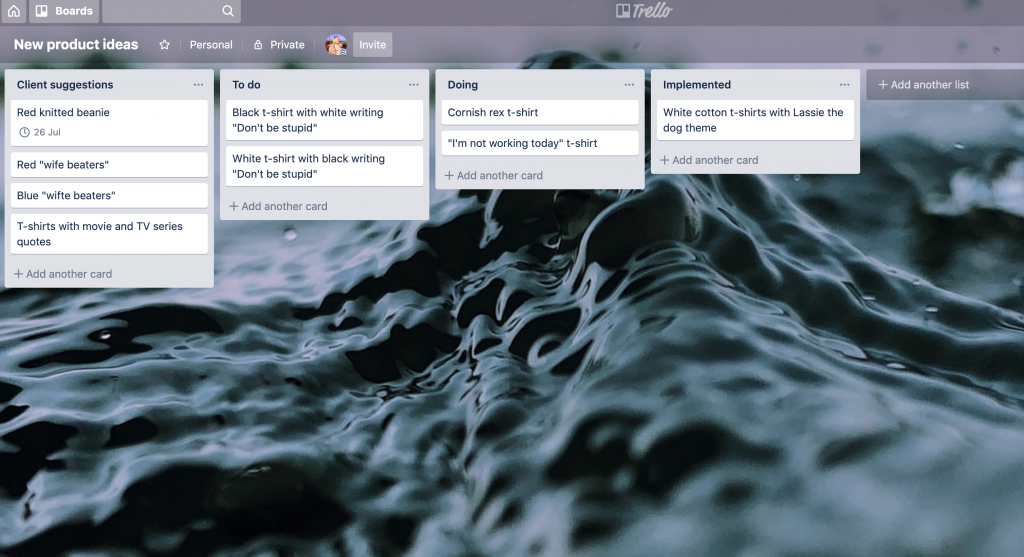 Trello is one of those online collaboration tools that let you and your team achieve your goals by visualizing them. Trello's interface looks similar to the popular card game Solitaire and helps you to define work structure and keep track of your goals in a fun and flexible way.
With Trello, you can easily set up to-do boards and lists and delegate tasks among colleagues. You can even drag-and-drop tasks across columns just as if you were playing cards. The attractive interface is simple to use and easy to adapt to, which is one of the reasons why Trello is highly popular among individuals, smaller teams and midsize businesses.
Best for: Easy-to-learn project management for the whole team to use, brainstorming and collecting ideas in one place.
Price: Free
7. Dropbox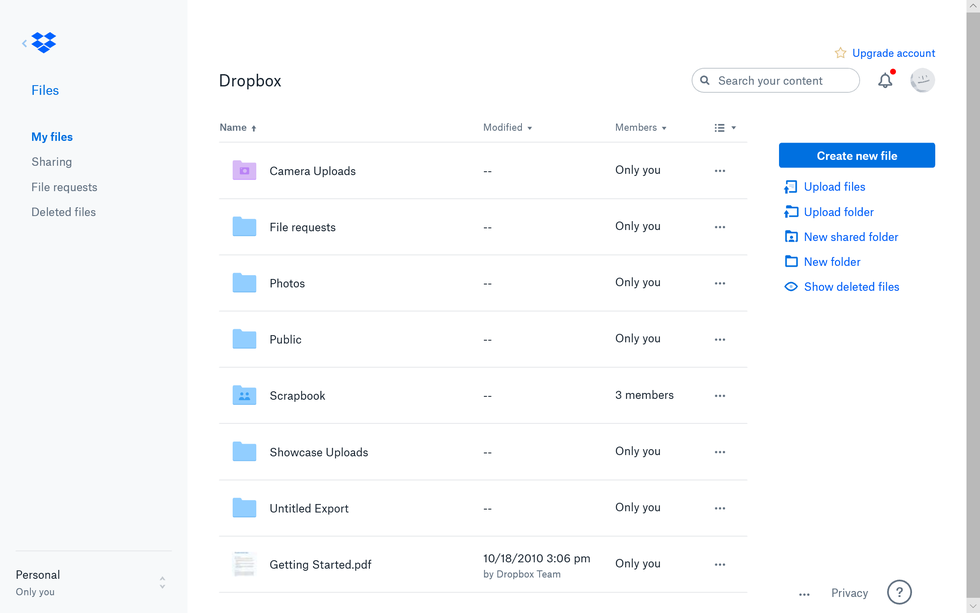 If your company's work is connected to creating, editing, and sharing content, Dropbox is definitely the kind of tool you want to give a try. By using Dropbox, you can instantly send files or folders to people inside or outside your company, even if they aren't Dropbox users.
Dropbox helps you to keep all teammates on the same page, as you can leave comments and gather feedback right there on your documents in real time with Dropbox Paper. Any changes are synced automatically, giving everyone the most recent version in their Dropbox files and folders.
You can use Dropbox individually to store, share, and access all your files securely. Or you can opt for the Dropbox Business option which is great for teams as it offers advanced security.
Best for: Storing and sharing files securely, editing and reviewing documents, and collaborating on content.
Price: Free for Dropbox Basic, $11.20 (€10) per user/month for Dropbox Business Standard (billed yearly)
8. Basecamp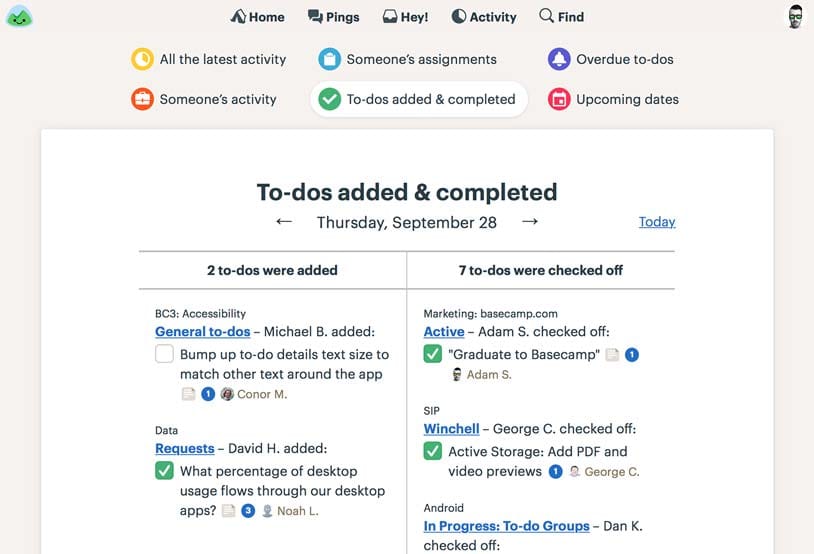 Basecamp is an all-in-one online collaboration and communication platform that includes, well, basically everything. It offers message boards and real-time group chat, as well as scheduling to-do lists and storing documents, files, and folders in one single place. Tired of wasting time on useless status meetings? As an alternative, Basecamp offers the Check-in Questions feature that lets you ask your team questions on a regular basis, with all the replies rolled up in one easy-to-digest thread.
If feedback from clients is an important part in your working process, Basecamp is a convenient choice as there is the learning curve is close to zero and you can even forward client emails directly into Basecamp.
All in all, Basecamp makes an efficient online collaboration tool that increases accountability and improves communication to keep all people in the team on the same page.
Best for: Project management and team communication especially in larger organizations.
Price: $99/month for an unlimited number of users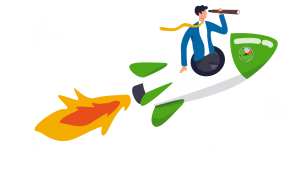 Want your productivity to skyrocket?
Get the most out of DeskTime's power features for time management.
Learn how
9. Jira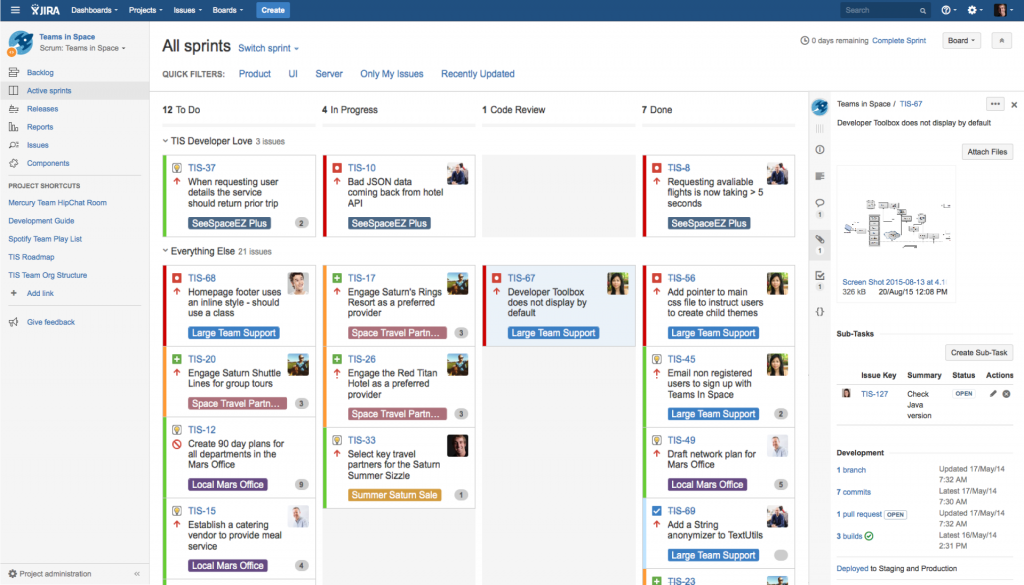 Jira is the number one software development tool used by agile teams to collaborate, plan, track their project status, and release great software into the world. Jira's secret ingredient that makes this platform a great online collaboration tool is the way it simplifies the complex process of software development into manageable units of work. And since it's used for different purposes (for example, issue tracking, support, project management), Jira has evolved into a feature-rich collaboration solution for people working in IT.
With Jira as your online collaboration tool, you can create user stories and issues, plan sprints, and distribute tasks easily across the whole software team. Using the information acquired by Jira, you can also improve team performance based on real-time, visual data that your team can put to use.
Best for: IT project management for teams that develop software.
Price: Starting at $10/month for small teams of up to 10 users
10. WeTransfer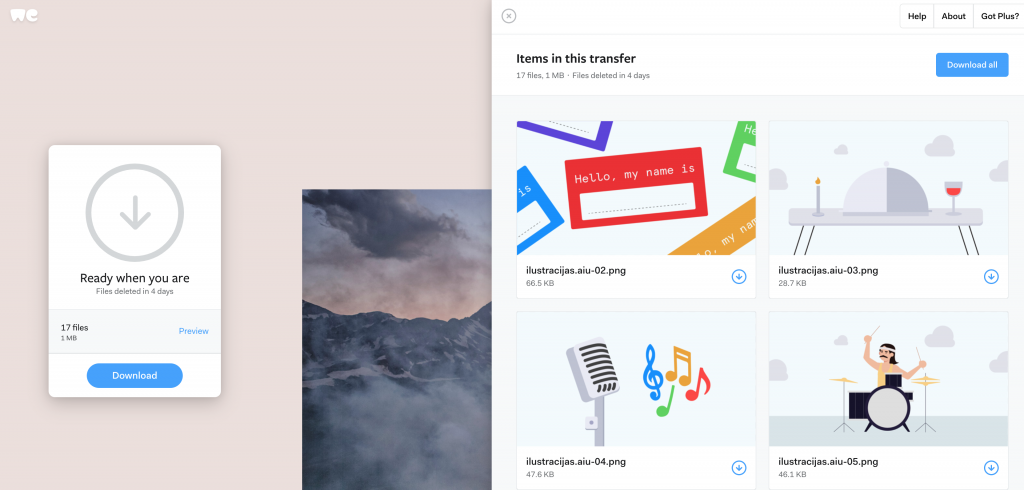 Seamless online collaboration can't be imagined without easy file sharing. So, if your work of line involves sending large files to clients or colleagues, WeTransfer is definitely a tool to consider for your team to make that file exchange process smooth and worry-free.
WeTransfer is a cloud-based online platform that allows you to transfer different types of files for free to other users on the Internet. Not only is WeTransfer's design pleasing to the eye, but the platform is also very simple to use. Besides – it allows you to send very large or heavy files (up to 2GB per transfer) as often as you'd like.
For more frequent users, you can get WeTransfer Plus that allows sending unlimited files and storing up to 500GB, as well as customizing the wallpaper and transfer emails.
Best for: Teams who send large files to clients and customers on a daily basis.
Price: Free, WeTransfer Plus $10/month
11. Teamwork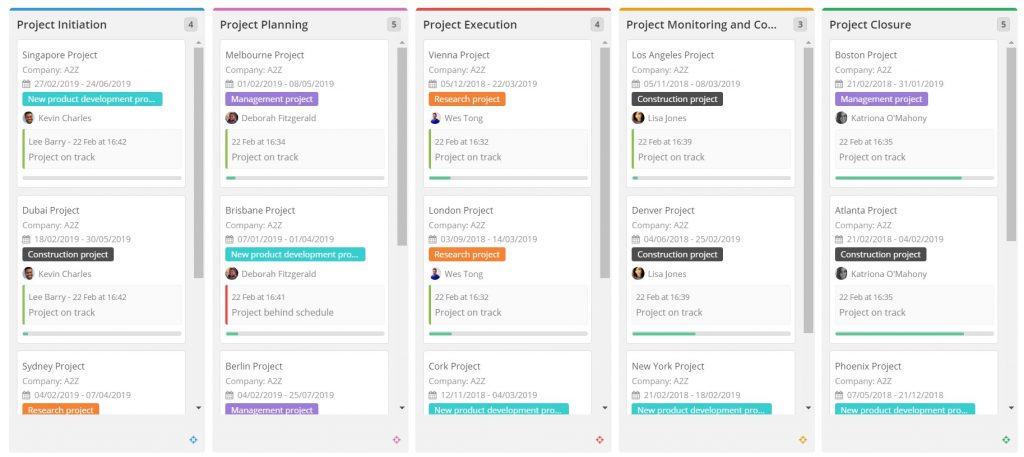 Teamwork is an all in one remote collaboration tool. It started as a project management software but has now evolved into a multi-product suite with tools for project management, document collaboration, instant messaging & video chat, helpdesk support, and a CRM product. The variety of tools make Teamwork a great option for improving online collaboration, especially among remote teams.
With Teamwork, you have a single source of truth, with increased visibility across your organization's tasks. This extra level of granularity can allow you to quickly identify issues or blockers on a project or campaign, such as helping team members running behind with their tasks. Use Teamwork for project planning, time tracking, board view, portfolio management, and so much more.
Best for: Managing your remote team's tasks
Price: Free for up to 5 users, $10 per user / month for the Pro version
12. Proofhub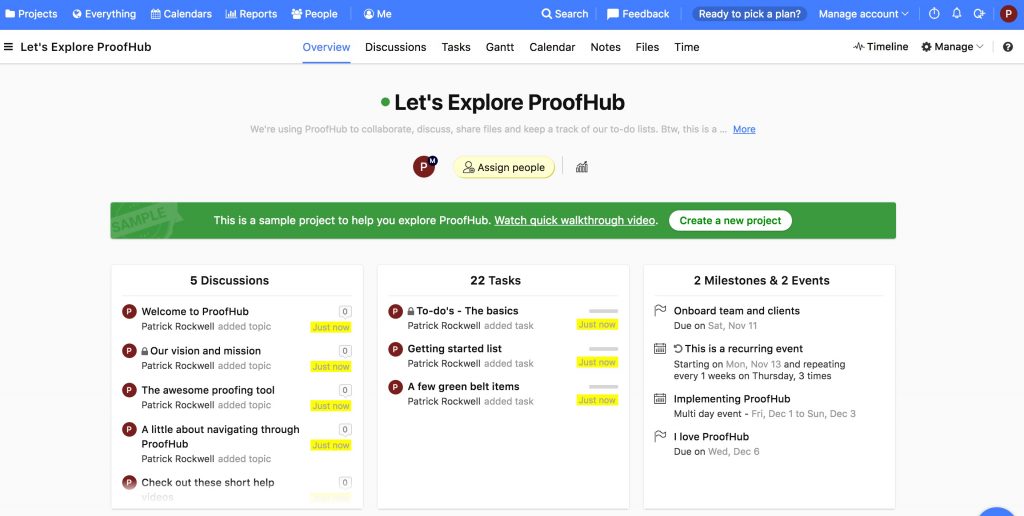 Another all-in-one collaboration tool that might come in handy when managing projects and keeping all team members up to date is Proofhub. It's an advanced online task collaboration software that offers a great platform for running your business and planning every project in one place, all the while maintaining productivity levels high.
Proofhub makes it easy to collaborate within your team or with clients through their task management board where you can define your company's workflow to deliver projects on time. You can assign tasks to individuals and assign them roles by defining who's going to be doing what. Proofhub interface is available in more than half a dozen languages, including English, French, Spanish, Portuguese, Polish, German.
Best for: All-in-one task management if you need to bring your team and clients together under one roof.
Price: $45 /month billed annually for an unlimited number of users
13. Workplace by Facebook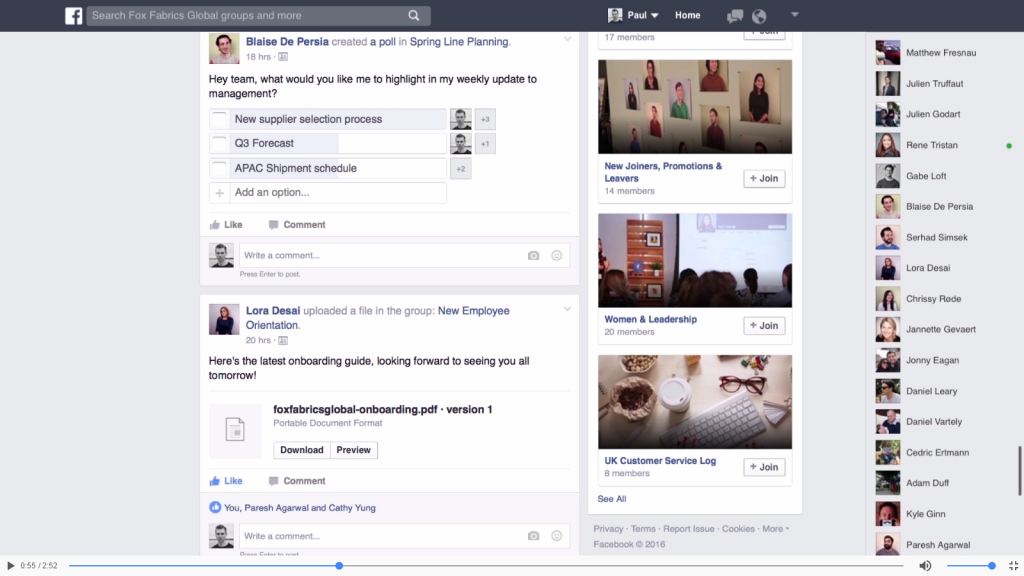 Created by Facebook, Workplace is a collaboration and communication tool that connects team members to one another via an internal social network. It offers features that are very similar to those of Facebook, for example, you can join groups, share information, and organize events. The most notable and useful aspect of the app is the messaging tool that lets team members connect with others using instant messaging and make groups for individuals who share the same interests – or who come from the same department.
Workplace by Facebook can also be a powerful tool to promote diversity and improve workplace culture. For example, you can run polls to measure employee opinions and develop deeper relationships with other teammates by engaging in a conversation with them on the platform.
Best for: Building a strong company culture and networking with team members.
Price: Free, Premium account $3 per user/month
14. Chanty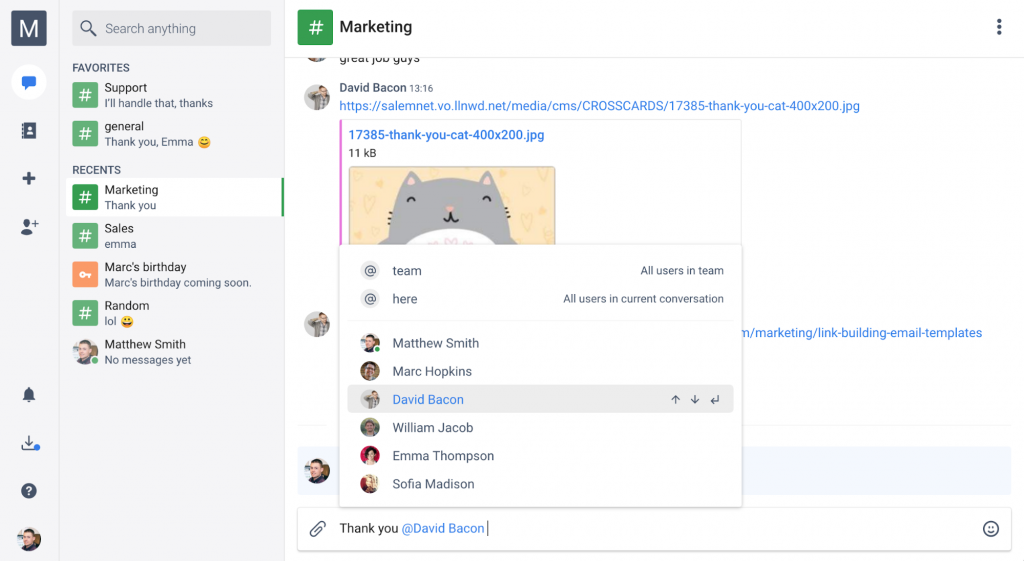 Chanty is a simple team chat tool that makes for an affordable alternative to a typical business messenger or Slack. Chanty uses an AI-powered algorithm that lets you stay up to date with what's important. There's a built-in task manager, plenty of storage space, and an unlimited searchable chat history so that you can never forget what you've written.
If you're tired of typing long answers, Chanty's AI algorithm even predicts responses saving your time. It also has other useful benefits to alleviate communication, for example, audio and video calls, voice transcripts, and plenty of integrations.
Best for: Quick instant messaging with plenty of storage space.
Price: Free for teams with up to 10 members, Business plan $3 per user/month
15. Flock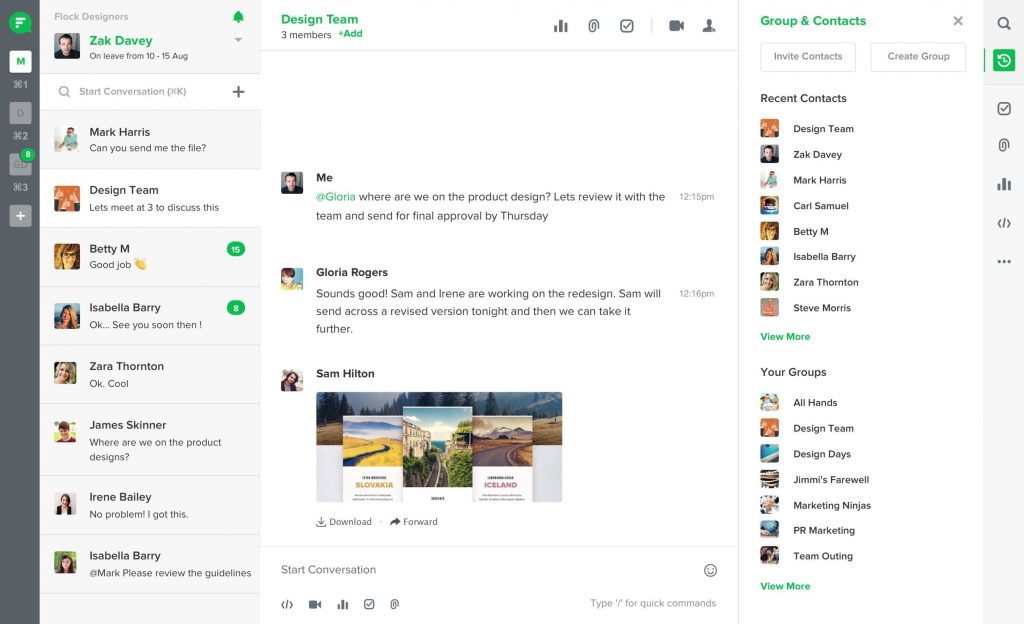 Flock is another communication-focused collaboration tool with an easy-to-use interface and neat productivity tools such as polls, note sharing, and reminders. What's also great is that it's absolutely free to use. So, if you've been thinking of using Slack, but find it too difficult to adapt to (or perhaps your team wants something slightly less daunting), Flock can prove to be a great alternative.
The tool supports channels for different teams, as well as group conversations. Similarly to Slack, you can search through messages, files, and links, and it even allows audio and video calls, as well as screen sharing.
Best for: All-round communication within your team.
Price: Free standard version, Pro plan $3 per user/month billed annually
16. GoToMeeting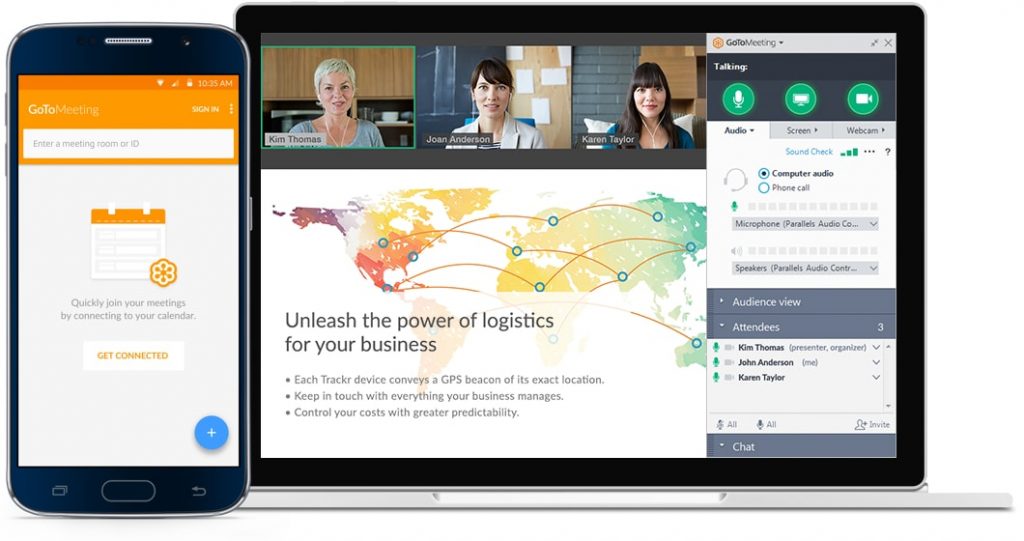 Looking for a Skype alternative that would help your team collaborate anytime, any place, conducting meetings even if all members are not in the same location? Consider GoToMeeting, an online video conferencing tool that allows users to hold online meetings, attend trainings, or presentations. Some of the most useful features include setting up recurring meetings, switching between presenters based on their authority in the meeting, not to mention HD video conferencing.
Best for: Video calls and conferences to bring together the whole team, even those team members who work remotely.
Price: Starting at $14/month billed annually
Did you find this article useful? Give it a clap!
Psst! You can clap more than once if you really loved it 🙂