DeskTime's time card calculator
Use this time card calculator to quickly sum up your work hours. It's fully customizable – you can calculate time card hours and minutes worked per week or any other pay period.
Free 14-day trial. No credit card required.
By signing up, you agree to our terms and privacy policy.
How to use a time card calculator?
It's easy – all you have to do is input your work hours. You can use this tool to sum up the time you've already spent on projects or tasks or to plan ahead for the future.
1

You can use it as a weekly, biweekly, or monthly timesheet

First, you'll need to set the time period you want to do the calculations for. You can switch between a weekly or biweekly time card calculator or estimate hours for the whole month.
2

This is a fully customizable time card calculator

You can change the first day of the week, add dates, and calculate hours for as many as 31 days. This time card calculator even lets you add projects you work on with or without adding specific timeframes.
3

Add lunch or other breaks

To get an accurate estimate of your time spent working, we've created a time card calculator with lunch breaks. You can specify how long your breaks take and calculate your billable hours accordingly.
4

Use the online time card calculator or save it and use it as a template later

You can use this time card calculator to add the time you clocked in and out for each day, as well as the start and end times of your break. This data can then be downloaded as a .csv file and used as a template to calculate similar schedules in the future.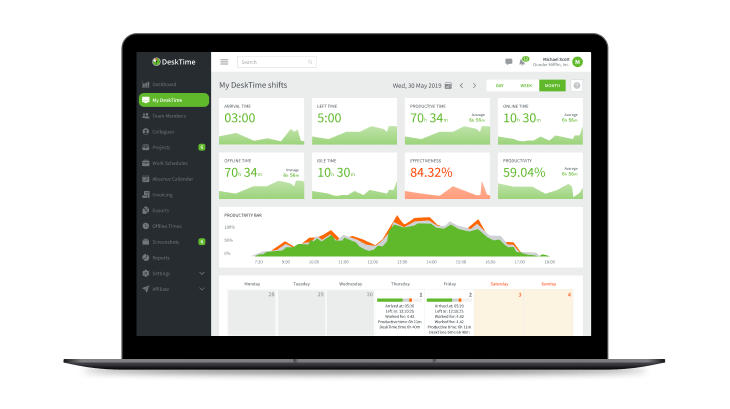 Tired of manually calculating work hours? Use time tracking instead!
Manual time card calculations can be a lot to handle – especially if it becomes a daily task. Automatic time tracking is an excellent solution for that.
DeskTime is an automatic time tracking software that notes and analyzes productivity at work. It's a tool that's been chosen by both freelancers and companies that employ hundreds of people. DeskTime helps office workers save time, boost work efficiency, manage their day, and schedule their week, allowing them to tap into their full potential.