13 daily to-do list apps to help you keep track of your tasks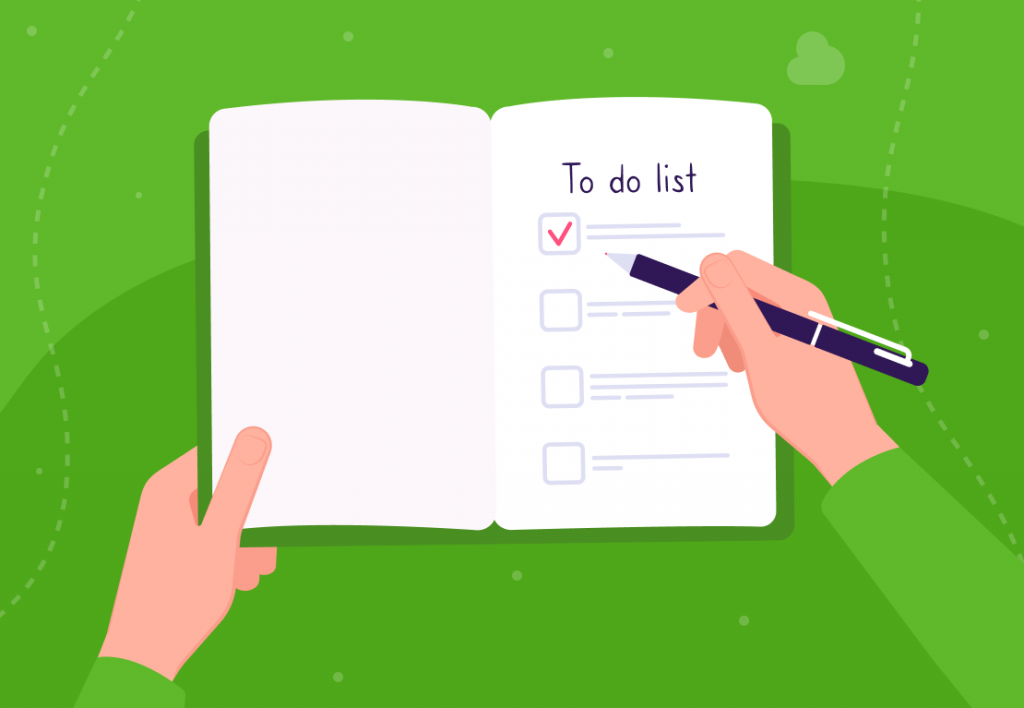 For some people, pen and paper work fine for keeping track of their daily tasks, while others might need a helpful to-do list app to support them in the day-to-day.
Whether you're a busy entrepreneur with several teams to manage, a freelancer with a handful of clients, or simply someone who needs help organizing various life segments, there is definitely a checklist app out there made just for you. We hope that this list of tools will help you find the best to-do list app suitable to your needs and preferences.
Here, we cover 12 to-do list apps for using individually or with your team:
Want to get the most out of your time?
Try DeskTime for free!
Try free for 14 days · No credit card required.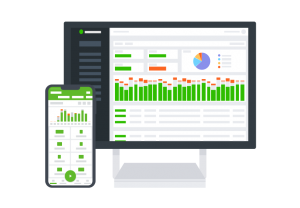 Price: Free | Premium from $3/month
Works on: Android, Windows, macOS, iPhone and iPad, Web
Todoist is a famous daily checklist app that works great for professional and personal tasks or both – you can add different labels and colors to separate your work assignments from house and family-related tasks.
Todoist will help split up your projects and sort them according to their priority, whether you're on your phone or the computer. You can set several priority levels, track due dates, and a lot more to stay efficient in your day-to-day. The great thing about Todoist is that it lets you see not only the day's tasks but also what you need to accomplish for the following week or month, motivating you to reach your goals.
Todoist's interface is similar to Gmail — you simply add items to your task list, add subtasks or mark favorites. It's simple to move the task to another day or mark it done.
Awesome features:
Various preset templates, e.g., for goal tracking, organizing finances, social media calendar, meeting agenda, and others
Getting "Karma points" for completing tasks on time and growing your karma over time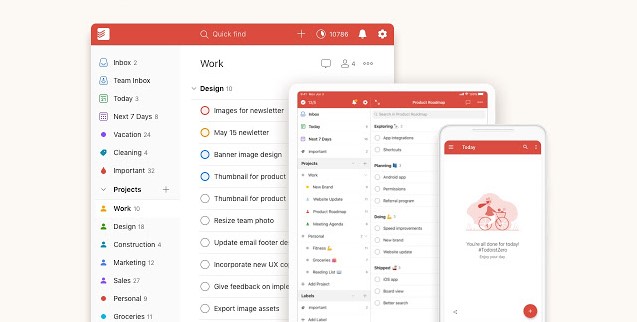 Price: Free | Premium from $2.09/month
Works on: Android, iPhone, Web
When it comes to handy user interface and design, Any.do may be one of the best daily to-do list apps out there. You can drag and drop tasks to change their order or priority level, swipe tasks to mark them complete, and add tasks through voice command. To differentiate among projects or segments of life, use categories or themes.
Features like deleting the tasks by shaking your phone give this to-do list app a really modern look and pleasant feel. Any.do also offers awesome reminders that you can set to go off at a certain time and even in a location of your choice, like home or work. Also, Any.do can help you plan your day by browsing your tasks and suggesting when to complete them.
Any.do is also irreplaceable as a calendar app, which seamlessly integrates with your Google Calendar, iCloud, Outlook, or any other calendar. In addition to everything already mentioned, this awesome checklist app can spot your missed phone calls and remind you about them.
Awesome features:
A preset grocery list that won't let you forget different product categories
Morning notification about your plans for the day
The option to assign tasks to others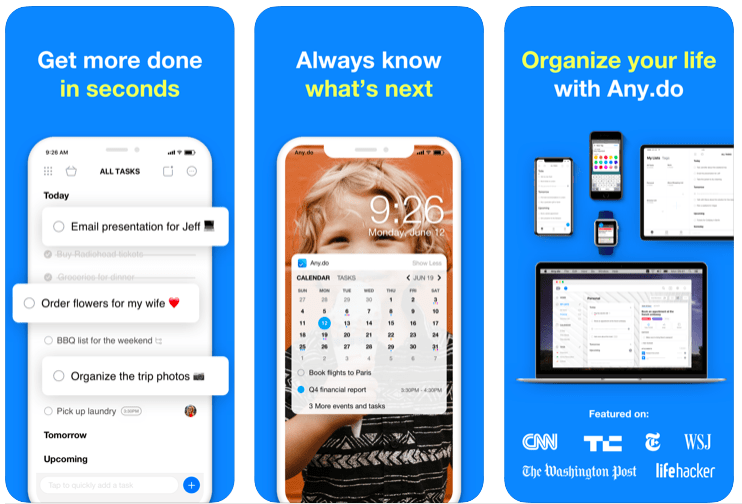 Price: Free | Premium from $2.4/month
Works on: Android, Windows, macOS, iPhone and iPad, Web
Just like most daily and weekly checklist apps, TickTick allows you to add tasks, subtasks, reminders, deadlines, and recurring tasks for the day, week, or month. The great thing about this to-do list app is that it gives you the choice of five different calendar views to see which view motivates you best.
It's super convenient to add tasks to TickTick, using not only texts but also voice commands and widgets. You can even turn an email into to-do list items! This simple and excellent daily checklist app even lets you assign tasks and share lists with others.
Awesome features:
Location-based reminder settings
The option to turn emails from your inbox into tasks
"Annoying alert" feature to make sure you don't miss an important meeting or task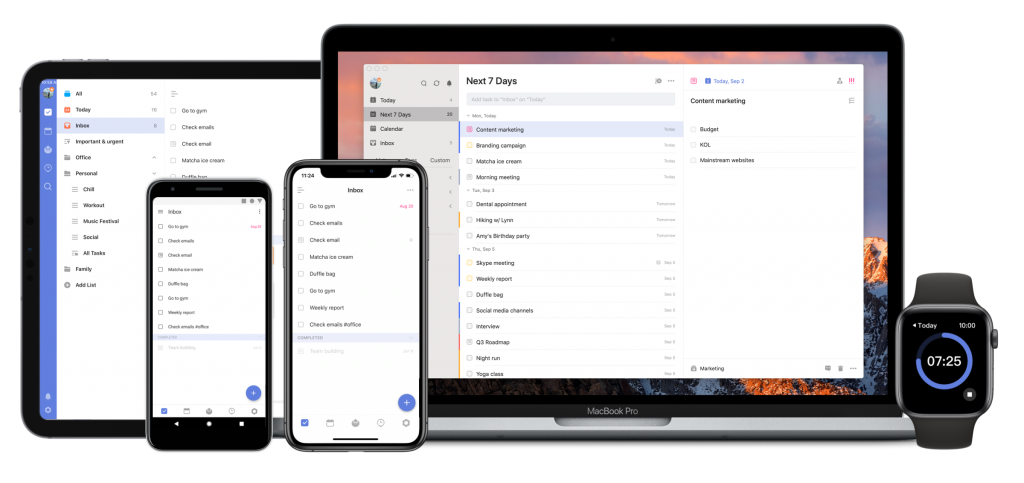 Price: Free | Premium from $5 per user/month
Works on: Web, Windows, macOS, Android, and iOS
SmartTask is an award-winning task management platform that can help you manage both personal as well as professional tasks. It lets you organize your tasks in four different views including list, board, calendar, and timeline view.
You can create a classic to-do list of your pending tasks in the list view. In tasks, you can create subtasks, recurring tasks, set assignees, due dates, and priorities, attach files, create custom fields, and add reminders as well.
Apart from task management, you can use SmartTask for project management (basic to complex, depending on your needs), time tracking, internal team communication, client communication, and CRM.
Awesome features:
Manage tasks in the list, kanban board, calendar, and timeline view
You can import tasks from emails, CSV files, and MS Project
Group chatting, voice calling, and video conferencing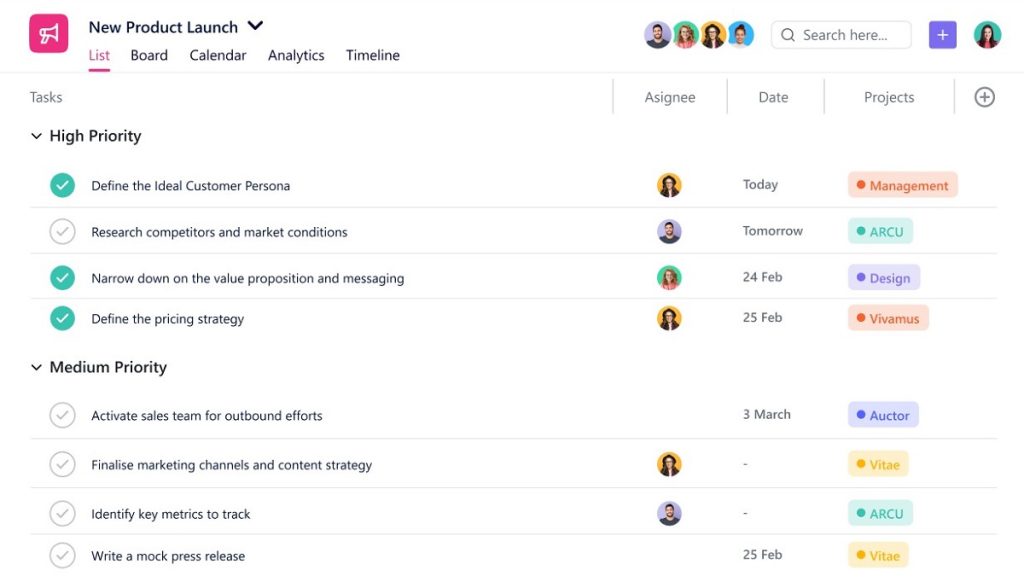 Price: Free
Works on: Android, Windows, iPhone, and iPad
Microsoft To Do is a simple to-do list app that lets you plan for anything – whether it's organizing your grocery lists, must-see movies, planning a trip, or your workflow. You can manage priorities by using tags like #1, #2, #3 or #urgent, #medium, #low, and then sort the tasks in a way you find convenient. This to-do list app is pretty straightforward and mainly aimed at personal use rather than effective team collaboration.
Microsoft To Do is also the most logical choice for a checklist app if you're a Microsoft Suite user. It's effortless to import and sync tasks from other Microsoft apps and even turn Outlook emails into tasks.
Awesome features:
Sharing to-do lists with family, friends, or colleagues
List customization by choosing a different background for each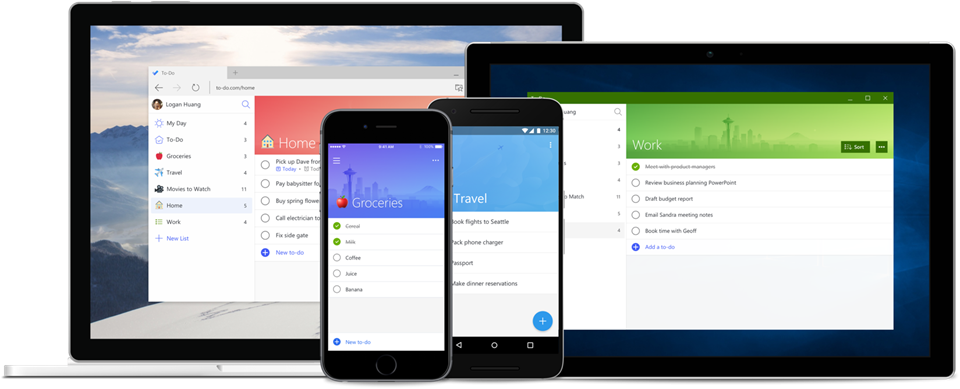 Price: Free | Premium from $9.99/month
Works on: macOS, iPhone, iPad, Web
OmniFocus is a flexible to-do list app suitable even for the most complex and unconventional organizational systems. This tool lets you set up three different types of projects and view them in six default views, allowing you to organize tasks according to their tags, due dates, a specific order, etc. Even more views and options are available in the Pro version of this versatile to-do list app.
OmniFocus is no simple to-do list app – this feature-packed tool answers even the most specific workflow organization needs. It's definitely one of the best daily to-do list apps for power users and people with particular time management needs. The app offers deep integration across all Apple devices, ensuring you never miss a deadline.
Awesome features:
Custom perspectives to group similar actions together
A handy sharing menu to easily add items from any app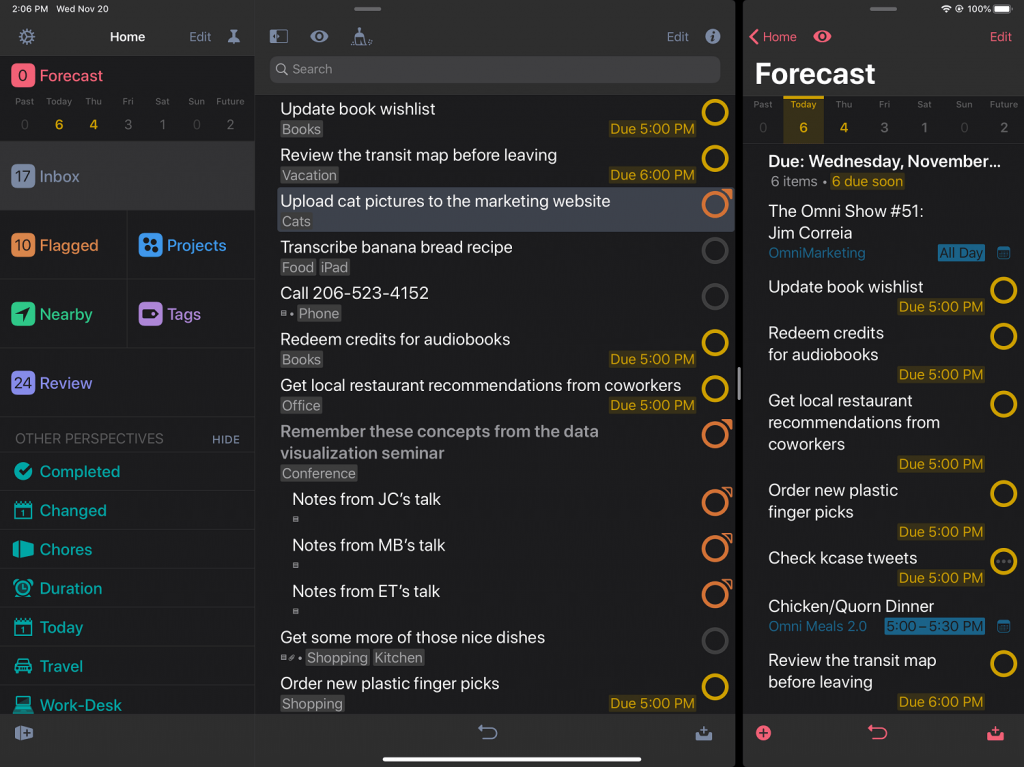 Price: Free | Premium from $1.25/month
Works on: iPhone, iPad, and Mac (basic functionality available on Android)
Bear App is a beautiful tool for taking notes, combined with a to-do list app. It allows you to make lists, create checklists, add detail to your tasks, and take extensive notes.
iOS (and Premium plan) users can benefit from importing content into the Bear app, for example, share content from other apps, capture webpages, drag and drop from other apps, and even add notes by talking to your Apple Watch. Bear app's pro version also offers many beautiful themes.
Awesome features:
Rich text editing with great design and diverse typography options
Progress bar under each note that fills up as you check off to-dos, giving you the visual queue of each task's progress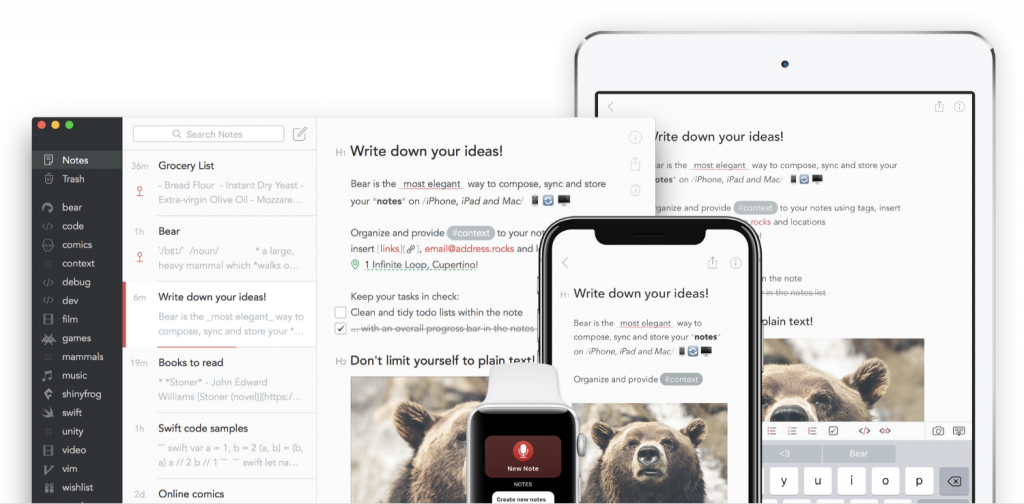 Price: Free
Works on: Android, iPhone and iPad, Web
If you don't need all the bells and whistles of a sophisticated task management app, Google Keep offers a simple and straightforward way to organize your life. With this free to-do list app, it takes an instant to jot something down in a note, add an image or a voice memo to it and then share e.g., a grocery list with your partner.
You can choose to type in a note the traditional way or use the handwriting feature. You can transform any note you've written into a checklist with one click. You can choose from 12 colors to highlight the note and drag the notes around (or pin them) to see the most topical ones on top. You can add a custom reminder to each note and even choose if you receive the reminder at home, work, or another location.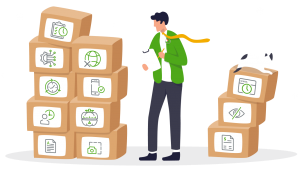 As a Google app, it's synced with all Google products; for example, you can easily copy your notes to Google Docs, send or share them. You can also add collaborators to your notes to edit or check off the list items together in real-time.
Awesome features:
The voice memo feature will not only record but also transcribe your words
You can draw on any photo, color or highlight it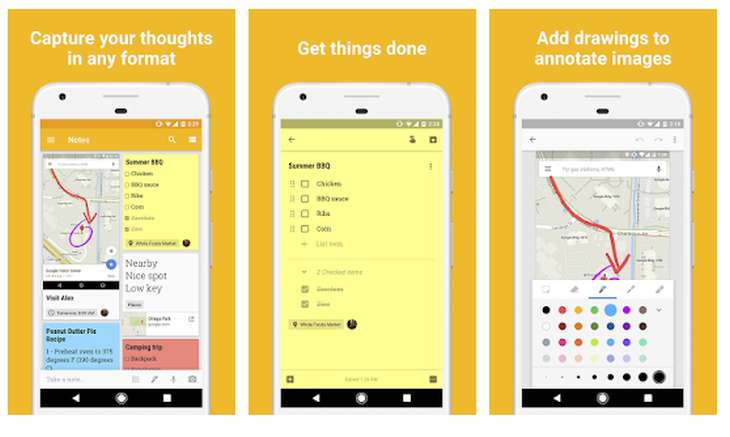 Price: Free
Works on: Android, iPhone and iPad, Web
Habitica is a habit-building and daily to-do list app which turns tasks and to-do lists into a role-playing game and lets you earn points for achieving goals. This app is a great tool for those who find planning and organizing their lives boring and tedious. Why not turn it all into a game?
The app resembles a game right from the start where you have to create an avatar for yourself. Then you can either select from the preset habits and goals like "Eat less junk food", "5 minutes of quiet breathing," or add your own tasks. When you check tasks off, your character gains health or experience and some gems and gold along the way. If you fail or ignore your tasks, you lose powers and health.
Awesome features:
Give custom rewards to yourself for reaching a certain goal or level
The option to share your tasks with friends for extra motivation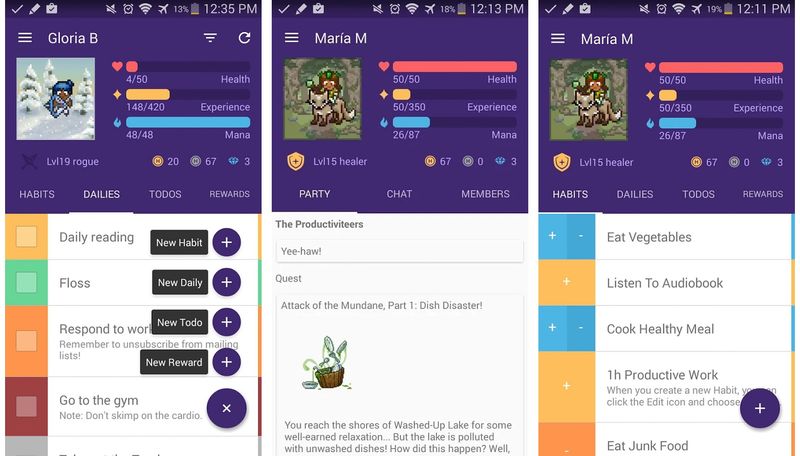 Price: Free | Premium from $10.95/month
Works on: Android, Windows, macOS, iPhone and iPad, Web
Ayoa is more than a daily checklist app, in fact, its creators call it "mind map software", which entails visualizing your ideas and transforming them into exact actions. This app is great for visually-oriented people looking for a more beautiful and multi-dimensional way to organize their thoughts, rather than using a simple list. You can choose to display your tasks and projects in different (and beautiful!) ways, like a Radial map, Canvas view, Whiteboard, Kanban board, a "regular" mind map, and many others.
It's a versatile task management app for individual or team use to collaborate on projects, tasks, and to-do items with the help of checklists and whiteboards. Ayoa makes managing your to-do list and collaborating on it a fun process in itself.
Awesome features:
Creative project management enabling the creation of ideation plans
Instant messaging with Ayoa chat
The "now, next, soon" planning feature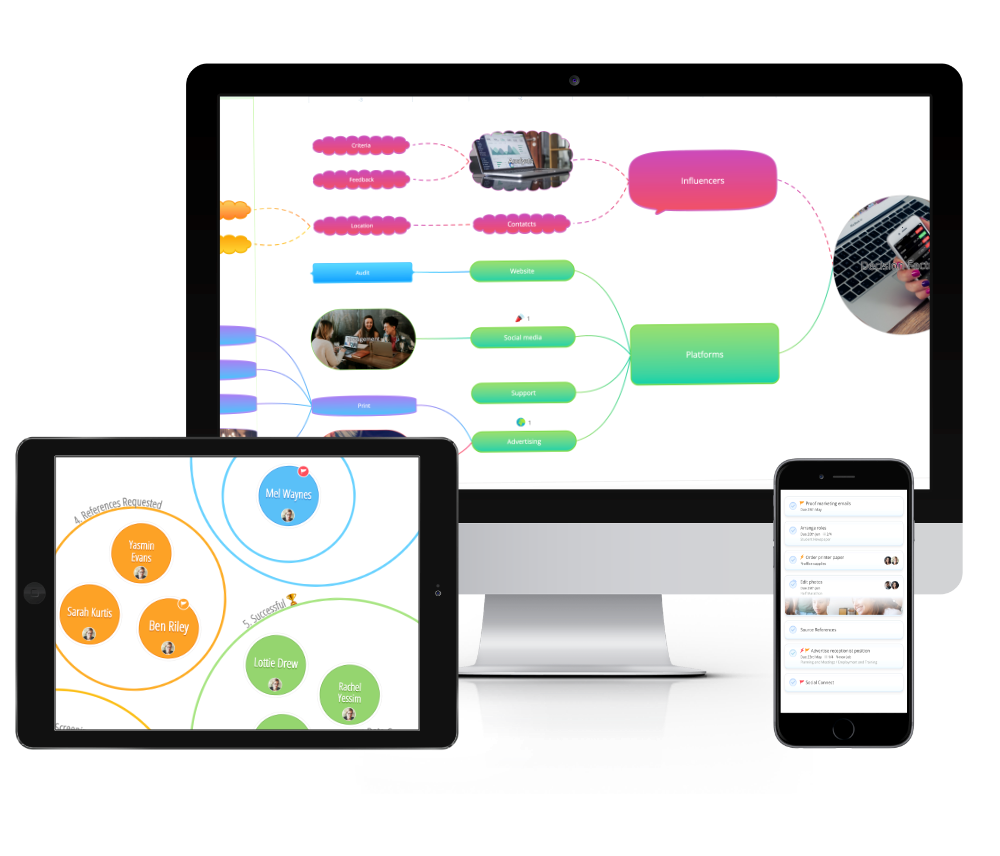 Price: Free | Premium from $1.99/month
Works on: Android
Memorigi is a beautiful to-do list app, task planner, calendar, and reminder app with many features designed to keep yourself accountable when working towards your goals.
Memorigi not only lets you keep track of your daily tasks, ideas, and activities, but also motivates you to follow life goals and build habits. It also offers useful features like cloud sync, recurring tasks, and reminders.
You can quickly schedule and reorganize your tasks and lists using swipe gestures; make notes; and analyze your statistics to keep track of your personal, work, or school projects.
Awesome features:
The "Nag me" feature for continually reminding you of your uncompleted tasks
Attachments for safely storing your tasks, documents, lists, and photos
Dark mode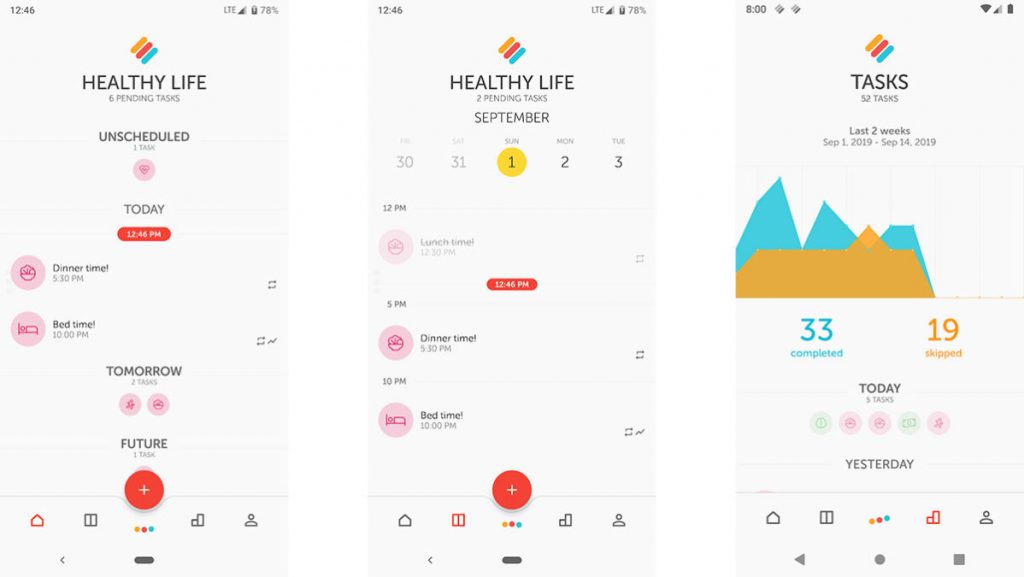 Price: Free | Premium from $3.33/month
Works on: Android, iPhone and iPad, Web
Remember The Milk is a simple to-do list app that helps to create organized and colorful lists. What started as a simple grocery shopping list, as the name suggests, has expanded into a decent time management and daily checklist app. Besides creating lists, it lets you connect to other apps like Gmail, Outlook, and Google Calendar and receive reminders in various ways, by email, text, IM, or even -Twitter.
Remember The Milk's smart listings help you to identify all your due dates for the week. It may be one of the best personal to-do list apps, as it focuses more on handy tagging and smart list features rather than organizing projects and subtasks.
Awesome features:
Automated task prioritization
Smart sentence recognition that lets you write out the details and due dates in one line using natural language
Simple and intuitive UI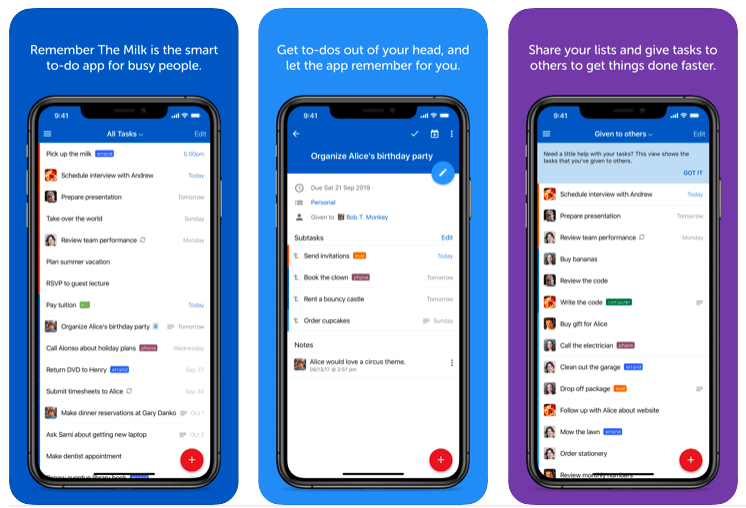 Price: Free | Premium starts from $2.40/month
Works on: Android, Windows, macOS, iPhone and iPad, Web
Chaos Control is a daily checklist app based on a slightly different approach (namely the Get Things Done methodology or GTD) than most daily to-do list apps. Instead of only focusing on your day-to-day tasks, the app creators invite you to start by writing down a desired result or outcome, turning it into a project with a corresponding list of actions. You can then use folders to organize your projects into categories.
This app doesn't have an elaborated design, but it provides a solid functionality that helps to organize your goals, tasks, and schedules in a way that lets you see how each step you take affects the big picture. You can also sync your projects and tasks across Windows, Mac, iOS, and Android.
Awesome features:
One of the very few GTD philosophy apps out there
Very simple and straightforward UI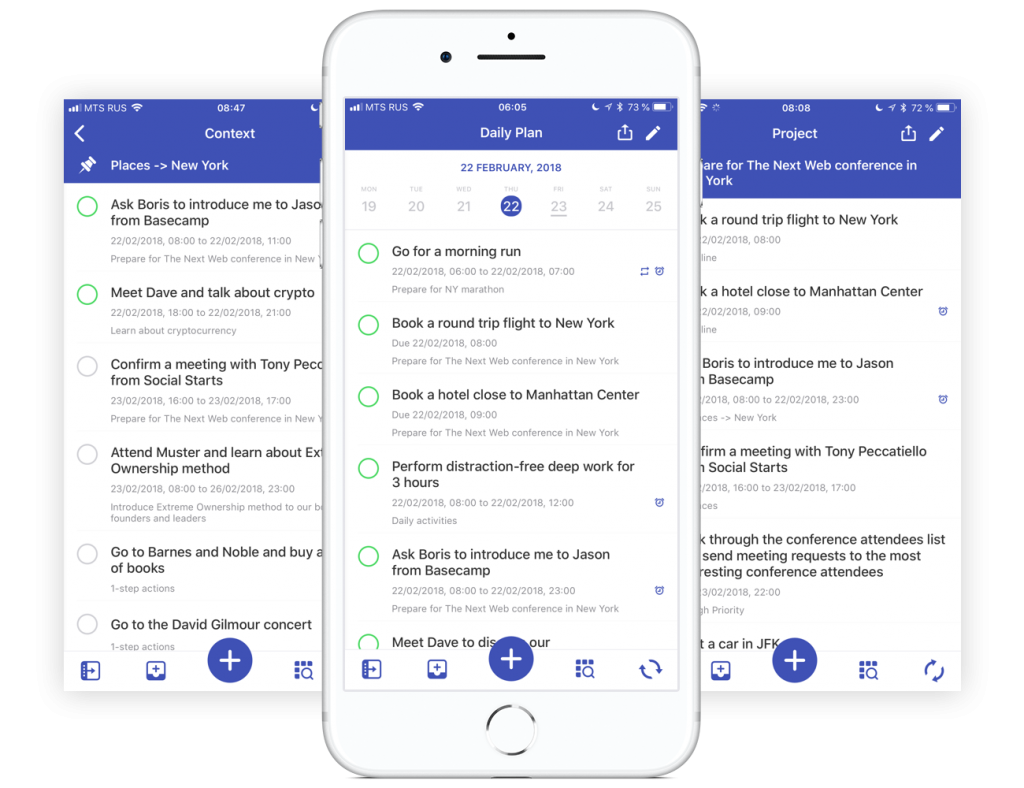 Which to-do list app do you fancy?
We hope this list helped you find the best personal to-do list app for taking control over your daily tasks. If you find it hard to choose, test several options since all of these awesome checklist apps have free versions.
We all know that nothing gives more satisfaction than ticking off completed tasks from a to-do list. So we wish you good luck and lots of fun completing your daily tasks and reaching your goals!
Did you find this article useful? Give it a clap!
Psst! You can clap more than once if you really loved it 🙂