The pros and cons of hiring digital nomads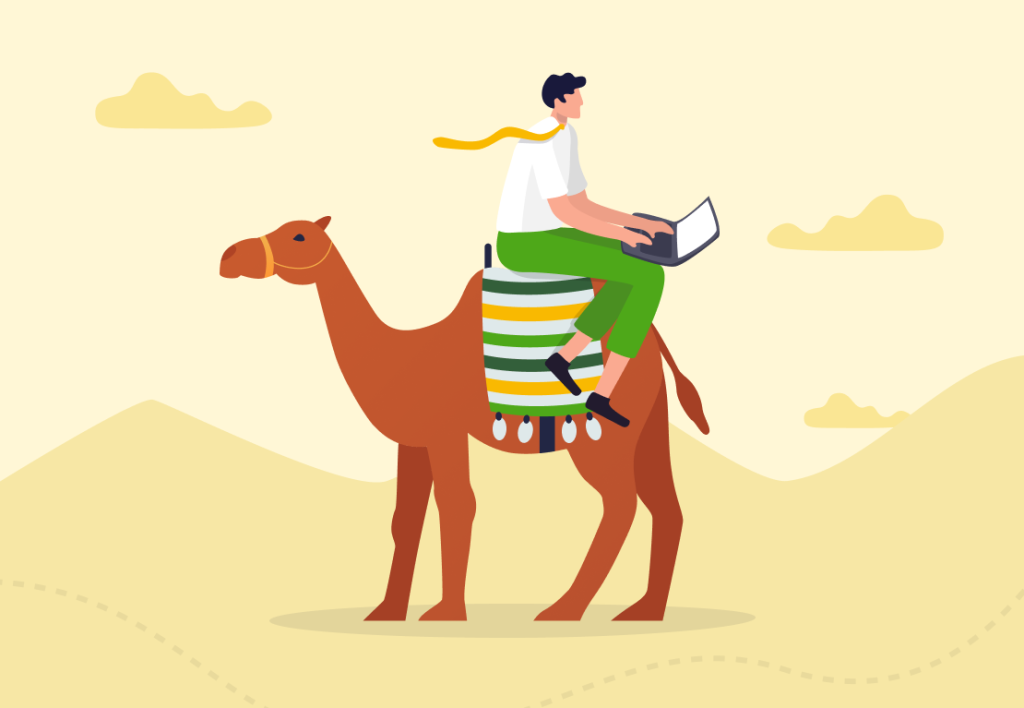 The lifestyle of digital nomads – when people work remotely while traveling to different locations on a regular basis – has become increasingly popular over the past years.
There were over 35 million digital nomads in 2021 and this number will definitely continue to grow. Now that the Covid-19 pandemic has made companies more open to remote work and employees have realized they don't want to return to the office, digital nomading is becoming mainstream.
In this article, we will talk about the opportunities and challenges of hiring digital nomads. But first – let's take a more detailed look at who digital nomads are.
Want to get the most out of your time?
Try DeskTime for free!
Try free for 14 days · No credit card required.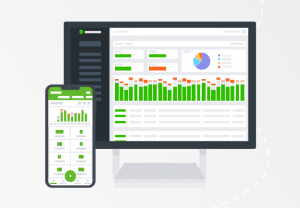 What is a digital nomad?
"We are the free spirits everyone wants to be," said Clarisse, a digital nomad currently in Nepal, the country famous for being situated in the Himalayas. Within the past five months of 2022, she's visited and lived in three different countries while also continuing her digital marketing business.
Clarisse is just one of the millions of digital nomads in the world. According to Project Untethered, there are over 15.5 million digital nomads from the US alone. Some countries, such as Japan, Estonia, Singapore, and Brazil, have even created special e-residency programs and offer digital nomad visas for people living this location-independent lifestyle.
Digital nomads are individuals who make a living by working online while traveling and exploring the world.
A laptop and a reliable internet connection – that's all they require to do their jobs. No wonder it is common to find digital nomads at coffee shops, co-working spaces, and even on beaches. At the end of the day, a digital nomad can stay in luxurious villas in Italy or a campervan along the west coast of the United States and remain working all the while.
What do digital nomads usually do for a living? The most common fields in which digital nomads work include:
engineering and technology
creative services (eg., photography services)
coaching
sales
marketing and PR
finance and accounting
consulting
Oftentimes, digital nomads are self-employed, but over the past years, there are more and more digital nomads who're employed by companies open to full-time remote work. Some of the best-known companies that hire and work with digital nomads are Dropbox, Atlassian, ConvertKit, GitHub, GoDaddy, and Loom.
Why should your company consider hiring digital nomads?
Hiring digital nomads has its pros and cons – let's start with the advantages.
1. Cost-effectiveness
Since most digital nomads work while traveling, they do not require a designated workplace, and that allows you to save on office space and related expenses.
The company's workspace amounts to the second largest overall expense and the single largest fixed cost it manages over time. The math is simple: the fewer in-house employees, the smaller office the company needs, the more money it can save on office expenses.
2. Access to specialized talent
By hiring digital nomads, businesses have access to a wider pool of highly skilled candidates. It also provides access to skills that might not be available or are in great shortage in the location where its office is based.
3. Productivity
The traditional workplace setting does not restrict digital nomads – they travel the world and enjoy life. This can significantly impact their creativity, and improve their work-life balance, mental health, and overall well-being. That, in turn, improves their efficiency and productivity – a study shows that remote workers, including digital nomads, are 35-40% more productive than their office-based counterparts and have 60% more focused work time.
4. A fresh perspective
Organizational culture is an important part of every business, but it can also make people think and see things in a similar way. Digital nomads can be the people bringing a more diverse and global perspective to the company.
5. Schedule flexibility
Digital nomads often work from different time zones, and that can be a huge plus if, for example, you need someone to serve customers from different time zones or help you deal with emergencies. For example, if your website goes down in the evening, you don't have to wait until the next morning for someone to fix it, that way losing the revenue from international customers.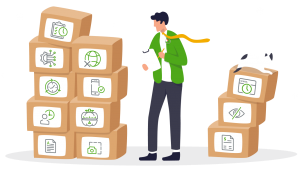 Want your business to thrive?
Boost your team's productivity and efficiency ratings with time tracking!
Learn more
Hiring digital nomads – what are the disadvantages?
If you're considering hiring digital nomads, make sure to weigh in on the potential challenges. Here are some of them.
1. Divided attention and numerous priorities
Digital nomads who are freelancing not only often work on multiple projects at the same time, but also try to balance work with exploring the place they've based at that particular moment. As a result, they may lack focus, which can lead to unsatisfactory quality work and missed deadlines.
2. Internet access issues
It's not uncommon for digital nomads to work from exotic locations and rural regions with poor internet connections. After all, those are locations where people go for vacations and relaxation, not for work. The internet connection issues can be a dealbreaker, considering that all communication and collaboration would be online.
3. Time zone differences
Time zone differences can be both a pro and a con. While it can be great to have someone who can cover the hours when your office is closed, team collaboration can be challenging in asynchronous work. That can result in a slower work pace and missed deadlines.
4. Digital security risks
Digital nomads often work from public spaces and use public WiFi, which is one of the main cybersecurity hazards they face. Another thing is device theft, which is quite a common issue digital nomads face and can put your company's sensitive information at risk, especially if the person hasn't properly secured their device.
5. Reliability issues
Digital nomads may be difficult to manage because for them their lifestyle tends to be more important than their job. For instance, without a binding contract, a digital nomad can back out of an ongoing project when it no longer seems convenient. That makes them less reliable to work on critical long-duration projects.
Working with digital nomads
There are many reasons to hire digital nomads – these people are highly skilled, efficient, self-motivated, and flexible. Working with digital nomads can also help your company save money and attract talent that would otherwise be unavailable to you.
That said, there are also some potential drawbacks to consider when hiring them – communication and collaboration, security risks, and more. The good news is there are ways to subdue these potential challenges – here's how:
Seek clarification on how the digital nomad intends to handle the time difference, internet issues, and other potential problems from the get-go.
Ensure that you set clear expectations for your new hire, which will prevent communication problems down the line.
Outline your working patterns, tasks, and deadlines to the digital nomad and establish a standard medium and design of communication.
Ask the digital nomad to track the time they spend on your projects with DeskTime – it's a way to make sure you don't overpay.
Good luck!
Did you find this article useful? Give it a clap!
Psst! You can clap more than once if you really loved it 🙂