Remote work: the complete guide to everything you need to know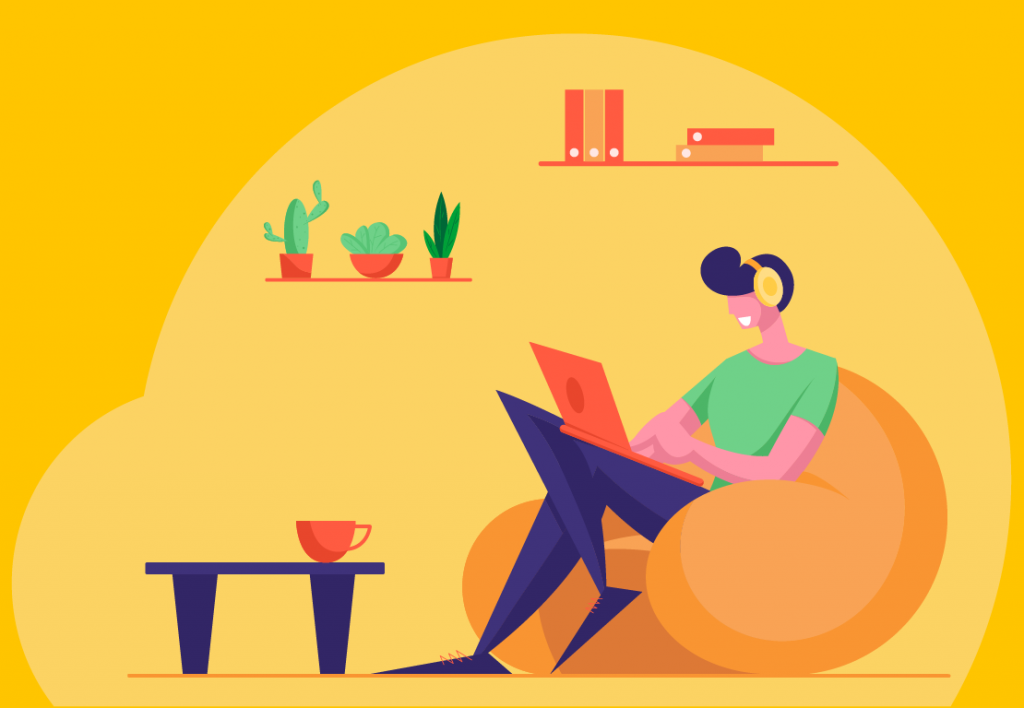 When you hear the term remote work, what comes to mind? If you think of people, is it someone sitting at a computer in their jammies with a cup of hot coffee on the side, doing their work? Or maybe the thought of a stay-at-home parent performing phone-calling comes to mind. Both are plausible, but they are not the definition.
Actually, no matter what thought came up outside of these two examples, the term has certainly evolved quite a bit from its beginnings: it's gone from being narrow to being quite broad and flexible in meaning.
Want to get the most out of your time?
Try DeskTime for free!
Try free for 14 days · No credit card required.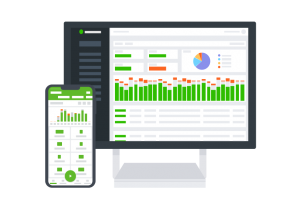 What is remote work?
Simply put, remote work describes any type of work that does not take place at a fixed office location—except for when it's working at home…that's not true remote work. This means any work done by a person geographically away from a fixed location qualifies as a remote worker.
Before we delve into the nitty-gritty of all things related to remote working, we'll look into some remote working statistics and trends. Then, we'll show you everything you need to know about managing remote teams, tools for working remotely, and remote working pros and cons for all sides involved in the equation. By this point, we are certain that you'll no longer ask "What is remote work?"
In this article, we'll cover:
Remote working statistics and trends
Just as the types of work evolve (thanks to technology), so do the methods for performing the work. The same can be said about where such work takes place. Today we see that there's a shift where more and more jobs are being done somewhere other than at the office of a company. What's more, this change has only been accelerating in recent years.
To understand the influence and direction, one can look at remote working statistics. Here we show you twenty of the most important statistics of the current state of remote work:
#1. Remote work has seen, and continues to see into the future, explosive growth. According to the Global Workplace Analytics report, between 2005 and 2018 the number of United States' telecommuting workers increased by 173% (defined only as employees that work at least half of the time at home). That's 47x faster than the growth of the self-employed group.
#2. 65% of respondents believe that businesses that tailor the work environment to the work function of staff are more productive.
#3. Remote work is of higher priority for many: if presented with two similar job offers, 80% of business people would turn down the job that didn't offer some sort of work location-flexibility.
#4. Deciding between the importance of remote work and working for a prestigious company (which may not offer a work location beyond the company office), more than 50% indicated that being able to choose their work location is more important.
#5. An Owl Labs study in 2019 found that those performing predominantly remote work are 29% happier than their in-the-office counterparts.
#6. Research indicates that workers are more productive when they have flexible work policies. Of businesses polled, 85% indicated that they've seen an increase in productivity levels of their workers as a result.
#7. A nine-month-long study by Stanford University found that employees (a randomly selected group) who work from home are 13% more productive than office ones. What's more, the number jumped to 22% after extending the study to the whole firm where employees were allowed to switch locations of their own accord.
#8. There are huge cost savings associated with hiring people to perform remote work. It is estimated by Global Workplace Analytics that companies could save up to $11,000 USD per part-time telecommuting employee.
#9. According to a report by PricewaterhouseCoopers, the increase of remote work flexibility is causing 63% of workers to believe that the eight-hour day is becoming obsolete and 68% of the polled to believe that their work will soon be done remotely.
#10. More than three-quarters of businesses (77%) believe that being able to hire remote workers not only expands their access to talent but helps retain it, too. It makes sense: workers who are highly-qualified may be those who live far from the company itself.
#11. The number of workers not interested in remote work to any degree is decreasingly small: only 19% of workers polled in 2019 indicated no interest in remote work. The number is even smaller when looking at Dice's survey findings: just 2% said that they'd never consider remote work.
#12. The number of workers willing to take a pay cut greater than 10% to be able to work remotely some of the time is at a staggering 20%, according to the 2019 Owl Labs study.
#13. Although remote work can be done from anywhere, a Buffer report from 2019 found that, of all the people polled, 84% work mostly from home.
#14. The popularity of working remotely has, additionally, made it a target of scams. With so much demand for remote work, it is estimated by Flexjobs that there are 60-70 scam-jobs out there for each legitimate one.
#15. In a 2020 Salary Report by Dice, Dice found that a large majority of technologists (93%) want to work remotely at least some of the time but only 60% are currently able to.
#16. It is estimated that by 2025 at least 70% of the workforce will perform remote work five days a month.
#17. Remote work indirectly helps maintain a marriage by eliminating the negative effects of commuting. According to a Swedish study, those who spend more than 45 minutes traveling to work have a 40% increased rate of divorce.
#18. Many workers believe that a company's office space isn't necessary for them to get work done. In fact, the Workforce Futures: The Role of People in the Future of Work report has found that 83% of polled workers don't think that being at the office equates to being productive.
#19. Work-life balance is why people want to work away from the office, statistics show. In the Workforce Futures infographic, 95% gave that as the reason, with 43% specifically choosing health and wellbeing for wanting to work remotely.
#20. An astonishing 89% of people polled in the Workforce Futures report believe that working remotely should be the default mode of doing work.
Remote working: pros and cons
Even though senior-management people overwhelmingly (85% to be exact) prefer to work in an office environment, most people are interested in the flexibility of being able to work remotely.
Thus, it should be clear from the statistics above that remote working is not going anywhere. But before one jumps to the conclusion that remote work is always the best alternative to traditional, in-the-office working, it would be helpful to take a look at the pros and cons.
The pros of remote work
There are many remote working benefits which is why both employees and employers love remote working options – here are just a few of them:
One: Remote work can eliminate commuting.
Commuting is a mentally and physically detrimental activity that affects every aspect of one's life (regardless of the mode of transport). For example, adding just 20-minutes to one's commute drops job satisfaction by as much as a 19% pay cut does. The Royal Society for Public Health's (a U.K. organization) research, too, confirms that the effects of commuting are serious enough to warrant a different approach to getting to work—that approach just may be to work remotely.
Two: Remote work makes people more content.
It is safe to say that every study done on remote working people to date has found higher levels of satisfaction with life compared to the levels of regular, non-remote workers. A large part of this has to do with having control over life, like scheduling (allowing for more breaks and restful sleep), workload, and location. The more control they have, the greater the odds that they'll be healthier, be more able, and have more morale.
Three: Remote work generally provides work-hour flexibility.
That means – the chance to spend time the way one wants. No longer will one need to lie to the boss about being sick, for example. If there is some sort of emergency, one will be able to take care of that without having to worry about anything. Naturally, this leads to less stress.
First, you are offering employees a more flexible work/life balance, which is highly attractive to a vast majority of the workforce, particularly working moms. With a tight job market and low unemployment, remote work is increasingly important to workers and on the rise. For parents, work from home is the ideal solution. It provides the work/life balance so many covet. And it eliminates many of the reasons why so many either quit, or move to companies that offer more flexibility.

Carlos Castelán, Managing Director of The Navio Group
Four: There are fewer distractions for those performing remote work.
By having control over where one works, certain things can be avoided (office noises, meetings, interruptions from other employees, etc.). These distractions add up: it is estimated that $1.8 trillion dollars is lost every year in the U.S. as a result.
Five: Remote work makes most people more productive.
No matter which side of the fence you're on (whether you're the company or the subordinate), this is obviously desired. Higher efficiency generally means the job is kept, promotions are gained, and, most noticeably, more stuff gets done. It's also not a mystery as to why they're more productive.
Six: Remote work is inherently cost-effective to the worker.
For one thing, reduced food and clothing costs; for another thing, reduced commute costs. All in all, it is estimated that a remote worker can save up to $7,000 USD a year.
The cons of remote work
In the same way that there are remote working benefits, there are some remote working disadvantages. After all, nothing comes without a price-tag of some sort. As mentioned previously, for example, some workers with higher-than-average levels of extroversion may suffer. Here are some others:
One: Remote work can still be stressful.
Why? Because of existing deadlines and the need to perform. This is evinced by 60% of polled workers who mentioned that they experienced medium to high stress on the job. This is likely less than what physically-present workers experience but is still high (probably because of the workloads and expectations from companies themselves).
Two: Working remotely is difficult to mentally stop.
Because remote work is done at home (depends where specifically), lines can blur. If work is performed in the bedroom, for example, the brain will start associating that with work and "unplugging" the brain will be difficult for sleep.
Three: Remote workers often report loneliness.
While trouble stopping work after working hours accounts for 22% of remote work struggles, loneliness accounts for 19%. This is significant because roughly one-in-five experiences loneliness or social isolation, both major issues that have mental-health consequences, according to research. It ought to be noted that not everyone feels this way, however. Having more time to spend with friends, family, and pets can balance things out.
Four: Collaboration and communication can suffer.
It's universally accepted that face-to-face interactions are superior in the same way that flipping through a physical book is superior to flipping through an electronic one. The spontaneity of walking over to someone and the tactility of demonstrating just aren't there. Until a solution like virtual reality becomes ubiquitous as a form of remote communication, the currently-available forms of interaction will continue to require inconvenient workarounds to make the process more bearable.
Five: Staying disciplined enough to get work done can be tricky.
Distractions and procrastination top the list. Many studies have pointed out that productivity in the office is relatively low. But even when working remotely, it is easy for a remote worker to get distracted, especially if the business is small.
During my own career, I've worked both remotely from home and from a co-working space. For either place, the key to staying focused for me is blocking out my time. If you're working from home, you can still do chores and housework, just block that time into your calendar the same way you would your job or business work. It stops you from getting distracted by the in your face nature of stuff that needs to be done around the house.

Kayla Pendelton, owner and founder of Her Space
Hiring remote employees – the whys and hows
Now we'll show you how having remote workers can benefit your business followed by how you can make sure that they are productive at work. And like all workers regardless of their proximity to a company's physical location, they need to be taken care of, so we'll be going over that as well.
Remote working people and their benefit to companies
It may be a surprise, but it should not come as one that hiring people to work remotely can be of great benefit to the company.
In fact, most of these benefits can be translated into numbers:
Remote workers are less likely to leave the company.
Depending on how much productivity an employee brings, losing one can cost a lot of money (between $10,000 and $30,000 to be specific). Retention should be a priority then by hiring letting employees work remotely. The result is that the number of resignations can drop as much as 50%. This equates to fewer costs in finding and training new employees.
We benefit from their abilities and their commitment to our company. We have enjoyed a low 4% turnover rate for the last 4 years, and the average tenure is 5 years, with 14% of our people having over 10 years.

Kerry Wekelo, COO of Actualize Consulting
Real estate savings.
With a remote workforce, a company doesn't need to rent or build an office. This can bring in massive savings when every worker is accounted for physically. Such an example is from AT&T, which reported saving $30 million dollars over a year's period.
This is not uncommon and is seen across all businesses: Aetna, for example, saved $78 million dollars per year by cutting all real estate-related costs (e.g., renting office space, housekeeping, utilities, etc.).
Increased diversity at the company.
Hiring people to perform remote work means that the pool of those people is greater. Not only greater in talent, but greater in age, too.
With 74% of older Americans interested in taking a job with flexible schedules, these much-needed people, who tend to be highly-skilled, become more easily accessible to fill positions. Most importantly, though, is that profits of a company have been shown to be correlated with the level of diversity of its workforce (this is especially true for executive teams).
After two rounds of recruiting with disappointing results, we decided to open up the job ad to remote applicants – and the difference was amazing. We went from under 50 candidates who barely fit the requirements, to over 150 applicants per role with much more rich backgrounds and experiences.

Adrienne Fuller, Head of Publishing & Editorial at finder.com
Fewer unscheduled absences from work.
For U.S. companies collectively, no less than $300 billion dollars is lost each year because of absences (about $1,800 USD a year per person, with a figure double that in some cases). Because remote working is flexible and travel is unnecessary, there are fewer absences.
Let's not forget: if people are working remotely and get sick, they don't have to show up at the office to spread it.
Eliminated costs of relocation.
It's not uncommon for companies to find workers in other parts of the world and then to relocate them. Unfortunately, having to relocate a highly-skilled worker is one of the biggest financial costs a company can bear.
Case in point, the cost per highly-valuable employee can be $100,000 dollars, according to Nortel's own estimates; ergo, such a remote worker is guaranteed to save the company money if no relocation takes place.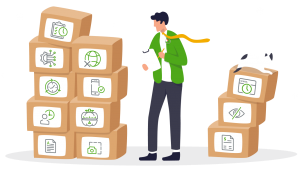 Looking for ways to up your business?
Our all-in-one team management solution is smart, cost-effective, and gives fast results!
Learn more
How to hire the ideal remote worker – traits to look for
Not everyone makes a good remote worker, just as not everyone's personality and skill match every job description. Depending on one's type of work and job, where perhaps constant supervision and quality control may be necessary, that worker may or may not be able to become remote.
Ideally, a remote worker possesses the following:
The ability to work at a distance with a team of people and to understand how to collaborate in a virtual environment.
The ability to stay organized so as to not get lost in what needs to be done.
The ability to communicate succinctly regarding the state of their work.
The ability to be disciplined and timely.
These traits combined with knowledge of the work ensure that the team member be an effective one.
How to take care of your remote workers
Now that you've found your perfect remote candidate, you should pay attention to their wellbeing and work satisfaction in order to make them stick. Here are some basic things you can start with:
Respect your remote worker's rights to flexibility
To underscore the importance of healthy work habits, it's important to know that study after study, and report after report, demonstrates that one of remote work's top attractions is flexibility.
With workers seeking flexibility for presumably their own life satisfaction, from the employer's perspective work-life balance should be of the highest priority in terms of employee maintenance.
Encourage the remote worker to set limits
It is normally the employer that dictates the tasks, the hours necessary, and deadlines if there are any. That being said, the biggest way to have a remote worker stay productive and happy is to give them the freedom to have many breaks.
Science has shown that one of the biggest problems is that the brain simply cannot stay focused continuously throughout the day. The numbers for this vary, but one study's results have concluded that per day the average person is only able to work efficaciously for 2 hours and 53 minutes.
So, as a manager you should encourage your worker to set limits to avoid burnout and stay efficient. Here are 3 ways to do it:
One: Encourage taking breaks.
A while ago, we found that the most productive people are those who take regular breaks – they work for 52 minutes and take a break for 17. These breaks give the brain the ability to reset its ability to keep focus. Ways to ensure this happens? If you're a DeskTime user, encourage your team to use the built-in Pomodoro timer with reminders to take a rest.
Two: Encourage obtaining results rather than hours put-in.
While it may be tempting to have a remote employee work all hours of the day, this is not a good way to measure what gets done. It's possible to work extremely long hours and have nothing to show for them. For example, some remote working people have trouble setting limited hours. To avoid this, it would be ideal to set project-based goals instead.
Three: Encourage to completely disconnect from remote work.
If maintaining work-life balance and not growing resentment in a remote worker is the goal, then it is ideal to not allow them to be available to perform any after-hour tasks like email checking or logging into a communication channel. As the employer, you should let your remote team know that you don't want them to work overtime and that you respect their free time.
Dealing with welfare hazards of remote working people
There are multiple hazards that office workers face while on the job, and remote workers are not excepted. The more the hazards, the more the detriment to the productivity of the worker. For this reason, managers and companies should be more aware and should act accordingly.
The hazard of electronic multitasking
It has become the norm to request for workers to multitask. Why such practice continues to be encouraged is a mystery because the idea that multitasking is a virtue is one of the largest myths ever created of productivity.
The reality is that not only is it impossible to multitask but it's plain counterproductive, too. One Stanford study confirmed that the more often a remote worker has to switch from one task to another, the more easily the worker is distracted and unproductive. Consequently, it should be a no-brainer that companies and managers don't request too much attention on multiple things at once.
The hazard of remote overload
Besides requesting attention to many things at once, a common problem that a remote worker may face is overload in the amount of work that needs to be done on the same day or week.
Considering that a remote worker has more flexibility, that flexibility should be protected by not having the worker tackle more tasks than they may reasonably be able to handle in a certain timeframe. The point of remote work is to handle personal time better after all.
The hazard of feeling isolation
Not being in an office where one is free to chat with another colleague about various matters can take a toll on some remote workers. If a remote worker does nothing but work, it may be difficult to satisfy this social aspect. Companies with awareness or knowledge of this hazard and its effects before it becomes a demoralizer could implement some sort of policy to allow video and chat conferencing between colleagues even if such is not necessarily of productive nature.
The key to this type of personality that is self-motivated, is to manage the isolation and burn out. Isolation can be as simple as morning scrums with an open Slack channel that not only allows but encourages real conversations and not 100% work-related content. The burn-out occurs on problems where you run into a roadblock and don't feel the support or appreciation for your work. This is similarly solved by ensuring at least small contact more often.

Ryan Mracek, owner and founder of Keylo
How to manage remote teams
When employees or new-hires go remote, management style must adapt to keep everyone engaged. In this section, we'll go over how to build a culture to give a team a personality of its own, what changes should be made to the management style, and what to do to make the employees more cohesive.
Remote workers have proven to be more reliable, more motivated, and more appreciative of my management style, which is less time spent hovering over shoulders – or in our case, less time in calls and virtual meetings – and more time spent doing the work.

Tiffany Napper, creative director and entrepreneur
How to build a remote team culture
After a potential remote worker is found, one must build a team because trying to collaborate with all of a company's workforce at the same time is impractical (think video conferencing with a couple hundred people).
There are several things to consider, but the most notable one is culture. Trying to build a team that shares a culture and meshes well together is often one of the most difficult things to do for a company.
One way to do this is to have certain idiosyncrasies.
If the teams are not overly remote, they could meet once in a while to do things together outside of work. If they are overly remote where physically meeting is impractical, they could do something like video gaming together, competing on tasks, or sharing fun things they find on the web. The goal here is simply to get them to mesh together to become the sum of their parts while supporting each part that creates the sum.
Another way to create a team culture is to cultivate internal responsibility.
And I'm not talking only about one's own work but to the team's work as a whole. Learning how interconnected they are and what their contribution amounts to creates a sort of "togetherness."
Finally, you should work on creating a friendly, openly shared environment.
That's because everyone who is working on a common goal should view opinions as a constructive opportunity of learning and a method of feedback. And, of course, in order to do this right, it's worth mentioning that being non-judgmental and kind in one's responses are prerequisites (that is to say, not jumping to conclusions).
Remote Employee Management: Leading Teams Properly
What does it mean, properly?
For one, harking back to hiring the right kind of remote employee, hiring the right kind of management (or retraining current management) is just as crucial. That means that the micromanagement and paranoia need to stop.
As Global Workplace Analytics (GWA) put, the "…sweatshop and typing pool mentality has to be abandoned," and the "company culture must embrace the concept at all levels." In addition, GWA found that while three-quarters of managers say they trust their employees, a whole third of them want to be able to see their workers "just to be sure" (emphasis added)—an interesting but problematic paradox.
The fact that one needs to understand to have engaged employees is that you need to be an engaged manager first! You can show this by doing the usual stuff (i.e., avoid micromanaging, trust them, build relationships, offer feedback, acknowledge achievements, etc.) and by going even further. Go even further by investing in your employees; remember that they're just like your regular employees who have their career paths. Offer advice on how to achieve them. Pay for training and development seminars and workshops that align with their own goal…[to] create the framework for that professional development within your own company…

Jeremy Harrison, founder of Hustle Life
Instead of embracing old, inefficient methods, emphasis should be placed on making sure that communication is working. Straightforwardly put, there's no use of hiring highly-qualified people if they need to be micromanaged every step of the way, as this would be a waste of management's time. In this case, if anything should be managed, it's expectations.
Another element for proper management of remote teams is the creation of trust.
Not only do you need to trust your remote employees but they also need to trust you because distrust, indifference, and lack of integrity can collapse the entire business. The most common way to build this is by being transparent with remote employees, by not being retributive towards them (so as to not build fear), and by not having/by not creating communication barriers.
The final element to proper management is avoiding remote worker exhaustion (even if not caused by work). Meaning – managing remote teams in such a way that they aren't able to take vacations, for example, is eventually going to get them to not only quit but switch careers entirely.
That was the conclusion of a study by GFI Software, where it was found that more than two-thirds of IT admins were so stressed that they wanted to get out of the field altogether. What can be done? Besides decreasing the workload, consider implementing an unlimited vacation policy (take time off whenever, for however long), mental health days, and memberships to exercise facilities.
How to maintain long-term productivity & engagement
For long-term productivity and engagement, company or team retreats can help certain teams immeasurably. Here's what can happen at a retreat:
Team members can get to meet each other in person which can change the way they perceive each other. This is sure to create a more positive environment when working together remotely.
Since all remote workers are brought together, there are many remote team building activities that they can do to build camaraderie.
They can meet other teams' members to know whom they're working with.
They can meet the management to create trust.
We have remote retreats twice per year in different locations in the USA and Canada. We get together to have fun, socialize, get some great food, play different team building games and just get to know each other beyond what we see on our screens. It's one of the best parts of working in this company and everyone looks forward to meeting the people they work with in person.

Cassy Aite, CEO and co-founder of Hoppier
As for the planning of a retreat and all the details related to it, letting the company's teams come together to make a plan can be done the way Buffer does it. In a nutshell, the teams vote for locations they'd like to go to, come up with a budget, and make an outline for activities they'd like to do. All of this adds up to being a big boost to their morale because even these planning phases in themselves are remote team building activities.
Tools for working remotely
Not having tools to perform work as a remote employee is the same as not having any vehicles to take passengers as a transportation company. How anything can be done is a question mark. Knowing the internet, one can say that there are countless tools to use, although not all of them may be of use for your particular needs. Let's conclude this article by taking a look at some popular ones.
If understanding remote workers' productivity levels is important, DeskTime can help keep an eye on them with remote employee monitoring features like automatic time tracking, URL and app tracking, document title tracking, shift scheduling, project tracking etc. Knowing this information makes it easier for employers and employees alike to control where time gets allocated and easier for them to create a more balanced workday.
DeskTime and its features can also be helpful if your employees' schedules are asynchronous, which is often the case with global teams – DeskTime will log the time when everyone starts working and track how many hours they have worked. Managers can be certain that no one's slacking when they're not around to keep an eye on things themselves, whereas employees have proof of work that they've done the work and put in the necessary hours.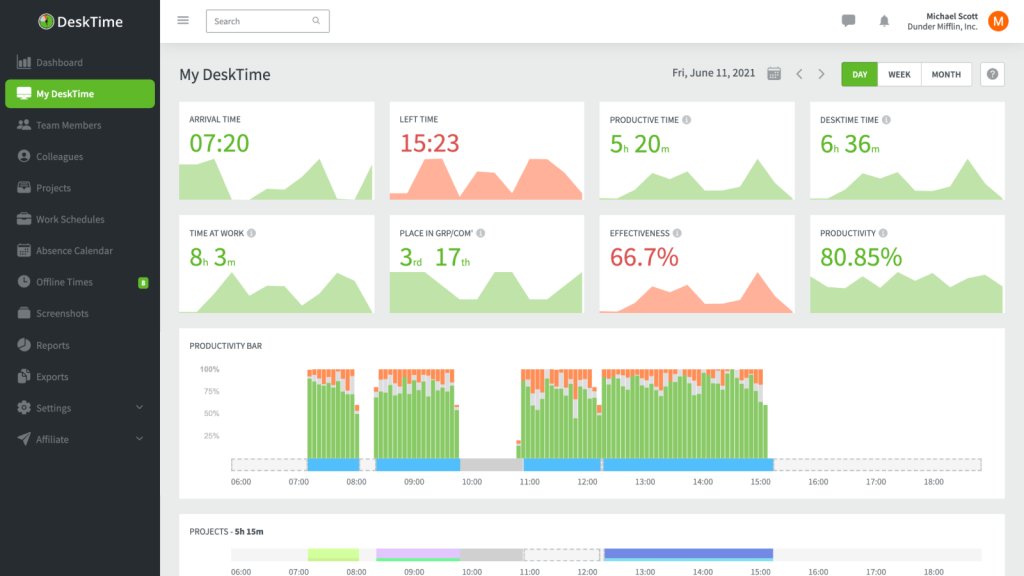 Almost everyone knows this one because almost everyone uses it. Even though there are alternatives to cloud storage (which is what it is), there's a bigger picture available for businesses and those working remotely: G Suite, a group of cloud-based software that integrates Google Drive to extend its capabilities, especially for collaboration where things can be shared among the team.
Slack is a real-time messaging application for multiple platforms that allows voice, video, and the creation of separate channels with user-defined access. It has other features, too, like integration into third-party applications. A great alternative to emailing everyone all day.
Remote employees can feel a bit left behind and develop out of sight, out of mind mindset. That's why to engage them; we use frequent feedback. […] We use communication tools like Slack to decrease the void between in-house employees and remote workers and as a way to make them feel like an equal part of the organization.

Jovan Milenkovic, co-founder of KommandoTech
Every Time Zone is an application that tracks time zones in one, easy-to-view screen. With a remote team, this makes it easier to track who is awake and who is not.
One of the best ways to track progress and check-in on other team members is to use I Done This. This simple application can help you keep logs of what's been done, what cannot be done, and what the goals are. With everyone being able to view each other tasks' progress, that's less stress for the team.
Trello is visual and cloud-based software for managing projects in the style of KanBan (like a magnetic whiteboard where jobs are distributed based on the available capacity). In some way or another, it like I Done This with the ability to mark current progress, but Trello is more advanced in that it has organizable card-style tasks, file uploads, and automation built right in.
This interesting tool measures worker happiness. What workers do is anonymously report how they felt that week, why they felt that way, and what they can do about it. Come Friday, a team report is generated with a factor analysis and with anonymous feedback from team members on what they think can be done.
ProofHub is an all-in-one project management software. It has everything you could ask for with its level of simplicity: discussions, tasks, KanBan boards, Gantt charts, calendar, files, documents, role divisions, chat, etc. The list of features and what it can do is very extensive.

There are many password-managing applications out there, but these two are considered the best for the reason that they strike a balance between security and convenience. The only major difference between the two is that Dashlane has more features, making it more expensive.
Probably one of the best all-in-one communication tools for the screen. It can do everything for recording a screen to share with colleagues: capturing, GIFs, webcam videos, file-sharing, annotations, and analytics of views of your content.
As previously mentioned, there are so many tools out there (over 2,000) that using them separately may be a hassle. Enter Zapier: the software to rule all other software (also over 2,000!). It integrates and automates all apps in one place without needing to code anything so that data is shared between them all.
That's all! Have anything to add? Let us know in the comments below!
Did you find this article useful? Give it a clap!
Psst! You can clap more than once if you really loved it 🙂