Most productive and unproductive countries in 2020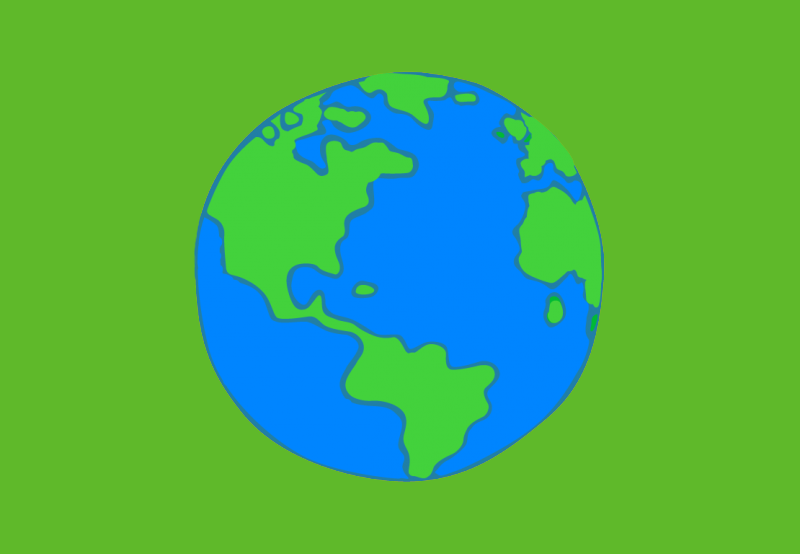 Back in 2017, DeskTime collected and analyzed worker productivity data to see what are the most productive countries around the globe – and Ireland won with the average worker productivity of 94.7 %.
NOTE: New data is available. You can find the latest insights on the top 10 most productive countries in 2022 here.
That same year, the award for the least productive country went to Japan, where the average worker productivity was 41.61 %. Known for the extreme overtime work tendency, Japanese workers evidently showed that longer work hours don't result in higher productivity.
Then in 2019, DeskTime repeated the productivity study, and the winner's cup went to Nicaragua with 97.8 % average productivity, but 2019's least productive country turned out to be the Czech Republic, showing 39.2% average productivity.
2020, however, was the year everything changed. Many employees worldwide discovered the joys and sorrows of working from home, faced new challenges due to remote work and social distancing restrictions, and tried to stay sane in the midst of it all.
Without a doubt, DeskTime was super-curious to find out how last year's challenges have affected the average productivity and efficiency of employees in different countries. So we dived right into collecting and analyzing data on DeskTime users' productivity and efficiency in 2020. Keep reading to find out the results.
Want to get the most out of your time?
Try DeskTime for free!
Try free for 14 days · No credit card required.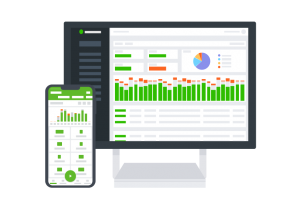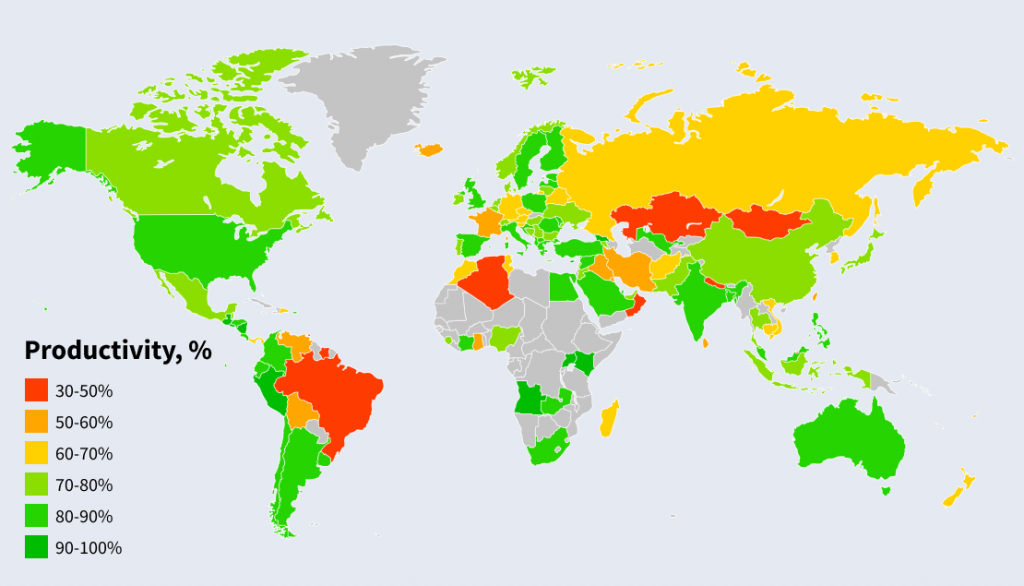 Worker productivity in 2020: Top 10 most productive countries
Without further ado, these are the countries that performed best in terms of worker productivity, along with their average productivity percentage in 2020:
Angola– 99.12 %
Cyprus – 98.93 %
Nicaragua – 96.68 %
Peru – 94.13 %
El Salvador – 93.99 %
Uganda – 93.69 %
Guatemala– 92.66 %
Georgia – 92.48 %
Kenya– 92.08 %
Qatar – 89.84 %
The winner's cup of 2020 productivity goes to Angola, a country on the western coast of South Africa. Angola is known for being rich in natural resources – oil, diamonds, hydroelectric potential, agricultural land – as well as its capital Luanda's (sometimes known as the "Paris of Africa") stunning harbor.
Angola isn't the only African country within DeskTime's ten most productive countries list. Joined by Uganda and Kenya, respectively, in 6th and 9th places, these Africa's representatives show great productivity stats. In fact, remote or hybrid work settings may be the reason for these top-notch productivity levels in 2020.
It turns out, the concept of working from home has been booming in Africa, and office workers have been attracted to such a working option for some time now, even before the global pandemic came with its restrictions. As the internet accessibility, speed, and reliability in Africa keep increasing, remote work is an appealing option that saves the company expenses, lessens staff turnover, and improves productivity.
Interestingly, 2020's most productive countries' list is dominated by African and Central American countries. The only two countries from different regions are Cyprus and Georgia.
Top 10 most unproductive countries of 2020
The countries with the lowest worker productivity scores last year were:
Suriname – 23.11 %
Mauritius – 24.57 %
Brazil – 35.99 %
Kazakhstan – 36.81 %
Trinidad and Tobago – 43.84 %
Oman – 45.13%
Hong Kong – 45.71 %
Nepal – 47.12 %
Algeria – 47.49 %
Palestine – 47.92 %
With average employee productivity of 23.11 %, South American country, Suriname, was the most unproductive country in 2020, according to DeskTime data. Mauritius, a subtropical island country in the Indian Ocean and a desired vacation destination, is a runner-up, and Brazil concludes the top 3.
The world's fifth-largest country, Brazil, constantly draws attention to its low productivity levels. According to OECD, when the COVID-19 outbreak reached the country, it was already in recovery from a prolonged recession, so it took a fallback even deeper, undoubtedly impacting many aspects, including workers' productivity. Researchers say that Brazil could see a productivity boost if it received proper equipment to foster workflow efficiency and technical change in general.
Even though the issue is of a much broader scale in Brazil's case, it's undeniable that the right set of tools can effectively boost one's productivity. Here's a list of 25+ productivity tools to try in 2021.
Five most efficient countries in 2020
Measuring and analyzing productivity is a great thing to do to boost your work performance. However, you shouldn't overlook the importance of efficiency as well.
While productivity levels show how much work is done over a particular time, efficiency reveals if the resources and energy are used effectively to obtain the needed result. In other words – productivity is quantity, and efficiency is quality. Here's a thorough guide on the differences if you're keen to dive deeper into exploration.
Nevertheless, five countries scoring the highest average efficiency rates in 2020 were:
Austria – 141.07 %
Japan – 131.95 %
Cyprus – 100.30 %
Nicaragua – 95.15 %
El Salvador – 92.80 %
Interestingly, when it comes to productivity levels, both Austria and Japan scored average in 2020 – Austria's productivity reaching only 64.97 %. But seeing how high is the country's efficiency rate, it actually makes sense. Why?
DeskTime's guide on differences between productivity and efficiency explains that the two are quite the opposite parameters, and when the efficiency rises significantly, it's normal for productivity rates to drop. In other words, top-quality performance can be highly efficient but lower in productivity, which is not necessarily a bad thing.
Still, has Austria's work culture got something to do with its high average efficiency score? It turns out, Austrians are quite the perfectionists when it comes to their approach at work and they tend to focus on completing tasks at hand as best as possible. So the "done is better than perfect" philosophy may not be characteristic to Austrians, which explains why their efficiency spikes, but productivity may not score the highest levels.
The runner-up on average efficiency in 2020 was Japan. Its average productivity scored 79.65 %, which is also a pretty good result. However, Japan is known for its work culture, and not always for the best reasons – massive amounts of overtime work and not taking days off quickly lead to lower productivity levels.
But how does it go along with high average employee efficiency? In Japan, employers often evaluate their workers' performance not by results per se but by how the work process is conducted, which is exactly in tune with efficiency being the quality of work and not quantity.
Worker efficiency in 2020: 5 least efficient countries
These are the countries that showed the lowest average efficiency rates in 2020:
Mauritius – 9.74 %
Iceland – 20.70 %
Suriname – 21.00 %
Kazakhstan – 23.73 %
Fiji – 24.04 %
Mauritius, an Indian Ocean island nation, is well-known for its sandy beaches and blue lagoons. No wonder why it's a major tourist destination. Could living in a paradise be the reason for lower work efficiency? Well, we can only guess.
What's more interesting – number 2 on the list of the lowest average efficiency rates in 2020 was Iceland.
On average, Icelanders work 1697 hours a year – less than OECD countries average of 1749 hours, but almost 11% of Icelanders are reported to work very long hours compared to other OECD countries. Iceland is a costly country, and maintaining specific living standards can require working longer hours, which undoubtedly affects Icelanders' productivity and efficiency rates.
To conclude
2020 wasn't a walk in the park, that's for sure. The growing remote and hybrid work tendencies due to the global pandemic hindered productivity and efficiency for many of us. On the other hand, the situation emphasized the importance of work-life balance and having a set of tools that benefit one's workflow.
The latter realization tunes in with DeskTime's growth in 2020. A 38 % increase in new user registrations, an 80 % growth in paid users compared to 2019, plus DeskTime's time tracking software is currently used in 209 (!) countries and territories worldwide. Digital time tracking has become a crucial part of employee workflow on a truly global scale, and DeskTime's team is thrilled to see how the average productivity will play out in 2021.
But for now, did any of the 2020 data surprise you? Comment below and let us know!
Did you find this article useful? Give it a clap!
Psst! You can clap more than once if you really loved it 🙂