15 Strategies to improve communication in the workplace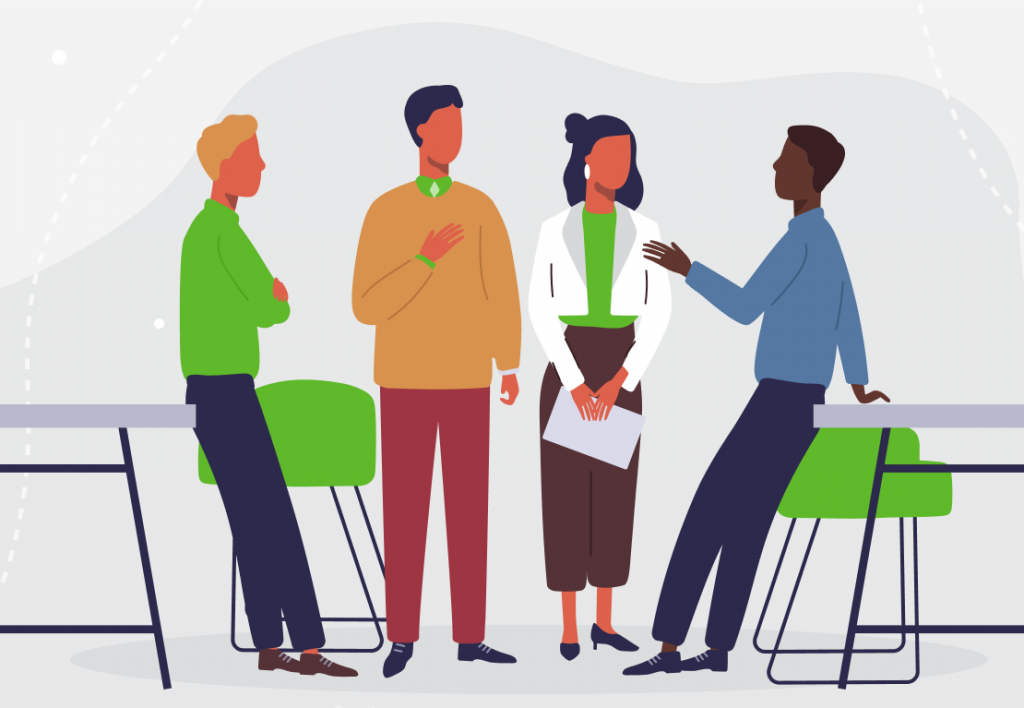 Thanks to now popular hybrid work model, it's no wonder that communication in the workplace has become a hotter topic than ever before. Although over 80% of Americans think that communication is key for creating trust at work, only 13% of the nearly 31 million employees surveyed by Gallup stated that their leaders practice and cultivate effective communication in the workplace.
How to improve workplace communication then?
One strategy to choose is improving your workplace communication skills per se. This will help you build trust with your work colleagues, reduce workflow inefficiencies, and overall advance in your career. So, without further ado, here are 15 easy tips on how to improve communication in the workplace.
Want to get the most out of your time?
Try DeskTime for free!
Try free for 14 days · No credit card required.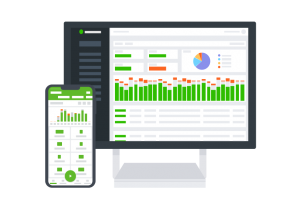 Improving communication in the workplace
#1 Have a strong onboarding process
Starting a new job can be daunting, especially for those working remotely. It's more important now than ever to have thorough training materials and documentation to bring new hires up to speed. The easier you make it for people to access important information from the get-go, the better the communication in the workplace will be.
#2 Be clear about workflows and streamline roadblocks
Did you know that 57% of employees say they haven't been given clear directions for work? You can improve that statistic by being crystal clear about the steps needed to complete each task and project.
Similarly, you should have a separate set of steps to manage roadblocks and project dependencies should they arise. This will set the expectations on what needs to be done, how to do it correctly and contribute to improving communication in the workplace.
#3 Establish trust between team members
Establishing trust takes time, but it's absolutely worth building as it takes communication in the workplace to a whole other level. Trust makes your relationships with coworkers stronger allowing you to collaborate better and excel as a team. Make an effort to get to know each other's interests, likes, and dislikes. Go out for coffee or set up a virtual hangout and see where organic conversation will take you.
#4 Have regular check-ins and 1:1s
Regularly checking in on your colleagues keeps things moving smoothly and helps communication in the workplace be more efficient. Take the time to discuss projects, collect employee feedback, and don't stray away from having casual chit-chats, too.
In remote work environments, it's vital to maintain communication with your co-workers and keep them in the loop to ensure uninterrupted workflow.
A 1:1 setting can be a more comfortable environment for honest discussion. Effective communication in the workplace is important, but honesty cannot be overlooked as well. If you're a remote manager, here are a few helpful tips for you:
Don't make a habit of canceling your meetings. Doing so can actually harm your team's morale.
Make sure your software for online meetings and calls is up-to-date and reliable. Whether it's a video conferencing tool or a VoIP system, you need to make sure your meetings aren't routinely interrupted.
Come prepared and have an agenda. There's nothing more time-wasting than babbling on for 15-30 minutes without a clear plan on what you need your team to achieve.
#5 Listen and pay attention – golden tip for effective communication in the workplace
There's a lot more to listening than just hearing. Only 7% of communication is verbal, whereas a whopping 55% of communication actually is body language. Paying attention to facial expressions, tones, and body language provides a cue on what kind of message is being conveyed. Sharpening your workplace communication skills to pick up on non-verbal and verbal communication will help you become a more effective communicator without a doubt.
Being an active listener also means you should give your undivided attention when someone is speaking. Ask questions, provide feedback, and make it a point to be an active participant in each conversation you have at work.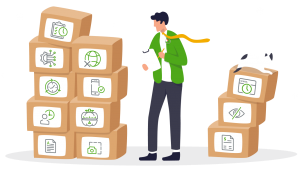 Looking for ways to up your business?
Use DeskTime for time management and always stay on top of your team's efficiency ratings!
Learn more
#6 Be open to positive and negative feedback
One of the best things you can do at work is to be open to feedback – both positive and negative.
Feedback isn't always going to be sugar-coated, and that's okay. Understanding what you're doing well and what could be improved upon will only make your experience a better one. If possible, provide a way for employees to leave anonymous feedback so they're not hesitant. However, they should also feel comfortable telling you their true thoughts without repercussions.
There are two types of feedback you can collect:
Qualitative feedback: Asking your team what you and the organization can do to improve their workplace experience. These are text-based answers that can provide you in-depth insight.
Quantitative feedback: Gathering metrics like internal Net Promoter Score (NPS) that measure happiness on a scale from 1-10. These are number-based answers that allow you to analyze performance each quarter.
#7 Keep an "open door" policy
Having an "open door" policy is important for strengthening communication in the workplace and building trust within the organization, but it doesn't always come easily.
Encouraging your employees to have honest conversations with their higher-ups is a net good for your company, but some may be hesitant to share what's really on their minds. Remind your employees that it's okay to express their thoughts, and it, in fact, supports the importance of effective communication in the workplace.
#8 Do team activities to boost morale
To avoid burnout on your team, give yourself and others the required downtime. Organize fun activities and icebreakers that not only help reduce stress but allow your team to bond with one another and create meaningful memories.
Shared experiences help your team build better relationships with one another, which feeds back into stronger communication in the workplace.
#9 Use modern tools for unified communication
Your workplace probably uses many forms of communication: phones, messaging apps, email, video conferencing tools, etc. With so many channels, it's easy for messages to be lost in the medium. So pick up an easy-to-use communication tool that serves your workflow – options are vast.
It would be best to look into project management tools to see how your team can move projects from point A to B more efficiently. This is a great way to speed up collaboration.
If you already are using various tools and platforms, make sure you're aware of app integration possibilities as it can benefit your workflow and, thus, communication in the workplace significantly.
#10 Educate yourself on diversity, equity, and inclusion
According to the Washington Post, Millennial and Gen Z workers care more about DEI (Diversity, Equity & Inclusion) efforts now than previous generations, and they want proof that organizations are taking steps toward a more inclusive workspace, for example, holding diversity training or efforts to break language barriers if you have an international team.
Make sure to educate yourself and your team on DEI issues. This should spark critical conversations and candid discussions that will foster better communication in the workplace and make it overall more inclusive.
#11 Get better at talking on the phone
Even if you don't work in an inbound call center, there's still merit to being a great conversationalist on the phone. Remember, not every business has the latest communications software or collaboration tool in its stack. Tons of business and relationship-building are still done by phone.
Phone conversations can be tricky because there's no way to see the other person's facial expressions or body language. Shifting your tone to be appropriate will help you communicate your thoughts more effectively.
#12 Get better at writing emails
Consider improving your email writing, among other workplace communication skills.
Emails have been and will continue to be a crucial part of communication in the workplace. Thus, the art of written communication is important to master. Writing concise emails to your team will not only make their responsibilities and projects easier to understand, but it'll also save everyone time and energy that can be better spent on other tasks.
Take your time, use bullet points, avoid passive voice, and press send. Be sure to follow up regularly on tasks and hold yourself and your team accountable. Plus, you can always unsend an email and work it through with additional time. However, it's useful to learn a few effective email management tricks.
#13 Practice public speaking
Public speaking is one of the most important workplace communication skills to practice. If you can't speak clearly in front of a group of people, you will struggle to communicate your thoughts and findings effectively.
If you're wondering how to improve communication skills at work, public speaking is one way to go. Start by speaking in front of the people you are most comfortable with to gradually build your confidence.
#14 Understand each other's strengths and weaknesses
Everyone has areas they excel in and areas they could improve upon. By identifying each other's strengths and weaknesses, you can fine-tune your workflow and communication in the workplace as well. Your team will come to anticipate each other's needs and eliminate any guesswork, and that will undoubtedly benefit information exchange.
#15 Network, network, network
Networking is essential for collaboration. A study has found that 31% of employees are more likely to find a coworker to help meet their job expectations.
Don't be afraid to, for example, introduce yourself to other teams that you rarely interact with. It's a great way to improve your workplace communication skills and collaborate better across different team functionalities.
Communication in the workplace – it's a two-way street
Building good workplace communication is a team effort and doesn't happen overnight. By implementing these strategies, you'll better understand what's going on, what people are thinking, and how people prefer to interact. Combined with stronger written and spoken conversation, this knowledge will keep your workplace efficient and in sync.
This is a guest post by Meenakshi Nautiyal. Meenakshi Nautiyal aka Meenz is a Growth Marketer for Nextiva. She's passionate about everything SaaS, Startups, and SEO. She has a successful track record of 10+ years scaling organic traffic and inbound leads for startups like Freshworks, VWO, and Outreach.io. You can connect with her on LinkedIn.
Did you find this article useful? Give it a clap!
Psst! You can clap more than once if you really loved it 🙂