10 best invoice tracking software for businesses and freelancers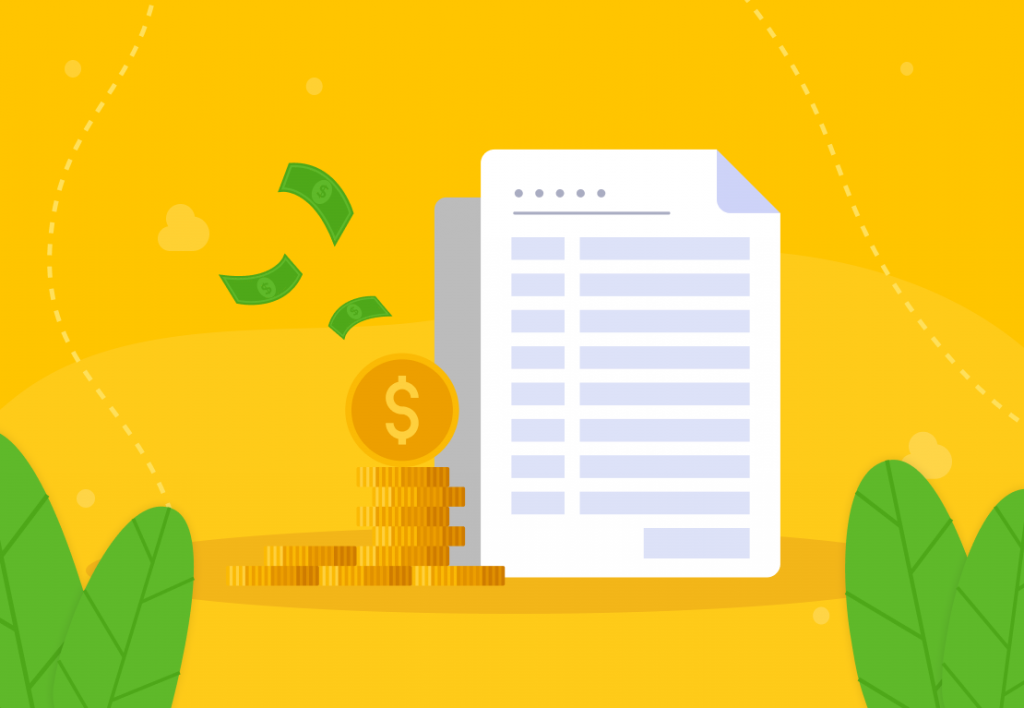 If you're looking for the best invoice tracking software, then look no further. In this post, we've listed 10 free and paid tools for creating and tracking your invoices with ease. By using these invoice tracker apps, you're guaranteed to save time and money when collecting payments from your clients.
Want to get the most out of your time?
Try DeskTime for free!
Try free for 14 days · No credit card required.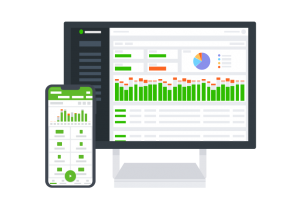 Why should you use invoice tracking software?
Invoices that you send to clients are part of your business branding. These tools allow you to create professional-looking invoices and make your business look more serious. And, of course, they allow you to create and send out your invoices fast, helping you get paid faster, too.
You can also use your payment tracking software to send out reminders about delayed payments. No matter whether you're running a company or are a freelancer, if you consistently struggle with getting paid in time, it imposes limitations on your growth because of reduced cash flow. That can make it difficult – or even impossible – to take up new projects, complete orders that you've already started working on, or invest in the growth of your business by, for example, hiring new employees or updating your work tools.
So, let's take a look at how these invoice tracker apps can help!
Invoice and expense tracking software that helps you get paid in time
#1 Zoho Invoice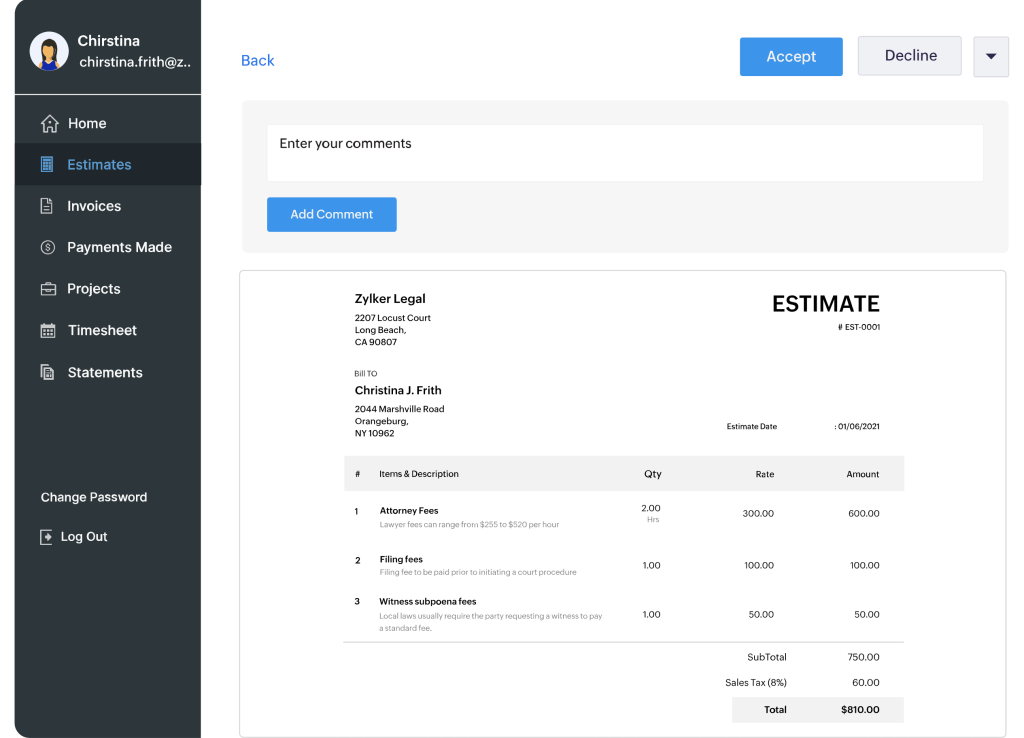 Zoho is one of the best bill tracking software tools that helps you automate your cash flow management.
You can use this payment tracking software to create invoices for different currencies and bank accounts, as well as adapt them to meet different regulations and tax laws by adding new custom fields. Using Zoho's dashboard, you can track payments including resolved payments and payments that are overdue. If you need to follow up, you can automate payment reminders in the app.
A great thing about Zoho is that it can be used collaboratively by teams — just add your colleagues and set up different access rights for smart business invoice tracking.
For whom: Freelancers, small/medium/large businesses.
Price: Free.
#2 QuickBooks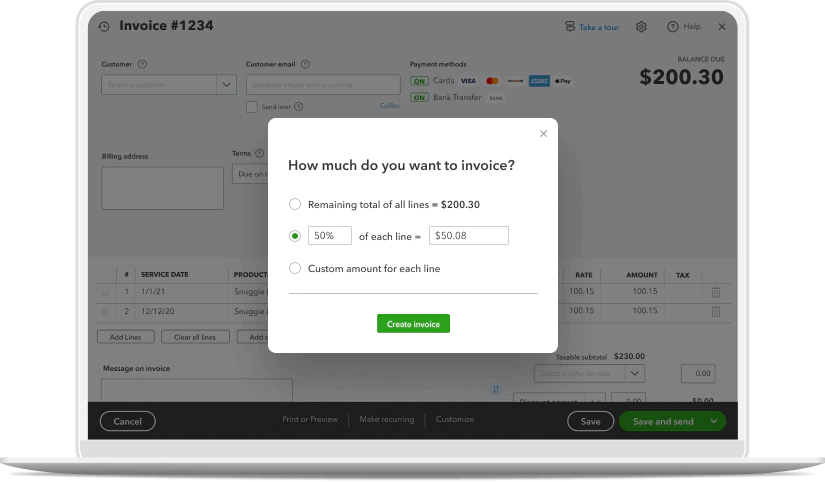 QuickBooks is a comprehensive solution for accounting and bookkeeping that you can use to organize your finances and claim payments.
This invoice tracking tool helps small businesses to keep their finances in check by creating and sending highly-customizable invoices. If you appreciate a personal touch to each invoice, such as being able to add your logo, then QuickBooks is a good choice for you.
You can work collaboratively on your invoices – simply invite your accountant or employees. By setting up different access rights, easily manage new users and what they get to see. The QuickBooks app can also help you to calculate taxes. Your income and expense receipts are stored in the system and can be accessed any time.
For whom: Small businesses.
Price: Simple Start – €134/year, Essentials – €197/year, €268 /year.
#3 Wave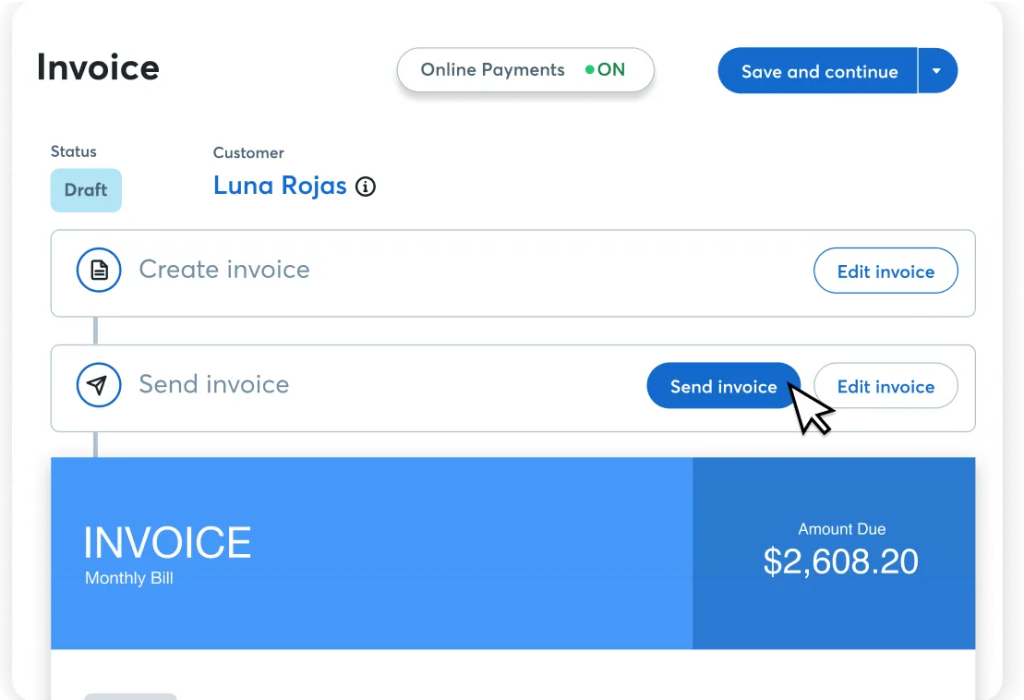 Wave is a small business invoice tracking app for simple bookkeeping and income management.
This invoice tracking tool has a dashboard that serves as a command center for tracking overdue payments, monitoring cash flow, and accessing credit card information.
You can use Wave to create automated or recurring invoices without having to manually remind your customers about payment. Wave allows you to receive payments directly to the card by using the Wave system. While this can definitely be convenient if you have a lot of international clients, be mindful that to accept a payment, you will be charged a 1% transaction fee for every bank payment.
For whom: Small businesses.
Price: Free. To process credit card transactions online, they charge 2.9% + 30¢ fee (3.4% + 30¢ fee for American Express).
#4 FreshBooks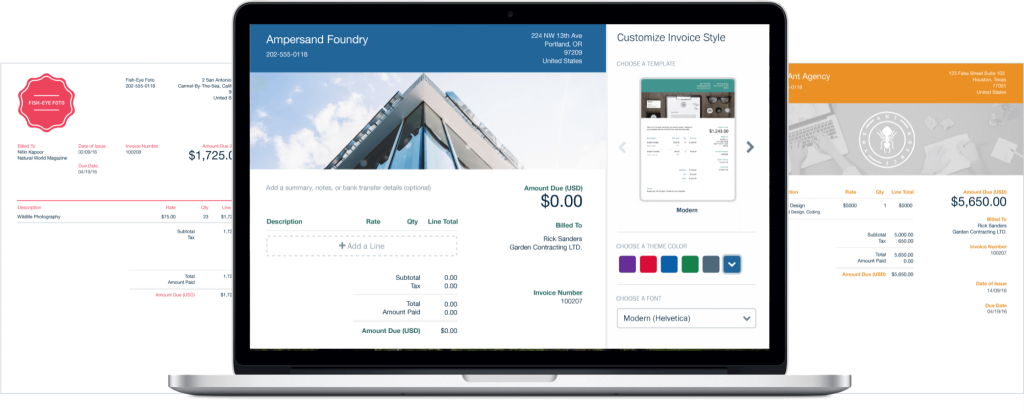 FreshBooks is one of the best invoice tracking software tools that provides for easy invoicing, expense management, and payment tracking.
Not only does FreshBooks help you with creating invoices but it also enables you to receive payments from customers online. All they need to do is to connect a credit card, PayPal, or Stripe — and deposits will be put into your bank account.
A special feature of FreshBooks is deposit requests. For example, you can ask for 25% of your invoice upfront, so that you wouldn't have to worry about waiting until the end of the project to get paid. The tool automates follow ups too.
For whom: Freelancers, self-employed, small/medium businesses.
Price: Several options are available from $108/year for 5 billable clients to Premium for $360/year with unlimited billable options.
#5 Square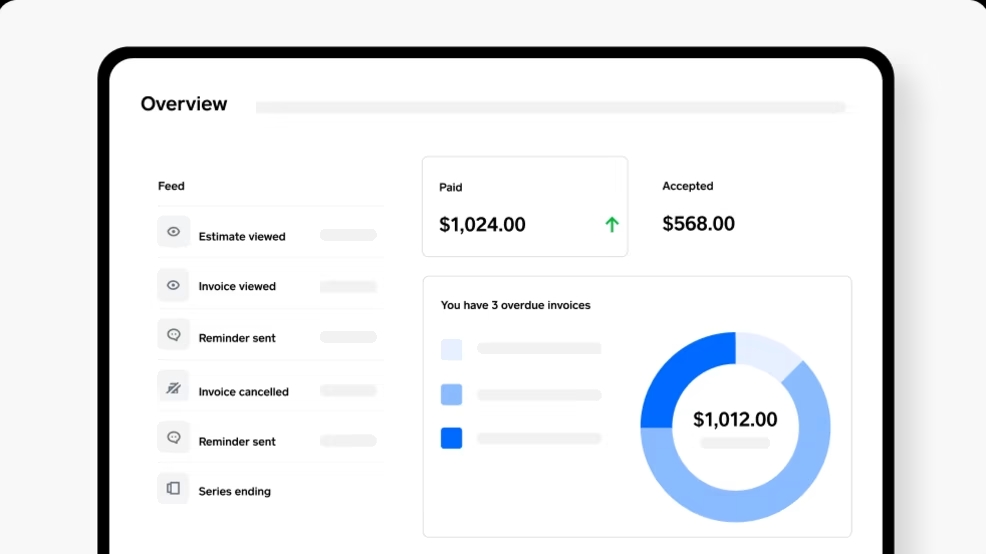 Square Invoices helps businesses request and process payments from credit card, checks, and cash. You can set up recurring payments, track payments using online reporting tools, add tips and discounts, calculate tax information, and more.
Square can also equip you with terminals if you want to accept offline payments. In this case, all sales, expenses, and loans across different accounts are synced and displayed in Square Banking app.
For whom: Self-employed, small/medium businesses.
Price: You can use this payment tracking software free of charge. Plus, for $20 per month you can save invoice templates, create milestone-based payments, and enjoy several other bonuses. Square has a 30-day free trial.
#6 Invoice Ninja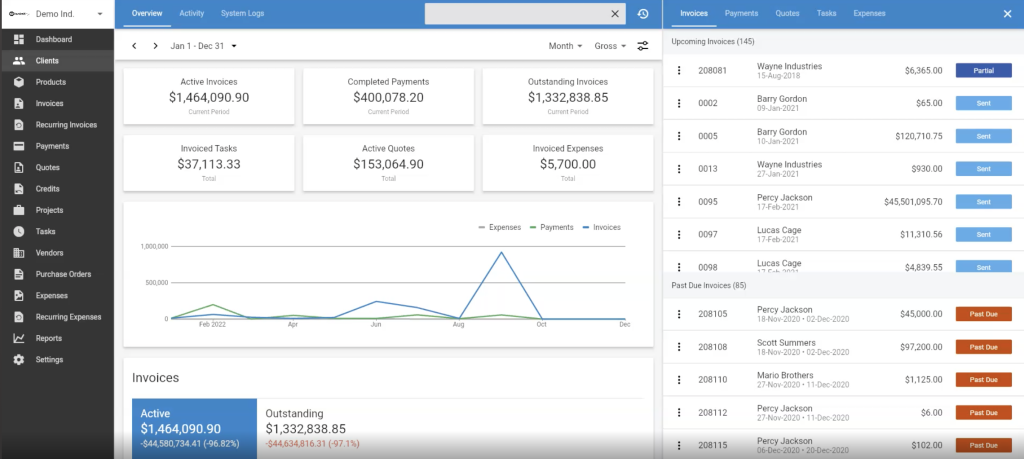 Invoice Ninja is a simple invoice tracking software that helps to track time, invoice customers online, and receive payments without delays.
It allows you to create custom invoices and schedule recurring invoices and automatic billing. The tool automatically sends out reminders about delayed payments to customers so that you don't have to spend time on them. Moreover, you can track billable work with Invoice Ninja and convert the tracked hours into invoices in a few clicks.
For whom: Freelancers, self-employed, small businesses.
Price: The tool has a free option with basic functionality. A pro plan with unlimited client options, several custom invoice designs, and a personalized URL would cost $20 per month if paid annually (plus 2 months for free). It comes with a 14 day free trial. Enterprise plan costs depending on the number of users, from $14 to $45 a month. The maximum number of users is 20.
#7 Invoice Simple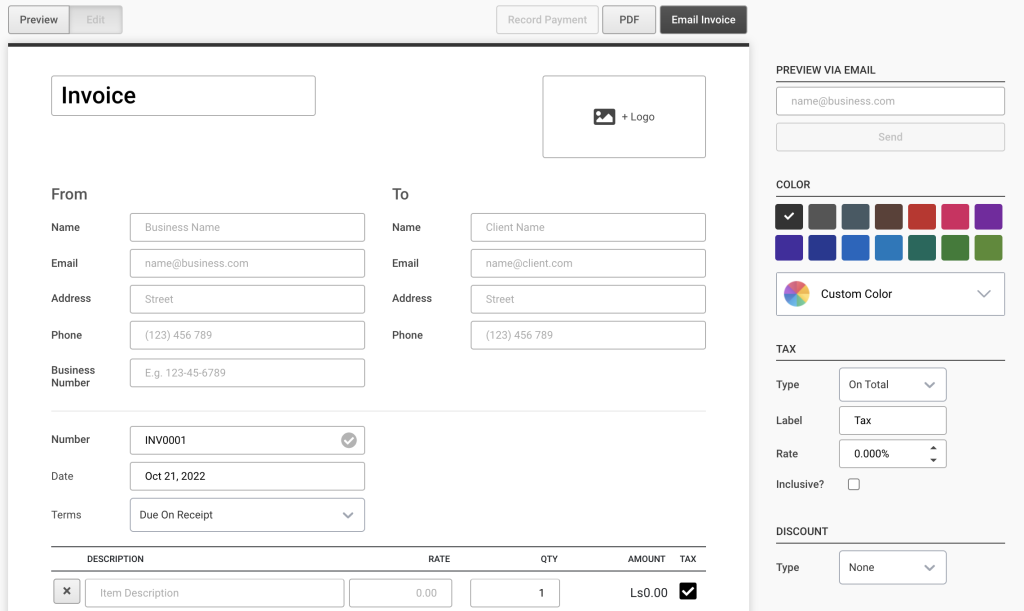 This mobile and web application allows users to save time while collecting payments. With Invoice Simple, you can quickly create professional invoices, send them out, and get notified when they are read. Custom invoices are easy to create in a visual invoice editor. This invoice and payment tracking software also allows you to accept card, cash, and check payments. You can make a receipt directly in Invoice Simple.
An interesting feature of Invoice Simple is that it provides you with estimated templates so that you can quickly estimate the project costs and convert them into an invoice in just a few clicks. This is a valuable feature to reduce the waiting time for customers and secure a deal faster.
For whom: Freelancers, self-employed, small/medium/large businesses.
Price: Free.
#8 Invoice2go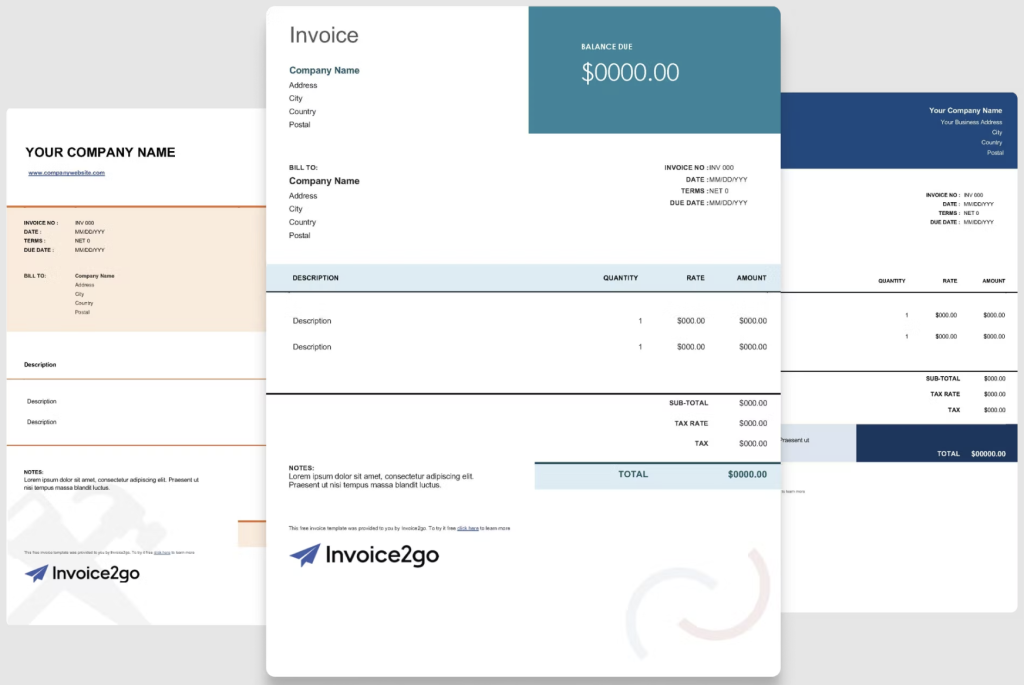 Invoice2go is another simple but useful invoice management tool that will be suitable not just to freelancers and small businesses but larger enterprises, too. It offers various invoice templates for you to use – all you need to do is enter the details, and you'll have a professional-looking invoice ready to be used. True to the name, Invoice2go also has a mobile app that you can use to create and send invoices on-the-go.
The tool also provides other features that can come in handy when it comes to accounting, including a payroll management tool and even a bank account if your business is based in the US.
For whom: Freelancers, self-employed, small/medium/large businesses.
Price: Starter plan – $5.99 per month (or $59.99 annually), Professional plan – $9.99 per month (or $99.99 annually), and Premium plan – $39.99 per month (or $399.99 annually). A 30-day free trial is available.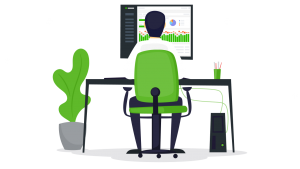 Bonus: subscription billing software
If you're a content creator, software provider, or other business that charges clients subscription fees, a basic functionality might not be enough for you. You need a tool that can create hundreds and thousands of automated invoices every month and quickly update them if there is a discount or increase in price. For that, you can use subscription-based billing software. It will help you keep track of each order and its stages including pre-order, setup, etc.
#9 Pabbly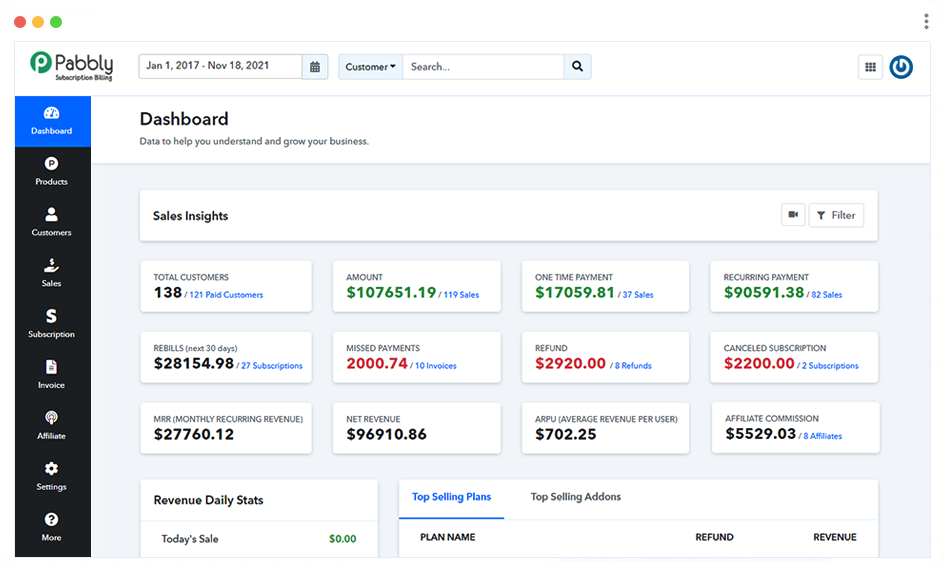 Pabbly Subscriptions is a tool that helps you sell subscriptions and collect payments from your clients online.
To use Pabbly for payment collection, you need to connect your PayPal or Stripe account. Then, you can create products and plans. Pabbly allows you to implement dynamic pricing and calculate and collect taxes. Another useful tool by Pabbly are checkout pages. You can create a checkout link and send it to your customers via email or message or even embed into your website.
Price: Pabbly has 17 different price tiers from 15 to 1500 dollars depending on the number of clients that you have.
#10 PayWhirl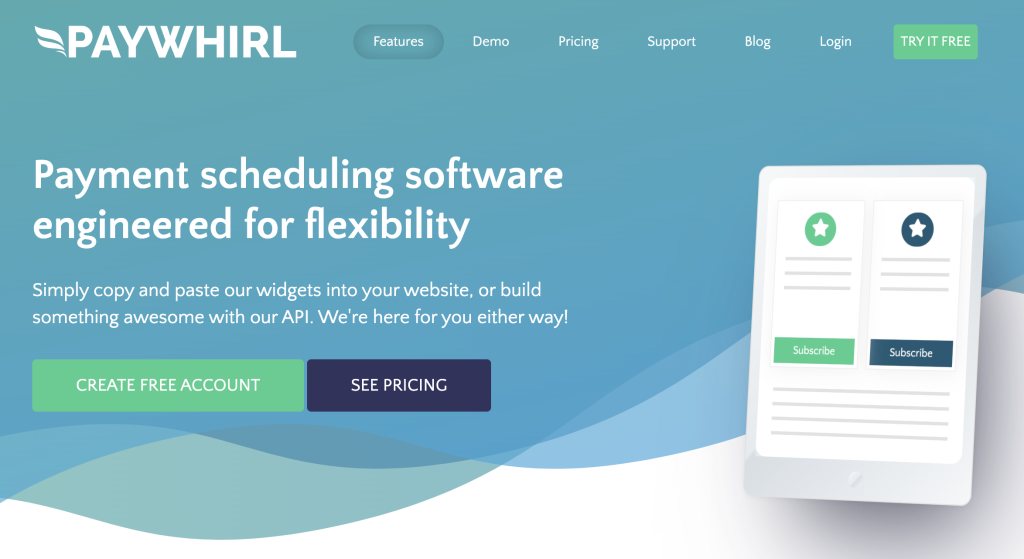 PayWhirl can help you to reduce the stress of managing recurring subscriptions. You can use it to sell subscriptions, manage pre-orders, and implement diversified selling plans for various groups of customers.
PayWhirl has integrations with Shopify, PayPal, Zapier, and other tools necessary for successful business management. A unique feature of PayWhirl is analytics tools for financial data monitoring and reporting so that you can always keep your finger on the pulse.
Price: You can start with a free version that charges you 3% for each transaction, Business Pro plan costs $49 (2% per transaction ), Business Plus (1% per transaction), and Business Ultimate $249 (0,5%).
Have a tool to suggest? Let us know in the comments!
Did you find this article useful? Give it a clap!
Psst! You can clap more than once if you really loved it 🙂