Mobile time tracking wherever you, your employees, and your work go.
DeskTime's mobile time tracking allows you to access the benefits of computer-based time tracking without bringing your laptop computer with you.
Free 14-day trial. No credit card required.
By signing up, you agree to our terms and privacy policy.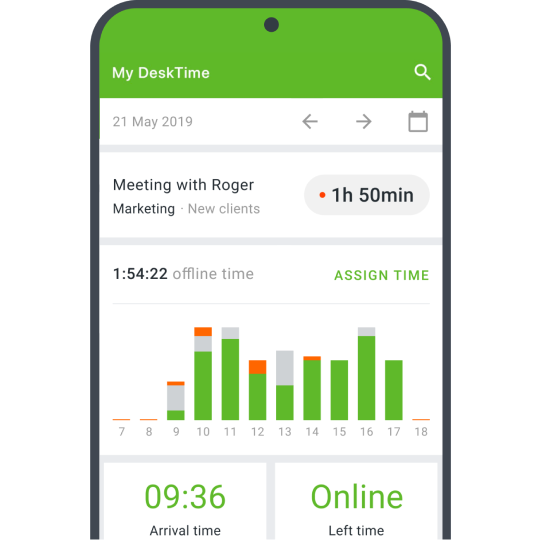 No-compromise mobile time tracking done your way
DeskTime's phone time-tracker app is more than just a timer, it's a fully featured productivity logger that makes it fast and simple for you to track either your own or your employee's work time. With two easy options when working away from the computer, project-based time tracking and manual time tracking, you're sure to capture every important minute of the work day.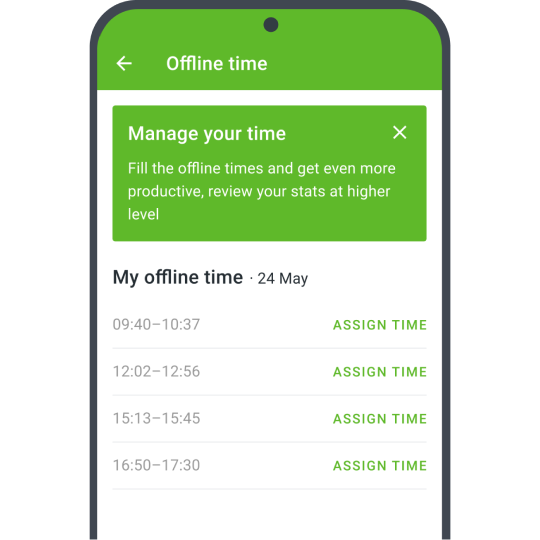 One mobile time tracking dashboard to rule them all
DeskTime mobile time tracking app's intuitive and easy-to-navigate dashboard provides you with all the critical features of the desktop version right at your fingertips, including team member management, offline time assigning, and project progress. And with four simple toolbar options, you'll see the same neatly organized productivity information and reports on every member of the company as if on your computer.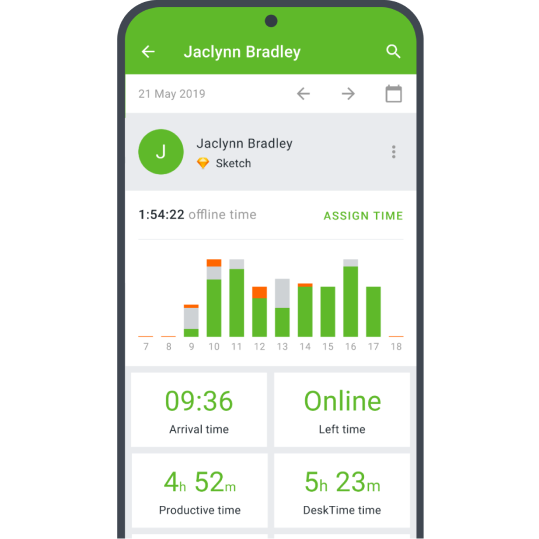 Precision mobile employee time tracking
Whether your employees are traveling for work, seeing a client, or having a business meeting, they always have DeskTime's phone time-tracker app keeping track of their hours. The app and its tracking work even offline, so you can rest easy, knowing that their reports on what they've done during those work hours are available to you from your own smartphone.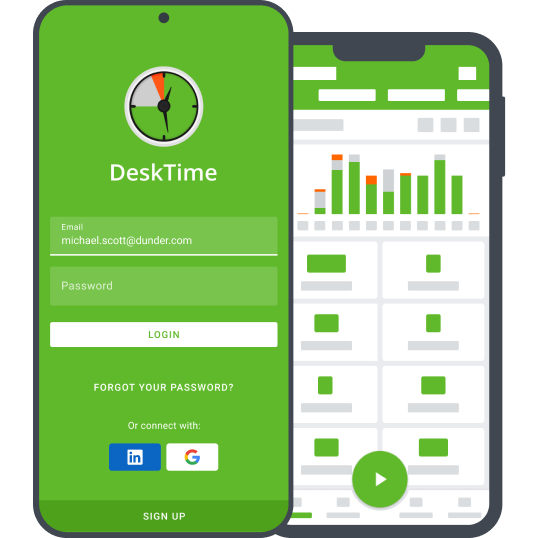 Mobile time tracking for all iOS and Android mobile devices
DeskTime's mobile time tracking app works for phones and tablets, no matter whether they're iOS- or Android-based. This ensures that your team and you see the same consistent information across all devices even if using their own.
Looking for time tracking for your desktop computer?
Use the DeskTime time tracker for desktop on Linux to increase your and your team's productivity.
The benefits of mobile time tracking for all
Mobile time tracking offers numerous benefits to everyone regardless of their occupation. Whenever there is accountability involved, using a mobile time tracking app is a sure way to log and track down the hours to the exact minute for the time spent on work itself.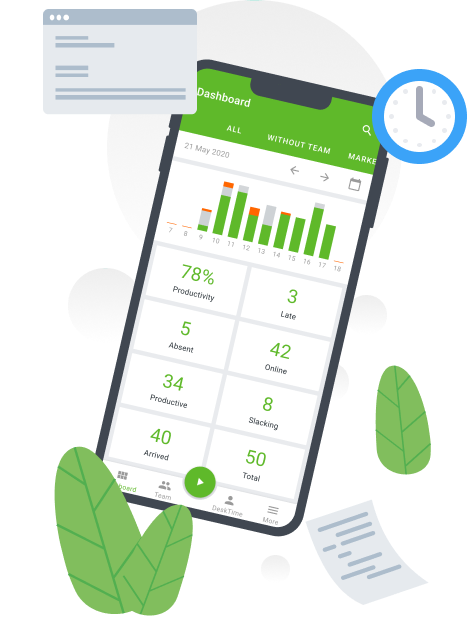 Company owners and their employees
You and your employees know that micromanagement is time consuming and counterproductive. By using a mobile employee time-tracking app, you can see exactly how your employees are performing by their productivity levels. You'll also know what they're doing at any one moment so that you can give them meaningful feedback without tailing them.
Traveling business people
No matter if you're a lawyer, an artist, an insurance person, or someone else, it can sometimes be difficult to keep track of time spent on travel, especially on those long trips to places to see a businessperson or client. In order to get reimbursed for any expenses, using DeskTime's phone time-tracker app, you'll no longer need to worry about lost hours.
The mobile tradesmen
Whether self-employed or an employee, never let paid time slip by and become unpaid. Calculate the exact hours spent on performing work, buying tools or materials, and traveling. Then after all is said and done, you can retrieve a report from DeskTime's mobile time tracking app.
Frequently asked questions
Why do you need a mobile time tracking app?
Using a mobile time tracking app has numerous benefits for you or your employees. You can easily track work time when working away from your computer to capture every minute of the workday and measure your productivity and progress on projects. You can use DeskTime's mobile time tracker when traveling for work, having a meeting with a client and for any other important daily tasks, performed away from a computer.
What features does the DeskTime phone time tracker app have?
DeskTime phone time tracker app has an easy to navigate dashboard and simple toolbar options, that allow to manage team members productivity, assign offline time, and follow the progress of your projects, in addition to both manual and automatic time tracking on your phone.
What devices can I use the DeskTime mobile time tracking app on?
You can use the DeskTime mobile time tracking app on smartphones and tablets - all iOS and iPhone devices (version 12+], as well as for all Android phones and devices (version 4.1+).
How to use DeskTime mobile time tracking app?
Our mobile time tracker is very simple to use. All you have to do is open the app, tap the green play button at the bottom, indicate the project or task you'll be working on and the status of the time you're about to track. Then tap "Start timer" and that's it! When you finish your task, simply stop the timer.
What kind of information can I see on the DeskTime mobile time tracking app?
If you use DeskTime's mobile time tracker, you can see the same information as on the desktop version, for example, your productive time, total time at work, average productivity and efficiency in percentages, and more. The main difference is that our phone time tracker app shows a daily overview of productivity but not the weekly or monthly overview. To view the productivity data by day, week, or month, use the DeskTime desktop time tracker.