DeskTime's web time tracker - a simple and powerful tool to boost productivity
Our web time tracker offers an easy way to enjoy all the perks of time tracking without having to download or install anything. It's a simple online work timer that's built into the MyDeskTime web dashboard and lets you manually track time spent on the computer. Here's a complete guide to understanding and using online time tracking.
Free 14-day trial. No credit card required.
By signing up, you agree to our terms and privacy policy.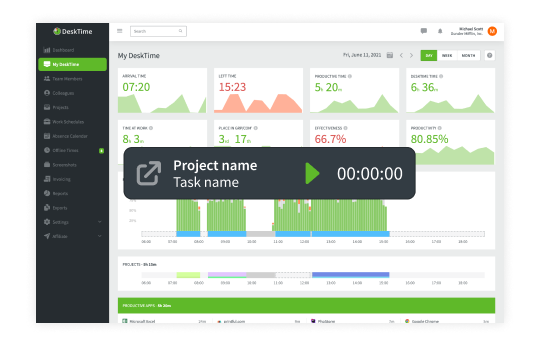 What is a web time tracker?
Online time reporting is an easy way to keep track of your time and productivity habits. It's a simple start/stop button built into the MyDeskTime web dashboard. You can use it to track the time you spend on the computer in general, or you can opt to specify the projects and tasks you've been working on. This option can help you when you don't have access to your favorite time tracking app or just feel like using a quick and simple tool to be productive.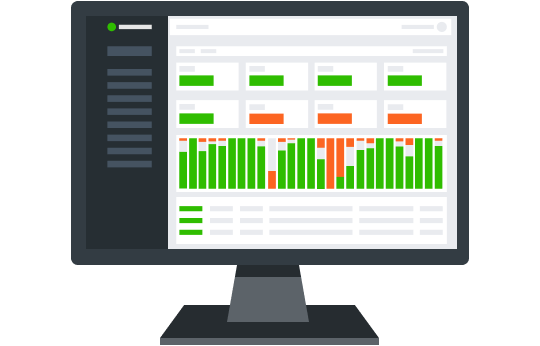 Online timekeeping is essential
Simply put, there's ample advice on the internet about how to work better and smarter. An online timekeeper is just one of the many ways to keep yourself accountable. Our easy-to-use web timer is a must if you want a powerful tool to track work hours, follow project and task progress, keep up a healthy break schedule, as well as stay on top of your productivity game.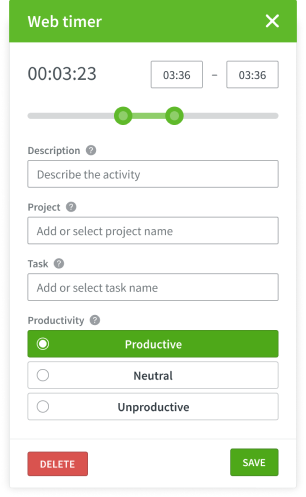 How does the DeskTime web time tracker work?
The web time tracker is a simple and intuitive tool that lets you keep track of how you're spending your time on the computer. Since the timer is not a web app, but a start/stop button you see in your web browser, you can simply turn it on manually when you want to track your time. It will only register time once turned on, and lets you specify projects and tasks you're working on.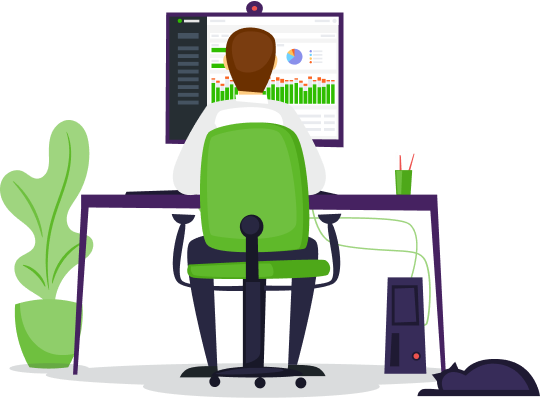 The benefits of DeskTime web time tracker
Using time recording online is the best way to track your everyday activities and maintain a healthy work-life balance. It's a convenient alternative to advanced time tracking software and doesn't require any additional programs or apps.
Here's what you can do with DeskTime's web time tracker:
Enjoy time tracking without having to download an app

Use DeskTime from any browser at any time

Visualize the way you spend your time online and on the computer

Track work hours across all of your projects

Track attendance, breaks, and time off

Keep track of stats for the day, week or month

Use collected data to calculate billable hours

Adjust or add missing time manually if you forget to turn on the timer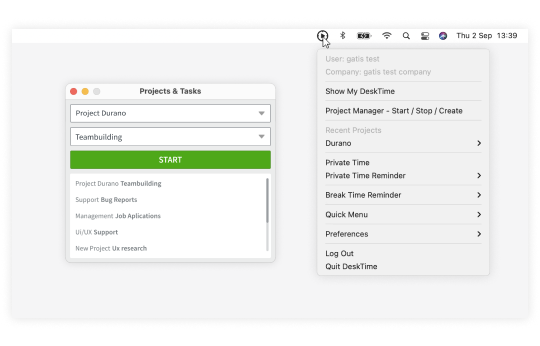 Want to take DeskTime to the next level?
You can use the web time tracker on its own or sync it with your DeskTime app. The web timer is a great choice for keeping up with your daily activities, but if you're looking for a more serious and efficient approach to time tracking, DeskTime's desktop app is the way to go. The app lets you enjoy effortless automated time tracking and all of DeskTime's features without a hassle. Increase productivity and avoid manual data entry! You won't even have to worry about clocking in and out because the app will do it for you.