If your team is looking for an effective way to communicate in a remote setting, this thorough guide on how to use Microsoft Teams to benefit your business is just the content you need.
In this article:
Want to get the most out of your time?
Try DeskTime for free!
Try free for 14 days. No credit card required.
By signing up, you agree to our terms and privacy policy.
What is Microsoft Teams?
Microsoft Teams is one of Microsoft's collaboration platforms within the 365 family. This software focuses on team communication, competing with Slack, app integrations, and file storage applications.
It was released in 2017 and is currently available in 45 languages. The Microsoft collaboration app helps teams stay organized, collaborate, and have conversations in one place – moving from a group chat to one-on-one video calls within a single click.
How to use Microsoft Teams?
A successful team is achieved when each of its members can impact the organization and feels an ownership stake in the outcome of a team's projects. An effective workflow is required, and that undoubtedly involves having a robust team-based workspace and a constant positive communication flow. Therefore, using Microsoft Teams is a great way to ensure a convenient working environment for you and your team.
Here are the main points you need to know about using Microsoft Teams as a communication tool for your team.
Note: This short guide covers using Microsoft Teams' desktop version.
How to create a team on Microsoft Teams?
First, you need to sign in to your Microsoft Teams account. If you don't have one yet, visit the Teams website and set up a new account.
Then download the Microsoft Teams desktop app for Mac or Windows from the tool's webpage and proceed with installing the app on your computer.
Now – how does one create a team on MS Teams? It's all relatively straightforward:
Launch your newly installed Microsoft Teams desktop app, open the "Teams" sidebar, and click the "Join or create a team" option at the bottom left corner of the layout
Now you have two options – create a team from scratch or use an existing team from an Office 365 group. If you've just started to use MS Teams, you should create a new team from scratch.
Then select whether you want your new team to be Private – members will need permission to join, Public – open to access for anyone in your company, or Org-Wide – automatically adds everyone from your organization onto the team.
Add a name to the team + a brief description if needed, and –voila– the team is ready to rock! You'll find all of your teams via the app's Team sidebar on the left.
To add new team members and manage other team settings, click on the three dots next to your team name and choose the setting you're looking for. Plus, adding members outside your organization is easy – just send them access via email.
How to schedule a meeting in Microsoft Teams?
Now, let's dive into the next important step – scheduling your first Microsoft Teams meeting.
Open the "Calendar" sidebar on your Teams desktop app and click the "New meeting" button in the top right corner.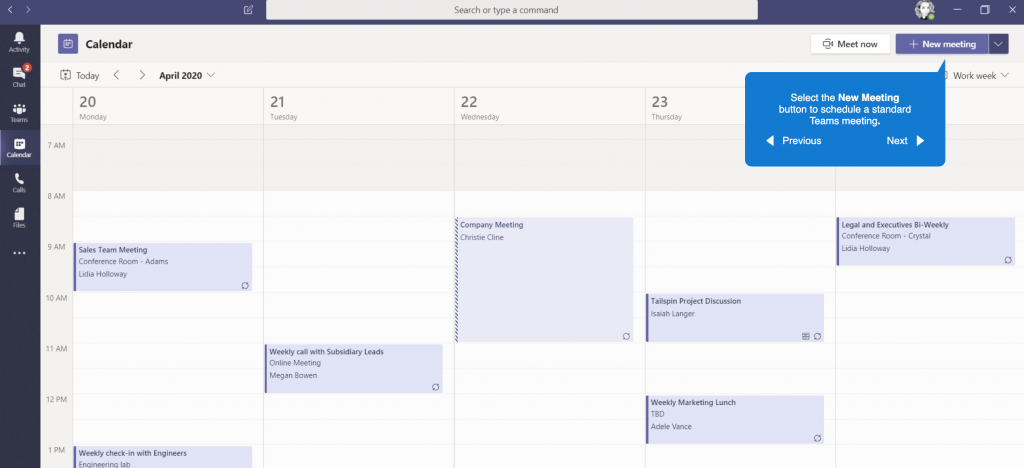 Then fill in all the necessary information – date, time, meeting attendees, and more details if needed, and hit the "Send" button in the top right corner. Meeting invites will fly to participants' Microsoft Outlook inboxes.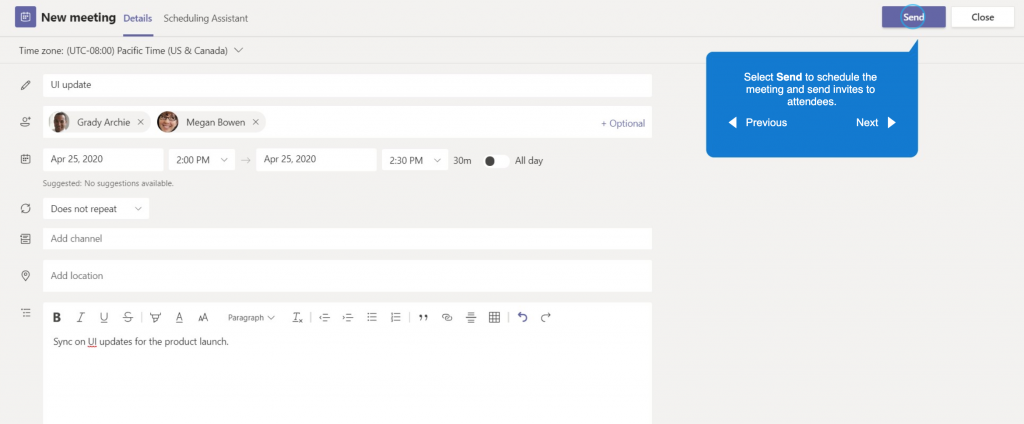 All of the scheduled meetings automatically appear on your Microsoft Teams calendar. So, if you wish to join an already scheduled meeting, just open your app's calendar, find the particular call, and hit the "Join" button that appears on the calendar record.
How to video call on Microsoft Teams?
Even though most of us are probably quite familiar with many video conferencing tools by now, thanks to remote work, easy-to-use tools remain our top choices. So, good news because video calling on Microsoft Teams is effortless.
Here's what you have to do to succeed in your first MS Teams video call:
Open the particular team and/or channel on the desktop app that you want to video call
Find a video camera icon under the channel's compose box and click it
Add a video meeting subject if you wish, then click the "Meet now" button, and – congratulations, you've started your first video call on MS Teams!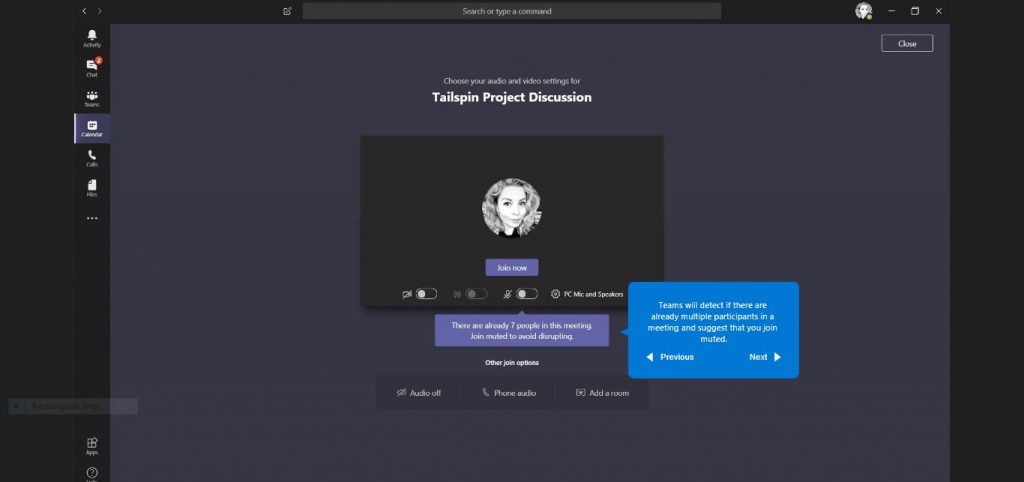 Functionalities of Microsoft Teams video conferencing are similar to other communication tools.
You can record the meeting, chat with attendees, share your screen, choose your virtual background, raise the virtual hand to get a say during the video call and choose a video layout.
Microsoft Teams best features for business
Now that we've covered the basics on how to use Microsoft Teams, let's review some of the tool's features that make it stand out from other collaboration software:
→ Conversations within channels and teams
Everyone on the team will be able to access and contribute to various discussions with the @function, similar to using Slack's threads feature.
→ Chat function
The Microsoft Teams app chat function serves as an instant messaging platform. It's included in pretty much every single communication app out there, and Microsoft Teams isn't an exception.
→ Chat translation
Your messages can be easily and quickly translated in real-time without using another web app in the chat conversation. The translation is integrated within the chat feature, making it incredibly convenient.
→ Document storage and file sharing
Team members using the Microsoft Teams collaboration tool will have access to secure cloud file sharing, which is highly beneficial when using Microsoft Teams for project management.
The tool provides built-in access to SharePoint, OneDrive, OneNote, and productivity apps. It allows real-time collaboration within the same documents that synchronize automatically and spares you and your team members confusion and misunderstanding.
Additionally, you can upload files to Teams from your computer, and the tool automatically adds files to your document library.
→ Online video calling and screen sharing
Enjoy smooth and fast video calls with your team members or with clients and customers.
In any collaborative workplace, having a successful video call function is a must. It's also possible to benefit from easy and fast desktop networking for technical assistance and multi-user real-time collaboration.
→ Online meetings
The online meetings option can accommodate up to 10,000 people. This functionality can help boost interactions, company-wide meetings, and even conduct training.
Online meetings can be attended by anybody, both within and outside of the business. This feature also includes a scheduling tool, a note-taking program, file sharing, and in-meeting chat messaging.
→ Audio Conferencing
Not all collaboration platforms have an Audio Conferencing feature. The Teams Audio Conferencing functionality allows anyone to attend an online meeting using their phone instead of the Teams app. Such attendees don't need any specific setup to join the meeting as it can be done quickly with a dial-in number.
Note: Audio Conferencing availability and calling plans depend on your region. You can see what's available for your location here.
→ Microsoft Teams direct routing
Microsoft Phone System Direct Routing is the service inside the Teams that allows organizations to connect external phone lines and use Teams as an office phone system.
Direct Routing is a way of supplying Microsoft Teams users with a PSTN (public switched telephone network) connection, allowing them to send and accept external phone calls on any system that uses Teams.
Internal and external business phone calls have traditionally been delivered using a Private Branch Exchange (PBX) phone system, usually located on the business premises. Microsoft Teams can now be used as a corporate telephony solution, replacing an outdated PBX phone system with a cloud-based system to offer complete PBX voice communication capability both inside and outside the company.
Benefits of using Microsoft Teams as a softphone for business
The internet has presented companies with a variety of new communication channels, ranging from email to live chat services, but one method has stayed constant: phone calls.
If your company is among those that use internal phone systems, here are a few reasons why you can consider using Microsoft Teams as a softphone for your business:
Unified communication channel integration
Microsoft Teams allows you to integrate your connectivity and productivity channels – manage tablets, text messages, collaboration applications, email, server architecture, cloud resources, and everything else through a cloud-based phone system.
Remote work is here to stay, and many businesses and employees have embraced this reality and won't be switching back any time soon. Microsoft Teams offers significant advantages for remote teams since it's a cloud-based platform. Your remote workforce will be able to reach your phone system from wherever there is an internet connection.
Easy connection to PSTN systems
Using Microsoft Teams as a softphone makes it easier to connect your in-office phone system (the Private Branch Exchange or PBX) to the PSTN (Public Switched Telephone Network) system and reach other businesses or individuals outside of your workplace.
Microsoft provides versatile call plans in Teams. You can customize particular lines or divisions to offer connections to multiple phone connection ranges.
The costs of using Teams depend on the device you are using and your existing Office 365 license. Some MS Teams plan choices require a small additional charge for the license – a few dollars a month. After you've purchased the phone system licenses, it charges a particular amount per user on a monthly basis.
Bonus: 5 Advantages of using Microsoft Teams for business
#1 Company-wide communication
People choose Teams over the many other collaboration tools available mainly because of the voice, video, and file-sharing capabilities.
You can organize group project planning and execution with threaded chats, and it's easy to have a public or private discussion if needed. All the information is kept in one place and is easy to navigate, and as a bonus – the Skype integration for voice and video makes MS Teams the real deal.
#2 Full integration with your business apps
As you would expect, other Microsoft tools such as Excel, PowerPoint, OneNote, Planner, and more are all integrated with Teams. However, that's absolutely not all. Over 700 different apps and tools can be integrated to benefit your workflow on Microsoft Teams – productivity, project management, industry-specific apps, developer tools – you name it.
#3 Customized workspace
A customized workspace allows you to carry out group tasks and projects with ease. All you have to do is set it up as a team, and you can gain access to third-party providers, such as Microsoft OneDrive.
#4 Communicate in real-time
You can communicate with colleagues without experiencing emails bouncing, which would probably hinder your productivity. In other settings, urgent tasks might get lost due to a slow response rate which is fortunately not the case with Microsoft Teams.
#5 Everyone is on the same page
Teamwork IS the dream work but it needs to be managed well in order to bear its fruit. Using MS Teams to organize your daily workflow and team's communication is a way to go for effective management. Broad notifications, ability to divide discussions into separate conversations, collective idea-sharing, and more of the Teams functionalities make sure that your team is on the same page.
Conclusion
There is no denying the importance and benefits that communication and productivity tools like Microsoft Teams can bring to businesses. As technology evolves, newer solutions reshape how we communicate and share files for real-time collaboration and decision-making. Be it a large company or a small enterprise, we all need to keep up with the trends and use communication tools to grow and succeed.
Now when you know how to use Microsoft Teams and how its features can benefit your workflow, the choice is up to you – to give MS Teams a try or keep looking for your perfect communication tool. Either way, good luck!
This is a guest post by Bryan Osorio. He is a Blogger, SEO enthusiast, Content Marketer, and Digital Marketer with 3 years of experience within the Tech and Digital Marketing Industry. He likes to read, write and talk about Science, Technology, AI, Video Games, World News, and more. He studied Psychology at the National University of Colombia and enjoys writing about leadership, remote work, and team motivation. You can connect him via LinkedIn or Twitter.
Did you find this article useful? Give it a clap!
19
Psst! You can clap more than once if you really loved it 🙂
Subscribe to our newsletter to get the latest updates