DeskTime affiliate program for bloggers
Becoming a DeskTime affiliate can be a great source of side income or even a full-time job. All you have to do is write or vlog about DeskTime, add a tracking link to your content and get a commission when your readers become our clients.
Free 14-day trial. No credit card required.
By signing up, you agree to our terms and privacy policy.
How to apply and earn money with affiliate marketing
Affiliate marketing programs are like an invisible network of links that surrounds us. If you start paying attention, you'll notice affiliate links in blog articles, YouTube video descriptions, Instagram influencer bio's, and elsewhere.
In fact, 81% of brands leverage affiliate marketing, and 16% of all online orders are generated by affiliate marketing.
The best recipe how to earn money with affiliate marketing is usually this - choose to promote a niche product or service that you like yourself, or have some knowledge about.
Some polls indicate that most full-time affiliates earn up to $20 000 per year. But there's no reason why you couldn't excel to become one of the best affiliate marketers out there and earn the same amount in a month.
We'll show you how (and why) to become a member of DeskTime affiliate program, and share useful tips and ideas for earning more money from it.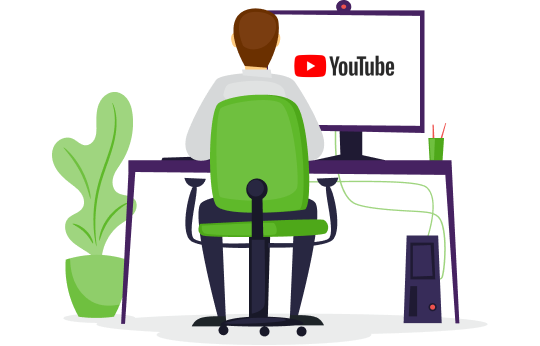 We make Productivity videos
DeskTime private time is an option that allows your employees to take a digital timeout on their computer. When it's turned on, their automatically tracked work time is paused and all tracking of computer activity ceases.
How (and why) to join the DeskTime affiliate program?
Let's start by why should you even consider joining the DeskTime affiliate network:
1

DeskTime affiliate marketing program is free.

Just sign up and start referring companies and earning money.
2

You can help us promote a truly useful software for companies and freelance customers.

It's easier to advertise a product that's good value for money. The people you refer will thank you for showing them how to save hours of work and money by using DeskTime.
3

Make up to $500 per referred user.

Refer at least 2 customers, and get 30% commission for 9 months after their first payment. Refer us as many clients as you can, and get paid when they pay.
4

We'll show you how to earn money with DeskTime affiliate marketing.

When you sign up to become DeskTime affiliate, you'll get access to free banners, images, and other marketing materials. We'll also send you useful marketing tips in an affiliate email series.
5

It's easy to follow your results.

See accurate stats on how you're doing, how much money you've made, and when the next payment is going to be.
6

You'll be free to work when and where you want.

You won't be controlled, supervised or instructed by us.
There's really not much to say about how to become a part of DeskTime affiliate program - just sign up in seconds, and start recommending DeskTime to others - we'll take care of the rest.
Each affiliate has their own unique set of affiliate links. After generating your links, you'll be able to share them across the web, and if someone clicks and then becomes our customer, you will make money.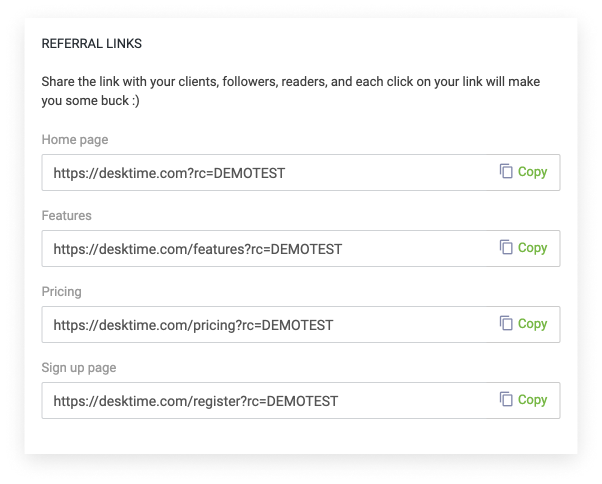 How much can you earn from the DeskTime affiliate marketing program?
After you refer at least 2 customers, you will receive 30% commission for 9 months after their first payment. Refer us as many clients as you can, and get paid when they pay.
As with all affiliate marketing programs, your earnings will largely depend on how actively you promote DeskTime. But here's an example that can help you estimate your earnings.
As you can see in DeskTime pricing page, the price for our service changes depending on the number of employees in the company. The biggest segment of DeskTime customers are companies with 30 to 100 employees. Knowing this information and your target audience, you can approximately calculate your earnings for each new customer you bring in.
For example, if you bring a new customer with 30 users, the monthly price they would have to pay is $179. Therefore your earnings from this deal during the next 9 months will be 30% or $53 per month or $477 during the 9 months period.
If you refer a customer with 100 users, you'll receive 30% of $420 monthly plan price, or $126. So, taking 9 months together - more than $1100 for one referral!
If you take affiliate marketing with DeskTime seriously, the sky's the limit. You can make as much as $500 monthly from one referral if you attract very large companies.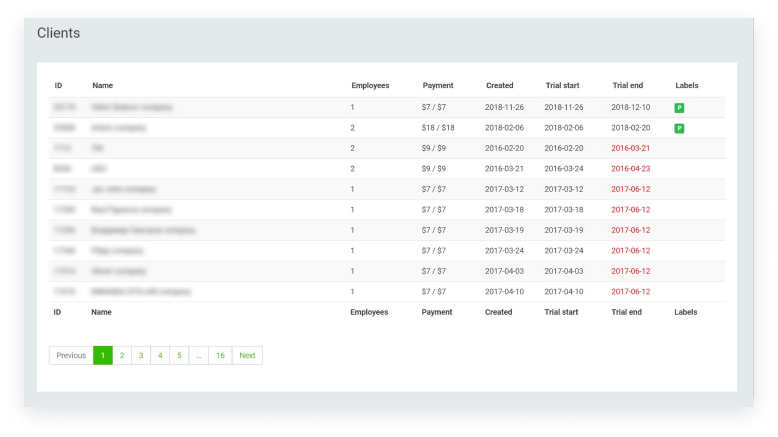 We like to be completely transparent in everything we do, so please note that you:
Will get paid only for work done;

Will receive commissions for each unique customer for 9 months;

Will have to pay your own business expenses;

Are free to have as many other clients as you like.
Ready for your free trial?
Try free for 14 days. No credit card required.
What you need to know to start promoting DeskTime
To successfully promote DeskTime to others, you need to know exactly how it works and what is your target audience - i.e. people who would most benefit from using DeskTime.
What's special about DeskTime?
DeskTime is one of the best-known time tracking apps on the market, trusted by over 144k users in 148 countries. That's something you can highlight to let people know you're recommending a reliable and demanded product.
Our customers love DeskTime because it's fully automated and has various extra features besides time tracking, including auto screenshots, project tracking, and more. You can find out more DeskTime features here
To find out more about how DeskTime tracks time and productivity, create a free account and play around with the features. Find out all you need to know in our FAQ section or contact DeskTime support.
Who needs DeskTime
The short answer is: anyone who wants to improve their own or their team's effectiveness.
To be more precise, here's a list of people who are most often interested in DeskTime and therefore, are your target audience as a DeskTime affiliate:
Business owners and company CEOs with a team

Team managers and supervisors in companies

HR managers

Project managers

Freelancers
Where to promote your DeskTime links
DeskTime is one of the best affiliate marketing programs for bloggers, and there are two main ways how you can advertise your affiliate link on your blog or website. Placing DeskTime banners is one of them. Just make sure you've got a space for ads in your web design. We've taken care of the banners: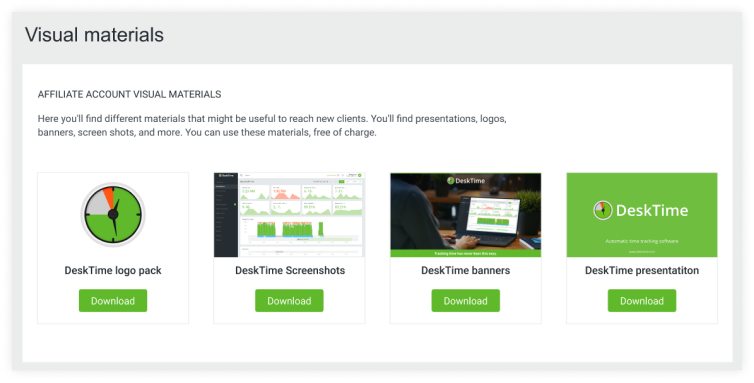 Log into your DeskTime account, and you'll find ready-made banners to use for your campaigns. Then, all you must to do is upload these affiliate ads, add your unique links to them and show the ads to your visitors.
However, in-content affiliate links are often better click through generators than image links such as banners. Creating a blog post about DeskTime is one of the easiest ways to promote your affiliate link. DeskTime is also a very suitable affiliate program for new bloggers and beginners in affiliate marketing as there is a range of uncomplicated topics you can blog about.
Some ideas for blog topics:
Review article about your personal experience using DeskTime

Comparison with other time tracking apps or software

Productivity or employee management trend (that involves time-tracking)

Tutorial on how to use DeskTime for small teams (medium teams, large teams, freelancers, etc.)

Roundup, such as "10 tools my company is using to boost productivity" or similar.

Your own expertise - write about topics you're an expert in and mention DeskTime if relevant.
You can even write a series of articles or add videos to your post. Include your unique affiliate link in a relevant place in your post, and promote it through social media and email.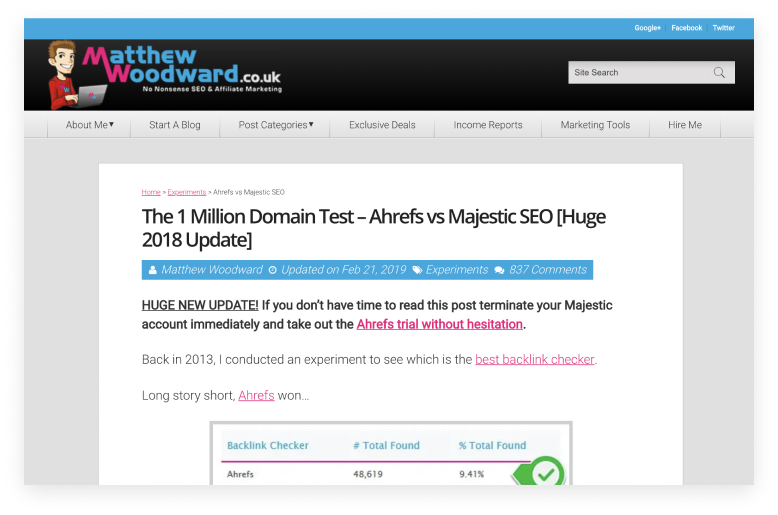 An example of an article written by an affiliate marketer - explore how the links are incorporated in
the article to advertise the Ahrefs software.
Image Source
Forums are places where people often go to ask questions, find answers, and ask for suggestions from community members. That's your low-hanging fruit as an affiliate.
Find forums, or topics in forums around productivity, team management, and alike. Then join discussions and, when relevant, suggest trying DeskTime and post your affiliate link.
Some forums you can start with:
Reddit. Recommend DeskTime in relevant subreddits and discussions. But be careful and don't spam - Reddit has a very strict anti-spam policy, and usually doesn't appreciate plain promotional content. Ideally, follow the conversations and comment for some time before posting yourself.

Quora. Answer questions about time tracking, productivity, and team management. Suggest DeskTime as a helpful tool to try.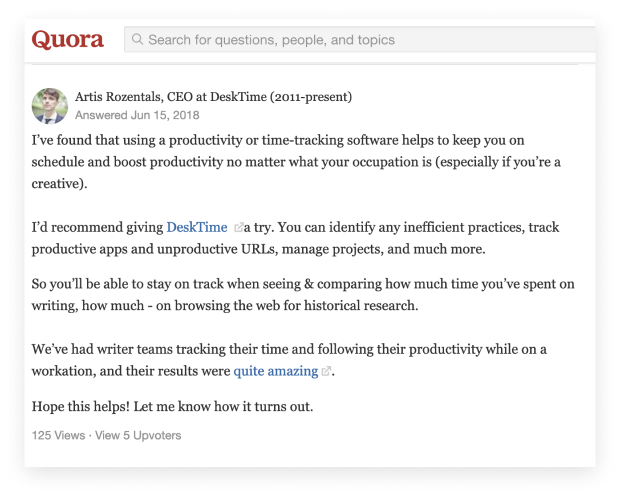 Relevant niche forums. To find even more relevant niche forums, go to Google and type in your "keyword" + "forum" or "discussion". Such forums are also a great source of inspiration for affiliate marketing niche ideas. For example, if you're looking for forums that discuss time tracking, google "time tracking" + "forum". And voila - Google finds niche forums and discussion groups about the topic you can participate in.
Even if you don't have your own blog or webpage, you can use your Facebook, Twitter, Instagram, or any other social media profile to share your affiliate link with friends and followers.
There are many ways how to make money with affiliate marketing on Facebook and other social networks. Some strategies that usually work best:
Some strategies that usually work best:
Write a short review about DeskTime and your experience with it. Tell your followers what you like about the app, how you use it, and why others might want to use it, too.

Share your personal stats. For example, share a screenshot of your week's productivity stats or calculate how much time you've been saving since you use DeskTime. It's a way to share interesting content and introduce the product at the same time.

Tweet or post about a recent blog post that includes your affiliate link somewhere in the text.

Share interesting content produced by others, and add a comment to your post (which includes the affiliate link). Alternatively, you can post comments below popular and relevant posts, with your affiliate link included.
4

Send an email to your followers and partners
First of all, always send an email after you've published a blog post to promote it. Let people know you've come up with something new and generate traffic to your article.
If you have a list of customers or business partners who might find DeskTime relevant, send them an email with a recommendation. For example, if some of your friends and acquaintances work in HR or are business managers, send a direct email recommending DeskTime, or mention DeskTime when you send out an email promoting your blog posts.
Here are some email campaign ideas your subscribers might like:
The complete list of tools you use for your company and for what purposes - where DeskTime is one of them.

Test DeskTime at your company and share your discoveries and productivity results with your subscribers in an email series.

Mention DeskTime in your one-on-one emails with your customers and business partners.
Guest blogging is an effective way how to make money from affiliate programs for bloggers. Smaller industry blogs are often happy to accept articles by guest writers. It may be more difficult with larger blogs, but it's worth a try because this one article could keep making you money long after the original publication date.
Start with finding a niche blog you wish to write for. If you're about to mention DeskTime, this blog should probably be about productivity, team management, human resources, or similar.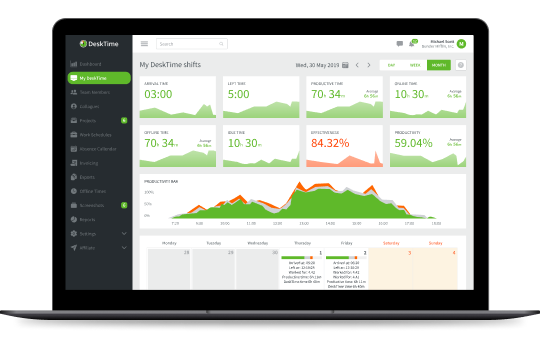 Welcome on board the DeskTime affiliate program
To find out more ways how to promote DeskTime, register to become our affiliate and sign up for the affiliate program newsletter. We'll be thrilled to have you on board!
If you have any questions about our affiliate program or need help getting started, send us a message or leave a comment below.