DeskTime vs. QuickBooks Time: compare the alternatives
Compare the DeskTime and QuickBooks Time alternatives side by side and choose the time tracking app that fits your needs.
Free 14-day trial. No credit card required.
By signing up, you agree to our terms and privacy policy.

The best features side by side
Features

Paid monthly

Lite – free for 1 user only PRO – $7 /user/mo Premium – $10 /user/mo Enterprise – $20 /user/mo

Paid annually

Lite – free for 1 user only PRO – $6,42 /user/mo Premium – $9,17 /user/mo Enterprise – $18,33 /user/mo

Additional discounts apply for teams.

If using free trial first:

Premium – $20 base fee/mo + $8/user/mo Elite – $40 base fee/mo + $10/user/mo

If buying immediately:

Premium – $10 base fee/mo + $8/user/mo Elite – $20 base fee/mo + $10/user/mo

First 3 months 50% off.

FREE trial
14 days
30 days
Time tracking
Automatic
Manual
Idle time tracking
Add time manually
URL tracking
Document title tracking
Reports
Individual project and task tracking
Auto screenshots
Manual screenshot options
Project cost calculation
Employee absence tracking
Custom user settings
Stops automatically, no tracking after work hours
Private time option
Break time option
IP restrictions for tracking
Productivity and efficiency analysis
Divide employees in departments
Live time tracking
Offline mode
Integrations with 3rd party apps
Shift scheduling
Desk booking
Looking for a QuickBooks Time alternative? Choose a time tracking tool according to your necessities
IF YOU NEED:
an automated time tracking tool that doesn't interrupt your workday
CHOOSE:
A great benefit that lets DeskTime stand out among other time tracking tools and makes it a great alternative to QuickBooks Time is automated time tracking. When you use DeskTime's desktop app, all you have to do is start working – no manual input for clocking in or switching on a timer is needed.
If you have to remember to clock in/out during work hours, add tasks, and press pause when you take a break, it can affect work efficiency. Unlike QuickBooks Time, DeskTime lets you focus completely on work tasks without unnecessary interruptions.
As it's advised to take regular breaks during the workday to ensure efficiency, DeskTime app's idle mode is a great way to keep personal track of your break time regularity. It automatically detects when you're on a break, and the app switches back to online mode when you resume work.
Although QuickBooks Time time tracking offers a list of useful features, it doesn't provide automatic time tracking. For those who feel okay with manual clocking in/out, QuickBooks Time can work well enough, but for employees who prefer focusing on work without thinking about tracking their hours, DeskTime is the choice to go with.
IF YOU NEED:
a GPS-based online time and attendance tracking tool
CHOOSE:
Although it may seem that time tracking tools mostly benefit office workers and those who spend their days in front of a screen, it's not entirely true. Companies with mobile employees working on-site also need time tracking tools to keep a record of work hours.
If your employees move around a lot and do jobs that don't require screen time, you may want to consider QuickBooks Time attendance tracking tool. The app tracks workers' GPS location when they're clocked in. It is convenient for employers who need to manage their workforce in various locations – construction workers and landscapers, service-based businesses, and such.
DeskTime also offers a mobile app for time tracking – both for Android and iOS. Unlike the automated desktop version, DeskTime's mobile tool requires manual clocking in/out and marking tasks and their status. It's also possible to track projects and offline time with DeskTime's mobile app. For teams that are on the go but don't need to be accountable for their whereabouts, DeskTime's mobile app can be an excellent fit as well.
IF YOU NEED:
to track project time
CHOOSE:
Having a clear vision of hours spent on a particular project makes communicating with clients or managers a lot easier. In this case, both DeskTime and QuickBooks Time offer project time tracking features that help manage your team's workflow.
With DeskTime, you can create a new project and its subtasks, assign them to employees, and be aware of the project's pace and status all along. DeskTime's project tracker also helps with organizing a project beforehand. By adding hourly rates for your teams or employees and your allocated budget, you can easily see how a new project's costs are stacking up and comparing to what you estimated beforehand. When the work is done, compare the predicted hours and expenses with the actual input and bill your clients accurately.
QuickBooks Time can also be a good alternative – it offers a lot of similar options when it comes to project time tracking. When starting a new project, a manager can add tasks, set deadlines and budgeted hours, and add employees to the project. It's also easy to make sure that everyone's on the same page with the in-app feed where team members can add notes if needed.
Both apps also provide project time reports that may be crucial when billing clients and for your own insight. Whether you need an overview of individual input from your team member or a general summary of the project, both QuickBooks Time and DeskTime can provide that for you and your team.
IF YOU NEED:
a time tracking tool that also schedules shifts
CHOOSE:
For companies that have employees working in shifts, scheduling them is a natural part of managerial duties. Some use Excel spreadsheets, and some prefer specific scheduling tools, but DeskTime and QuickBooks Time provide you with a single app for multiple uses, including shift scheduling.
Using several tools can be unnecessarily expensive and time-consuming. With DeskTime's shift scheduling feature, you'll get the same functionality as specialized shift planning apps. Besides, the feature is handy not only from a manager's perspective – employees can request their preferred shifts and help make a schedule that suits the team's needs. Shifts that go along with employees' requirements can boost job satisfaction significantly.
The QuickBooks Time online time and attendance tracking tool also has a shift scheduling feature. A drag-and-drop constructor lets you create daily, weekly, and monthly schedules, send notifications to workers when schedules are ready, and more. Both QuickBooks Time and DeskTime have an option to copy and paste already existing schedules – forget creating everything from scratch and save your time.
IF YOU NEED:
a tool that provides you valuable feedback on your work patterns
CHOOSE:
As the popularity of remote work grows significantly, so does employee flexibility. Many companies drift away from having a strict 9 to 5 working policy in favor of allowing their workers to maintain a healthy work-life balance. This also includes scheduling work hours according to your productivity.
If you haven't deliberately paid attention to your productivity and efficiency patterns, chances are you're not familiar with what work time suits you best. In this case, DeskTime is a helpful tool as it provides workers with valuable feedback on how productive and efficient their workday has been.
To get a more objective view you should explore the monthly report of your tracked work hours, which includes an overview of productivity and efficiency. Is your productivity top-notch during the early hours? Eat the frog in the morning! Or maybe you only show efficiency after 11 AM – begin your workday later and see your work performance thriving.
If boosted productivity and efficiency is something you look forward to, pick DeskTime to track your work hours and analyze your productivity. In case that's not crucial and simple time tracking is the only solution you need, QuickBooks Time is also a good enough match for you.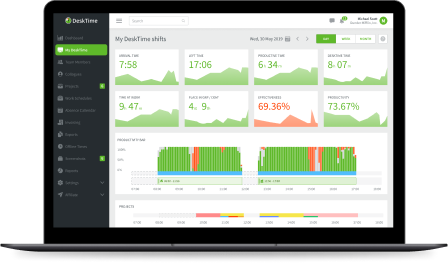 A tool that doesn't interrupt your workflow. Ever.
DeskTime: automatic time tracking software alternative to Quickbooks Time
Fully automatic – works when you do

URL, app, and document tracking

Individual project and task tracking
Try free for 14 days. No credit card required.
By signing up, you agree to our terms and privacy policy.