DeskTime vs. RescueTime: Comparing the alternatives
See these productivity apps side by side and choose which is right for you.
Free 14-day trial. No credit card required.
By signing up, you agree to our terms and privacy policy.
The best features side by side
Features

Paid monthly

Lite – free for 1 user only PRO – $7 /user/mo Premium – $10 /user/mo Enterprise – $20 /user/mo

Paid annually

Lite – free for 1 user only PRO – $6,42 /user/mo Premium – $9,17 /user/mo Enterprise – $18,33 /user/mo

Additional discounts apply for teams.

Paid monthly:

Lite – free for 1 user RescueTime – $12/user/mo

FREE trial
14 days
30 days
Automatic time tracking
Project time tracking
URL tracking
Vacation and absence tracking
Optional screenshots
Cost calculation
Department divisions
Reports
Live time tracking
Webpage blocking
Private time
Offline mode
Shift scheduling
Supported on
Windows, Mac, Linux
Windows, Mac, Linux
In-person demo
Desk booking
Looking for a RescueTime alternative?
IF YOU NEED:
A productivity-based business management tool
CHOOSE:
DeskTime gives a better overview of what's happening in your company from a business perspective and lets you plan tasks according to available talent resources.
With project tracking you can see how much work goes into a particular project or task, as well as keep track of who's doing what and when you can expect results.
The vacation and absence feature lets you plan employee vacation times, and if you let the entire company see it, everyone can get a better understanding of who's away from the office.
The helpful project cost calculations increase the accuracy with which you can bill clients for hourly work, give you a precise understanding of employee workload, and provide pricing transparency if your clients require it.
IF YOU NEED:
Time tracking for a large organization
CHOOSE:
If your organization has several departments, it's very possible that they will have different standards of productivity. This is where DeskTime's employee categories come in handy.
DeskTime allows you to put employees into different categories, which can have individual time tracking settings applied. For example, the marketing team would have social media platforms set as "productive," while for programmers they would be set as "unproductive." Each category can have an assigned administrator who can receive updates on absence, productivity levels, and project development. With DeskTime, you can also track time spent on specific projects, which can then be used to bill your clients accurately.
RescueTime also offers you productivity data, dividing the apps and URLs into focus work, other work, and personal activities. However, the tool lacks such handy features for team management as project tracking, shift scheduling, vacation and absence tracking, and others.
IF YOU NEED:
Productivity awareness for employees
CHOOSE:
Both apps do an excellent job at making time tracking data available to employees; by getting access to this information, they are then able to draw conclusions about how they spend their time at work and how their productivity can be maximized.
By viewing personal productivity reports, employees can easily understand where the majority of their time is going, which apps they use the most, and how they might improve their daily productivity ratings.
IF YOU NEED:
To break bad habits and set workday goals
CHOOSE:
RescueTime has a built-in feature that lets individuals set productivity goals. Goals are psychologically founded because the RescueTime feature asks everyone to list why this goal is important to them, increasing the possibility of them following through with it.
The "Get focused" feature lets everyone block off certain unproductive pages for a self-defined amount of time. This forces employees to work only with certain tools or apps that are deemed necessary to the project at hand.
IF YOU NEED:
Full accountability from team members
CHOOSE:
Some employers demand full accountability from their employees, and DeskTime helps you do just that. Managers can receive daily productivity and attendance reports to see who's at work, who's productive, and who's slacking.
With the optional screenshots feature, employers can make sure that employees are working on tasks at hand, rather than wasting time on unproductive sites.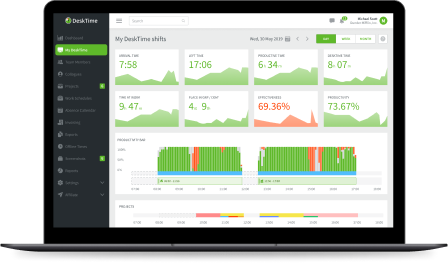 A tool that doesn't interrupt your workflow. Ever.
A budget-friendly alternative to RescueTime that tracks productivity, projects, and accountability.
Fully automatic – works when you do

URL, app, and document tracking

Individual project and task tracking
Try free for 14 days. No credit card required.
By signing up, you agree to our terms and privacy policy.