DeskTime's year in review: the key highlights from 2019
It's a wrap!
Another trip around the sun has completed and we're ready for whatever the new year brings us. But before we take a plunge into 2020, let's take a quick look back and celebrate the best moments and accomplishments of 2019.
Without further ado, here are the key highlights from the past 365 days.
Want to get the most out of your time?
Try DeskTime for free!
Try free for 14 days · No credit card required.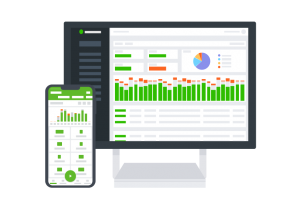 81 million hours tracked
By the end of 2019, DeskTime has tracked 81 million hours – that's 9246 years of time. In linear time, that's as if DeskTime had tracked every minute since 8000 BC.
DeskTime is used in 203 countries and by 184 000 people all over the world. 8600 companies use DeskTime, which is more than a 28% increase when compared to 2018. This growth implies that office productivity and employee efficiency is becoming a higher priority for companies of all sizes, industries, and locations.
Two new integrations: Trello and GitLab
In 2019, we continued to add new integrations with popular work tools to help our users to create a more efficient workflow. New to the integrations family – the project management app Trello and DevOps lifecycle tool GitLab.
Both integrations allow DeskTime customers to save hours of work time spent on routine tasks, such as copying and pasting issues and cards from one tool to another. Instead, you can now set up automatic data synchronization between your project management app and productivity tracking software.
Project tracking gets an update
Project tracking is one of the most popular features, used by as much as 30% of DeskTime customers. In 2019, the feature became more user-friendly and easier to administer thanks to a bunch of new functions, including:
New search functionalities – you can now search your projects by title, date created, number of tasks, etc.
Time and cost estimation – you can estimate the time and costs needed to complete the project, then keep an eye on whether it stays within the set time frame and budget.
New feature: Work Schedules
Team managers can now use DeskTime as a software for shift scheduling. The new feature allows managers to improve their human resource planning, save time, and say goodbye to difficult-to-overview spreadsheets, as well as automatically receive salary calculations based on time tracked. 
In the meantime, the shift planning feature allows employees to submit shift requests. Being able to choose what days and times to work improves overall employee satisfaction and reduces staff turnover.
Annual billing
In April 2019, we introduced annual billing. The new and more cost-efficient billing method allows customers to save a month's worth of fees and reduce their monthly costs per user to as low as $3.85.
Annual billing is also more convenient to users – it reduces the risk of failed payments, and thus prevents interruptions in time and productivity tracking.
New faces in the office
Last year, the DeskTime team welcomed a couple of new faces in the office, including the customer success manager Raivis.
Here's why he likes to work at DeskTime:
"Working with the DeskTime team is easy – I can work remotely when I feel like it, which is a great benefit. I also don't need to be at the office from 9 to 5. Instead, I can create my own schedule and use DeskTime to monitor my hours. At the end of the day, what matters is that I've worked 8 hours a day – whether in the office or remotely," Raivis says.
"As a team, we regularly discuss innovations and updates in the industry. We all strive to learn and grow as professionals in a positive work environment."
The launch of DeskTime's YouTube channel
If content is king, then video content is King with a capital K.
2019 became the year when we relaunched our YouTube channel and since September, we've been publishing one video every week. If you want to receive a notification when we add new content, don't forget to subscribe!
Here are some of the most popular videos of 2019:
1. Is Shopping at Work a Problem? Work vs. Cyber Monday deals
Research by DeskTime says that the number of people shopping while at work is only growing. This video explains what this means for employers.
2. 4 Productivity Myths You Have to Know – Busted
The video mercifully exposes the most popular productivity myths, including the assumption that multitasking is the key to getting more done and that people can't be productive outside the office.
3. Working Overtime? Overtime Productivity Tips – How to Know When Enough's Enough
In this video, we cover three tips when dealing with overtime at the office, how to make the most of it if you have to, and when to call it quits.
21 new blog posts published
Besides publishing video content, we continued to create original blog content, covering a variety of topics – from personal productivity to employee engagement and tools that help get more things done.
The most-read blog post of 2019?
In the article, we've listed 51 team-building activities you can organize indoors and outdoors, and build a more motivated and engaged team.
Other honorable mentions are:
Mentions in highly-rated media and blogs
DeskTime is regularly mentioned and quoted in some of the most reputable publications all over the world. And last year was no exception – DeskTime's name made it to publications like Forbes, Dropbox, Entrepreneur, Inc.com, and more.
We also had the chance to write and share our expertise in publications like:
What's planned for 2020?
In 2020, our goal is to further improve DeskTime and make it even more user-friendly. Here are some of the updates and news you can expect from us in the next 365 days:
Major updates in Reports and Export features
Updates to the DeskTime's mobile app – it will become possible to track time on your mobile device, as well as check in your work location based on your GPS coordinates
New integrations with HR and payroll tools
Refreshed DeskTime design and improved user experience
More blog posts and YouTube content on team management and business growth
More tips and tricks on how to use DeskTime to its full potential – we'll show and explain all the features DeskTime offers.
We wish everyone a successful and productive year!
Did you find this article useful? Give it a clap!
Psst! You can clap more than once if you really loved it 🙂