DeskTime vs. TimeCamp: compare the alternatives
Compare the DeskTime and Timecamp alternatives side by side and choose the time tracking app that fits your needs.
Free 14-day trial. No credit card required.
By signing up, you agree to our terms and privacy policy.

The best features side by side
Features

Paid monthly

Lite – free for 1 user only PRO – $7 /user/mo Premium – $10 /user/mo Enterprise – $20 /user/mo

Paid annually

Lite – free for 1 user only PRO – $6,42 /user/mo Premium – $9,17 /user/mo Enterprise – $18,33 /user/mo

Additional discounts apply for teams.

Paid monthly:

Free – $0/user/mo Basic – $7/user/mo Pro – $10/user/mo

Paid annually:

Free – $0/user/mo Basic – $6.3/user/mo Pro – $9/user/mo

Contact about Enterprise.

FREE trial
14 days
14 days
Automatic time tracking
Idle time tracking
Add time manually
URL tracking
Document title tracking
Reports
Individual project and task tracking
Auto screenshots
Available upon request
Project cost calculation
Employee absence tracking
Custom user settings
Stops automatically, no tracking after work hours
Private time option
IP restrictions for tracking
Productivity and efficiency analysis
Divide employees in departments
Live time tracking
Offline mode (tracks time if there is no internet connection)
Integration with 3rd party apps
Shift scheduling
Webinars
Desk booking
Looking for a Timecamp alternative? Choose a time tracking tool according to your necessities
IF YOU NEED:
to analyze and improve employee productivity
CHOOSE:
Essentially, any time tracking app is used to improve productivity. But when it comes to TimeCamp vs. DeskTime, the latter has better features for achieving that goal.
DeskTime tracks URLs employees have visited during the day, as well as apps, programs, and document titles (optional) they've spent time on. That gives you an even more detailed analysis of where your team spends its time.
What's more, DeskTime, alternatively to TimeCamp, automatically analyzes the team's and individual employee's productivity and efficiency. On their dashboard, managers can quickly see what portion of the day has been spent productively and how much time was spent doing things unrelated to work; then, they can compare this productivity data against other days.
IF YOU NEED:
employee-friendly time tracking
CHOOSE:
Both TimeCamp and its alternative DeskTime are apps with employee-friendly features – they are automatic and include a Private time option.
The automatic time tracking feature means that employees don't need to manually start and stop a timer every time they switch between tasks. If necessary, employees can also use a manual timer for individual project and task tracking. All computer activity – URLs, apps, and programs used – is recorded whether or not the timer is manually started.
In addition to being automatic, TimeCamp and DeskTime both have a Private time option. When this feature is turned on, activity tracking stops. That allows employees to take care of private matters during working hours without being monitored. Employers can see how much private time is used but not what URLs and apps were opened.
When making your decision – TimeCamp vs. DeskTime – remember that DeskTime has an auto-stop feature that TimeCamp doesn't. On DeskTime, you can set the company's or employee's working hours, and the timer will turn off automatically when the workday ends. That's important for companies that allow employees to use work computers in their free time.
IF YOU NEED:
an app to track remote employees
CHOOSE:
DeskTime is one of the best TimeCamp alternatives for remote employee tracking.
First of all, DeskTime offers offline time tracking, meaning – employee time is tracked and stored even when there is no internet connection. That allows remote workers to work from wherever they want – even from the middle of nowhere with no WiFi – while still being held accountable.
And secondly, DeskTime offers the Screenshots feature which lets you take automatic screenshots every 5, 10, 15, or 30 minutes. This feature comes in handy when it's important for the company to pay for productive hours only, as well as when safety and confidentiality are crucial.
IF YOU NEED:
invoice tracking
CHOOSE:
The DeskTime "Costs" feature automatically calculates project costs based on the company's or individual employees' hourly rates. TimeCamp has a similar built-in feature, which basically does the same thing. So, if you need a time tracker that calculates how much you have to pay to your hirees or how much you have to charge your customers, between TimeCamp vs. DeskTime, you could go either way.
Now, if in addition to cost calculation you're also looking for a tool that would help you track your invoices, then you should go with TimeCamp, as its alternative DeskTime doesn't offer such an option yet. Just keep in mind that the TimeCamp billing feature is not for issuing invoices – rather, it gives you an overview of things, like which projects you've already charged for, which freelancers still need to be paid, etc.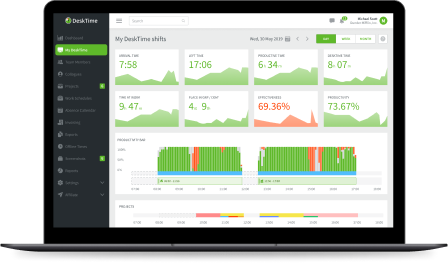 A tool that doesn't interrupt your workflow. Ever.
One of the best TimeCamp alternatives, with 10+ features for teams
Fully automatic – works when you do

URL, app, and document tracking

Individual project and task tracking
Try free for 14 days. No credit card required.
By signing up, you agree to our terms and privacy policy.