A free time tracker app for your personal use
Start using DeskTime's free time tracker app, see where your time goes throughout the day, and draw conclusions on how to increase your productivity.
Free 14-day trial. No credit card required.
By signing up, you agree to our terms and privacy policy.
Why you should use a time tracking app
Time trackers are not just for teams and companies – you can gain a lot from tools like DeskTime on an individual level too. Here are some of the benefits you can get by using DeskTime's free time tracking app.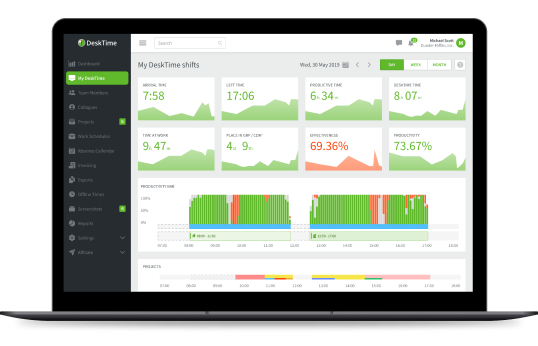 See what eats up your time
You might think you know how long a task takes, but our guesstimates are often wrong. DeskTime's free time tracking software will show you how long you've been working and what apps you use.
Keep yourself accountable
It's easy to get distracted while you work. When you check your DeskTime dashboard, you'll see if you spent time on important things or got sucked into the vortex of distractions.
Give your productivity a boost
Our data shows that just by using a time tracker, your work discipline increases, and you can boost your productivity by up to 30%.
Plan your days better
DeskTime's free time tracker can help you spot your work patterns, and you can then figure out how to arrange your day to get the most out of it.
Features offered by DeskTime's free hours tracker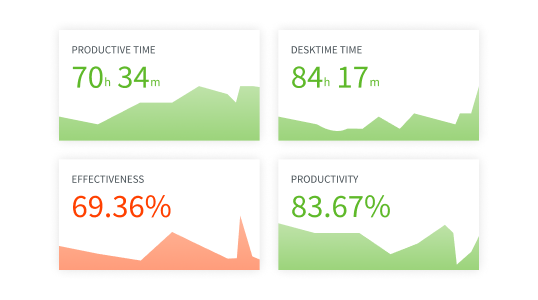 Automatic time tracking
One of the most fundamental features built into all of DeskTime's pricing plans, including the free Lite version, is automatic time tracking. The tracker app launches automatically when you turn on your computer, logging the details of how long you work throughout the day and what you spend time on. It continues tracking your activities in the background without distracting you, and you can take a look at your stats on the DeskTime dashboard at any time.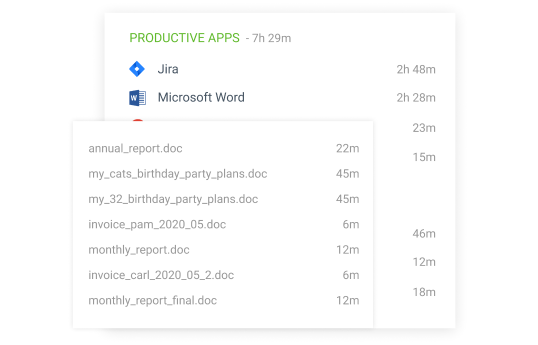 URL and app tracking
DeskTime's free time tracker software logs the URLs and apps you visit during the day. So when you look at the data, you'll see what eats up most of your time. Maybe you thought you were working on a project all day long, but then it turns out that you spent double the time on social media. Note that DeskTime's Lite plan doesn't offer automatic productivity analysis, so you'll need to draw your own conclusions from the data. But if you're not looking for precise analysis, the free version of the app can give you a good overview of your work patterns.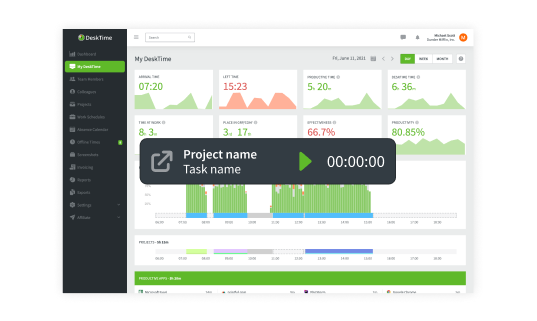 Integrated web timer
If you don't want to download an app or are away from your regular computer, DeskTime's web time tracker can come in handy. It's a free online time tracker built into DeskTime's web dashboard, so it's accessible from any browser at any time. All you have to do is log into your DeskTime account and start tracking. It won't register each app or URL you visit, but if you want to simply keep track of what you've been doing and when, it'll get the job done.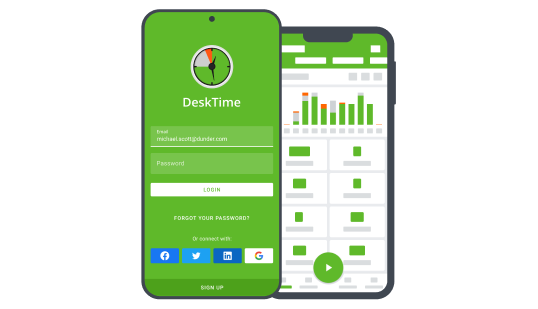 Mobile app
If you need to step away from your computer to complete some work-related tasks, you can use DeskTime's mobile app to track this time as well. The mobile app essentially functions like the web time tracker but on your mobile device. This way, you can ensure that all of your progress is tracked, and you get a complete picture of how your day went when you check the stats later.
Get started with DeskTime's free time tracking tool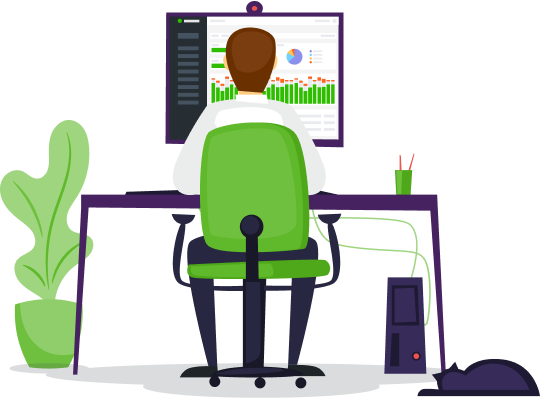 1

Sign up

Create your DeskTime account with just a few clicks.
3

Track your time

DeskTime is fully automatic and works in the background without bothering you.
Frequently asked questions
Is the DeskTime Lite free timekeeping app really free?
Yes! The DeskTime Lite plan is and will remain free to use to anyone. Note that the free time tracker app offers a limited number of features compared to the paid plans. But if the basic features have your needs covered, you can use the free app and not worry about additional expenses.
Who is DeskTime's Lite version for?
DeskTime Lite, or, in other words, the free hour track app, will be suited to solopreneurs, freelancers, or anyone else who simply wants to keep track of their own time; the free plan is available to one user only. You can also use DeskTime as a student – log how many hours you've spent studying, working on assignments, preparing for a test, etc. If at any time you decide that you need to add more members to your team or want a more detailed productivity analysis, you can upgrade the free work time tracker to a paid plan and enjoy a whole host of additional DeskTime features that come with it.
What are the upgrade options that DeskTime offers?
DeskTime has three paid tiers with more features for project management, time tracking analysis, etc.:
Pro – $7/user/month
Premium – $10/user/month
Enterprise – $20/user/month
If you choose the annual payment option, you get one month free. You can compare the differences between the plans and get a full breakdown of each plan's features on our
Pricing page.
What additional features does DeskTime offer that are not part of the Lite plan?
With the DeskTime paid plans, you can take a deep dive into your productivity patterns and go beyond that.
Can I switch back to the Lite version after using a paid plan?
If you see that the features you need are all covered by the Lite plan, you can switch back to the free time tracking option anytime. All you have to do is update your subscription plan in your Billing settings. However, if you've added team members to your plan, you'll need to remove them before switching back to DeskTime Lite since it is available to only one user.
Does DeskTime have a free trial to try out the advanced features?
Yes! When you register, you are automatically enrolled in a 14-day free trial that lets you explore all of the features offered by the paid plans. After your free trial ends, you can decide which features and plan will suit you in the long run. If you ever change your mind, you can switch from one payment plan to another at any time.
Each DeskTime feature unlocks a world of productivity. Do you know how to use them all?
Discover Desktime