DeskTime vs. Insightful: compare the alternatives
Compare the DeskTime and Insightful alternatives side by side and choose the time tracking app that fits your needs.
Free 14-day trial. No credit card required.
By signing up, you agree to our terms and privacy policy.

The best features side by side
Features

Paid monthly

Lite – free for 1 user only PRO – $7 /user/mo Premium – $10 /user/mo Enterprise – $20 /user/mo

Paid annually

Lite – free for 1 user only PRO – $6,42 /user/mo Premium – $9,17 /user/mo Enterprise – $18,33 /user/mo

Additional discounts apply for teams.

Paid monthly:

Employee monitoring – $8/user/mo Time tracking – $10/user/mo Automatic time mapping – $15/user/mo Enterprise – custom pricing

Paid annually:

Employee monitoring – $6.40/user/mo Time tracking – $8/user/mo Automatic time mapping – $12/user/mo Enterprise – custom pricing

FREE trial
14 days
7 days
Time tracking
Automatic
Automatic for Enterprise and Automatic time mapping levels
Idle time tracking
Add time manually
URL tracking
Document title tracking
Reports
Individual project and task tracking
Auto screenshots
Manual screenshots
Project cost calculation
Employee absence tracking
Custom user settings
Stops automatically, no tracking after work hours
Private time option
Break time option
IP restrictions for tracking
Productivity and efficiency analysis
Divide employees in departments
Live time tracking
Offline mode
Integrations with 3rd party apps
Shift scheduling
Desk booking
Looking for an Insightful alternative? Choose a time tracking tool according to your necessities
IF YOU NEED:
to track work hours even if there's no internet connection
CHOOSE:
Despite the feeling that nowadays every work-related task requires screen time, it's not entirely true. Even dedicated office workers have duties that take them away from the computer screen, such as meeting clients, team brainstorming sessions, and more. When choosing a time tracking tool, it's crucial to explore if it offers an offline time tracking solution to access precisely-tracked work time stats.
DeskTime's time tracking tool provides an Offline time tracking feature. It allows employees to manually log hours into the time tracker to ensure that all of their work is noticed. Additionally, offline time tracking is convenient when billing clients by the hour. Phone calls and meetings are an equally important part of your work, and it shouldn't go unnoticed and unpaid.
DeskTime's offline tracking feature also lets you mark the productivity of the time spent away from your screen. Was it a meeting with a client, a brainstorming session, or something else? For those who analyze their productivity and efficiency levels, this feature provides objective feedback by including the offline work time into the overall productivity analysis.
IF YOU NEED:
to track your remote team's work time
CHOOSE:
With the growing need for flexible work, managing remote teams has become one of the top priorities for many managers. Both DeskTime and Insightful offer features to make the process of remote team management easier.
Both platforms analyze employee computer use habits and make the data available to both the employees themselves and their managers, providing valuable feedback. The raw data both apps offer makes it possible to dive deep and analyze individual and organization-wide productivity.
At their core, both apps offer attendance tracking, activity and website tracking, and reports. While it's at a similar price point, Insightful provides a more slimmed-down version of what DeskTime offers, which is supplemented with added features like project tracking, shift scheduling, and more.
IF YOU NEED:
a project time tracking solution that works with niche tools
CHOOSE:
Insightful provides you with entirely automatic time mapping to effortlessly analyze the time required for each project. If you're a design, architecture, or insurance company, Insightful may be a good fit for you. It works with the most commonly used niche tools, such as AutoCAD, Autodesk Revit, Adobe XD, Sketch, Axxis Systems, Vertafore, and more.
As a project time tracking solution, Insightful lets you check how much time was spent on each stage of a project and accurately predict the resources needed for the next steps. The great thing about this tool is that it doesn't require any manual input from employees – the time tracker automatically assigns work to the respective projects.
For example, all work completed in specific technical programs is assigned to the corresponding projects and tasks. Besides, Insightful provides you with comprehensive records of the time needed to complete each project stage.
As an alternative to Insightful, DeskTime also has a Project tracking and Project costs calculation feature, allowing you to see how much time is spent on each project and calculate accurate project costs. These features provide valuable insight into completed projects and let you make informed decisions about how long a similar project might take or the expected expenses. DeskTime is focused on more general projects, while Insightful, on the other hand, might be better suited for design teams, architecture companies, and agencies working on more technical projects.
IF YOU NEED:
to protect employee privacy
CHOOSE:
Time tracking can be a sensitive topic when it comes to employee privacy, and it's not always an easy thing to balance. If giving your employees a sense of privacy is essential, DeskTime offers several tools to make that a reality.
IP restrictions make it possible to set tracking to company offices only. This protects employees who bring their laptops home, making sure their at-home computer usage isn't tracked.
DeskTime also lets employers set up trackable hours; you can set a cut-off time when DeskTime no longer tracks time. This is another safety feature, which ensures that leisurely internet browsing isn't tracked inadvertently.
Since Insightful's basic employee monitoring plan requires manual clocking out and doesn't offer automatic time tracking cut off times, it's likely to keep tracking even after hours by accident. For increased employee privacy protection DeskTime will be a great Insightful alternative.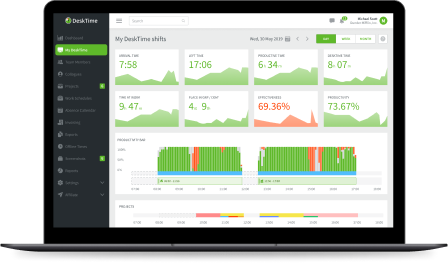 A tool that doesn't interrupt your workflow. Ever.
DeskTime – a remote employee-friendly alternative to Insightful
Fully automatic – works when you do

URL, app, and document tracking

Individual project and task tracking
Try free for 14 days. No credit card required.
By signing up, you agree to our terms and privacy policy.