DeskTime vs. Toggl: compare the alternatives
Compare the DeskTime and Toggl alternatives side by side and choose the time tracking app that fits your needs.
Free 14-day trial. No credit card required.
By signing up, you agree to our terms and privacy policy.

The best features side by side
Features

Paid monthly

Lite – free for 1 user only PRO – $7 /user/mo Premium – $10 /user/mo Enterprise – $20 /user/mo

Paid annually

Lite – free for 1 user only PRO – $6,42 /user/mo Premium – $9,17 /user/mo Enterprise – $18,33 /user/mo

Additional discounts apply for teams.

Paid monthly:

Free – for up to 5 users Starter – $10/user/mo Premium – $20/user/mo Enterprise – custom pricing

Paid annually:

Free – for up to 5 users Starter – $9/user/mo Premium – $18/user/mo Enterprise – custom pricing

FREE trial
14 days
30 days
Time tracking
Automatic
Manual
Idle time tracking
Add time manually
URL tracking
Document title tracking
Reports
Individual project and task tracking
Auto screenshots
Project cost calculation
Employee absence tracking
Custom user settings
Stops automatically, no tracking after work hours
Private time option
IP restrictions for tracking
Productivity and efficiency analysis
Divide employees in departments
Live time tracking
Offline mode
Integrations with 3rd party apps
Shift scheduling
Desk booking
Looking for a Toggl alternative? Choose a time tracking tool according to your necessities
IF YOU NEED:
to track computer usage time to boost productivity
CHOOSE:
While Toggl is more of a timer that lets you record how much time you've spent on specific tasks, DeskTime does much more than that.
DeskTime tracks what apps and programs you use and what URLs you spend your time on, allowing you to see precisely where your time goes. So, if your quick Facebook check has turned into hour-long browsing, you'll see that in your report. And there's more – DeskTime also categorizes all of the websites and apps as productive or unproductive. This way, you can see if your time at work has been spent in the most efficient way possible. Plus, the app productivity settings can be customized for each team, so you get the most accurate data possible.
While the Toggl desktop app can also track apps and URLs you visit, you won't see if the time spent on them was productive or not. So, you'll have to draw your own conclusions about your productivity levels.
IF YOU NEED:
a simple, timer-like time tracking app
CHOOSE:
Compared to other time tracking tools, Toggl has always stood out with its simplicity. It's made for people who need to see how many hours they spend on certain projects and tasks.
The timer runs unobtrusively in the background, but it's still visible in the browser, so you can see how much time you've spent on a particular project or task. The only thing, as with any timer, it's important you turn it off when you're done.
You can also use DeskTime for the same purpose, thanks to its "Projects" feature. However, if the timer feature is the main thing you're looking for in your time tracking app, Toggl might be a more convenient solution.
IF YOU NEED:
employee-friendly time tracking
CHOOSE:
DeskTime offers a handful of features that make it probably the most employee-friendly time tracking software in the market.
For one, DeskTime starts automatically, so there is no manual input from the user. When the employee turns on the computer, time tracking starts immediately and continues unobtrusively in the background.
Two, the employer can set the company's or each person's working hours. DeskTime will track time only during these hours and stop automatically at the end of the workday. That's especially important for employees who take their laptops home for private use. Toggl has no auto-off, so it keeps running until the user remembers to turn it off.
And three, DeskTime's "Private time" option allows employees to take time off during the workday – they can use the computer for their private needs, and this time won't be tracked. When the break is over, DeskTime will remind the user to turn private time off.
IF YOU NEED:
to track your projects and tasks
CHOOSE:
When it comes to project and task tracking, there is no one clear pick – both DeskTime and Toggl are great apps for that. It all comes down to how self-disciplined you are.
If you tend to multitask, DeskTime will be a great option. DeskTime tracks not only the URLs you've visited during the day but also the document titles you've worked on. By giving your work documents descriptive titles, you'll later be able to decrypt how much time you've spent on each task, even if the timer was off or if you forgot to switch tasks. Then, you can manually assign this time to the particular project.
Similarly, Toggl can also track the apps and URLs you visit. If you set up the background tracking option on your desktop, Toggl will automatically log every application or website you spend more than 10 seconds on. Later, you can see your day's timeline and turn the logged time into project entries.
IF YOU NEED:
an app that integrates with project management tools
CHOOSE:
Toggl offers more than a hundred integrations with third-party project management apps, including tools like Asana, Jira, Trello, and more. The integrations let you start the timer from your project management tool quickly and conveniently.
DeskTime can be connected both to your Google or Outlook calendars to track offline time, as well as the most popular project tracking apps – Jira, Trello, Basecamp, and others. While the integrations help track work done on imported projects, DeskTime does not offer the variety available in Toggl.
IF YOU NEED:
to keep an eye on your team
CHOOSE:
DeskTime is specifically developed for teams, which makes it a better choice if you're managing other people.
DeskTime is fully automatic time tracking software, and it will give you a more precise and objective overview of your team's productivity. DeskTime records all productive and unproductive apps, programs, and URLs used during the day, then, based on these recordings, it calculates employee productivity and effectiveness. That gives managers more detailed info on how their team is doing – something Toggl doesn't offer.
Toggl can also track the apps and URLs visited during the day, but the timeline data is only accessible to the user; no one else, including admins, can see it. So if you're interested in a productivity and effectiveness overview of your team, DeskTime can provide you with up-to-date, precise data at any time you wish. You can check in on the current stats of your team via dashboard, or you can download the data in a report to analyze it later.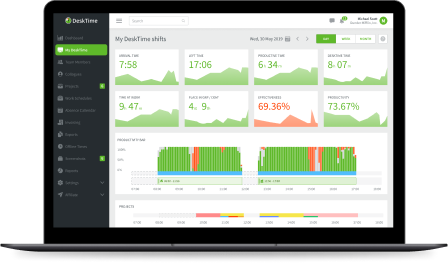 A tool that doesn't interrupt your workflow. Ever.
The best alternative to Toggl time tracking software, with 10+ features for teams
Fully automatic – works when you do

URL, app, and document tracking

Individual project and task tracking
Try free for 14 days. No credit card required.
By signing up, you agree to our terms and privacy policy.