DeskTime vs. timeBro: compare the alternatives
Compare the DeskTime and timeBro alternatives side by side and choose the time tracking app that fits your needs.
Free 14-day trial. No credit card required.
By signing up, you agree to our terms and privacy policy.

The best features side by side
Features

Paid monthly

Lite – free for 1 user only PRO – $7 /user/mo Premium – $10 /user/mo Enterprise – $20 /user/mo

Paid annually

Lite – free for 1 user only PRO – $6,42 /user/mo Premium – $9,17 /user/mo Enterprise – $18,33 /user/mo

Additional discounts apply for teams.

3-month subscription:

Basic – $17/user/mo Connect – $20/user/mo Premium – $36/user/mo

12-month subscription:

Basic – $14/user/mo Connect – $18/user/mo Premium – $30/user/mo

24-month subscription:

Basic – $12/user/mo Connect – $14/user/mo Premium – $24/user/mo

Custom pricing for Enterprise level.

FREE trial
14 days
14 days
Automatic time tracking
Idle time tracking
Add time manually
URL tracking
Document title tracking
Reports
Individual task and project tracking
Screenshots
Project cost calculation
Absence calendar
Custom user settings
Stops automatically, no tracking after work hours
Private time option
Pomodoro timer
IP restrictions for tracking
Productivity and efficiency analysis
Divide employees in departments
Live time tracking
Offline mode
Integrations with 3rd party apps
Shift scheduling
Employer access to tracked data
Mobile app
Desk booking
Looking for a timeBro alternative? Choose a time tracking tool according to your necessities
IF YOU NEED:
an app that helps you manage projects and teams
CHOOSE:
Both DeskTime and timeBro apps automatically track the time you spend on your computer. But if you're a team manager, the features DeskTime offers will let you have your finger on the pulse of your team. With DeskTime, you can check how tasks are progressing, how productive your team is, who's at work on time, who's absent, and so much more. timeBro's tracked data is visible only to each individual user; as a boss, you won't be able to see any information about your team in the app, only about yourself.
DeskTime also provides various features that make project management a breeze. You can calculate project costs by assigning hourly rates to your teams or individual team members and use the tracked time to bill your clients accurately according to the actual work done. You can also schedule shifts, book vacation time, mark sick days, and do much more.
Additionally, DeskTime offers various employee-friendly features, such as break-time reminder or private time option; they help your team maintain privacy and prevent burnout. By checking in on employee data, you can spot not just the team members who are slacking off but also those who are overworked and need to cut their hours.
IF YOU NEED:
to increase your productivity
CHOOSE:
Have you ever found yourself at the end of the day wondering where exactly did the time go? If so, both DeskTime and timeBro can help you out. We've all been there – you've kept busy for the entire day with different tasks, but at the end of the workday, you struggle to recall if anything was actually accomplished during all that time.
DeskTime and timeBro track everything you do on your computer during the day, registering each URL and app you use and how much time you spend on it. At the end of the day, week, or even month, you can see the tools or websites that consumed most of your time and draw conclusions. You can spot the times of the day when you get more work done or when your mind starts to wander. Noticing these patterns can help you make the necessary adjustments to when and how you work, improving your productivity and well-being.
IF YOU NEED:
to analyze your productivity in detail
CHOOSE:
Both DeskTime and timeBro track your computer activity with absolute precision; you can see what you spend time on during the day down to the second. This way, you can immediately see what takes up most of your time and make the necessary changes. However, if you compare timeBro vs. DeskTime, you can see that with the latter, you can analyze your productivity and effectiveness even deeper.
DeskTime lets you classify each URL and app as either productive, unproductive, or neutral; depending on which tools and websites you have to work with during your work hours, you can assign the correct status to each. While you jump from one URL or app to another, DeskTime will track everything. The app will simultaneously calculate your productivity (the percentage of tracked time spent on productive apps and URLs) and effectiveness (how productive your day has been when stacked up to the minimum hours you should work).
IF YOU NEED:
a tool that gives each user total control and privacy over their data
CHOOSE:
The data tracked by the timeBro app is visible only to each individual user; not even the bosses have access to someone else's tracked time information. So if complete and total individual control over the data is something you're interested in, timeBro will ensure absolute privacy.
Alternatively to timeBro, DeskTime lets admins see the tracked-time stats of employees to help with team management. You can assign different user roles to people, which change the information they can access and how they can make edits. But DeskTime also offers the Private time option to help your team preserve privacy and not feel like they're under surveillance. Plus, neither DeskTime nor timeBro provides intrusive features like keystroke logs or webcam access.
IF YOU NEED:
an automatic solution with offline mode
CHOOSE:
One advantage that both DeskTime and timeBro have over many other competitors is that both apps start tracking time automatically – the time tracker turns on as you log into your computer. You don't have to worry about remembering to turn it on or off; everything is logged automatically until you finish your work. Plus, both DeskTime and timeBro alternatives will track your computer time regardless if you're connected to the internet; the data won't disappear just because you're not online.
If you use the same computer for work and personal matters, you can set up your work schedule in DeskTime to ensure that the app only tracks the activities during this specific timeframe. So, once your work day is over, you can switch to personal matters, and the app will automatically stop tracking your activities. This not only ensures your privacy but also improves the accuracy of the data you've tracked since your non-work activities won't skew your productivity stats.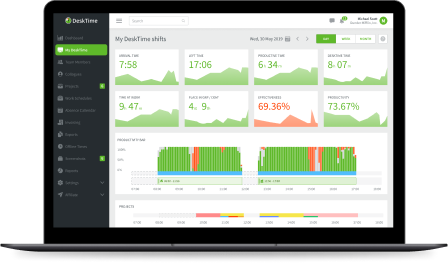 A tool that doesn't interrupt your workflow. Ever.
The best timeBro alternative offers more features and provides an overview of your business.
Fully automatic – works when you do

URL, app, and document tracking

Individual project and task tracking
Try free for 14 days. No credit card required.
By signing up, you agree to our terms and privacy policy.